A Travel Guide to Bali, Indonesia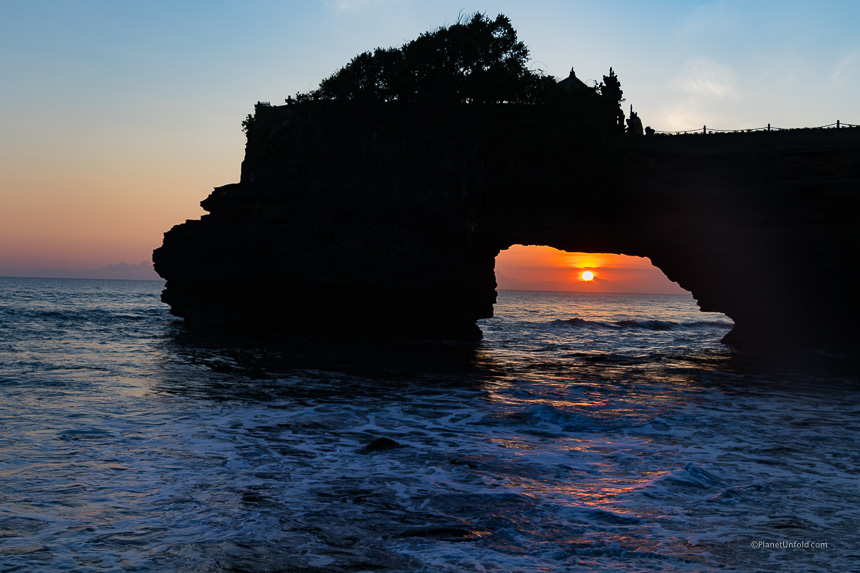 Tanah Lot, Bali
An exotic Indonesian island which makes you feel that the world is solely different here. As soon as you enter this ancient land, the picturesque beauty, misty ambience and cool breeze will take away all the distress due to everyday edgy routines.
The island is acknowledged for its tropical weather, coppice volcanic mountains, rice arenas, marvelous white and black sand beaches, lagoons and coral reefs.
This place is full of resorts as it seems to be the main business here. Ubud, Kuta, Seminyak, Sanur and Nusa Dua are pretty happening areas along with admired resort settlements, thus making itself a perfect destination for couples as well as family vacation.
Bali is a Hindu province and is home to many religious establishes such as Besakih temple, Ulluwatu Temple, Tanah Lot, Ullun Danu which are prime sites amongst many other.
Best Time To Visit
May to August are best months to visit due to good weather, however September and October are low season but good too as there is less crowd. December to February is monsoon season there so not recommended for tourism.
Duration: At least 4 -5 days to cover major charms
Although Bali has numerous attractive places to see, this is our list of "Must See" places including hidden gems.
Day 1: Melasti Beach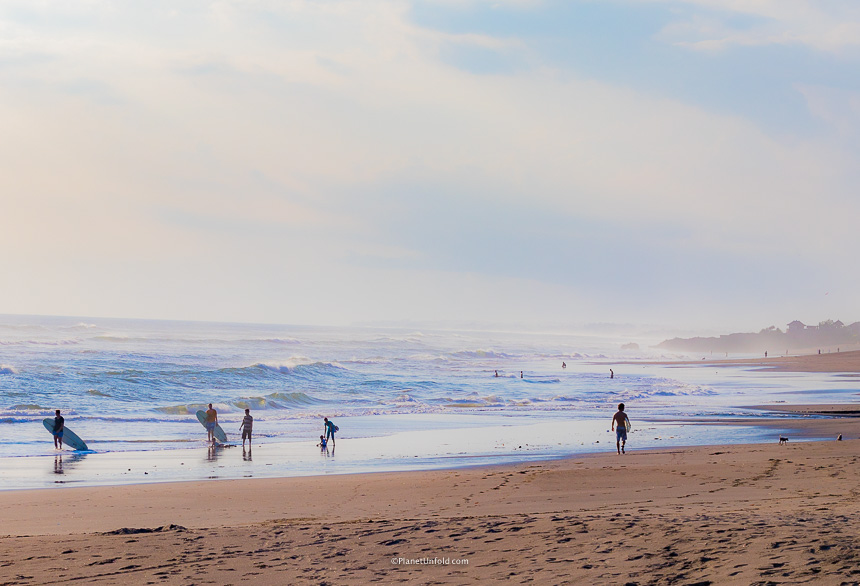 Melasti Beach, Bali
This is one of the "hidden gems" of Bali. A stunning black sand beach with a small waterfall facing the sea and a gorgeous sunset to capture. The water is lovely blue and clear, presence of black rocks makes it quite appealing. Less crowded. The coastline is decent to walk around peacefully. We spent about an hour here as we reached in the afternoon and also wanted to capture sunset at Tanah Lot, but trust me, we didn't want to leave as this place was so calming.
Tanah Lot Temple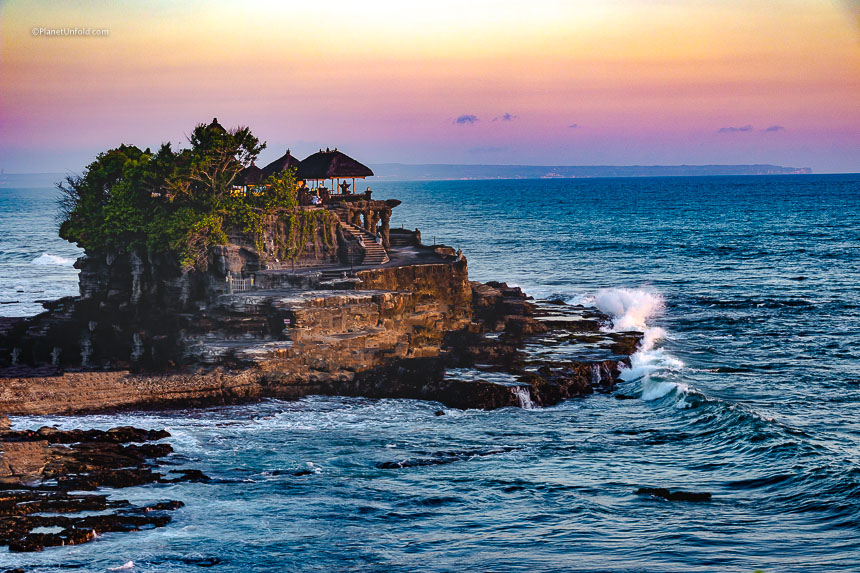 Tanah Lot Temple, Bali
Capture a striking sunset along with reviving wind and strong high waves at this black sand rocky beach. The best time to visit this place is between afternoon and evening, it is not allowed to go inside the temple, but can stay nearby to enjoy the scenic view of the sea during sunset.
There is another sunset point at some walking distance near to the temple, almost parallel to it, we saw a massive rock just flawless for camerawork.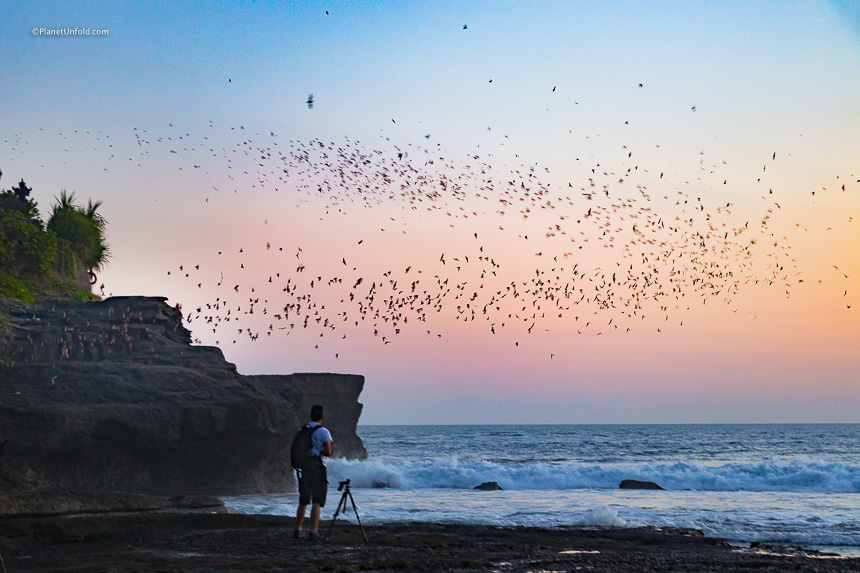 Bat Cave along Tanah lot
There are steep steps in the midway to come down towards this rock; we found a hidden bat-cave too. On the way to Tanah lot, there is a vast street market full of local accessories, art and craft items, decoration pieces, clothes etc. that are part of Balinese culture. The shops are closed by 7 pm so it's better to explore the market earlier. This location is about an hour drive from Melasti Beach so we visited there the same evening.
Day 2: Besakih Temple
Besakih Temple, Bali
Besakih Temple is known to be the oldest, biggest and holiest of the island's temples surrounded by breathtaking and scenic rice turfs, peaks, highlands, streams in Bali, also known as 'Mother Temple' of the gods Brahma, Vishnu & Mahesh for over 1,000 years, it is 1,000 meters high on the southwestern slopes of Mount Agung. Besakih is an artistic and unique complex of 86 temples together in a vast area with several of its structures made up of volcanic vestiges.
Initially we had to rent sarong (a cloth to wrap around waist to cover legs) as it is not allowed to enter the temple without it. There is an entry fee too.
The temples can only be visited inside only with the help of local guides who ask for a good amount of money, however bargaining is entertained. We settled up in IDR 50,000 in total with a local guide inside the temple, he was a good photographer as well and volunteered to click our snaps with beautiful backgrounds of the temple.
Kintamani Volcano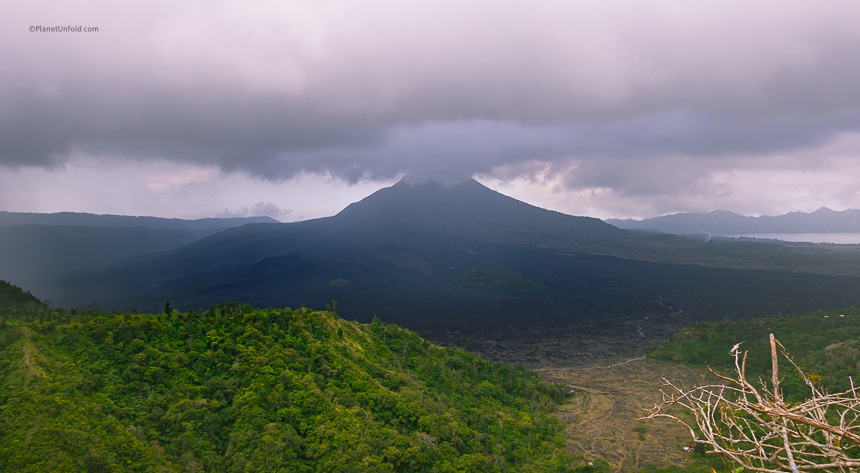 Kintamani Volcano, Bali
How about grabbing a bite with an incredible view of a giant volcanic mountain with clouds hovering over its peak?
Well, Kintamani is just the place. There's a restaurant facing this volcanic mountain where we had local Balinese buffet lunch enjoying the scenery nearby. There is a lake at the slopes of this mountain as well as other rock formations covering a larger area, marks it as scenic, worthy for spending about a few hours with partner making memories forever.
People fond of hiking more often plan a trip here to capture the rising sun from the top of the mountain. The driver suggests to start hiking around 3 am or 4 am to reach the top by sunrise. It takes approximately three hours to hike.
Kusamba Beach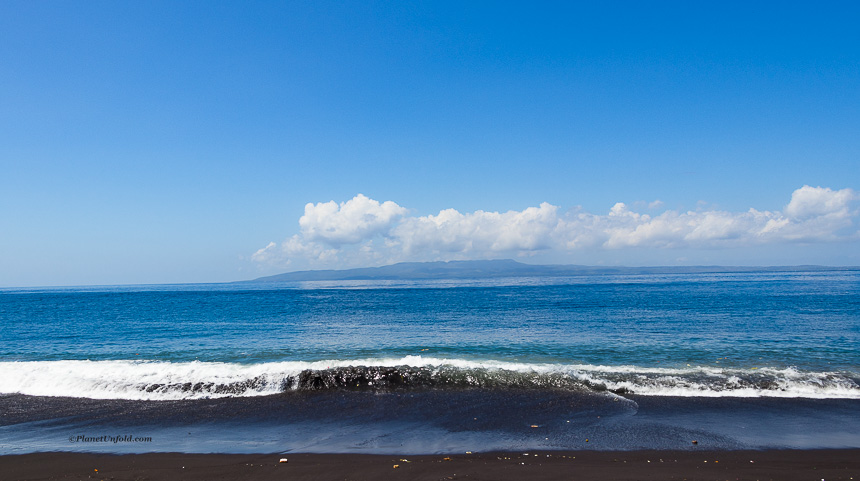 Kusamba Beach, Bali
The combination of black sand alongside blue water beheld so magnificent that we couldn't resist going to Kusamba. We have always enjoyed long walks feeling the sand and holding hands with each other on long coastlines, this landscape just added an impeccable experience in our lives. It's a bit busy near the entrance but as we walk along the shores it was less crowded.
This place has also one of the spots for cremation ceremonies hence at the entrance point it is a bit dirty and full of people. We had to go further to find our peaceful spot to enjoy the beach and its view. No regrets.
Later in the evening our driver took us to a happening beach in Kuta for dining where we enjoyed delicious seafood alongside with local music and a buoyant atmosphere, make sure you don't miss that, this place is ideal for families as well as couples to enhance the dining experience.
Day 3: Sea Walking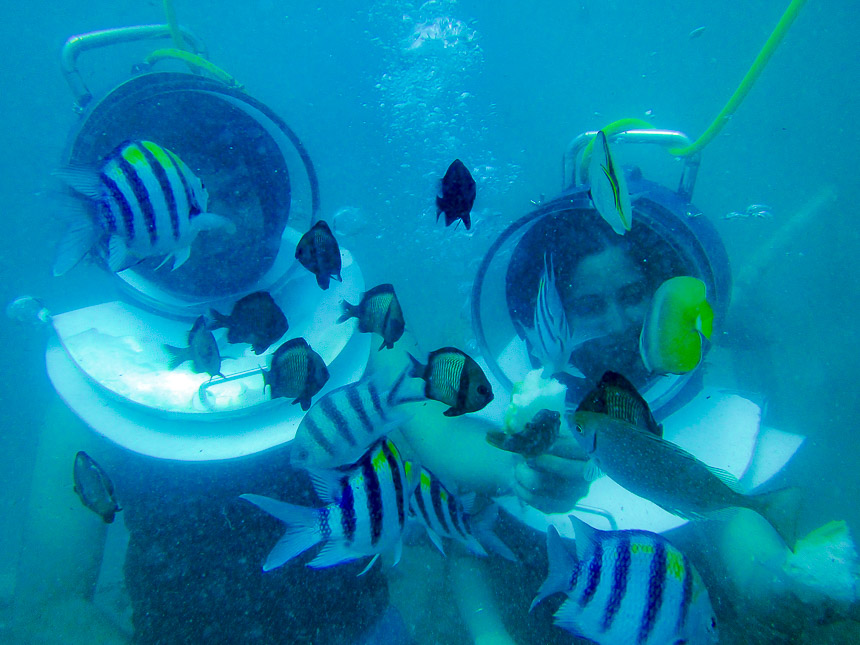 Underwater Walk, Bali
Walk under the sea and meet the marine life under the blanket of blue-green waters.
The concept of walking and not swimming sounded tempting to us as we were non swimmers, so we explored it and found that it was worth a try.
The location for Sea walking is at Tanjung Benoa beach, a lot of its area is surrounded by land and developed for such activities that also includes para sailing and, snorkeling.
As we reached the location we paid for the tickets, pictures and video and left our stuff with the driver guarding it, there are lockers too.
We were taken by boat to the area accompanied by a trained diver who was there accompanying us. They provided shoes to wear and put us into the water one by one with the help of a stairway asking us to go deep till shoulders and then fixing a 50 kg mask to cover entire head. It is like a helmet, made of glass, we could breathe inside, see the fishes and enjoy feeding them.
It's a small area, a pathway with pipes to hold and balance so we can walk further to reach to the area where fishes are found, the water wasn't crystal clear but green, it's possible to view variety of fishes as they swim close by. I think it's a good option for non-swimmers to experience getting in the ocean and witness the beauty of marine life rather than watching snorkelers and divers doing it. It was totally safe and didn't scared us due to the pathway arrangement.
Packing: Carry some sun block, towels and swim suit.
Time spent overall was about 1:30 hours.
Turtle Island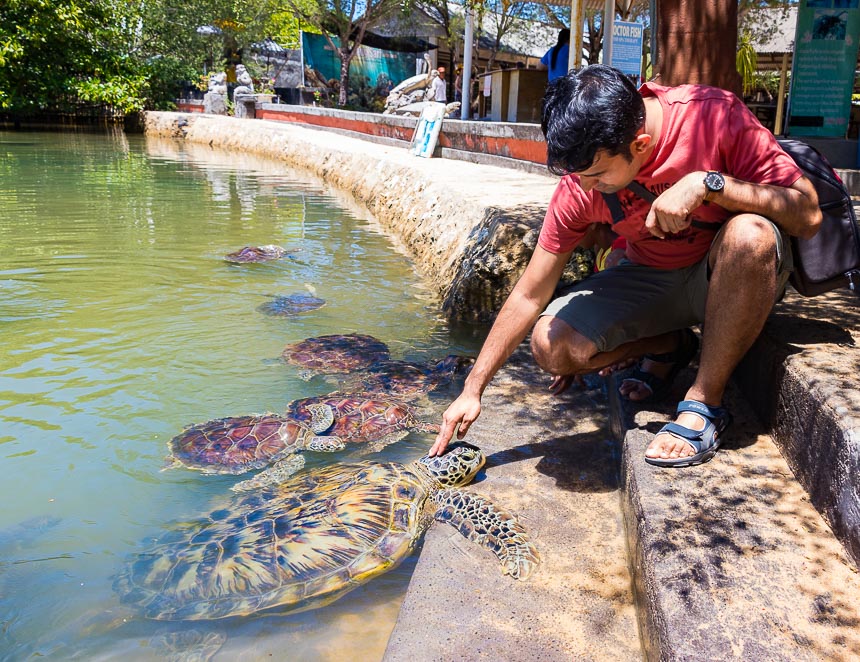 Turtle Island, Bali
There is a small conservatoire for tortoises nearby the area where sea-walking is arranged. The boat is to be taken from the same place as for sea walking, it takes about 15 mins to reach.
It's a small area where they have accommodated a pond of big and small tortoises as well as a few birds and iguanas from the wild. As we reached there we found a volunteer guide who gave us a tour of the entire place, he was quite a pro in making us capture good pictures touching or carry big shot bat, white eagle etc. Touching and feeding tortoises was allowed and so friendly they were that it was worth coming and sharing some lively moments with them.
Green Bowl Beach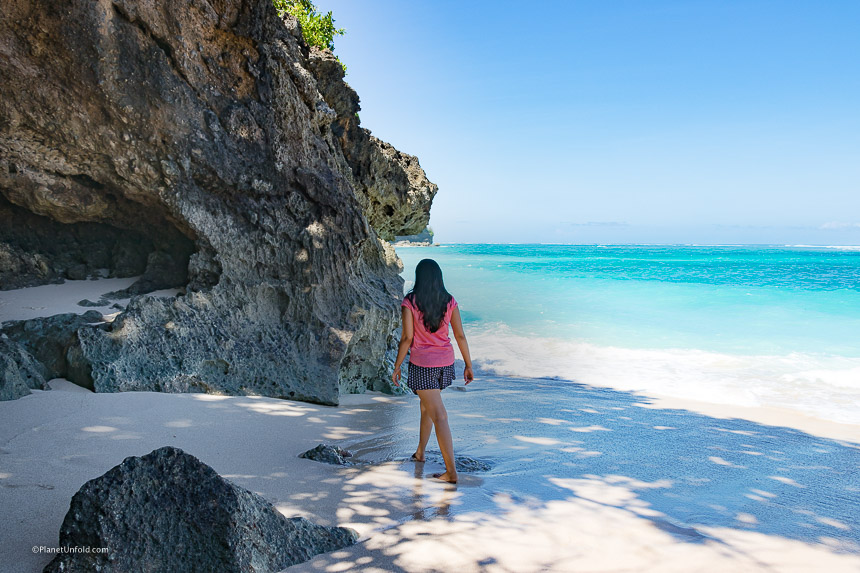 Green Bowl Beach, Bali
This is one of the hidden gems of Bali, we found it after a thorough exploration, and once seen, it turned out to be our supreme pick of all. The rocky beach with a cavity and lingering pipeline waves coming forward gazes like the end of the world due to no visibility of land until south pole. Yes, we checked it on map 😉
This place is not generally known, hence stays a hidden point. Emergence of the vast sea with a long rocky coastline is what we saw jumping down the numerous stairs away.
Well, read again!! there are more than 100 stairs to go down towards the ocean will take all your stress away. This region is not at all crowded consequently, upholding a peaceful tranquility as if on a private beach.
Ulluwatu Temple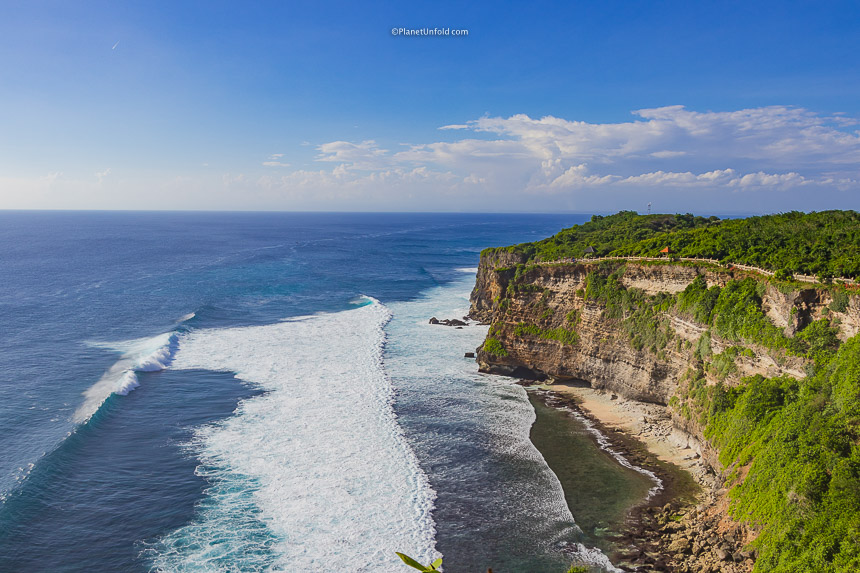 Uluwatu Temple, Bali
Got out of the car and saw a long boundary with small entrance, as we walk forward and took a few steps further upstairs and Wow!! Amazing!! "PICTURESQUE" is the word for the spectacle. It's a peaceful blue ocean view which is remarkable amidst a lovely sunset. There are a few temples build above an elevated rock foundation besides never ending seaboard. There is an extended bridge tall atop shoreline that looks like a minion of the Great Wall of China, to which people can walk from one end to another to catch the stunning panorama. Beware of the monkeys here.
Day 4: Dolphin Tour at Lovina Beach
Dolphin Tour, Lovina Beach
Who wouldn't adore lovely playful dolphins in the ocean, but it's not an easy as it sounds especially wanting to meet them in their domicile. Imagine yourself riding on a boat over calm morning waters that looks like a blue velvet blanket, accompanied with groups of dolphins playing around front and back of your boat! Sounds like a beautiful dreamy morning? Well live this dream moment and capture some breath-taking shots of these naughty dolphins playing hide and seek for around 2-3 hours early morning. Do no miss to capture beautiful sunrise and never ending view of the sea at Lovina Beach. To get there it took a long 3 hour ride from our hotel starting 3:00 am, reaching there at 6 am as it is at another corner of the island. We carried your own breakfast as there weren't any options so early in the morning.
Hot Springs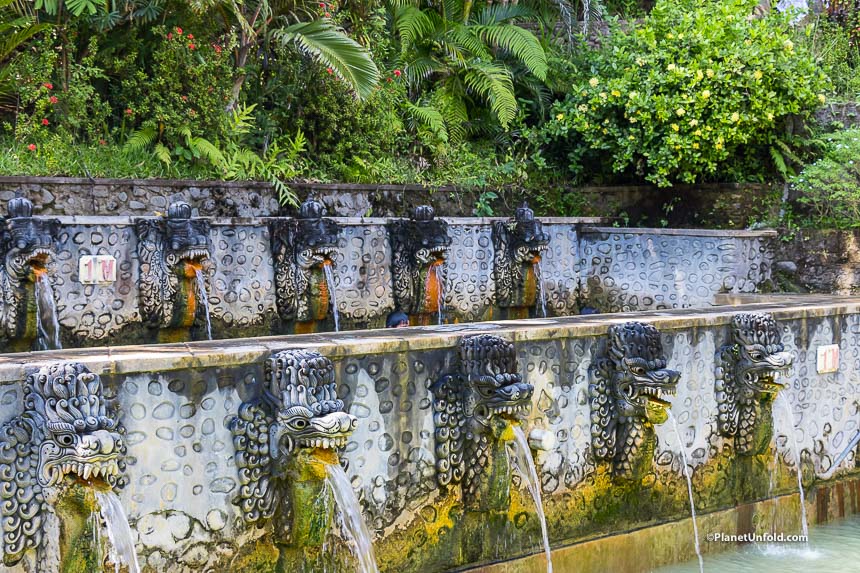 Hot Springs, Bali
The hot springs are rare places to find, so we wanted to explore one in Bali. It looks really ancient, it's a small area that is developed slightly alike resort. It has a temple around it and a few small photography spots along with a Spa and a small refreshment shop.
We spent about half an hour at this place seeing around.
Ullun Danu Temple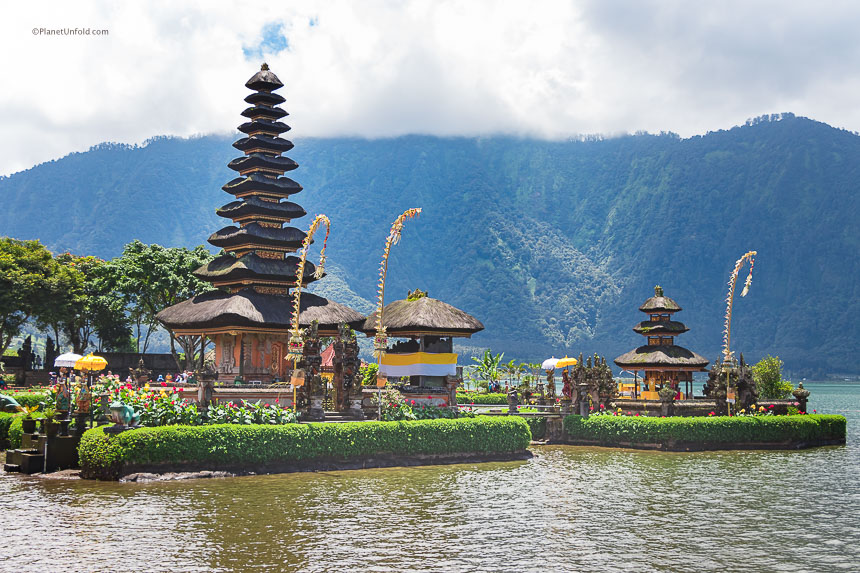 Ullun Danu Temple, Bali
This temple sits in a vast area in the slopes of an elevated mountain and a lake, its a beautiful premise with a group of temples by the lakeside. You can find a lot of picturesque spots here. We also found a restaurant inside the area that offers a good buffet in a reasonable price. The area also has a few shops to buy souvenirs and gifts, we purchased a unique variety of cinnamon tea coasters and a set of bowls made up of shells.
Ubud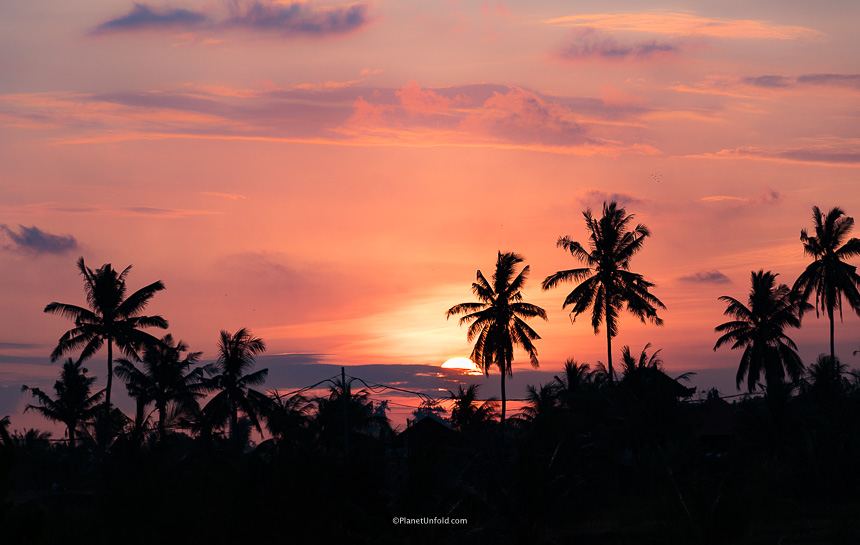 Ubud
Ubud is a lovely, misty and calm area located amongst the paddy fields and coffee gardens nearby, from where we drove was a very long straight road full of shops selling craft and decorative items representing Balinese cultural aspect. I really liked the wooden wind chimes as the mild sound they produce feels soothing to the soul and if you close your eyes while listening you feel to be at some natural ambience. There are also few resorts in this area, people who like greenery and craft shall definitely explore this place.
Budget
Approximately SGD 2000 to 2500 approximately for 4-5 days for a couple, do keep extra cash for visiting temples and some other places with entry tickets.
Packing
Do not miss your swimwear and sunblock to plan for water sports or activities., you will need sports shoes if you plan to hike otherwise normal footwear shall be good, avoid high heels or delicate footwear. Always keep an extra pair of clothes in your bag.
Accommodation
We stayed in Swiss bel hotel as we had planned daily tours and didn't wanted to spend too much on staying, luckily found some reasonable deal online. The room was spacious and comfortable, the buffet breakfast had quite a variety of options. Loved it.
Transport
The best way to explore the attractions of Bali is to book a cab and a driver, the drivers generally know shorter routes and help build the itinerary during the stay in advance. Our driver suggested us good places to eat and visit, the scope of bargaining at few places, saving time and efforts too. These people are professional and punctual, so be on time to avoid delayed trips.
We hired a driver through a friend's recommendation, below are the contact details:
Website: www.jogedbalitour.com
Contact person: Lisa +62 852 3704 8168
Our Itinerary
Our itinerary and costs associated are mentioned below:
Day 1
1:30 pm: airport pick up and Lunch
3:00 pm: Spa
4:30 pm: Melasti Beach
6:00 pm: Tanah Lot
7:30 pm: back to hotel
Note: You can also ask the driver to drop you or suggest a local food place for dinner on the way to the hotel.
Transport Charges: SGD 45 approx.
Day 2:
09:00 am: Pick up from hotel
11:30 am – 1:00 pm: Besakih temple
2:00 pm – 3:00 pm: Lunch at Kintamani Volcano site
4: 30 pm – 5:30 pm: Kusamba Beach
6:00 pm – 8:00 pm: Visit Kuta + dinner at seashore
8:00 pm: Back to hotel
Transport Charges: SGD 85 approx.
Day 3:
09:00 am: pick up from hotel
10:00 – 12:00 noon: Tanjung Benoa beach underwater walk (sea walker) and turtle island
1:00 – 2:00 pm:  Drive Green Bowl Beach
2:00 – 3:00 pm: Lunch
3:00 – 4:00 pm: Uluwatu temple
6:00 – 8:00 pm: Spa
8:00 – 9:00 pm: dinner + drop back to the hotel
Transport Charges: SGD 55 approx.
Underwater Walk & visit turtle island: IDR 900.000 / persom
Sea walker photos + videos: IDR 400.000
Day 4:
3:00 – 5:30 am: Pick up from hotel for Lovina Beach, it takes around 2-3 hours.
6:00 – 7:30 am: Dolphin tour
8:30 – 9:30 am: Visit the hot-springs
11:00 – 11:30 am: Ullun Danu temple
11:30 – 12:30 pm: explore Ubud
4:30 pm: drive back to the hotel
Transport charges: SGD 95 approx.
Dolphin Tour charges: IDR 150.000 / person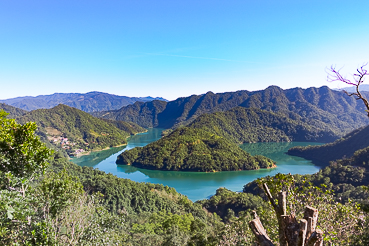 Shiding Thousand Island Lake, Taiwan
Shiding Thousand Island Lake, Taiwan
https://www.planetunfold.com/wp-content/uploads/2019/03/IMG_7827-Thousand-island-lake-thumb-1.jpg
369
246
Sheetal Khatri
https://secure.gravatar.com/avatar/a8c4e10205dce919119e3338d8d5269d?s=96&d=blank&r=g
Summary
Article Name
A Travel Guide to Bali, Indonesia
Description
An Indonesian paradise has numerous attractive places to see, Our Top Picks for "Must See" places including hidden gems of Bali in an exclusive itinerary.
Sheetal Khatri
planetunfold.com
https://planetunfold.com/wp-content/uploads/2019/09/Final-logo-1.png