Amazing Lookouts between Taipei and Sun Moon Lake
(Day 3)
The Sun Moon Lake in the heart of Taiwan is only a short drive, but why miss some stunning spots on the way. A lot of tourists visiting Taiwan rush towards Sun Moon Lake directly from Taipei leaving out these marvellous jewels on the western slice of Taiwan.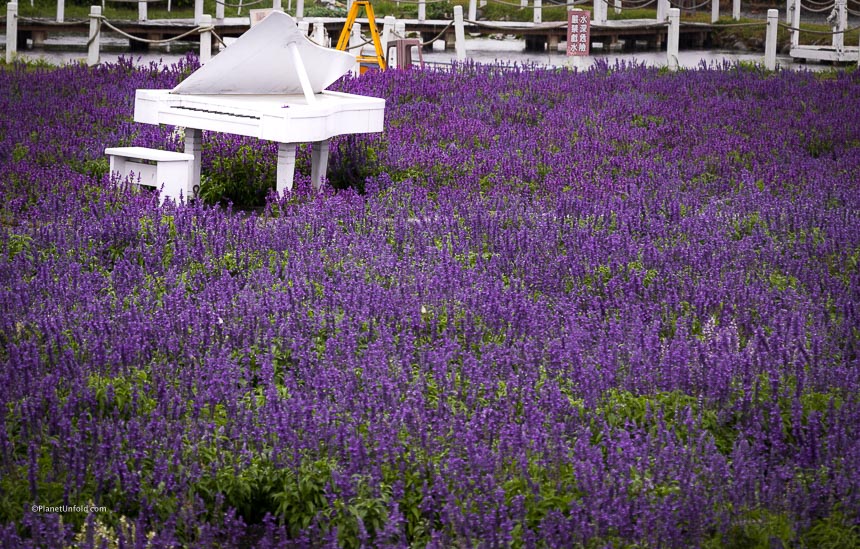 Amazing lookouts Taiwan
Driving for hours first thing in the morning can be stressful and ruin your amusement time at the lake area activities, because it allows either half day or a few hours to explore before sunset. Another fact to keep in mind is that most hotels in Taiwan allow check in from 3 pm onwards. This means, you need to carry your luggage everywhere.
So, we thought of taking a relaxed route to allow ourselves stumbling at some pretty spots on our way, these are cherished by locals being less touristy. After all, travel doesn't mean seeing only recognized attractions. A road trip is more enjoyable when it is bendable and allows taking-in every bit of the scenery we cross by, stop wherever we like to.
The distance from Taipei city to Sun Moon Lake is about (260 km) a 3-hour drive. Certainly, the shoreline route taking highway no. 3 is a must to adore majestic oceans views and some incredible coastal spots on the way.
Relax Near Tofu Rocks
Tofu rocks
The Tofu Rocks are a concrete string of tablets placed to prevent the local river corrosion. These are located along Xinglong road in Zhudong, Hsinchu City. This place isn't very touristy nor does it offer thrilling views of an elegant river, yet a quiet place to relax in greenery for some time. There is a bunch of restaurants and shops close to get some quick breakfast and pick up supplies on the road.
Feel the breeze at Houlong Cape of Good Hope
The next destination to stop shall be the Houlong Cape of Good Hope, it is a nice scenic coastal spot to catch a fresh air break from driving. It is an exotic grandeur with huge wind turbines, walking slopes overlooking broad seaside views. If you decide to stay in Miaoli county, the nearest serene location for a day trip is Shei-Pa national park.
Cherish the Vistas of Zhongshe Flower Market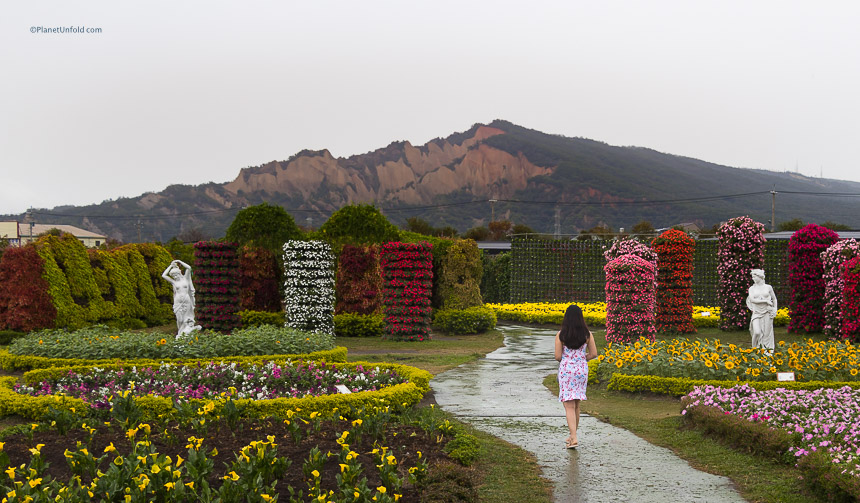 Zhongshe flower fields
When we reached Zhongshe flower fields, it felt like we were marching inside a fairyland amid euphoric flower beds. The weather had got rainy just enough to dampen the blooms, only to enrich their mysticism. Taiwan is also an exporter of several florae and this is one place to by-stand the decor of colourful nature.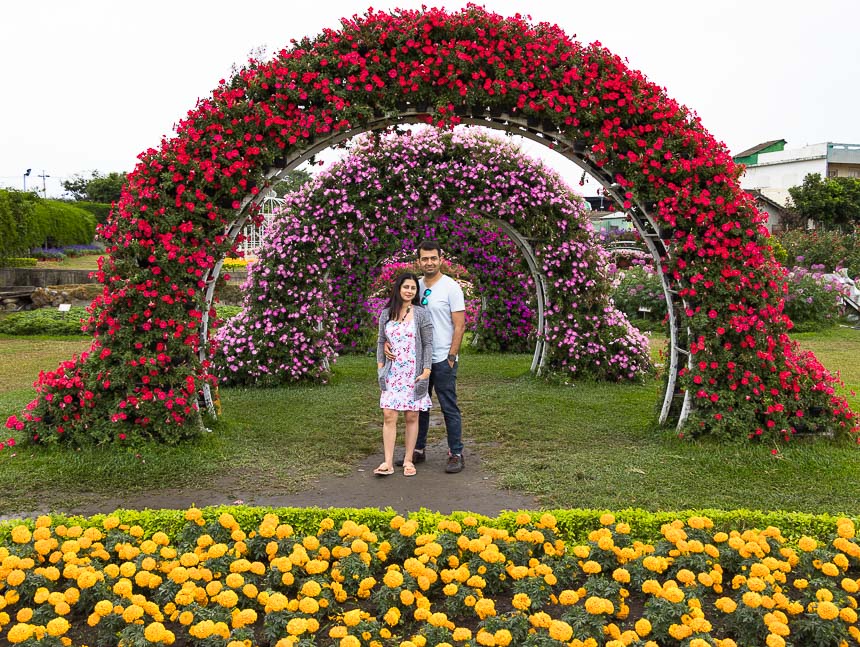 Zhongshe flower fields
The fields are popular photography spots. We came across a wedding photoshoot going on around in the lavender fields. If you get hungry you can also have your lunch here. Try a combo entry ticket price that comes with a Taiwanese seafood barbecue lunch.
Opening hours: 8am to 6pm, Ticket price: NT 120 per person
Watch Iconic Sunset at Gaomei Wetlands
Gaomei wetlands
The Gaomei wetlands is truly a treasured framework in Taichung. It has a serene park area along with walkways to sightsee huge windmills extended in the wetlands. The best time to visit here is late afternoon till sunset since the low tide offers wide savannahs and glorious sundown views. The remaining distance to Sun Moon lake from here will be 112 km, so you can still reach in an hour post sunset.
There isn't much to do in Taichung except strolling through a few night markets. We already experienced those in Taipei. So, we moved on for Sun Moon Lake to stay for the night, which upheld to be the best decision of this trip.
Dine and Stay at Sun Moon Lake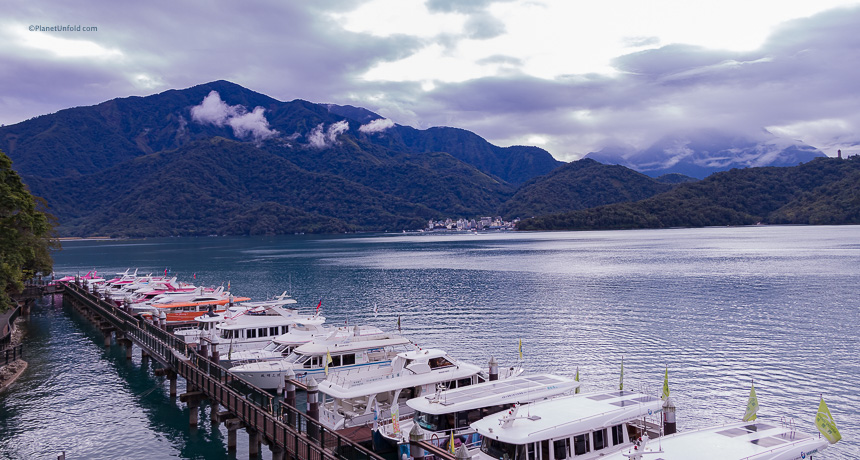 Sun Moon Lake view
Sun Moon Lake, in the foothills of Taiwan's vital highlands is a seasoned area for tourism. This is an ideal staycation venue to wind up from a long day drive. There are myriad eateries to have authentic Taiwanese dinner as well as other continental food. Seven elevens are easy to find here to stock up supplies.
The area neighbouring Sun Moon Lake in Yuchi features many scenic outdoor trails and boat rides (between 9-5 pm) and you will need at least one full day to visit most of them. Few attractions also take you further from the lake area, so it is better to arrive here a night before and sightsee next morning.
Also, we recommend booking a lake view room so that you don't miss out the enthralling sight of misty clouds hovering above mountains and the starry night sky.
We are covering a detailed post on things to do around Sun Moon Lake in our next post, so stay tuned.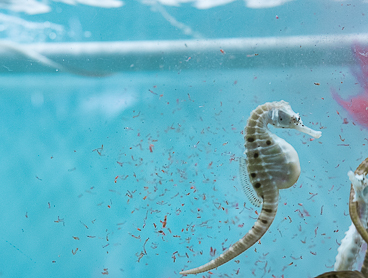 Things to do in Launceston
Things to do in Launceston
https://www.planetunfold.com/wp-content/uploads/2018/04/IMG_0261-Thumb-1.jpg
368
278
Sheetal Khatri
https://secure.gravatar.com/avatar/a8c4e10205dce919119e3338d8d5269d?s=96&d=blank&r=g
Summary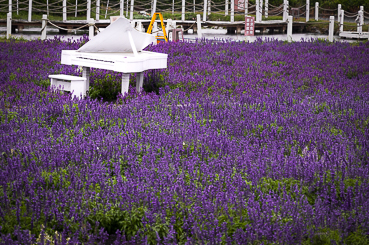 Article Name
Amazing Lookouts between Taipei and Sun Moon Lake
Description
The Sun Moon Lake in the heart of Taiwan is only a short drive, but why miss some stunning spots on the way. A lot of tourists visiting Taiwan rush towards Sun Moon Lake directly from Taipei leaving out these marvellous jewels of the western slice of Taiwan.
Sheetal Khatri
planetunfold.com
https://planetunfold.com/wp-content/uploads/2019/09/Final-logo-1.png