An Epic Coron Island Houseboat Stay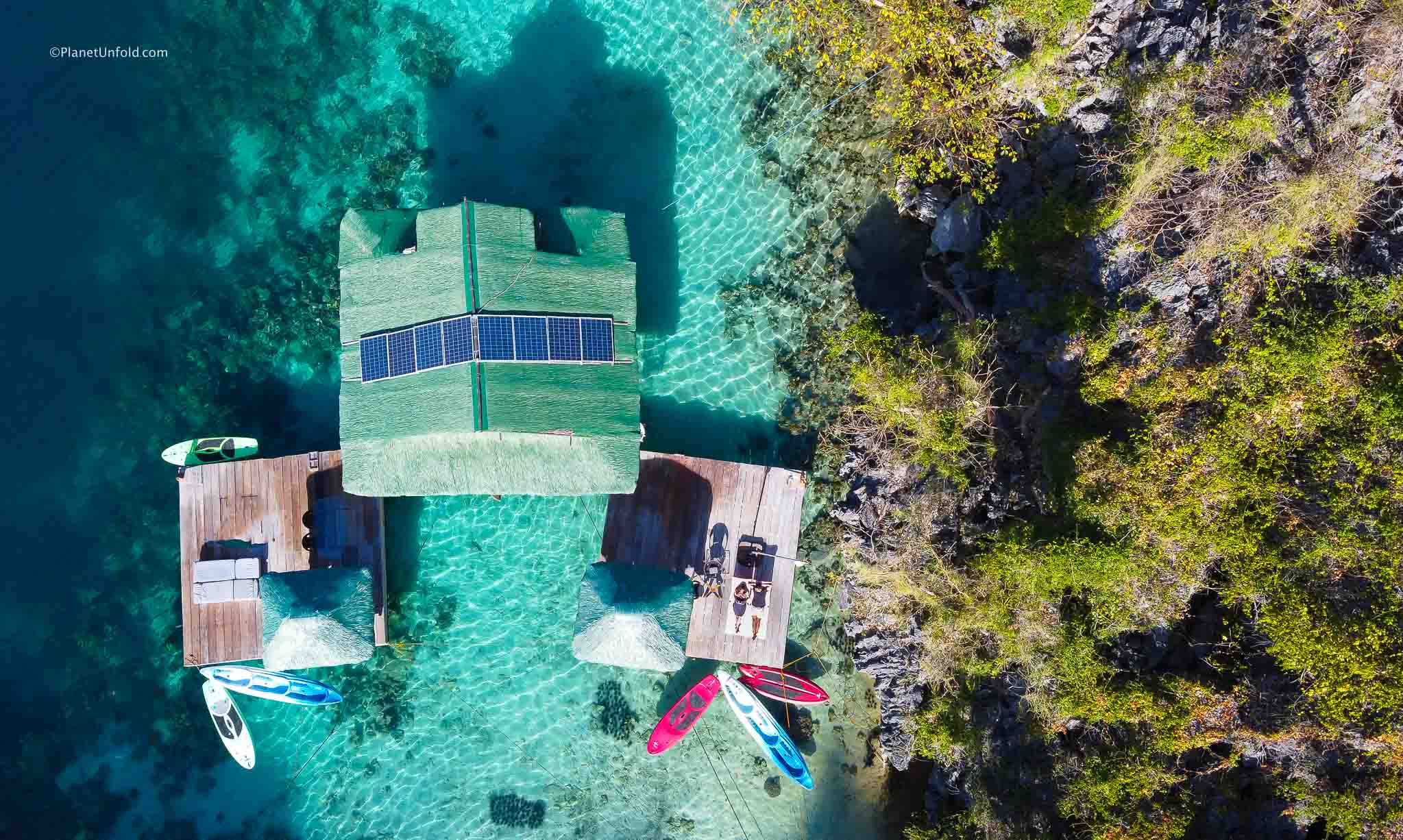 Our secluded paradise in Laknisan Lagoon
"Imagine yourself waking up on a floating house, over a gorgeous blue lagoon, bursting with flashy corals just a foot under water.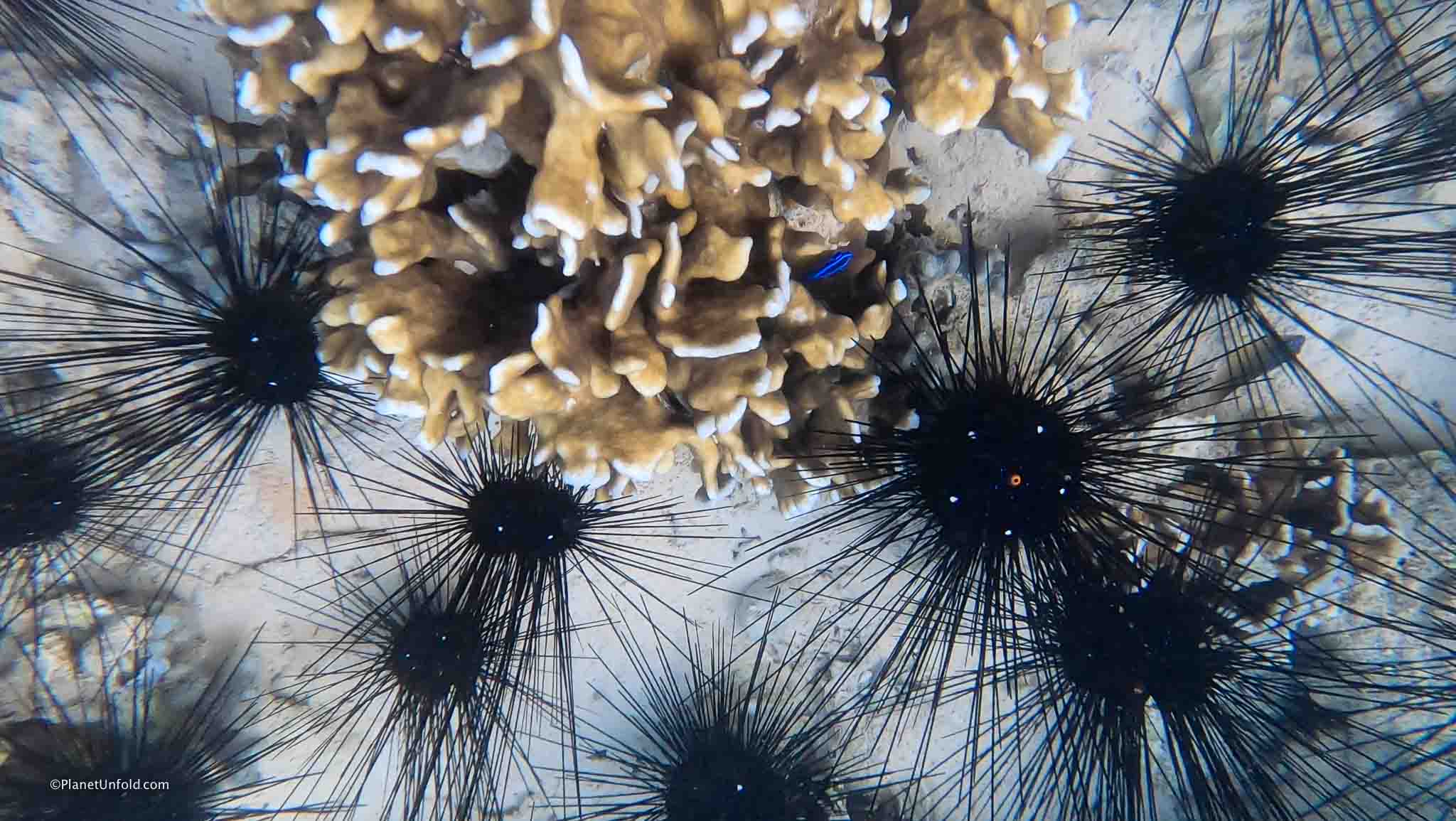 Our neighbour residents!
The water is so clear, you can see vibrant fishes twirling around as you enjoy a warm cup of coffee. You spend daylight hours kayaking over lagoons, swimming atop coral gardens, shipwrecks and lakes that cloaked massifs underneath.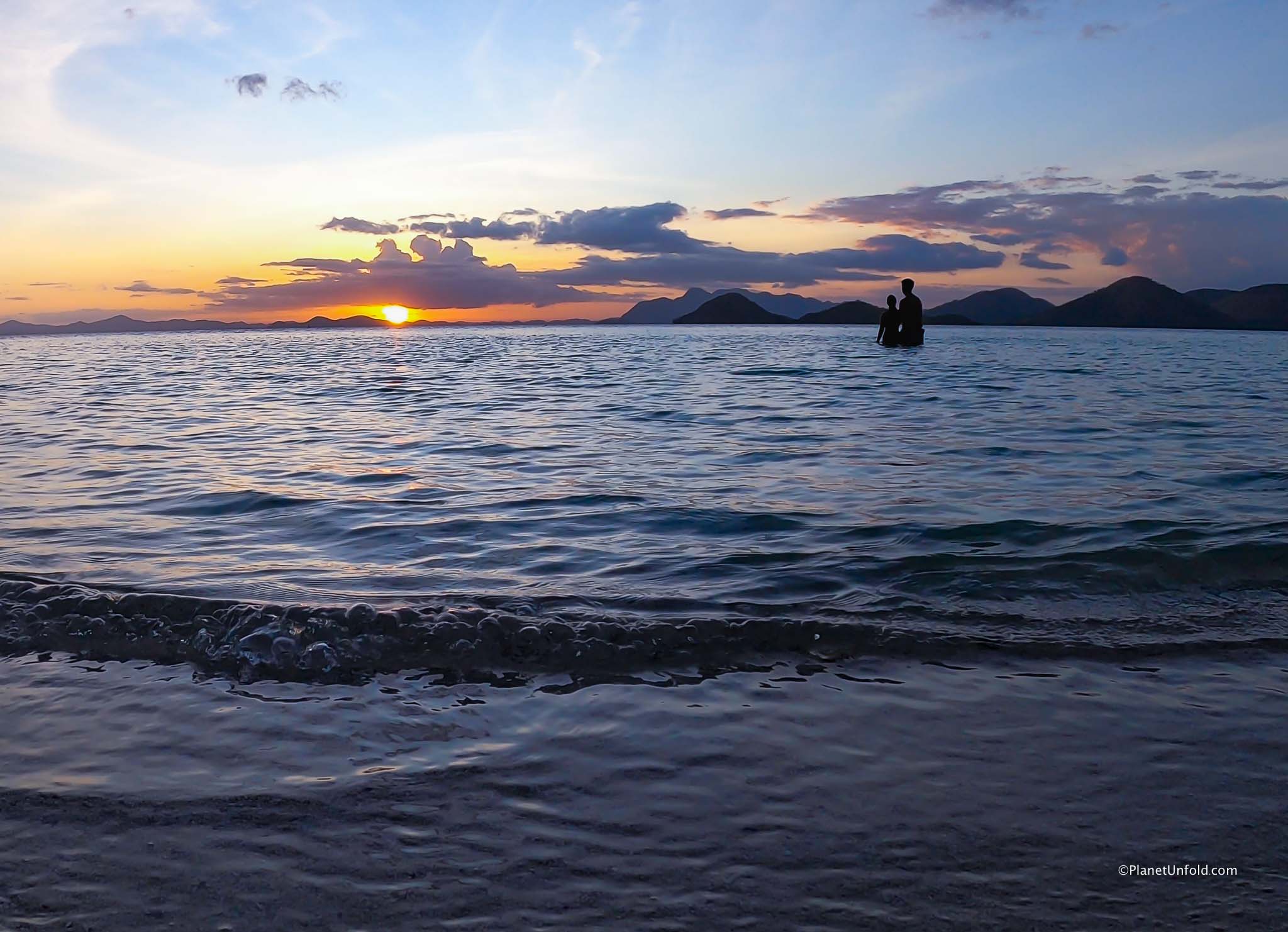 Watching sunset dipped in the sea!
You dip in low tide till waist, gazing at a beautiful sunset holding hands with your partner, together amongst huge sea turtles munching on seaweed in the vicinity.
Floating Restautant @ PHB
When you get hungry, you get a quick boat ride to a floating diner where you are served with tropical fresh fruits, local and Italian delicacies. Sometimes food is sent to your room by boat if you didn't feel like getting out. You meet cheery natives who share their stories and live a life of simplicity. A secret abode where you feel harmony being afar from chaos, internet and worldly humdrums. Sounds like an extra ordinary place to visit, right! "
We are uncovering a lot of amazing details about the most unique experience we ever cherished, living on a house boat immersed in the natural splendour of Laknisan Lagoon within Coron island, Philippines.
About Coron Island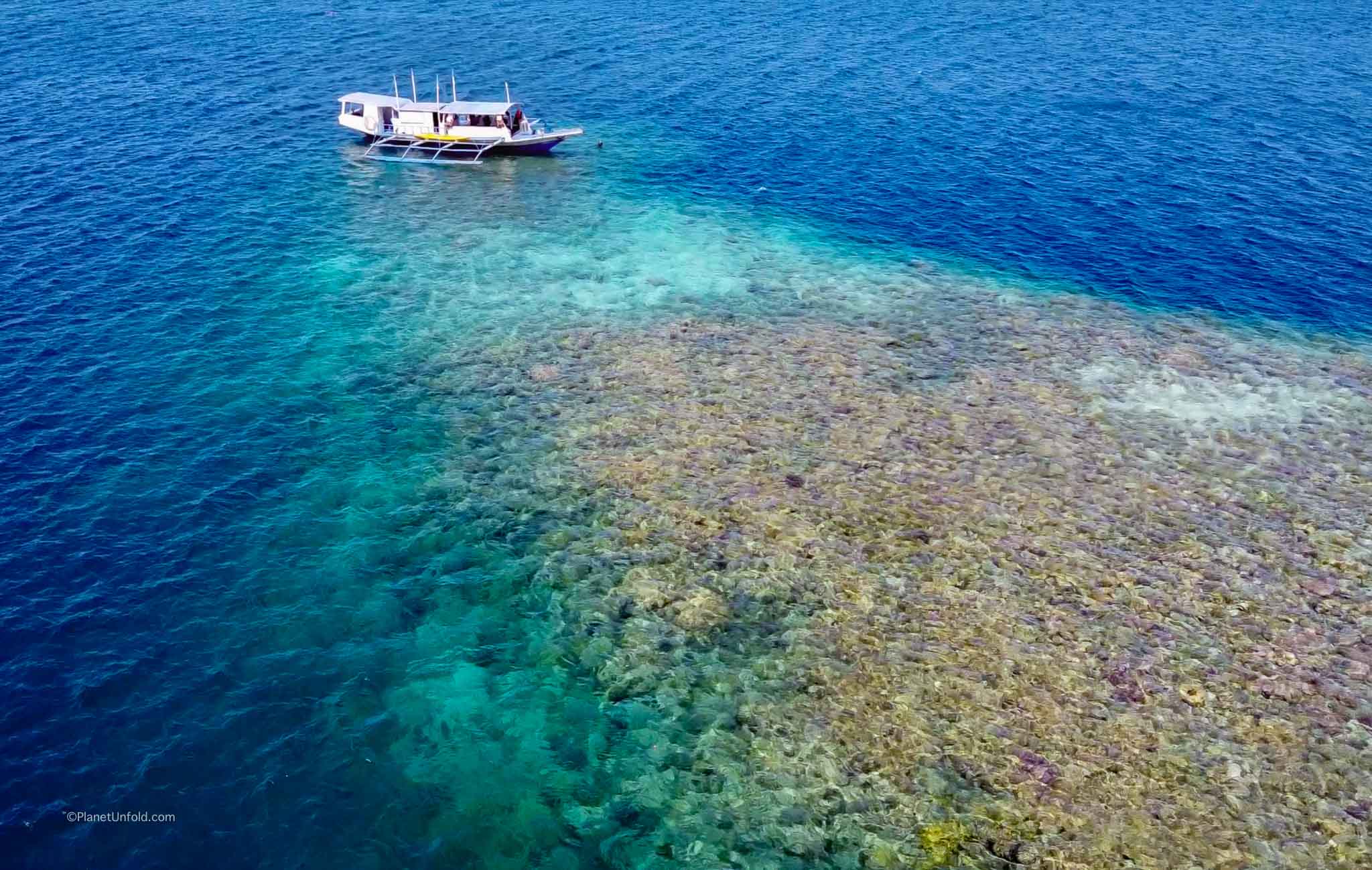 A paradise found!
Coron Island is absolutely the most stunning island within Philippines archipelagos. This secluded paradise is renowned for WW2 era wreck diving/snorkeling spots, intact nature and gorgeous beaches.
More enthralling features are azure lagoons, vibrant coral gardens and the variety of marine life you can see just few meters away from shore. The island embraces elegant emerald lakes against sharp crags that look like ancient sunken mountains.
You can take some small boat rides to discover numerous gorgeous islands, hidden lagoons, secret beaches and sandbars across Coron. These are all simply accessible via island hopping day tours, some of these islands have exclusive resorts where guests can stay if they want to spend more time.
Land of Tagbanua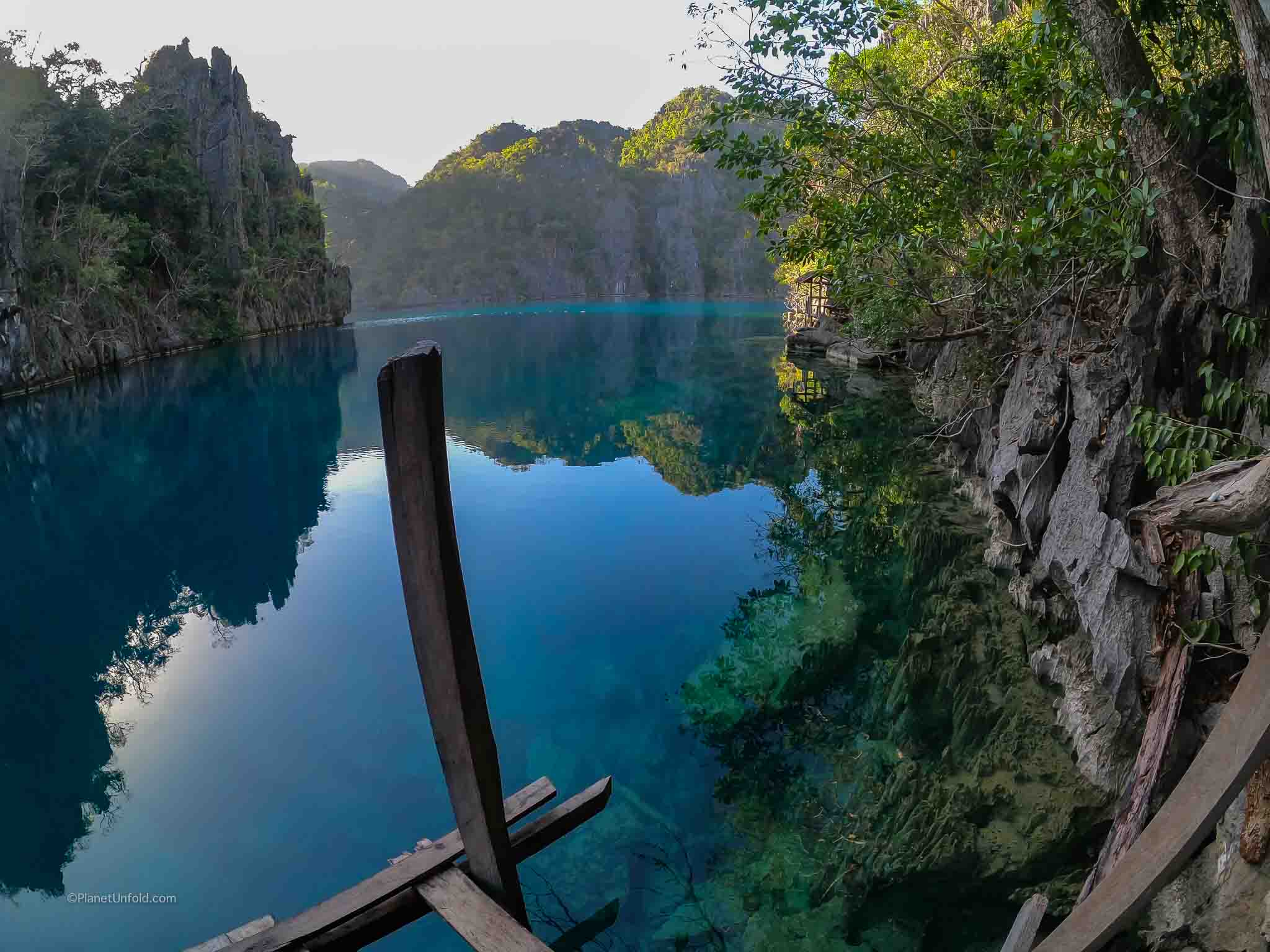 Land of Tagbanua
Approx. 200 million years old Coron island belongs to the sovereign of its native tribe of approx. 2000 people and is very well protected by the Philippines government who recognises it as their land. Some interesting facts about Coron's natives who are probably the original Filipinos.
They are descended from Tabon man whose remains dated more than 16,500 years ago. They are oldest ethnic groups, largely located in central and northern Palawan.
They persisted isolated even during Spanish and Japanese administrations in the 15th and 19th centuries.
They symbolise native Filipino history, culture and tradition, follow their own spirituality through ritual, dance, and music. Many spiritual landmarks in Coron island are protected from tourists and only few are open for public.
Tagbanua use an assortment of musical flutes (babarak, tipanu & kudlung) and instruments made from native trees.
Among 175 dialects throughout Philippines, they speak within Aborian Tagbanua, Calamian Tagbanua, and Central Tagbanua dialects along with different local dialects of Palawan as well as understand some other Filipino dialects.
Coron Vs El Nido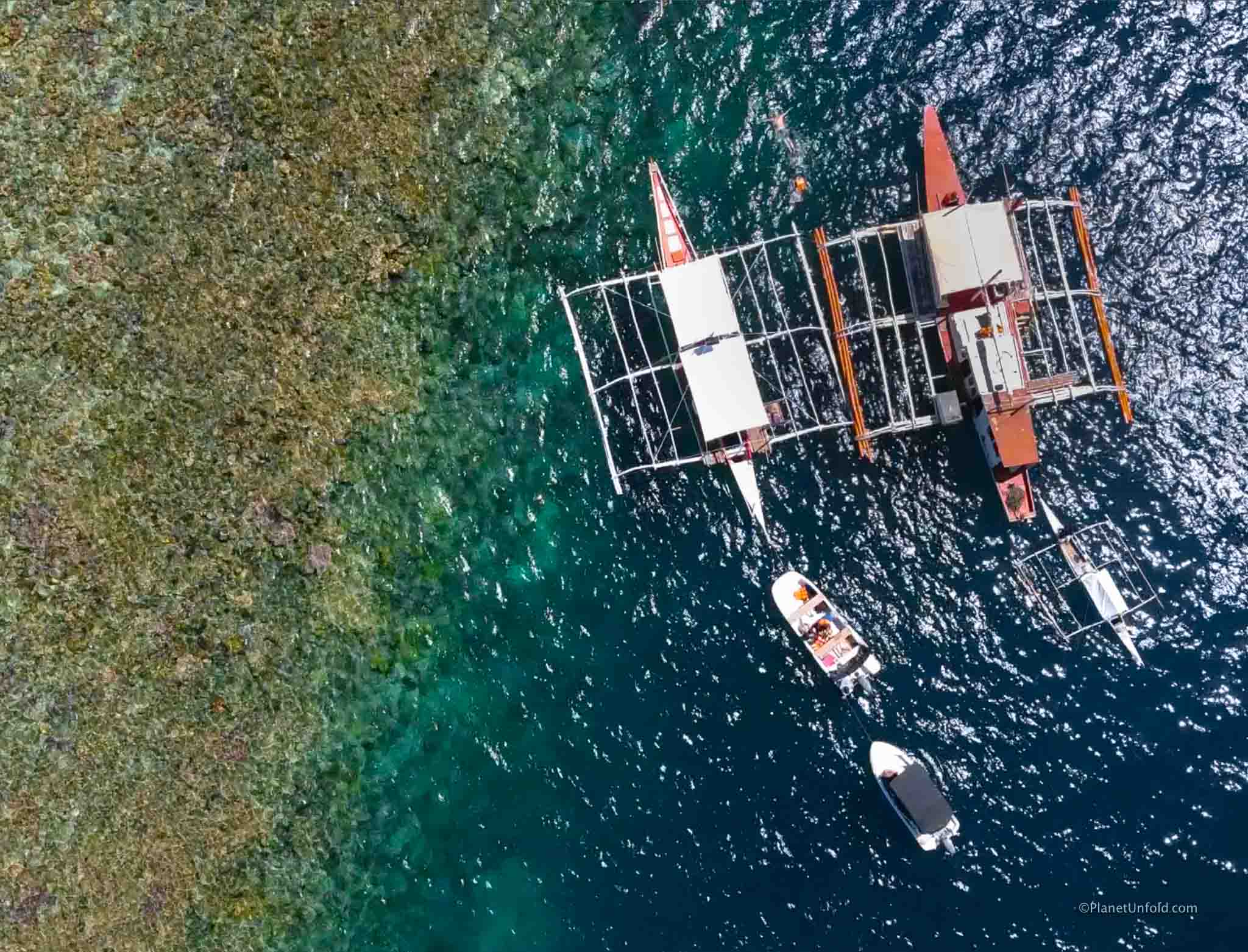 Coron or El Nido
You might relate to some reasons, why we chose visiting Coron Island over El Nido. We made up our minds after a lot of reading on the internet, comparing several island-hopping tours, destinations covered, prices versus value, places to stay, food etc. It seems that both places are similar in many aspects despite of some differences that might contribute to your decision making. Here's what travelers say when they compare Coron Island with El Nido:
Cleanliness: Coron is cleaner, less touristy more serene, calm and secluded than El Nido
Variety of beaches: El Nido is larger region and so, offers more variety of beaches via Tours A,B,C &D. Tours A & C are the most popular ones amongst all.
Tranquility: Coron is much smaller than El Nido, has less choices of beaches but is more tranquil compared to El Nido.
Remote & Unique: El Nido is popular while Coron is for those who seek remote and 'distinctive' experiences.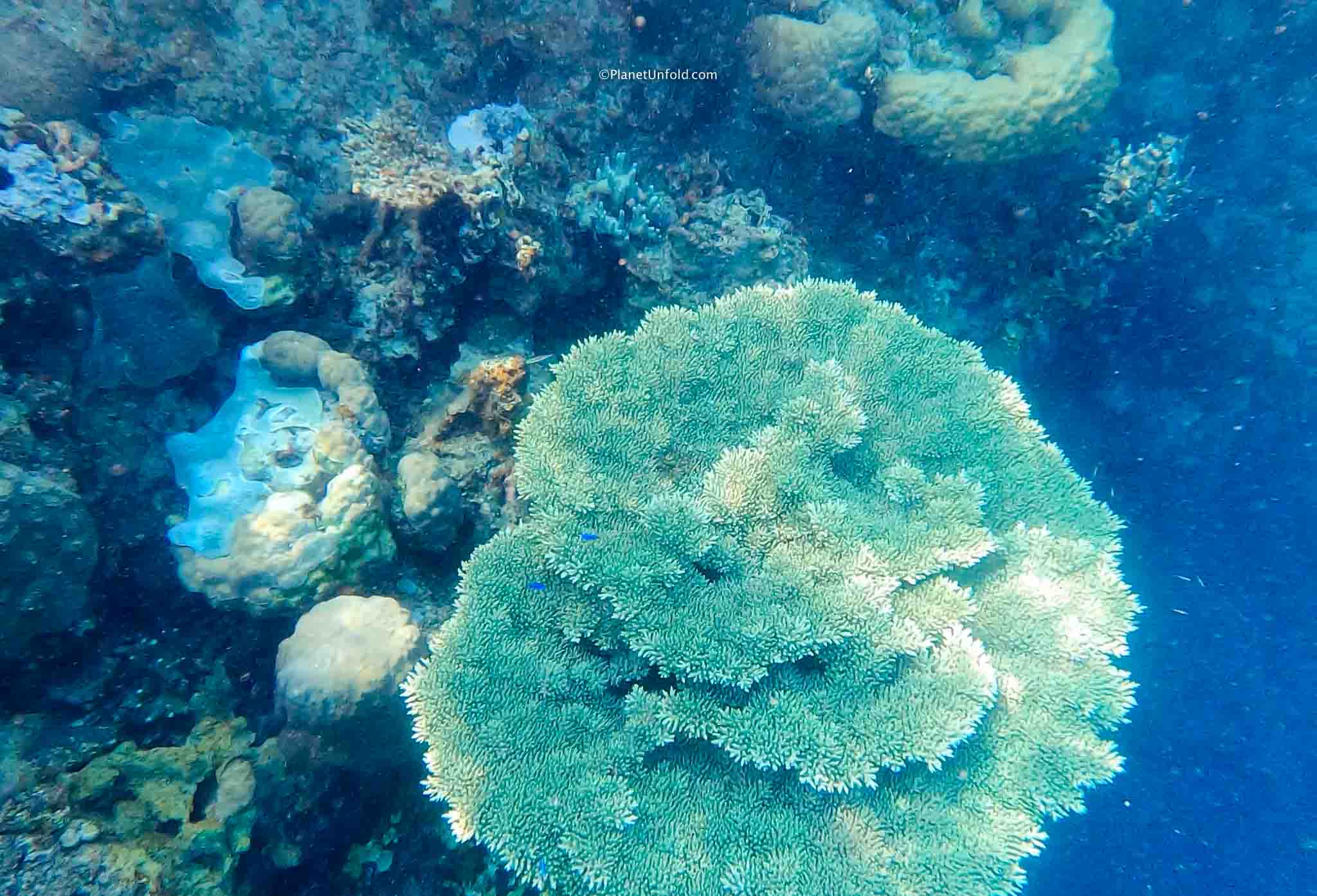 Home to wonderful corals and marine species!
Island hopping experience: Particularly, island hopping experiences are much better in Coron while El Nido feels aggressive.
Popularity amongst travellers: Most reviewers said they wanted to visit Coron again, not EL Nido after visiting once.
The above aspects lead us to visiting Coron Island to gain the 'best value factor' while in Philippines. This doesn't mean we do not want to explore El Nido, at all. El Nido has it sown charms along with amazing variety of beach front and tree house stays, we might just cover it later sometime.
Getting to Coron is easier now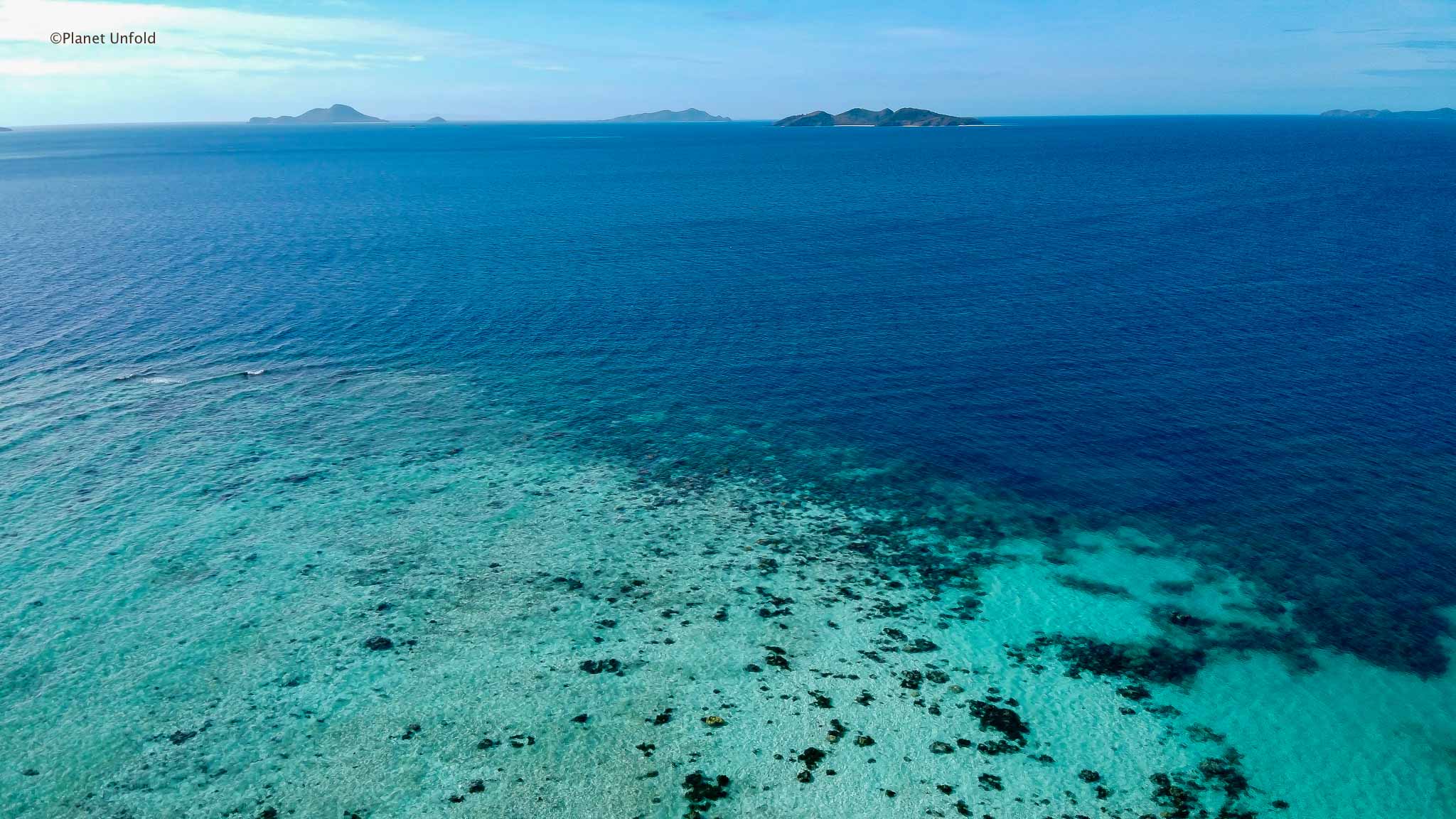 Getting to Coron is easier now
The best way to reach Coron Island is to take a direct flight from Manilla or Mactan Cebu airport to Busuanga airport (USU) which is the nearest domestic airport for Coron Island. Flight duration is about 1.30 hours from either of the locations.
It takes around 30 mins via car/van ride or 1-hour via Jeepeney from Busuanga airport to Coron town's ferry terminal. The ferry or speed boat ride then takes about 15-20 mins to Coron Island. Many resorts and hotels include airport and boat transfers when you book which saves you from the extra effort.
Where to stay?
Most people either stay in hotels or Airbnbs of Coron town proper located on Busuanga island and book day trips to visit attractions in Coron Island. The most rewarding way to experience Coron Island is to stay on the island amid those charms and nowhere else.
Paolyn Houseboats are the only accommodation and restaurant in the northwest tip of Coron Island and it is an exceptional place set up in gorgeous Laknisan Lagoon. Read on to know why.
An unforgettable stay in paradise- Paolyn Houseboats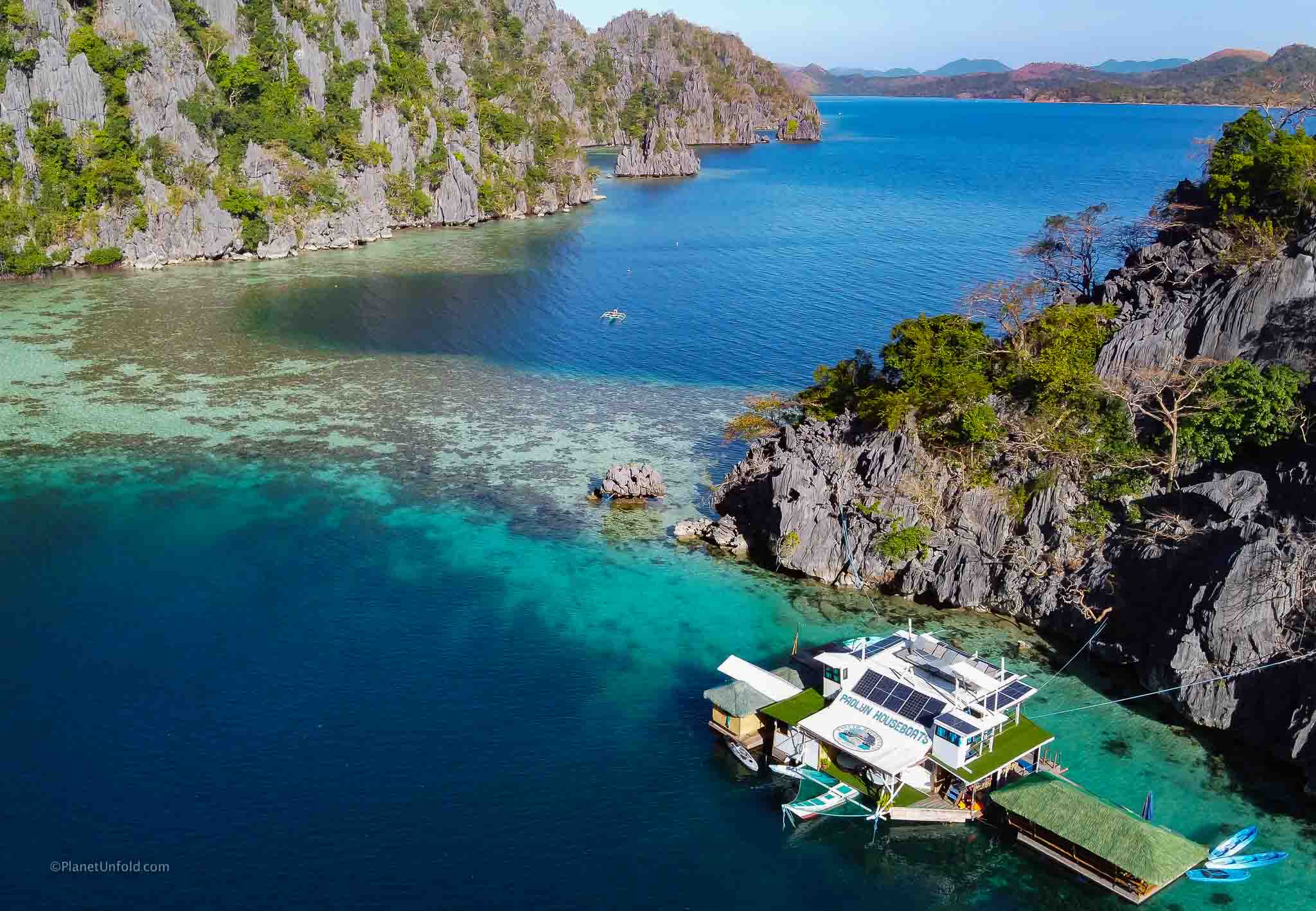 Paolyn Houseboats, the main boat with attached floating restaurant.
You might want to stay at Paolyn Houseboats to get the most rewarding experience in Coron Island. It's not every day you get to live in a paradise like this, so when you do, you cannot miss it.
Many of you who can relate to us, know that travelling is all about niche experiences. The more exotic it is, the more you feel complacent with life. It's a soul refreshing unconventional break you may never forget.
What makes Paolyn Houseboats a unique place to stay?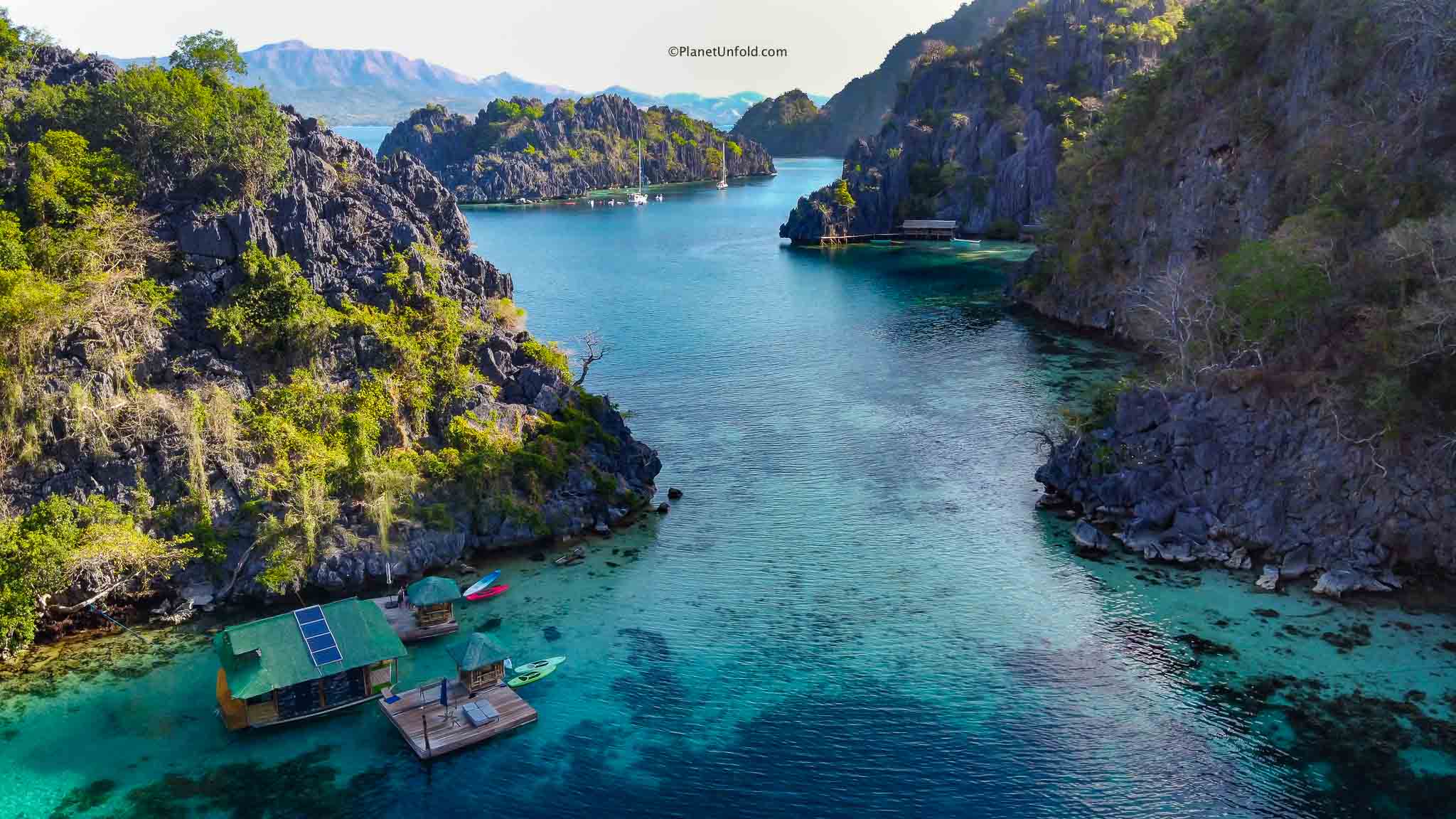 Laknisan Lagoon
Seclusion, beauty and peace living at the only accommodation in Coron.
An ideal getaway for people chasing unique experiences, honeymooners, couples, small families, solo travelers, swimming fanatics who love to watch fishes and corals and nature lovers who seek leisure in a quiet place.
You get an entire lagoon to yourselves shared with only few guests, there is lots of privacy and freedom to explore surrounds on your own kayak or paddleboat provided. It is an expensive affair absolutely worth it.
Only few meters away to most Coron attractions like coral gardens, secret beaches and twin lagoons. They offer private boat transfers at timings before tourists arrive and after they have left (the tour operators are strictly instructed to return from Coron by 4:30 pm every day), so you can enjoy the attractions without crowds in peace with more flexibility and time to spend on your favourite spots.
No need to arrange boat transfer separately.
Stay Options within Houseboats
Bamboo Houseboat
The Houseboats each have one of a kind character & décor with versatile rooms and leisure decks for a comfortable stay. You can relish stargazing at the rooftop lying in a hammock or beanbags, or jump into the blue lagoon whenever you wish. Most spaces have private bathrooms, you may choose as per your comfort level:
The Main Houseboat-Total 3 rooms, 2 small and 1 big room, good for small group
Bamboo Houseboat– Total 4 suites, great for small families or a large group
Glass Houseboat-Can be rented entirely or half, more private, more spacious, ideal for couples
Our personal experience staying in the Glass boat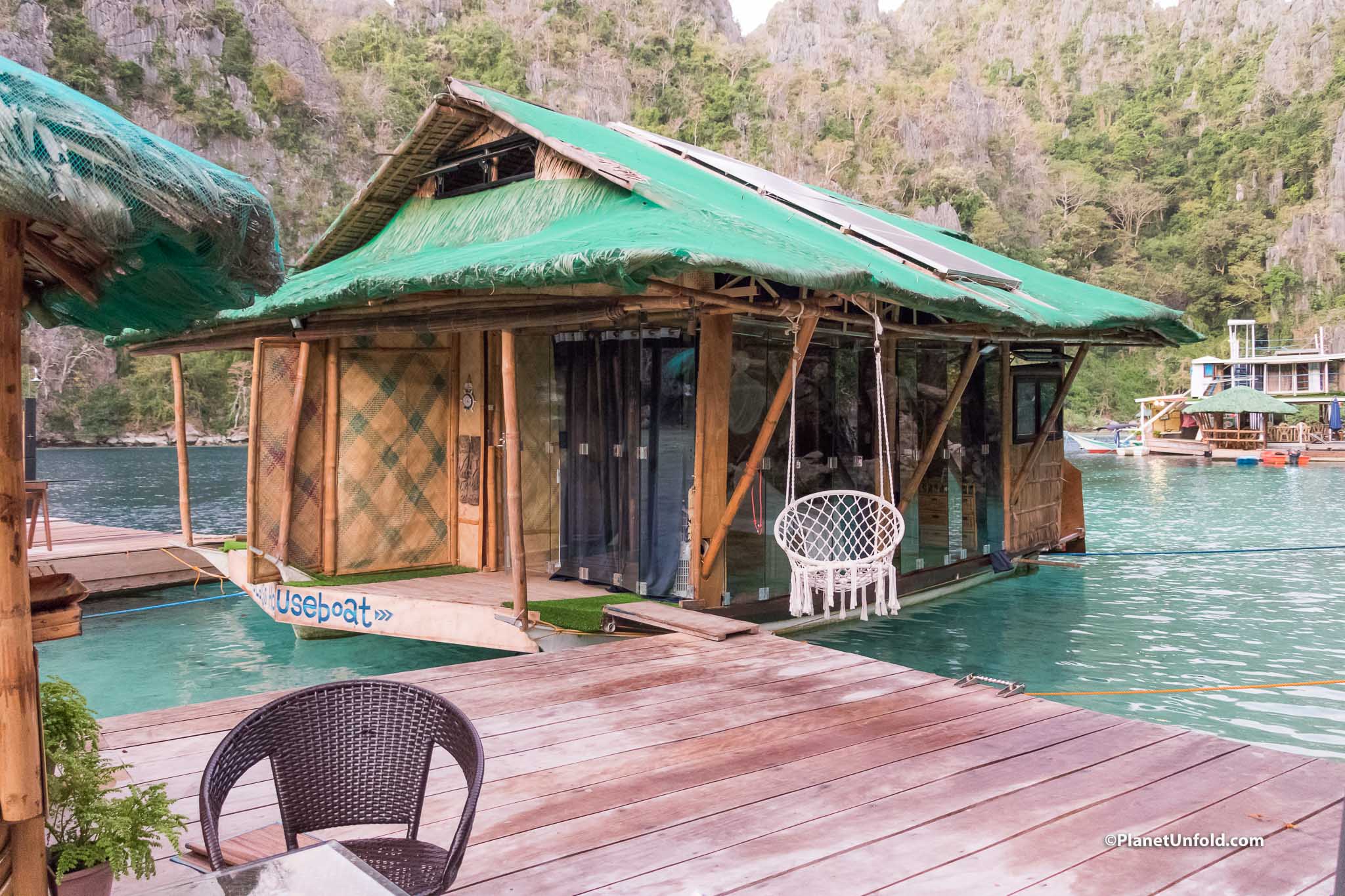 Our Glassboat
The glass boat can be either booked entirely or half, we booked the half and they gave us the lagoon side of it with more privacy. Few admirable features of glass boat are, a private floating deck outside the room with an open chalet to eat, a small ladder to enter the lagoon, a pair of long chairs to relax or sunbathe and a set of coffee table. It certainly felt more private than others.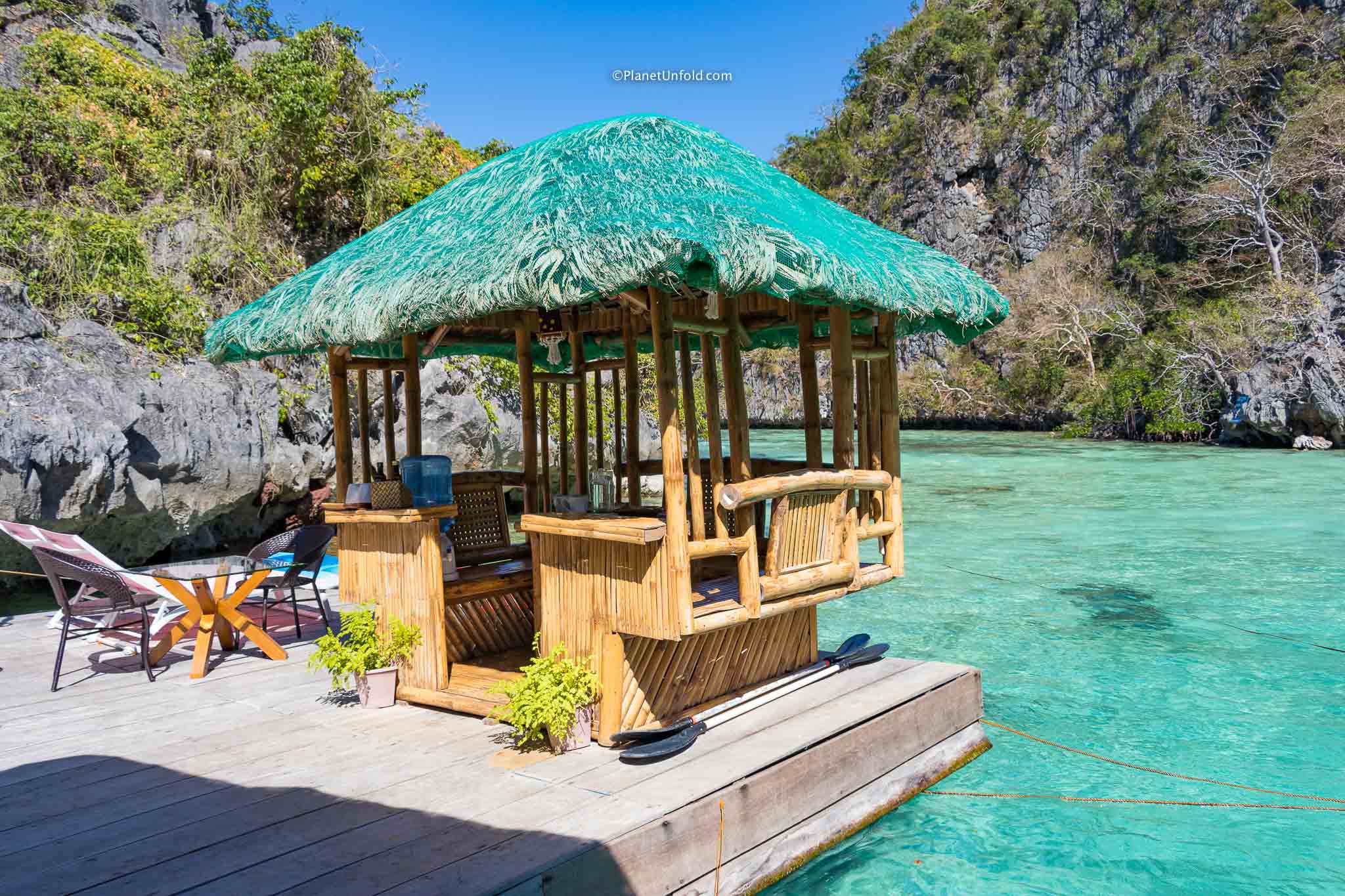 Relax, Eat & Stargaze on the deck attached.
They even gave us a kayak, two paddle boats, snorkelling gear, life jackets and fins to use for free. We went to see twin lagoons, green lagoon and the neighbouring expanse just kayaking an early morning, no crowds had arrived yet so we had the place just to ourselves. It was a different feeling being able to cherish pure nature without missing on luxurious conveniences.
Kayaking our way around Twin Lagoons
The lagoon was private for us during the stay and we could see an array of tiny colourful fishes playing in and out of corals adjoining the sharp crags every day, some even lived under the deck. It was impeccable whilst we relished stargazing lying on the long chairs every night, truly magical. Internet was weak there and the WIFI worked really slow, but we never missed internet, social media or city life at all.
They have thoughtfully invested in an Eco compatible arrangement while fashioning the place with ample facilities to avoid contaminating the nature that surrounds.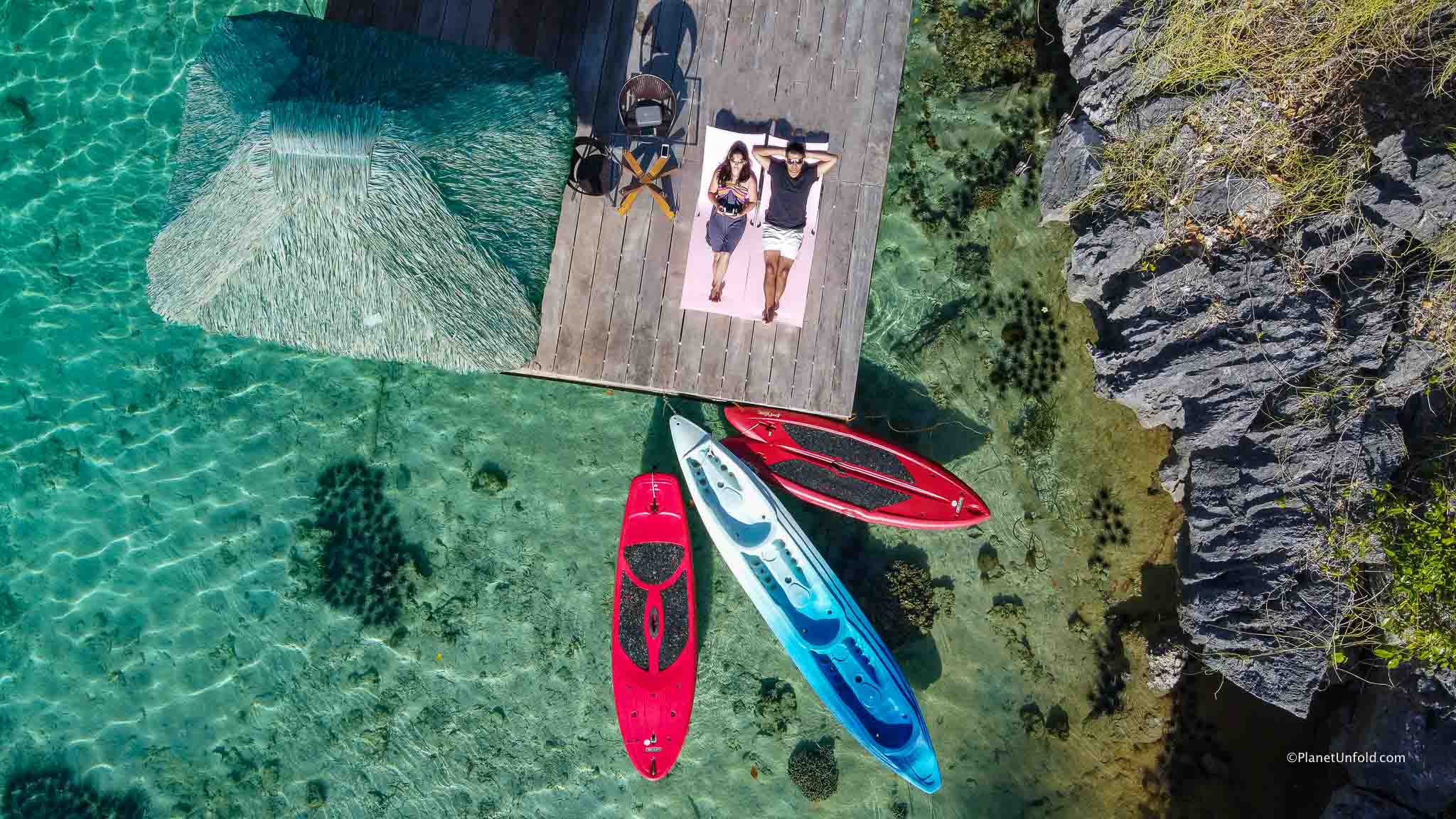 Nap time!
The Floating Restaurant– Despite of being in a seclude space, the floating restaurant at Paolyn HB manages to serve fresh food daily. The menu is limited to some western, Italian and local delicacies and still has a good assortment, for both vegetarians and non-vegetarians.
We tried different things from the menu every day and had no complaints. Some of the best items in the menu are, the grilled fish, pancakes, pastas, turon and mango flute.
Quick Tip: We recommend enjoying your food/coffee at the restaurant rather than asking for delivery at your room, because it may get cold on the way due to wind at times. You get to socialise with their adorable staff too 🙂 What not to miss: Do not skip tasting the fresh fruits for sure, especially the native mango of Philippines.
Making such quality food available at such location in itself it admirable. You can make the staff aware of any allergies you may have so they may provide what you can eat.
See & do while here: recommended tours in Coron
You can take a customised private boat tour arranged during your stay at Paolyn HB. The below are recommended half day/full day tours that can also be done in a same day.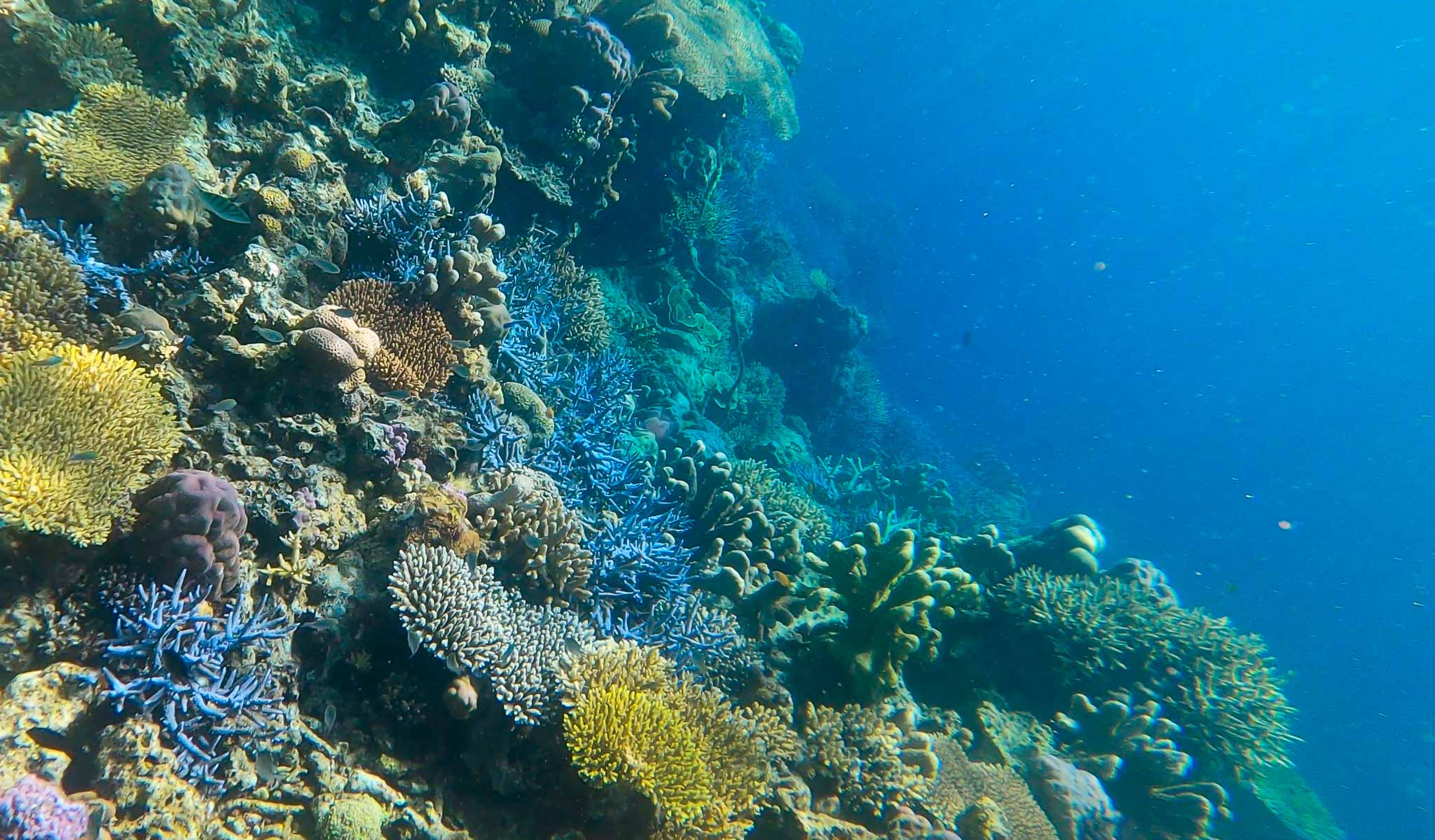 Coron Island Hopping: Most Beautiful Places to See
Recommended Coron Island spots to explore, tours and itinerary. Unique stay and things to do, know before you go.
read more...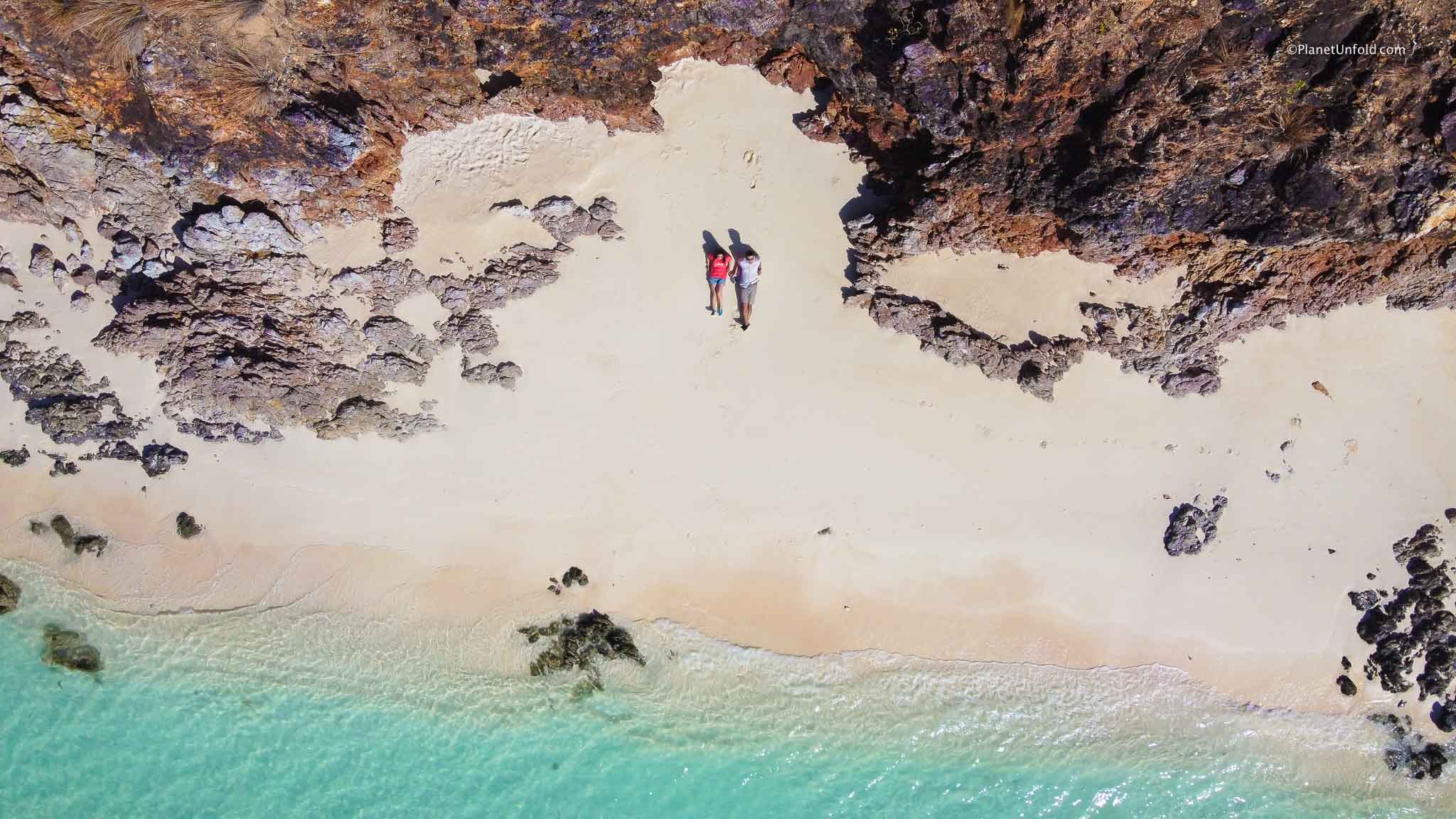 Escape Tour in Coron Palawan
An Escape tour in Coron Palawan is ideal for couples and honeymooners as it takes you to explore three exotic destinations surrounding Coron island.
read more...
Origin of Paolyn Houseboats: A story of loss, love and perseverance!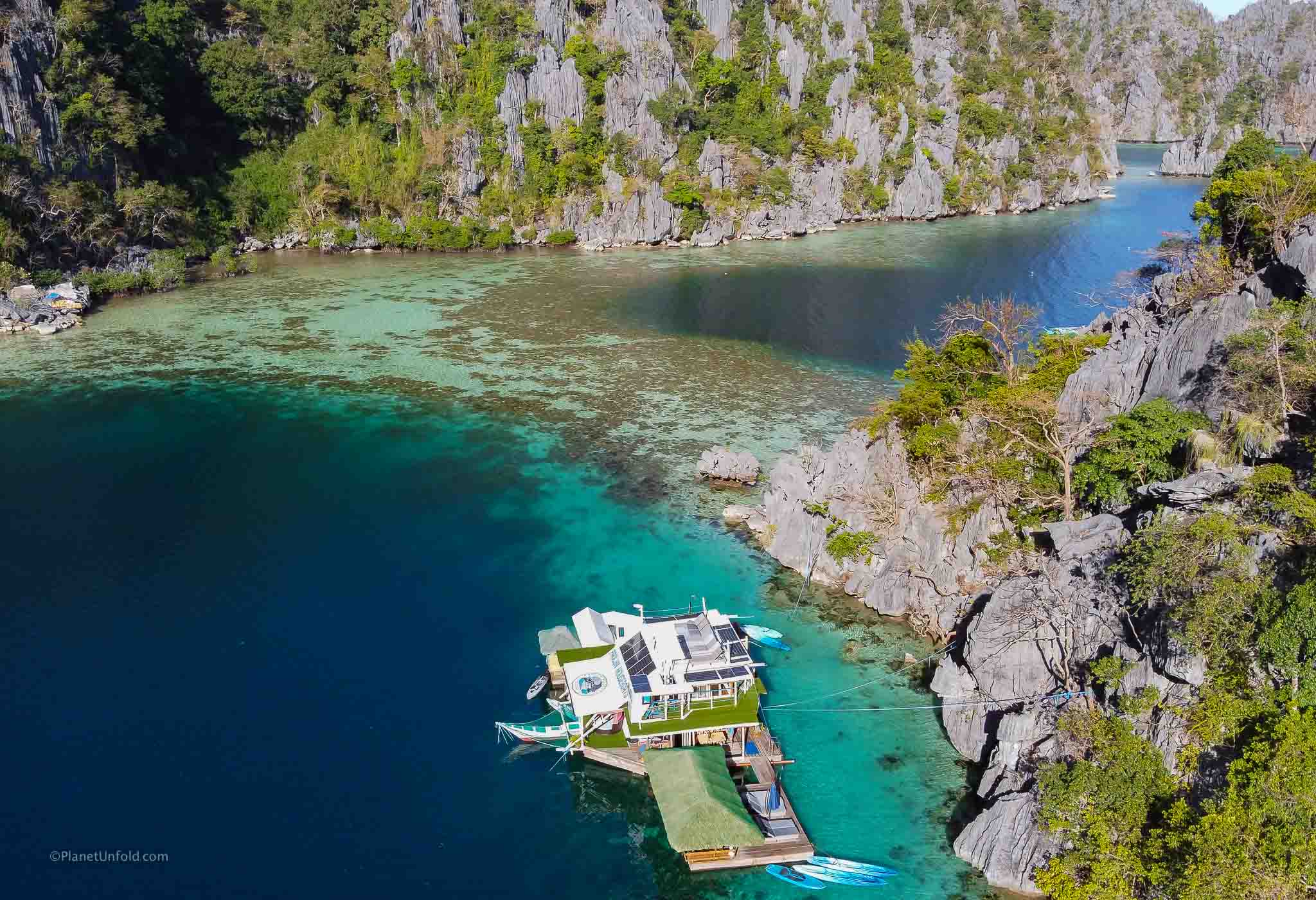 The first houseboat!
The extra ordinary set up of Paolyn Houseboats began with a remarkable story of its Italian owner. Paolo quit being CEO of a few IT companies after he lost his sister unfortunately. Realising life is too short, he ventured across Atlantic & Pacific oceans on a sail yacht, conquered extremities of untouched lands before he got lovestruck by the beauty of Coron and a native girl April Lyn.
His struggle continued as he built the first houseboat in a year with help of few natives. His skills changed from economist to mechanic, electrician, plumber etc.
The houseboats are constructed combining wood and leaves, fitted with eco compatible amenities, merging traditional and modern techniques he never trained for. He did all this holding on to one simple thought- 'Everything can be done if it is done in a proper manner'.
These natives became his family over time as he educated and helped them connect with world, taught them value of money and helped them earn fairly. We got to know more about his work through his employees, how natives held him in high regard. The fact how well they all spoke of him left us inspired for life. He is doing more than a business. and we are lucky to have met him in the course of our travels.
Day 3: Hamilton Gardens & Hobbiton
Day 3: Hamilton Gardens & Hobbiton
https://www.planetunfold.com/wp-content/uploads/2019/09/IMG_1047-Those-Sinful-Desserts-1-1024x779.jpg
1024
779
Sheetal Khatri
https://secure.gravatar.com/avatar/a8c4e10205dce919119e3338d8d5269d?s=96&d=blank&r=g
Summary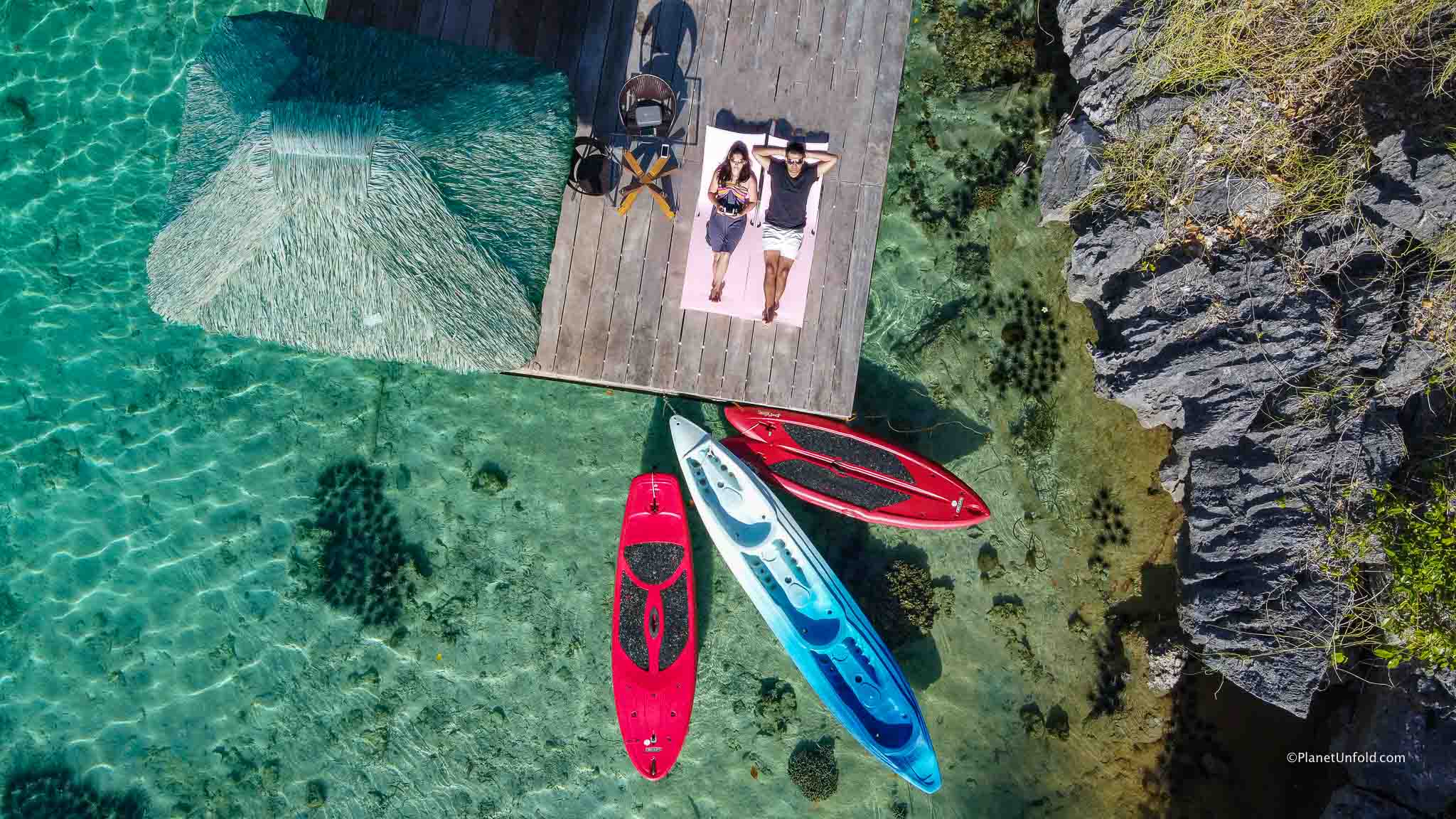 Article Name
An Epic Coron Island Houseboat Stay
Description
A Unique stay Coron Island, Philippines, Basic info, See & Do, Recommended Coron Tours and Things not to miss. Paolyn Houseboats stay and reviews.
Sheetal Khatri
planetunfold.com
https://planetunfold.com/wp-content/uploads/2019/09/Final-logo-1.png