Day 12: Travel Guide for Mount Cook National Park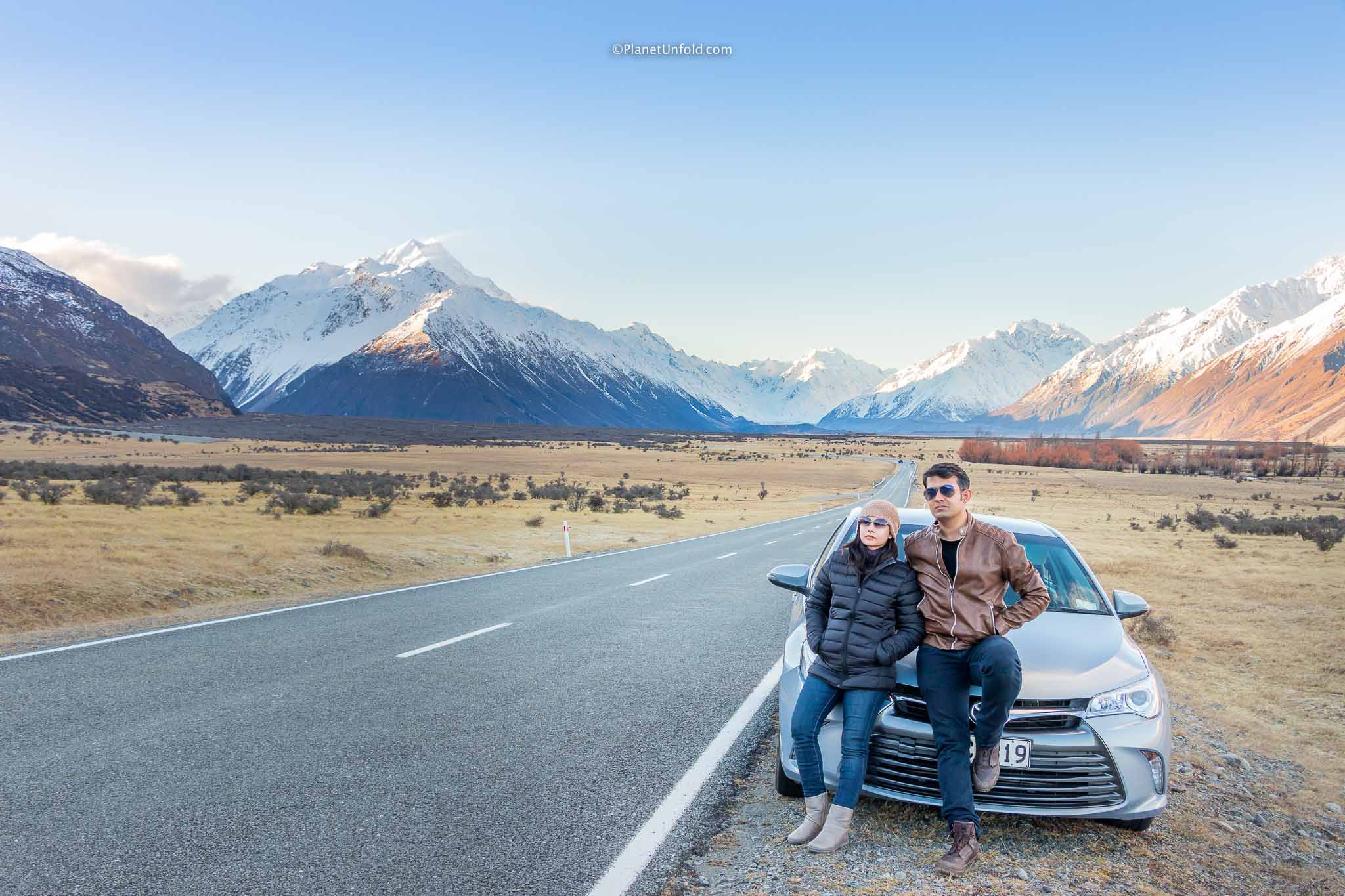 Aoraki/Mount Cook backdrops!
New Zealand's very own Southern Alps feature an elevated inland basin beneath them known as Aoraki/Mt Cook National Park. The route to this gigantic paradise itself is the most scenic drive in South Island that you wouldn't want to miss. It is one huge rugged parcel of ice and rock.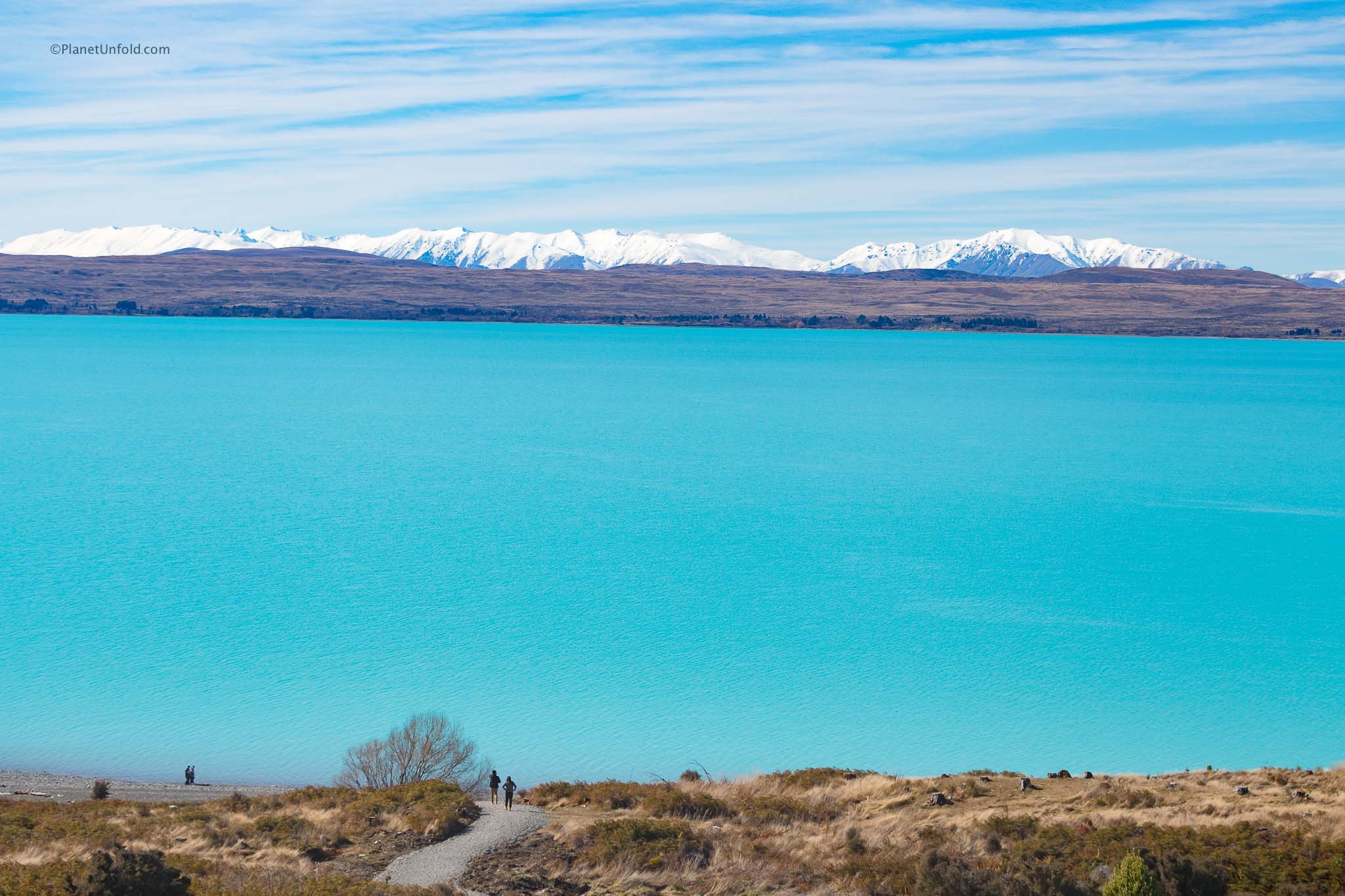 Stunning views of Lake Pukaki on the way <3
The road to Mount Cook presents paramount vistas of Lake Pukaki throughout the way and you would want to stop at several spots, so ensure you have ample time to visit this incredible slice of nature.
Weather Aspects
Most of the tracks and walks are open in summers but there are still few that you can do in winters. In fact, winters are a much better time to enjoy the snowy backdrops due to lower crowds and dramatic snowy surrounds.
Winter brings lots of snowy roads on the way!!
How many days do you need to explore Mount Cook National Park?
We recommend 2-4 days of leisurely stay at Mount Cook Village; however, you can also plan tramping or multiple day trips if you are staying in Tekapo or Twizel. It is only 104 km drive from Tekapo which takes only 1.5 hours to reach.
Activities & Places to See in Mount Cook Region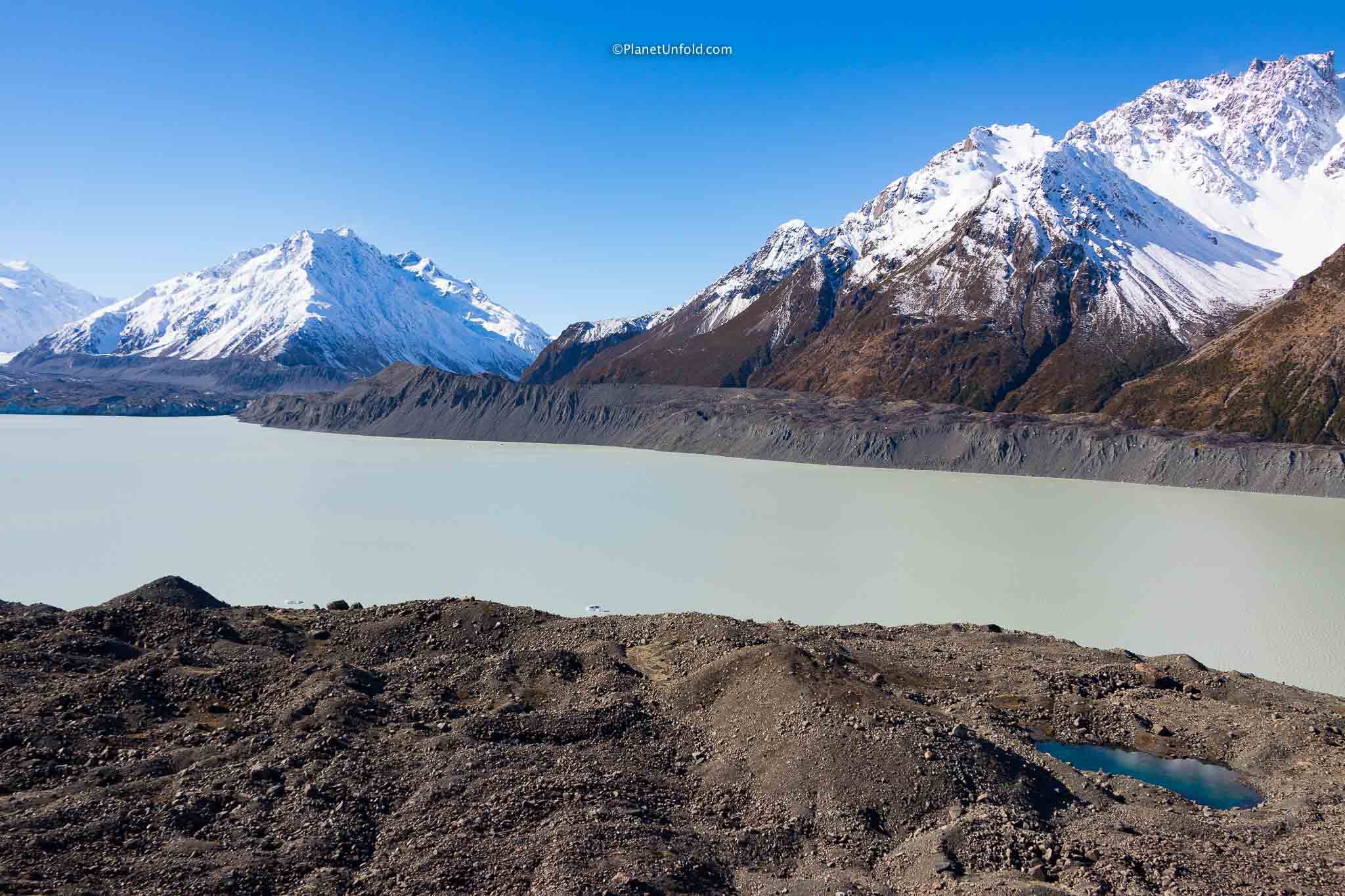 Aoraki/Mount Cook Region
There is always chockfull of activities to do in Mount Cook region as per your interest area. The vast mountain ranges offer several gems of nature waiting to be discovered. There is some thing for every type of traveller. You can do short, family friendly trails as well as some upscale mountaineering and tramping as it suits you. Here is a list of things that might interest you.
Mount Cook Village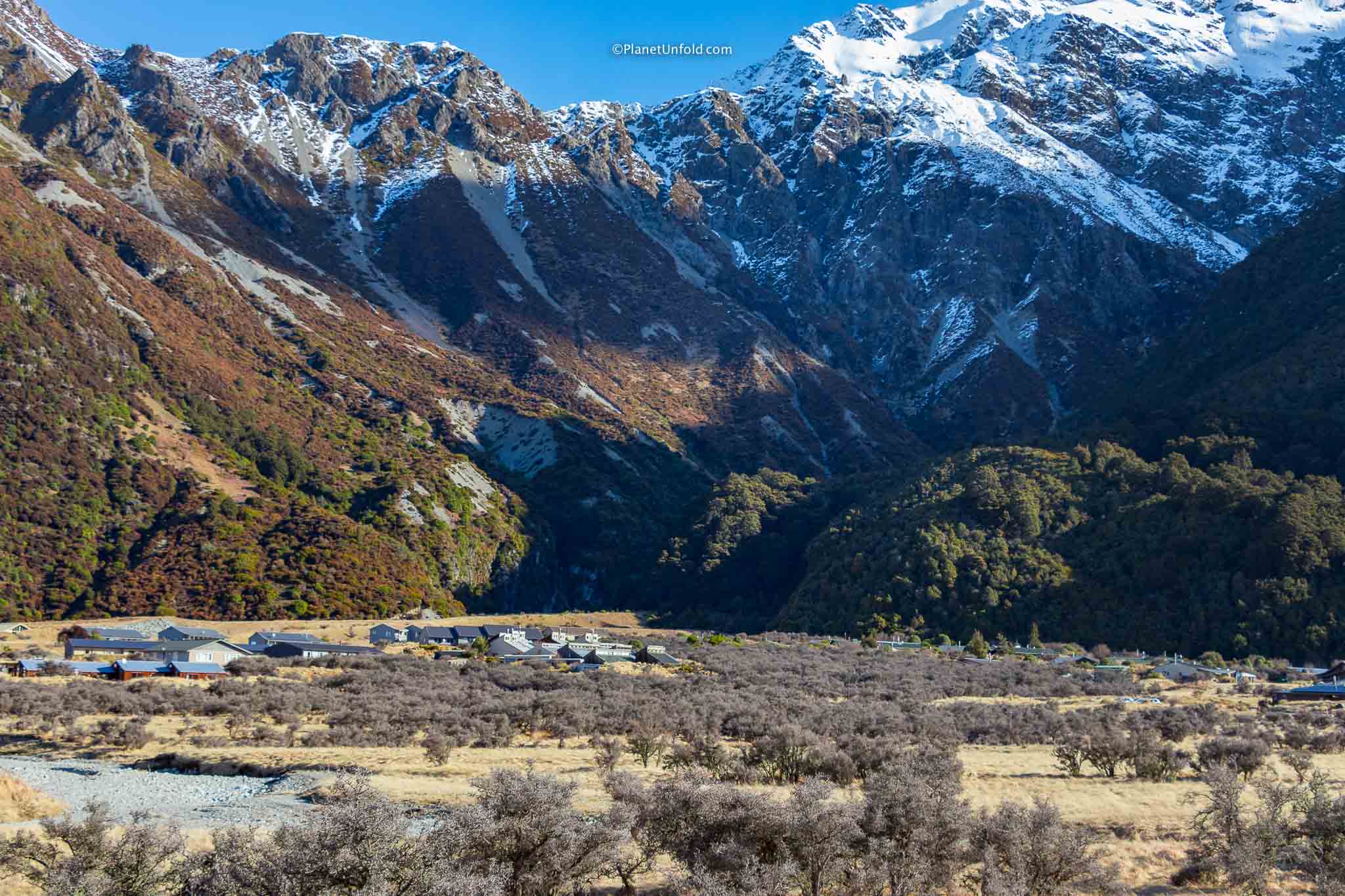 Mount Cook Village
This small village located in the foothills of highest mountain that constitutes the Southern Alps is also gateway for several superb nature tracks and short walks that offer amazing panorama from unique angles. Most of these walks are moderate and family friendly, however there are some long hikes and tracks for adventure seekers too.
Village Amenities & Stay Options
The village has everything you need. There is a variety of accommodation options to choose from, like chalets, hostel, lodge, apartments, camp ground. There also is a public shelter and portable lavatories.
Recommended Dining
The village area has few wonderful eateries that serve kiwi style food, but are open for limited hours. We ate at The old Mountaineers's café. The place has calming mountain views as well as rustic ambience inside with crafted wooden seating, accents of old mountaineering equipment and reminiscing old days pictures of local mountaineers, their stories and interesting adventures.
Out of limited vegetarian options, the pizzas and burgers seem popular, we tried some and it was good. The cafe is also starting point for major tracks in the vicinity.
Alternatively, another popular option is Chamois bar & grill, located a short drive nearby in the foothills of Mount Cook. The reviews of this place were nice for views yet average for food.
The Most Scenic Tracks in Mount Cook National Park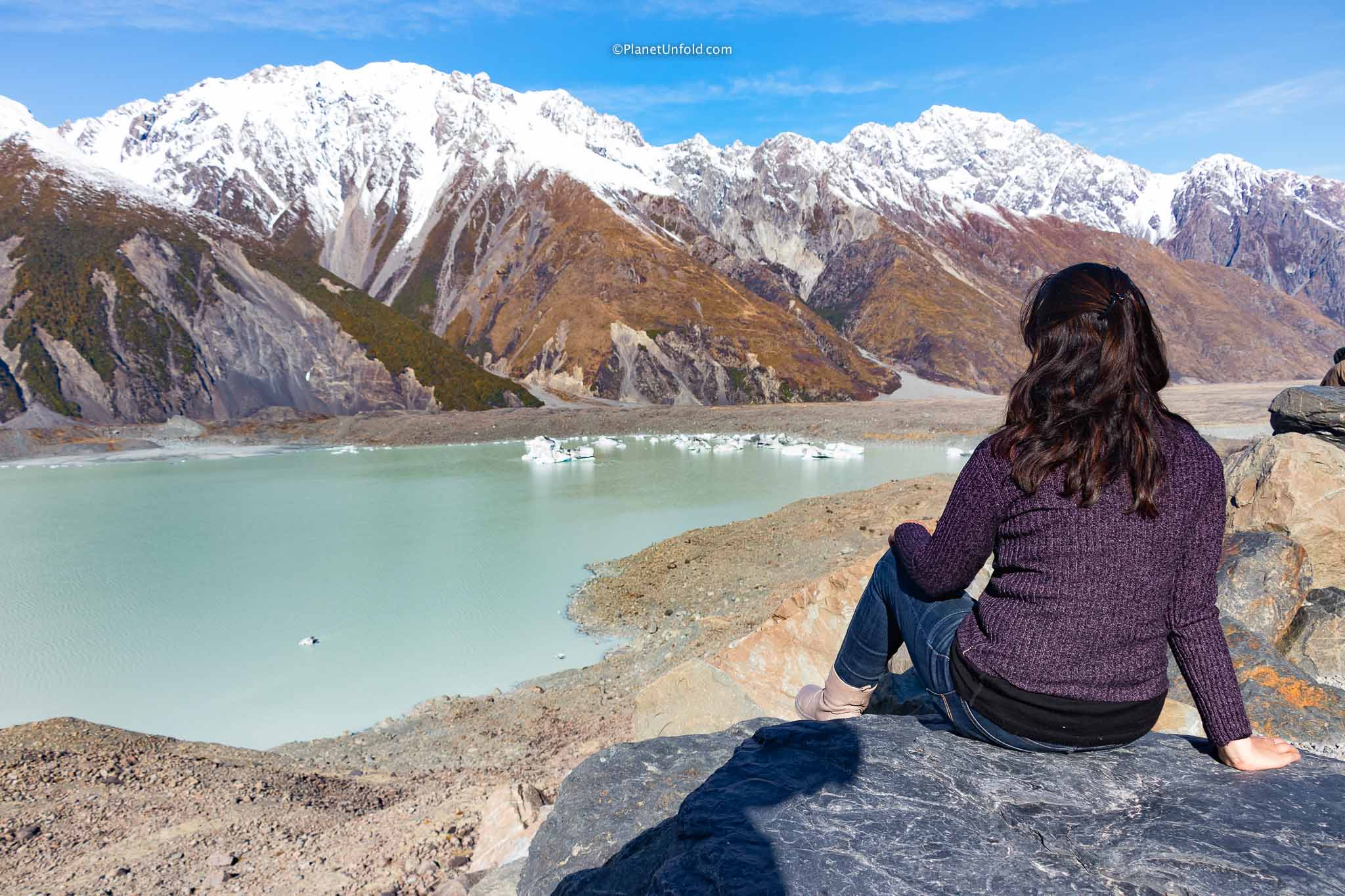 Tasman Valley
The most beautiful sections for Tramping and day walks are Hooker Valley & Tasman Valley featuring unforgettable vistas Mount Cook and the entire region. The Hooker Valley track was closed when we went, so we could only do Tasman Valley Track which was truly an amazing experience throughout the hike.
It takes moderate fitness level to do Tasman valley track as there are many stairs way up.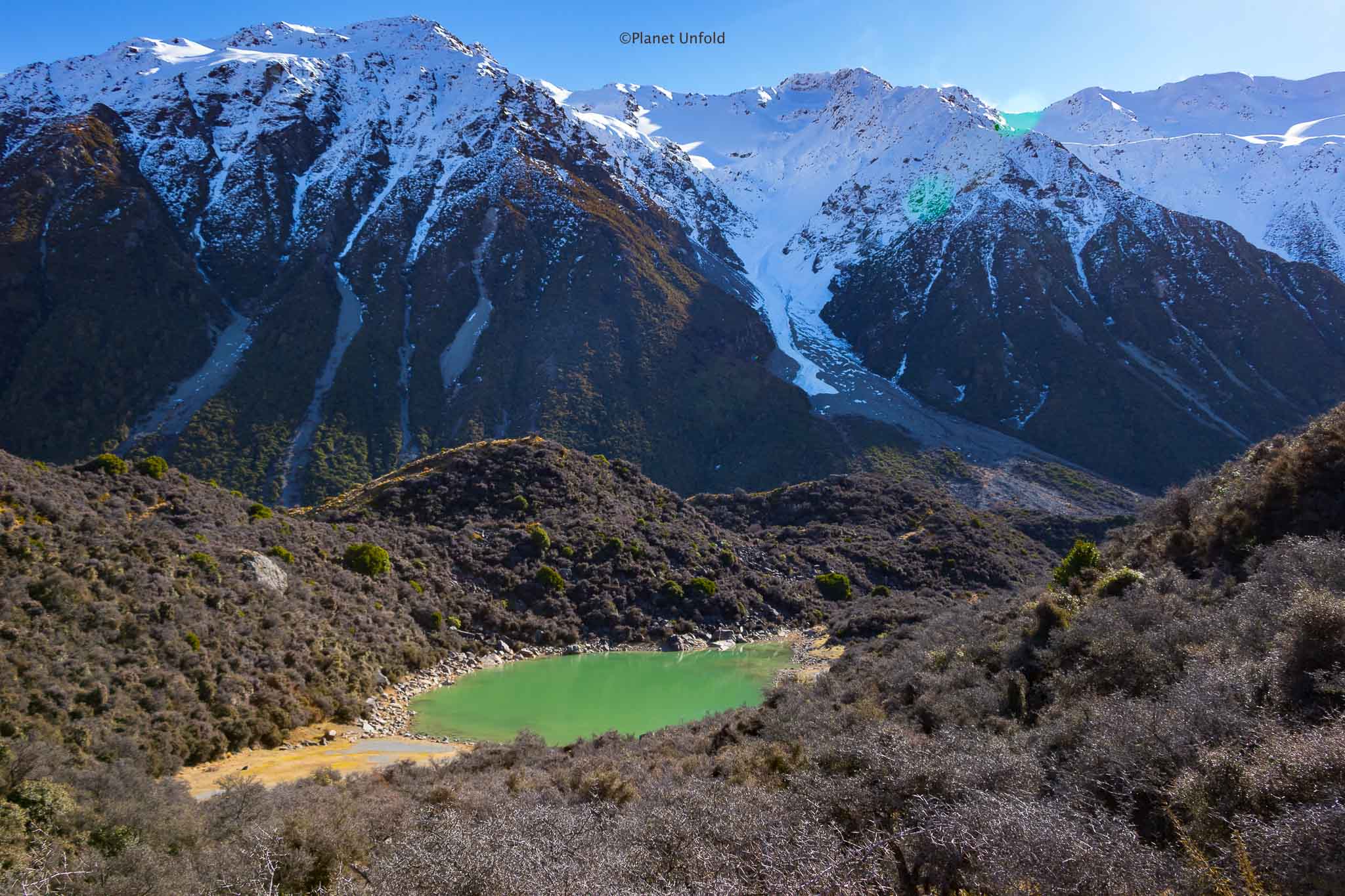 Blue pools also appear green at times 😉
Midway of the hike, you can see a small diversion from the path towards the Blue Lakes. These lakes had more water and cerulean blue colours in the past due to glacial water and rock mixture accumulation. The lakes were also rich in marine species but it all declined as  the water levels went down over the time.
Glacier Lake
The final destination is the lookout point upstairs to see Tasman Glacier & Lake. The scenery gets dramatic with the views of massive mountains and icy glaciers slopes dipped into the grey water valleys forming the lake. It is mesmerising to see few icebergs floating over lake surface enhancing the stunning backdrops.
A small path down near this lookout takes you down the slope for lake access. Sometimes this path is closed for safety, so check for any signboards before stepping further.
Short, Easy and Family Friendly Walks from village
Bowen Bush Walk- 10 min return loop
Glencoe Walk- 30 min return
Governors Bush Walk- 1 hr loop
Half/Full Day Moderate Nature Tracks from Village/Visitor centre
Kea Point Track- 3 km, 2 hrs return
Red Tarns Track- 2.4 km, 2 hrs return
Hooker Valley Track- 5 km, 3hr return
See details of all above tracks in the official Brochure.
Other Activities & Charms of Aoraki/Mount Cook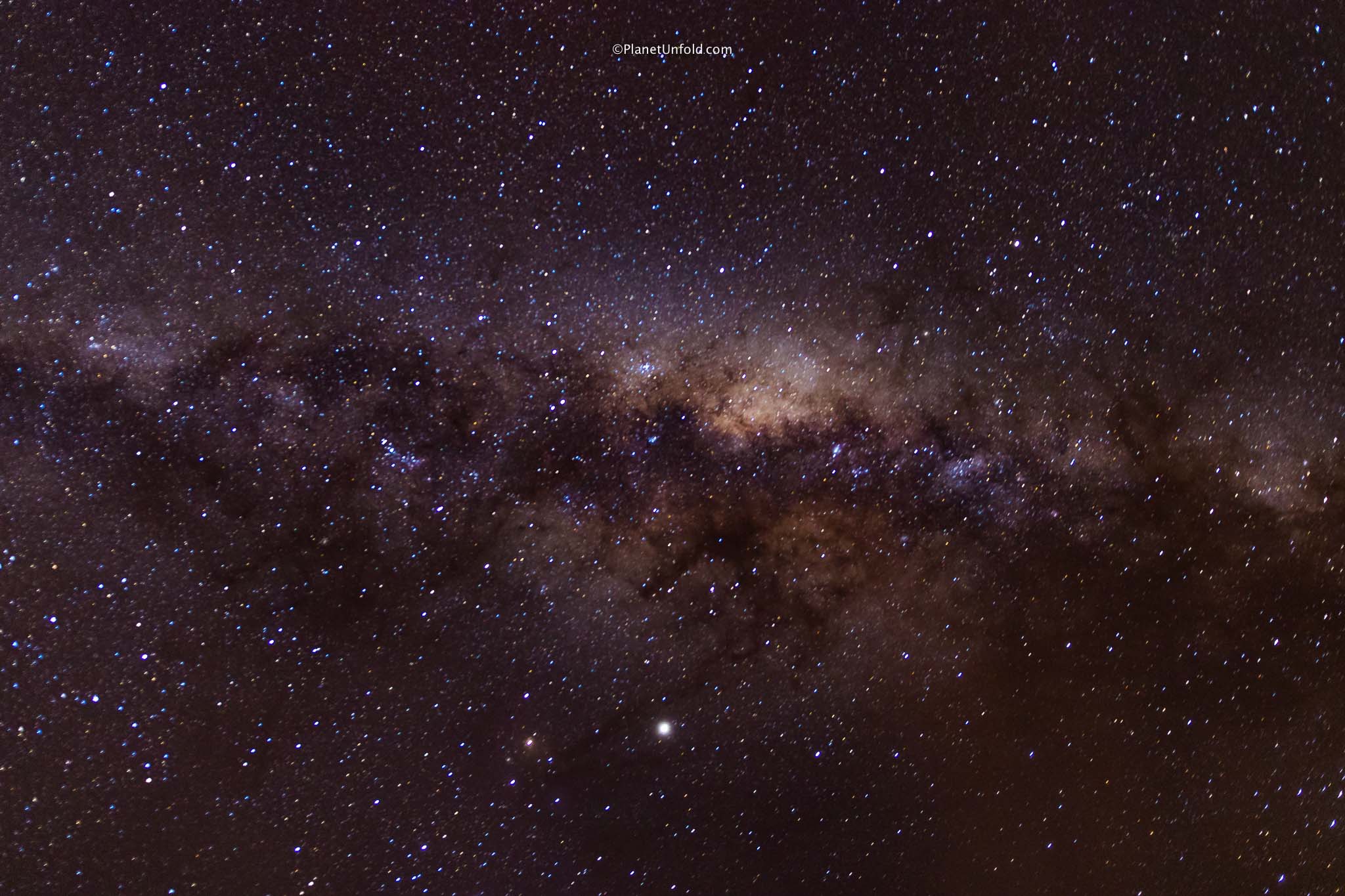 Captured this as we drove in the area!
Other than above renowned tracks, Aoraki/Mount Cook region has abundance of other activities for travel enthusiasts.
Mountain Biking/Cycling: Explore the Alps to Ocean Trail, New Zealand's longest bike ride in Otago/Canterbury region can be enjoyed in sections or in its entirety. It starts from 'Cloud Piercer' in Aoraki/ Mount Cook  area (descending 610 meters over 300 km) to the Victorian era coastal town of Oamaru. Showcasing the countries geographical and historical highlights, the route takes you through World Heritage National Park, past Glacial fed lakes, Golden Tussock land, Limestone Cliffs and ancient Maori rock art.
Tramping Huts: The Tramping huts are a network of powered/non powered sites throughout the South Island where travellers can take rest or spend the night on while tramping. Some of the huts are serviced well with facilities while others have standard basics only. You can check availability and other info before booking here. Just specify details in drop down menu to find hut in the region.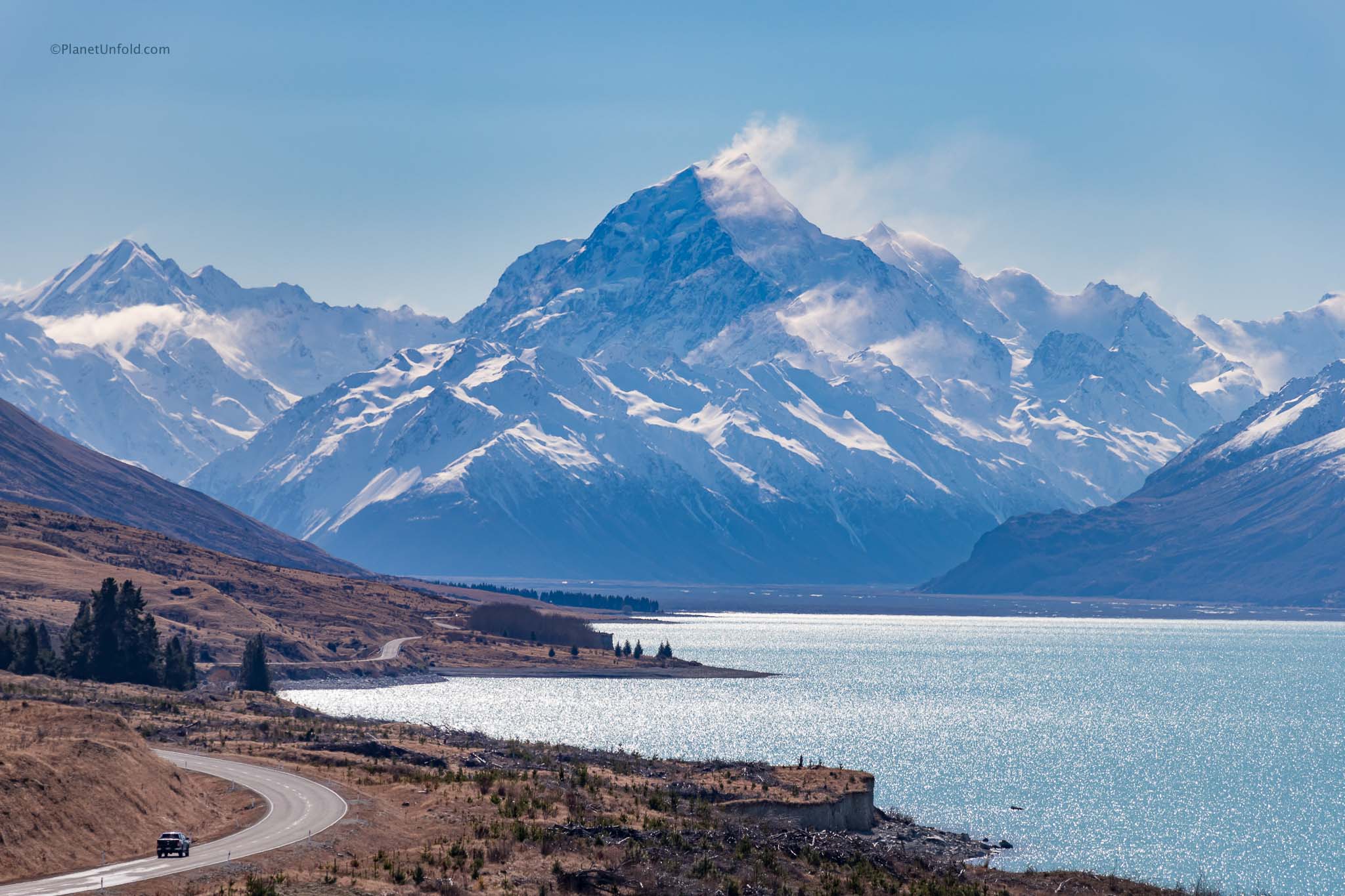 Scenic road to Mount Cook !
Hunting & Fishing:  The region is famous for Thar/Chamois hunting and trout fishing experiences in the Southern Alps, Glentanner Park, located at the head of Lake Pukaki. You may fish in Lake Pukaki any time, however in the Tasman River from November to April every year.  You also need a fishing license that can be purchased at Glentanner Park reception.
Snow activities: You can select the type of adventures you'd like in Mount Cook's snowy glacial peaks. Most tours and activities commence from Hermitage Hotel. You can choose a lot from Glacial Ski trips, Scenic Heli rides, Day walks and Treks.
Star Gazing: You can pretty much stargaze yourself anywhere in Mount Cook region as it is part of Aoraki Mackenzie International Dark Sky Reserve.  This place is one of the best stargazing sites of the world and the best way to experience it is by staying in the vicinity.
You can also go for guided stargazing tours in Glentanner Park. The astronomy guides use state-of-the-art telescopes and high-powered binoculars to explore the constellations over Aoraki Mt Cook. A 90 min tour usually departs from Hermitage Hotel and cost about NZD 80 per individual.
Must see places in Phuket, Thailand
Must see places in Phuket, Thailand
https://www.planetunfold.com/wp-content/uploads/2018/08/IMG_5317-thumb-3.jpg
369
246
Sheetal Khatri
https://secure.gravatar.com/avatar/a8c4e10205dce919119e3338d8d5269d?s=96&d=blank&r=g
Summary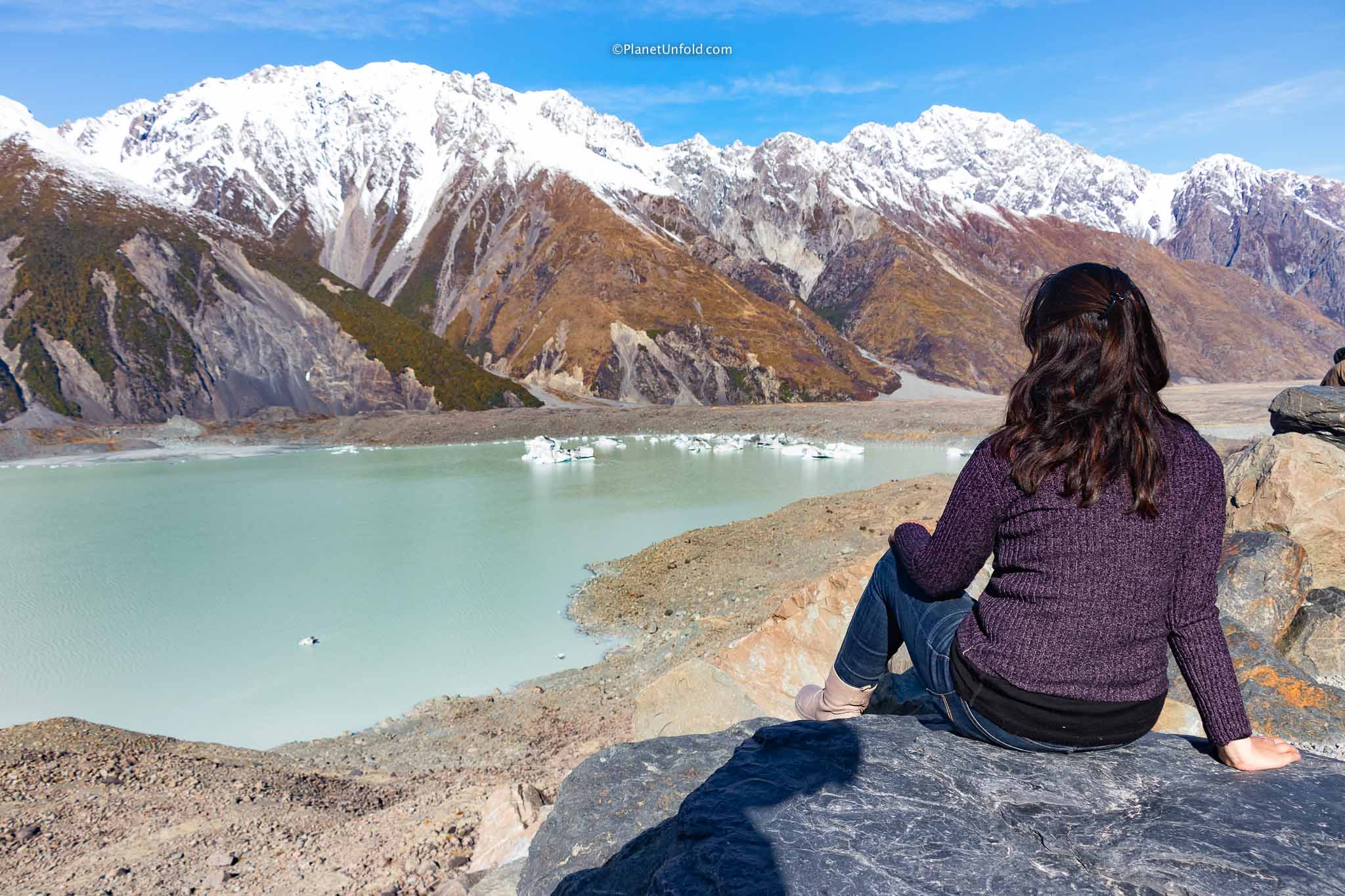 Article Name
Day 12: Travel Guide for Mount Cook National Park
Description
Full Travel Guide for activities and things to do in Mount Cook National Park. The Most beautiful tracks, hikes, food and stay options of the region.
Sheetal Khatri
planetunfold.com
https://planetunfold.com/wp-content/uploads/2019/09/Final-logo-1.png