Jeju Island: Top Tips & Travel Guide
(4 Day Itinerary)
What is Jeju Island famous for?
Jeju island is located in the southern-most end of South Korea. The island was formed about a million years ago due to volcanic lava eruption under the seabed. Hence it is rich in natural wonders and unique geological features like lava tubes, which makes it world renowned. The volcanic resort island has a hypnotic vibe to it making it a topnotch romantic sojourn. The island is eminent host of eight UNESCO world heritage sites, Haenyo divers, natural skincare products, unique museums and fresh produce.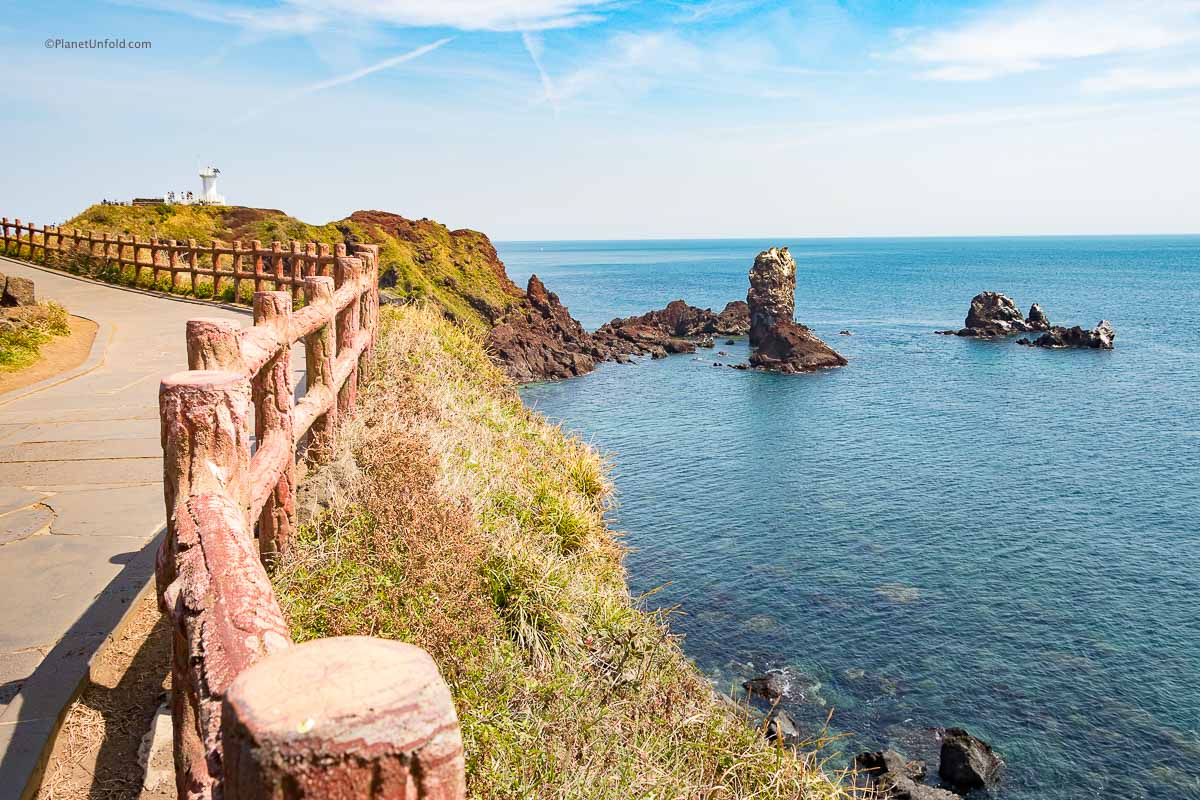 Jeju Island
Jeju is accessible via both ferry and flight. A ferry ride from Seoul takes about 1 hour 30 mins however a flight journey takes about 45 to 50 mins from Gimpo Airport. Once you land at Seoul's Incheon Airport, take a KTX train to Gimpo airport which takes an hour to reach.
Quick Tip: Always check the updated ticket prices, credit card acceptance and carry ample cash with you. Check their official site for info.
How to explore Jeju Island?
The best way to explore Jeju island is by renting a car which is cheap  and allows you better freedom when you don't want to rush things in a guided tour. Also, the island has limited public transport access to be entirely reliable. Jeju island rental car is usually available at cheaper prices, approx. SGD 50 a day. You won't need an SUV, just rent any normal car. We always check deals to find reasonable prices.
4 Days in Jeju Island: Itinerary & Best Things to Do
Day 1
Indulge Yourself into Jeju's Authentic Korean Cuisine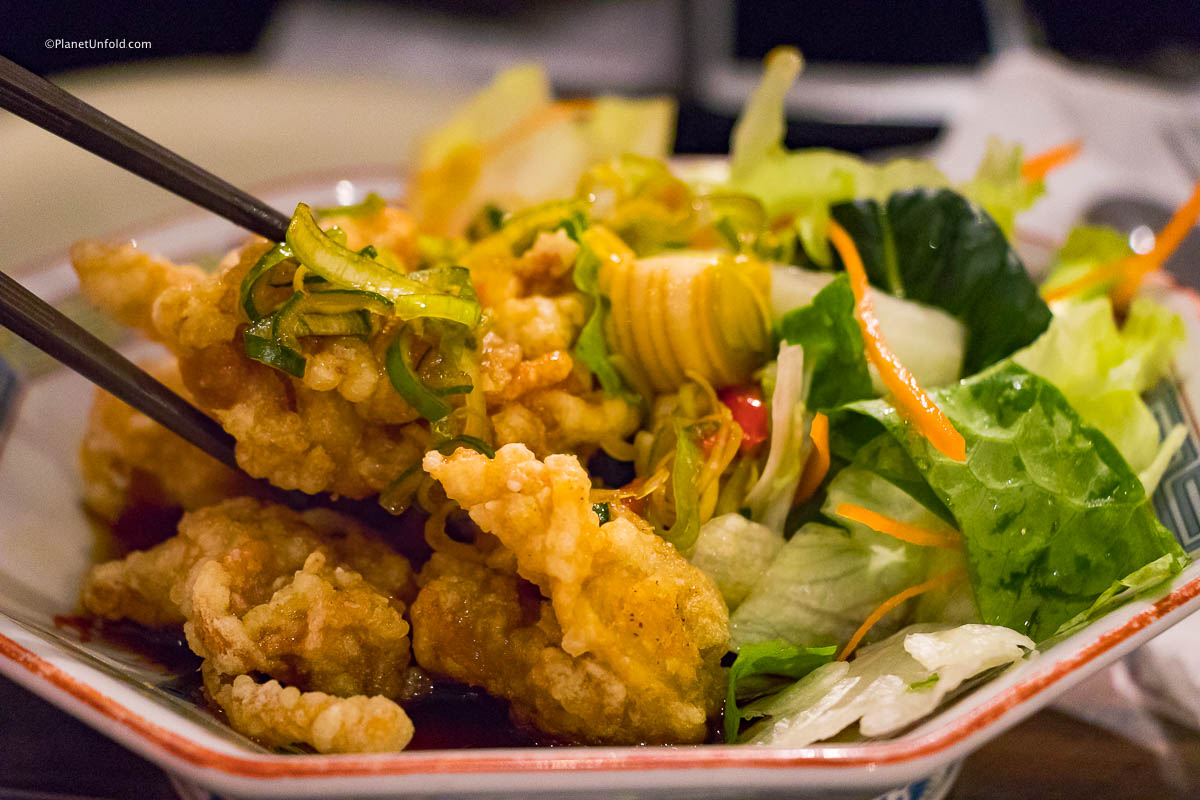 Black pork Street
Jeju island offers rich diversity of traditional Korean meals along with fresh produce. There are numerous local streets to try on authentic native cuisine. The best part about Korean cuisine is that when you order a main dish, it comes along with many side dishes.
The best place to eat is Black pork street (Gwandeong-ro) and Chisung-ro shopping street, located near Jeju city's coastline. As the name suggests, this street has several restaurants that offer varieties of savory black pork dishes. Don't worry if you can't eat pork, there are many other options too. This coastal zone gets really happening with music and crowd after 5pm due to myriad shopping and dining options.
We took a leisurely walk here post check in and were thrilled to find mouth-watering strawberries, fresh tangerine juice, street food, drink stalls and other fresh produce. If you like Korean barbeque, this is the place to go. They also start closing around 9 pm so better get there early. This area has some wonderful ocean front hotels for staying the night.
Go for Korean Skincare Shopping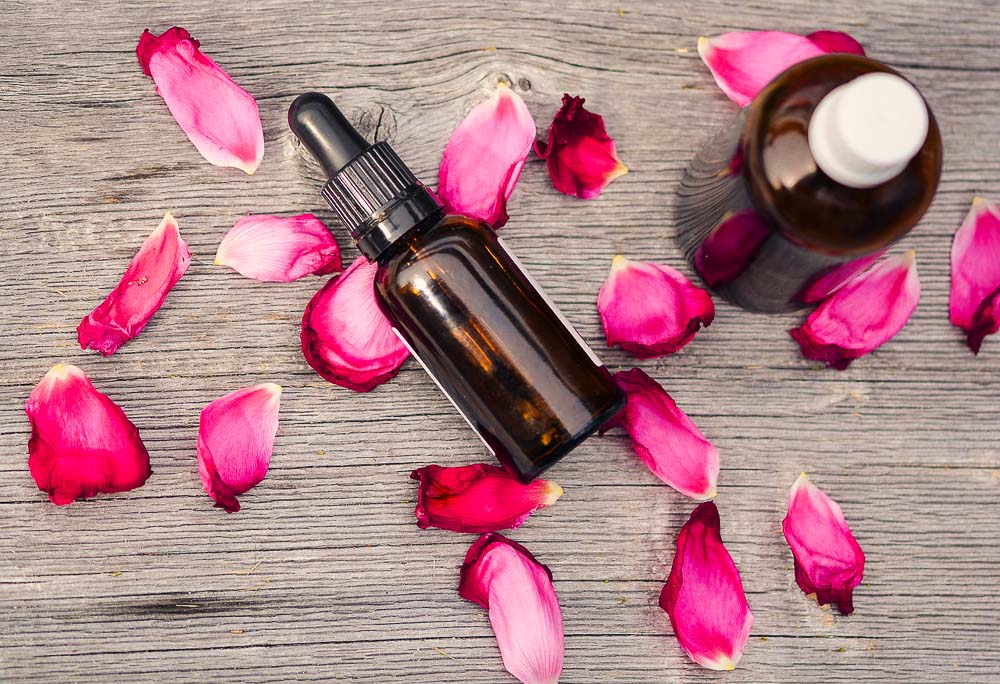 Skincare
The world is already obsessing with Korean skincare products and Jeju island certainly is one of the top spots to buy some. The island has many underground markets for both apparel and skincare shopping. You can find an Innisfree store almost at every corner of the city yet most number of skincare shops are located in Yeon Dong area which is also known as old town.
Quick Tip: Read more on Korean Cosmetics:What to Know Before Buying?
If you are staying around Jeju city then explore ildo-il dong area. It is overwhelming to find such huge variety of brands available making it really hard to choose out of many deals they offer.
Recommended Dining and Stay
The recommended area for stay is Jeju city's coast as most hotels offer spectacular ocean views and you can get direct sunlight in the room's balcony on colder days. We stayed in Whistle Lark Hotel and loved it. The ocean front road has a jetty to take a quiet walk around.
The corner of street has some small eateries lined up and they are popular for serving abalone dishes and other seafood. We tried some and found it flavourful yet bit expensive for the quantity served. We recommend to skip these and take a walk towards main road instead, for Black pork street (Gwandeong-ro) in order to explore several awesome restaurants which are cheaper and better.
We were looking to grab some coffee and found this huge bakery (2F Butter) off the street and couldn't resist walking in, they had a huge assortment of appetising snacks and pastries.
Day 2
Visit Jeju Folklore & Natural History Museum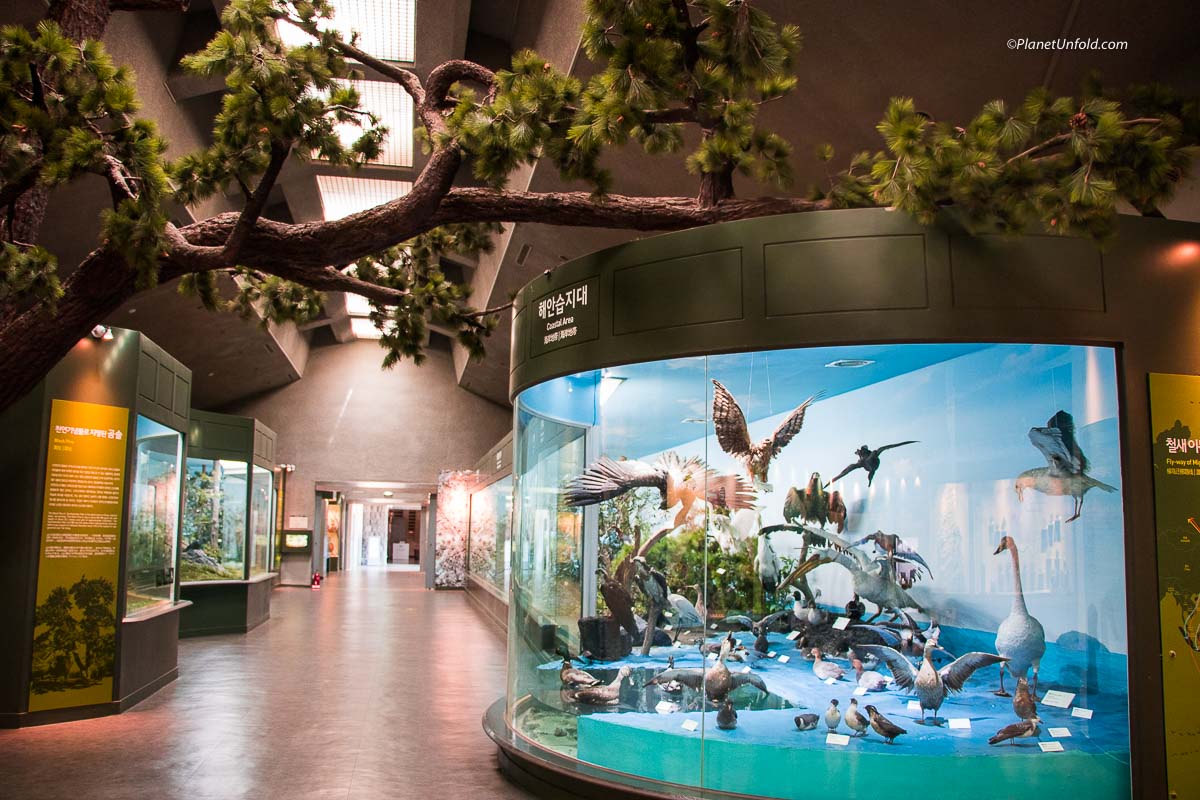 Jeju Folklore & Natural History Museum
This small museum displays interesting artifacts, samples and modals tracing natural history, family and society traditions of native Jeju folklore. We found this compacted space really interesting and educational as the descriptions cover good details about the island's geological rock and lava features along with its formation aspects.
The museum premises looked wonderful with orange trees full of oranges at its boundaries near carpark. Also, there is a small park near entrance to the museum, where we could catch lovely cherry blossom blooms even though the bloom period was over. You will need at least an hour or two to explore the museum and park, we recommend visiting early as soon as it opens.
Address: 40, Samseong-ro, Jeju-si, Jeju-do,
Opening hours: 8:30 am -6:30 pm
Entry Fee: 1000 won per person
Nearby: Samseong hyeol: An ancient religious site at walking distance to the museum. You can also give it a skip as there is not much to see.
Address: 22, Samseong-ro, Jeju-si, Jeju-do, 8-6,
Entry fee: 2500 won per person
Have a Quick Meal at Jamae Noodle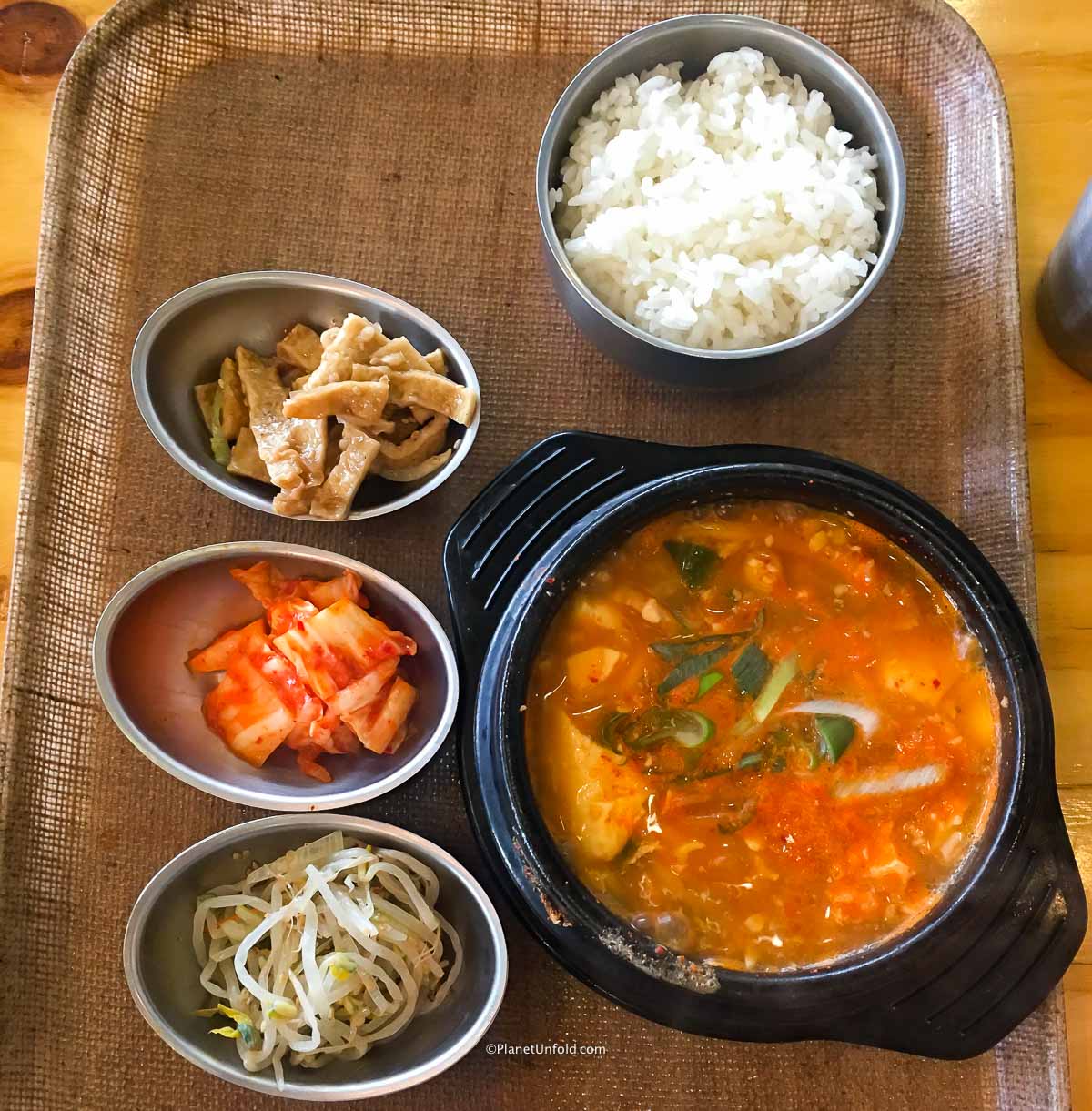 Jamae Noodle Seafood & Tofu Stew
We got hungry after the museum visit and started looking for someplace close by when we found Jamae Noodle just across the road opposite to the museum. This place was highly reviewed so we thought to give it a try.
The huge space was clean and had an English menu too, some of the staff understood English which was helpful. The food was delicious and served in good quantity. If you like kimchi then you don't have to bother ordering as kimchi is already served as a free side dish in almost every Korean restaurant.
Address: 67 Samseong-ro, Jeju-si, Jeju-do, +82-64-727-1112
Chase the Lava Tube at Manjanggul Cave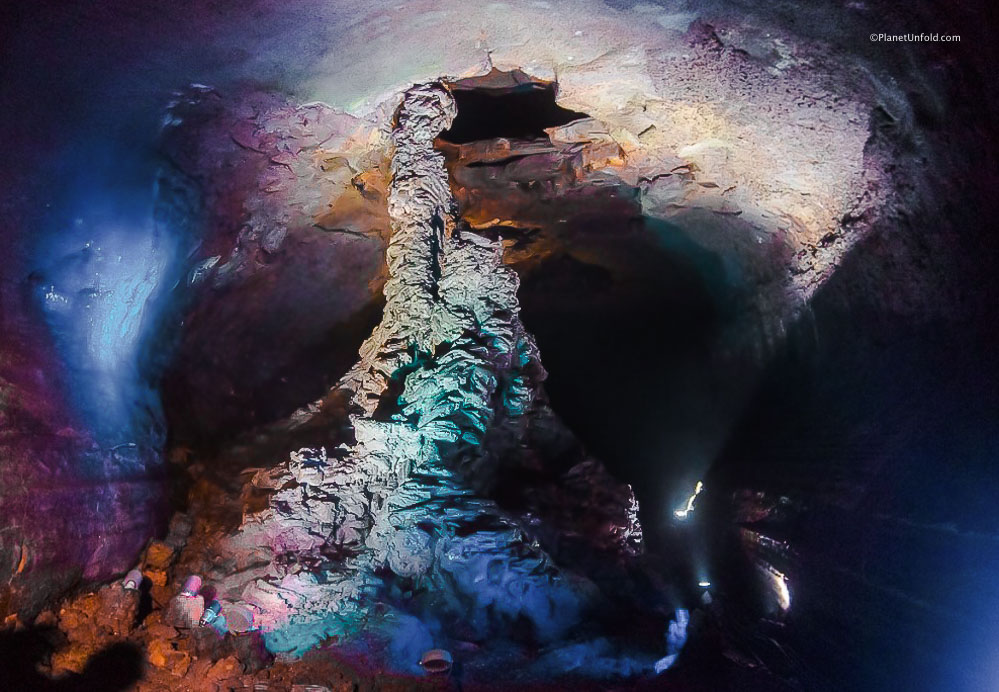 Manjanngul Cave Lava Tube
Manjanggul cave is one of the heritage sites and a popular tourist spot on Jeju island due to its largest 'Lava Column' in the world. Descending inside the cave requires to climb down a path of stairs and then walk about 1km to reach the lava tube. The return tour takes about 2 hours exploring the cave and its features as you have to walk back 1 km to exit. You definitely need proper walking/tracking shoes since the path is made up of rough and slippery lava stones along with some puddles.
Address:182 Manjanggul-gil, Gujwa-eup, Cheju, Jeju-do) 3341-3, Gimnyeong-ri,
Opening hours: (9am-6pm)
Nearby: Cafe Daheeyeon inside a small cave :600- Seonhul-ri, Jochon-eup, Jeju-si, Jeju-do
The Stunning Beaches off Jeju's East Coast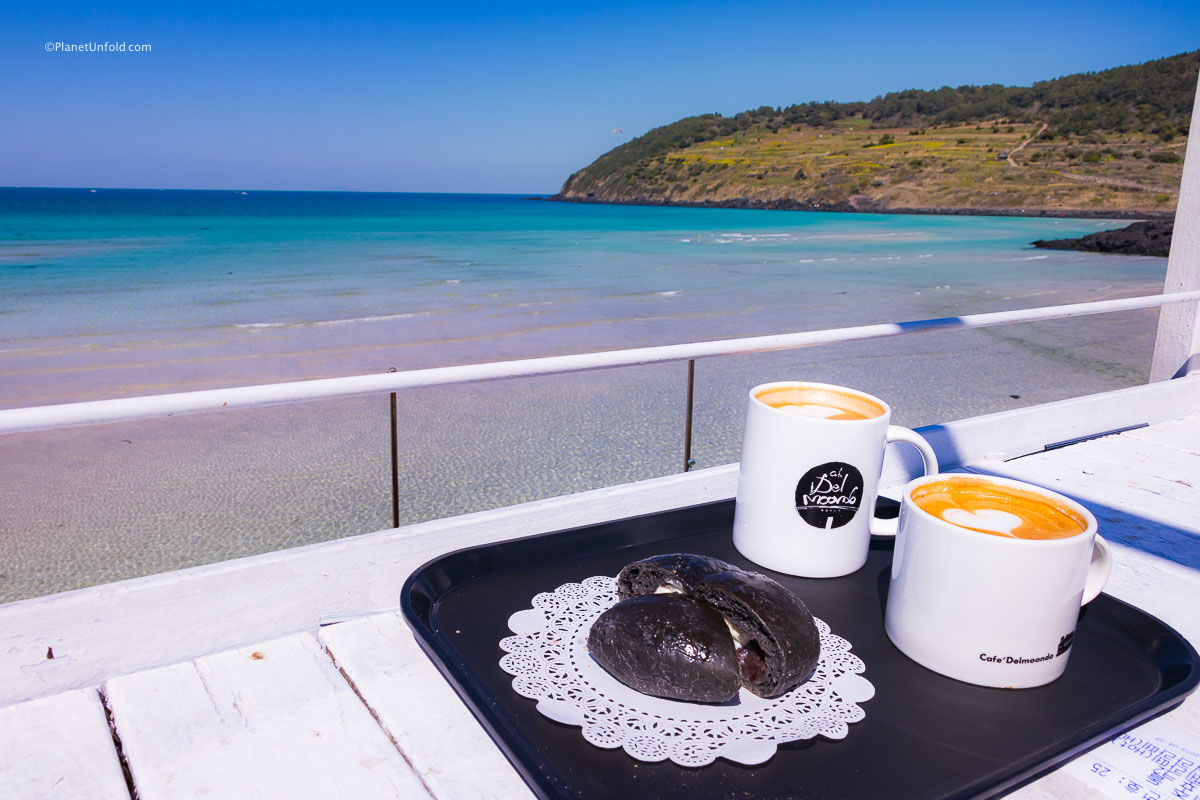 Sipping some hot coffee at Del Moondo, Hamdeok-ri beach
Although, the month of April brings spring with gorgeous cherry blossoms and warmer days all over the island, the temperatures range still varies between 12-7°c. The coastal areas are often chilling-windy yet sunny giving us a perfect reason to stopover for some hot coffee. 
Hamdeok Beach: Must visit Café Delmoondo here and munch on some creamy stuffed charcoal buns along with your coffee. (

Address: 1008 Hamdeok-ri Jocheon-eup, Jeju, Korea)
Woljeong-ri Beach: Most stunning beach in the area, great for kayaking, camping and dolphin tours.(Address: Gujwa-eup, Cheju, Jeju-do, South Korea)
Pyeongdae-ri Coast: A hidden gem you can't miss on this stunning coast alongside Pyeongdae village. This is place to try out Jeju's cuisine diversities, Hawaiian-themed restaurants amid palm trees and several other fancy eateries.(Address: 2033-7 Pyeongdae-ri, Gujwa-eup, Jeju City)
Meet Ancient Nutmeg Trees at Bijarim Forest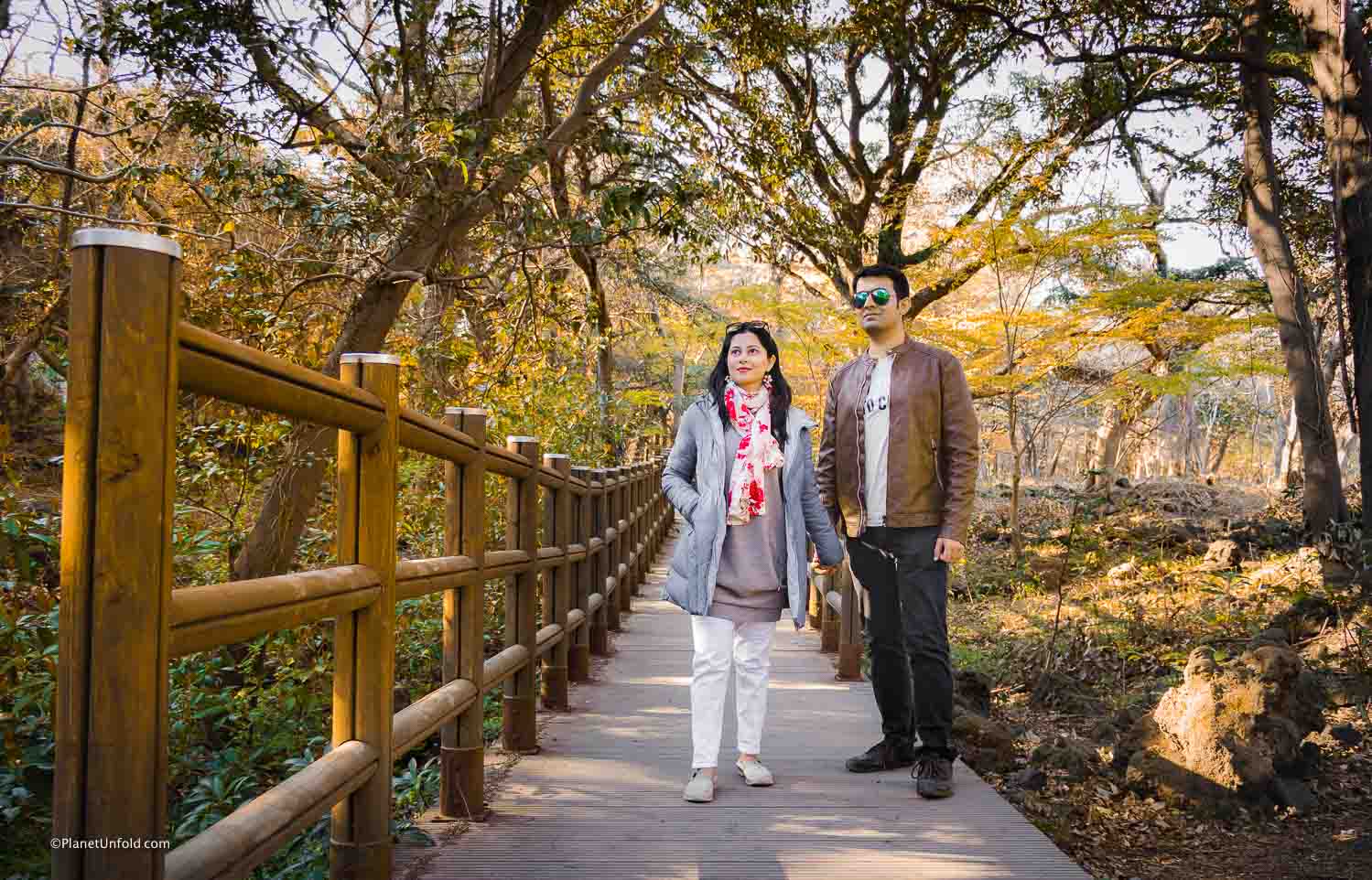 Amid Ancient Nutmeg Trees at Bijarim Forest
Bijarim Forest has been entitled as a natural monument of Jeju island. The fragrant and mist laden forest is a group of about 2,800 nutmeg trees between 500 and 800 years old. This is also the largest nutmeg tree forest globally. The oldest is and 800-year-old tree at the center of forest, called 'Ancestor tree of the Bija trees' with the height of 25m and width of 6m. The trail to explore Bijarim Forest is about 2km circuit where rare orchids are also found.
Address: 3164-1 Pyeongdae-ri, Gujwa-eup, Jeju-si, Jeju-do, +82-64-783-3857
Opening hours: 9am-6pm, last admission at 5pm
Entry Fee: 3000 won per person
Watch Golden Sunset at Sangumburi Cater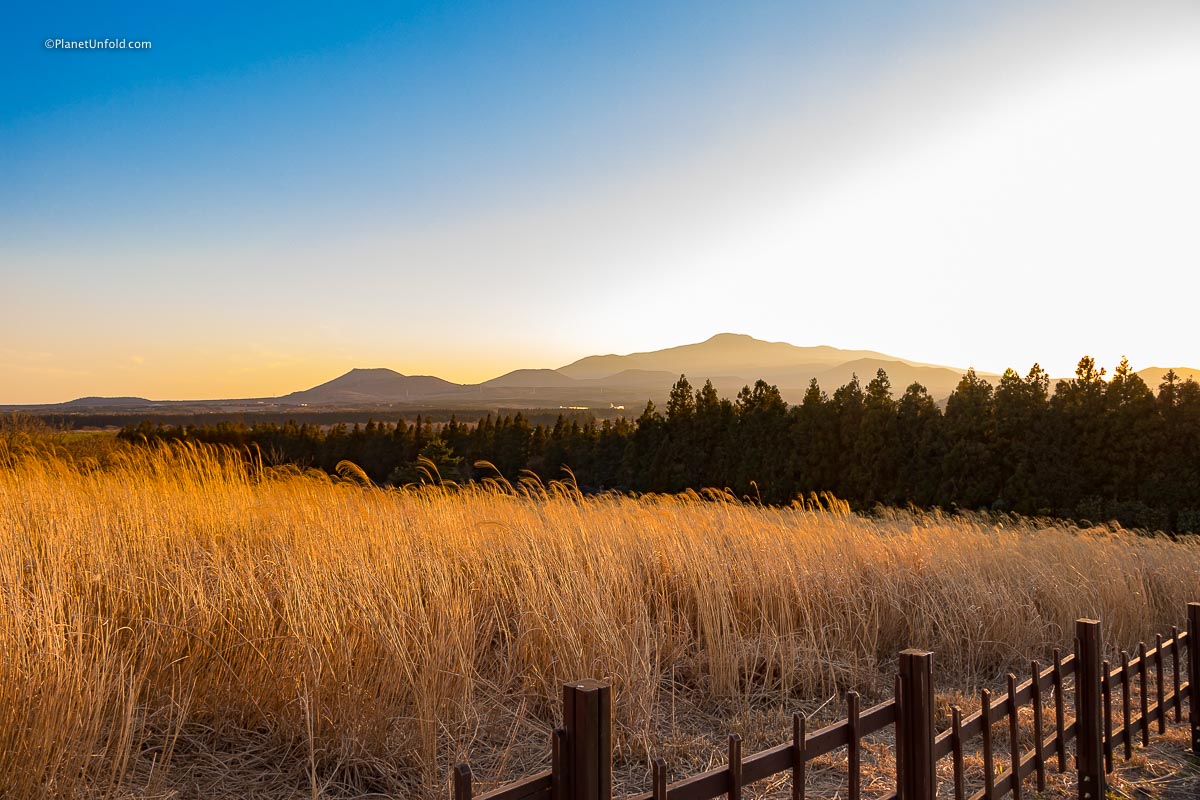 Golden Sunset at Sangumburi Crater
If you want to witness nature's work of art, catch a sunset at Sangumburi Crater. The sight of golden dusk amid mountains, crater, forest and flame grass fields can be captured at once to lock in your hearts forever. It felt dreamy to be greeted by flame grass cloaked in golden light as we walked uphill. We ensured to reach here by late afternoon (around 3:30- 4pm) to have ample time to see the perfect twilight.
Address: 342-5 Gyorae-ri, Jochon-eup, Jeju-si, Jeju-do, South Korea (82-64-783-9900)
Opening hours: 9am to 5:45pm
Recommended Dining and Stay
A small walk near to our hotel took us to a street full of restaurants, most were open till 11pm. Black pork is a speciality meal here too, in case you missed it before. We went to have hot Fish N' Chips at Wilala and highly recommend it.
Staying nearest to Ilchulbong peak is recommended if you are looking forward to catch sunrise next morning, the area is known as Seongsan-eup, we stayed at Co-Op city hotel which is walking distance from the peak's carpark.
Day 3
Sunrise Hike at Seongsan Ilchulbong Peak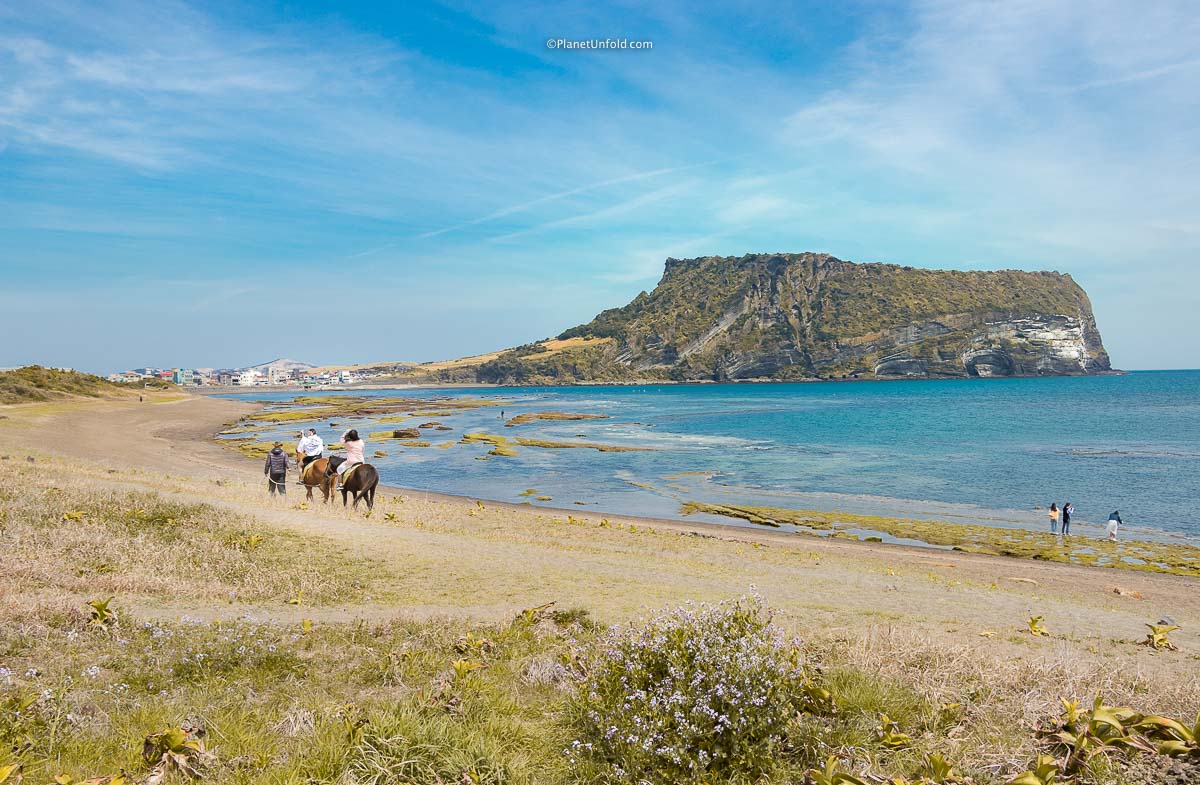 Seongsan Ilchulbong
The best views of Ilchulbong peak are captured early morning around sunrise. Located on the eastern end of Jeju-do Island, Seongsan Ilchulbong Peak made it amongst top world heritage sites. Rose from under the sea in a volcanic outbreak over 100,000 years back, the crater sits like an enormous crown jeweled by 99 sharp rocks surrounding its edges. It is connected to Seongsan village through a lush green ridge aiding lovely coastal walks and horse riding.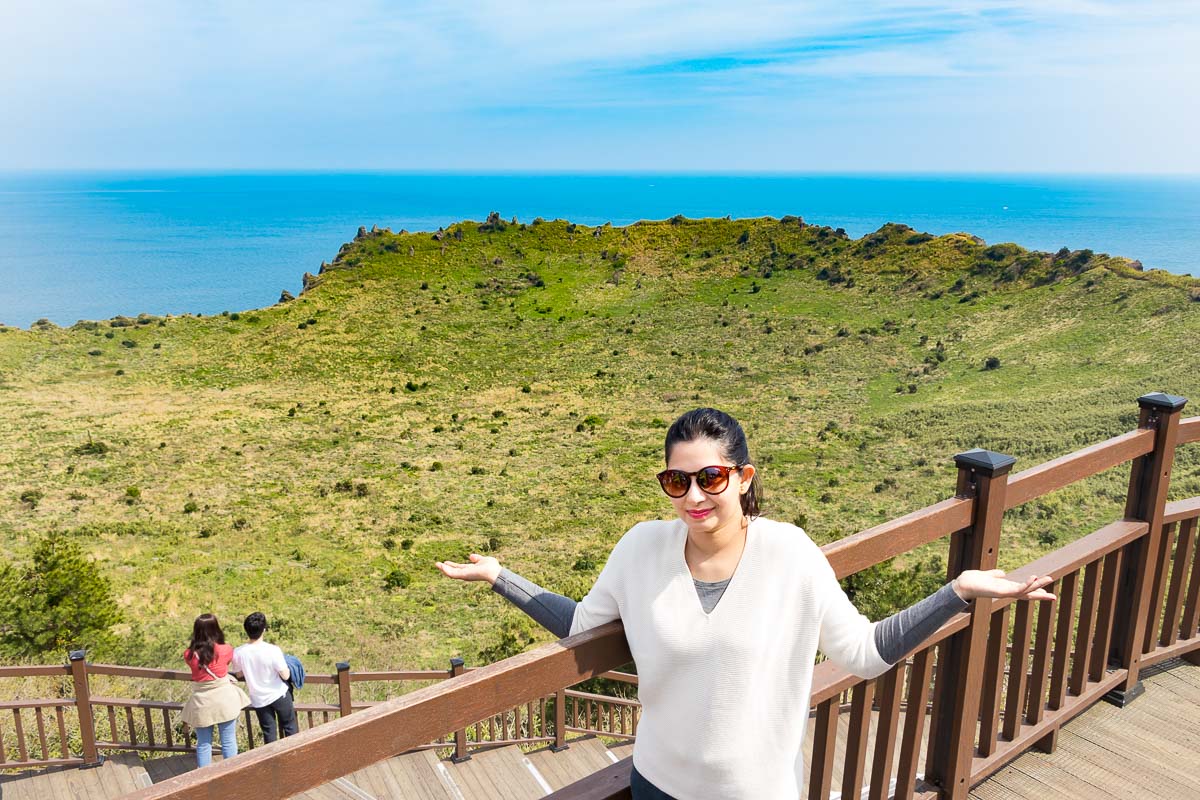 Finally reached the Crater!!
It was jam packed early morning, there wasn't any parking spot available, so we went to visit Seopjikoji hill instead to wait for the crowd to be less, then cane back and hiked by early noon. The hike to reach peak is somewhat steep yet moderate and takes about 30 minutes at average speed. You will need a water bottle and a jacket. We hiked during April and it got hot very soon. Since this is a top tourist spot, expect it to be crowded always.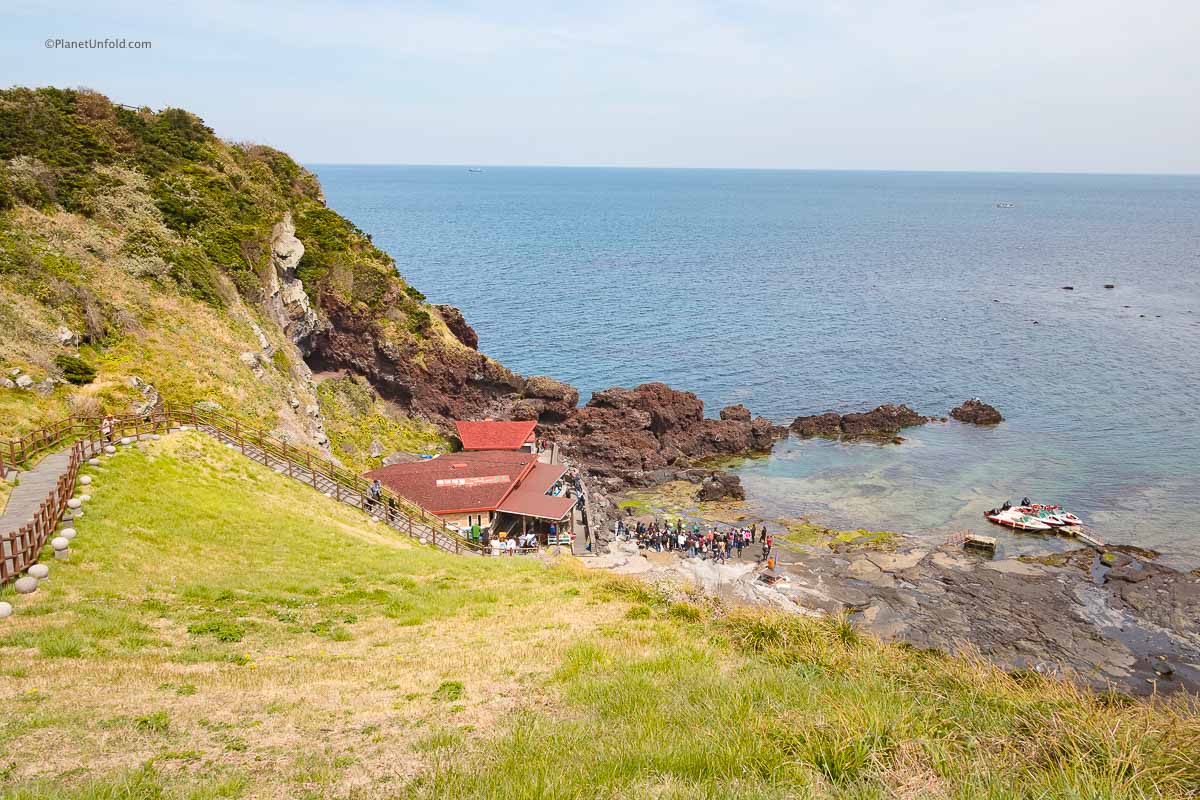 Home to Hanyeo women divers
Haenyo Women Divers Show: If you get around here during afternoon (1pm), you can catch the show conducted by old women divers (some are 80) known as Haenyeo. They are renowned for their independent spirit, iron will and determination as they represent semi-matriarchal family structure of conventional Jeju.
Parking: It is hard to find a parking spot early morning when tourists buses arrive to catch sunrise. Hence, we recommend staying in a nearby hotel a night before so you can take a short walk here next morning without getting into hustles of parking.
Address: 351-2 Seongsan-ri, Seongsan-eup, Seogwipo-si, +82-64-710-6655~6
Opening hours: 7am to 8pm
Entrance fee: 2000 won
Wander Amid Vibrant Spring Flowers at Seopjikoji Hill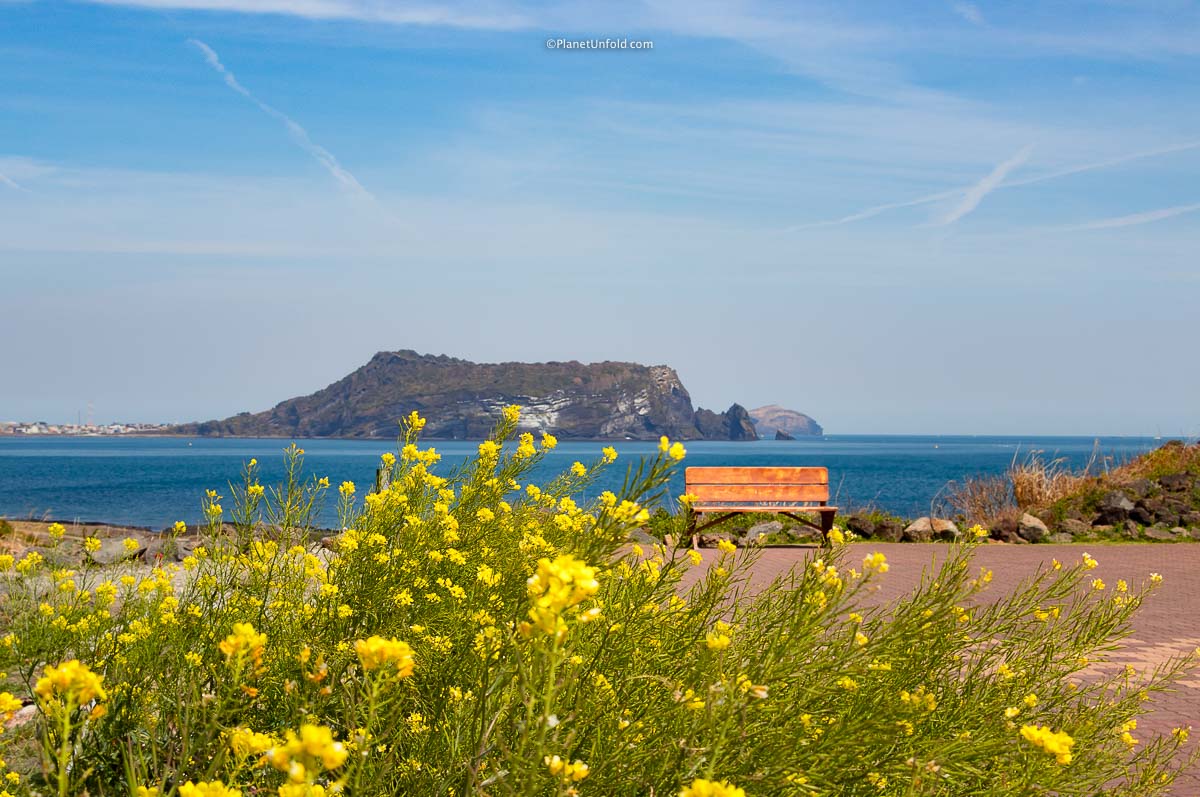 Seongsan Ilchulbong, Views from Seopkoji
This gorgeous hill offers striking coastal views in spring when the slopes are carpeted with yellow rapeseed flowers. As we walked past the flower fields, we found ourselves lovestruck with dazzling vistas of Ilchulbong Crater athwart blue ocean fringing the lush green slope. Clicked 😉 There is a chocolate house and art gallery too.
PC: Some Jolly Locals
Seopjikoji Hill was an unexpected surprise on a clear sunny day. We were so amazed by the sight of rugged black lava cliffs close to ingress to have spent more than half an hour admiring every nook of the carbon black coast.
The weather remained windy and cool so we have to wear wind proof jackets. We also met some jolly teenagers here who chatted with us and clicked this picture of us together. <3
Address: 261 Seopjikoji-ro, Seongsan-eup, Seogwipo-si, Jeju-do, +82-64-782-2810, Entry: Free
Scenic Drive to Seogwipo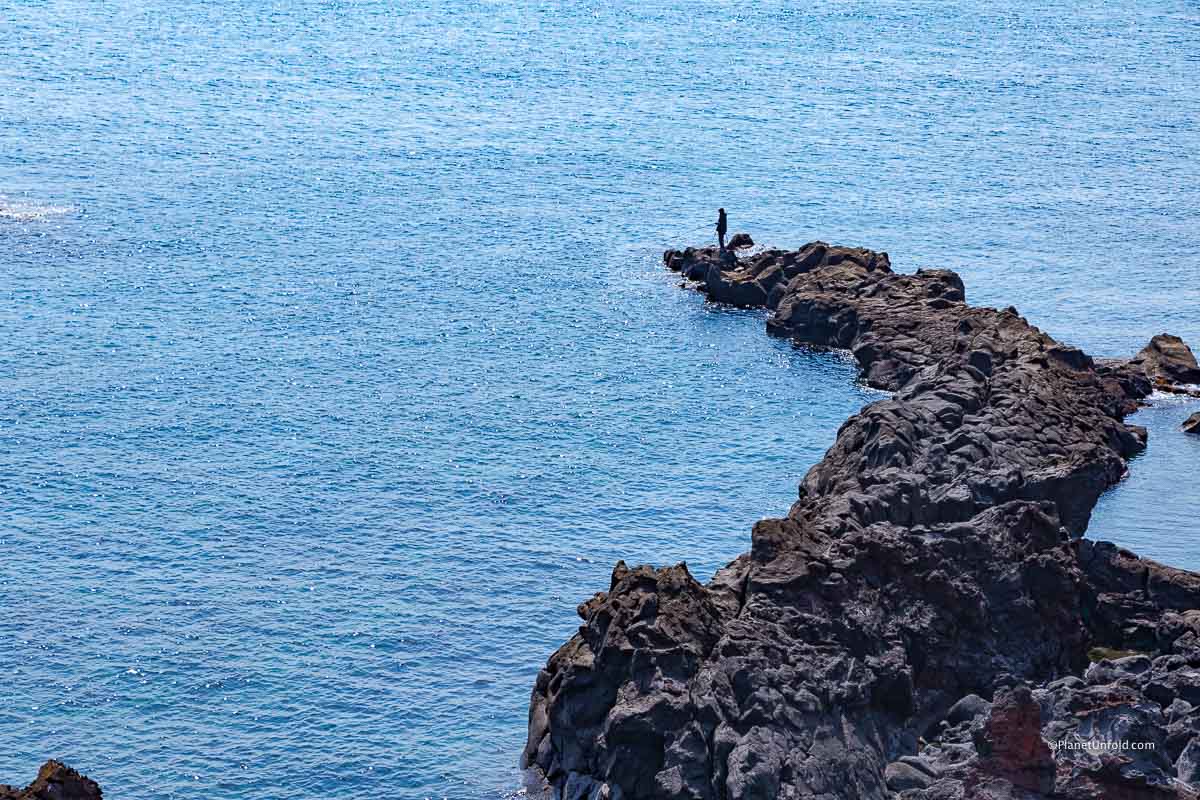 Scenery on the way to Seogwipo
After an early morning kickstart of hikes and hills, we gave our appetites a Paris Baguette treat and moved on towards Seogwipo, a vivacious yet laidback city of tiered waterfalls, stunning beaches, markets and worldwide cuisines. It is worth spending a couple of days staying in Seogwipo city as it has a lot to offer for everyone. The distance from Seongsan to Seogwipo is about 47 km and takes only an hour to reach.
But why go straightway skipping the natural wonders on the way along a scenic shoreline drive. It was wonderful spending half day exploring the below coastal delights.
A Sneak Peek at Jeongbang falls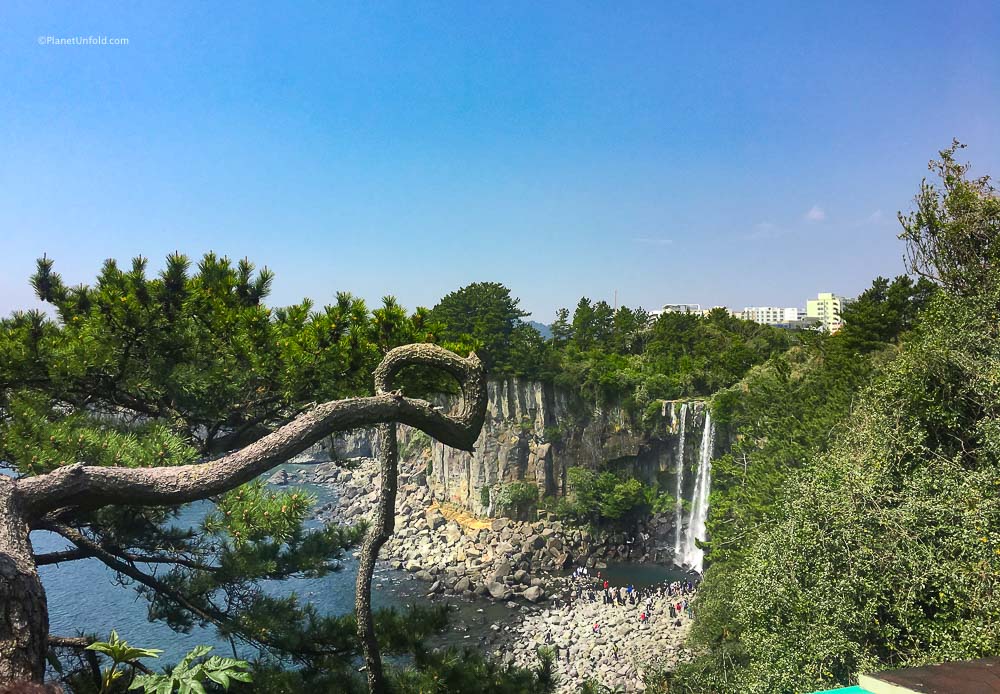 Jeongbang Falls
The 23m high fall is a stream of Donghong-chun river directly descends into the ocean shore of south Jeju. The falls is easily accessed while on the road and can be viewed from a small platform upstairs near ticketing counter. You can also climb all the way down but it's a bit steep staircase. We only made a quick stop here as it was very crowded to enjoy.
Address: 37 Chilsimni-ro214beon-gil, Seogwipo-si, Jeju-do, +82-64-760-6341
Opening hours:  9am-6pm
Entry fee: 2000 won per person
Nearby: Jeju Folk Village: Restored 18th century village highlighting more than 100 structures & historical artifact exhibits.
Walk the Olle Trail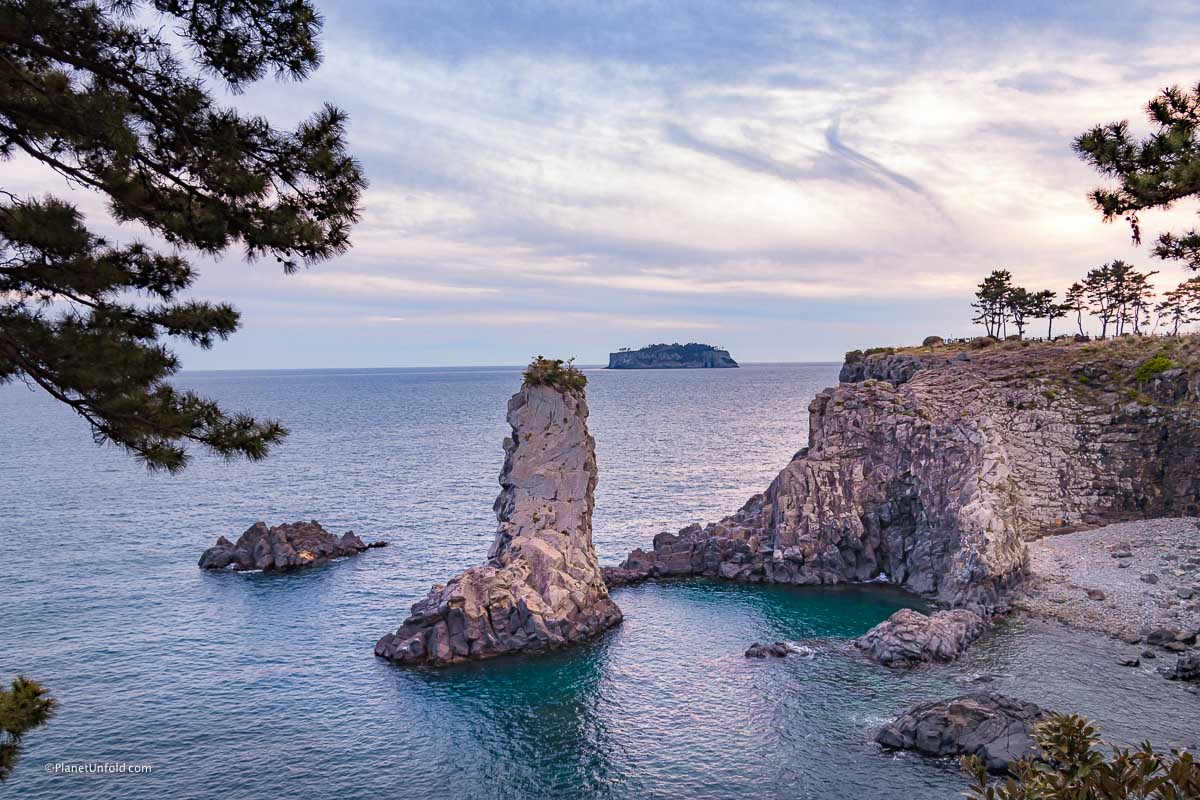 Olle Trail
The simplest and coolest thing to do on your Jeju trip is to walk and explore the island on Olle trail. The Olle Trail isn't just one small trail but a coastal track connecting 21 main routes and 5 sub tracks (total 422km) through a long-distance walkway on south of Jeju. According to reviews the best routes are 14th, 6th, 7th, 18th and 10th as they offer amazing scenic vistas.
You can read more info to choose your preferred route, on the pdf here:
Hwangwuji Haean Natural Pools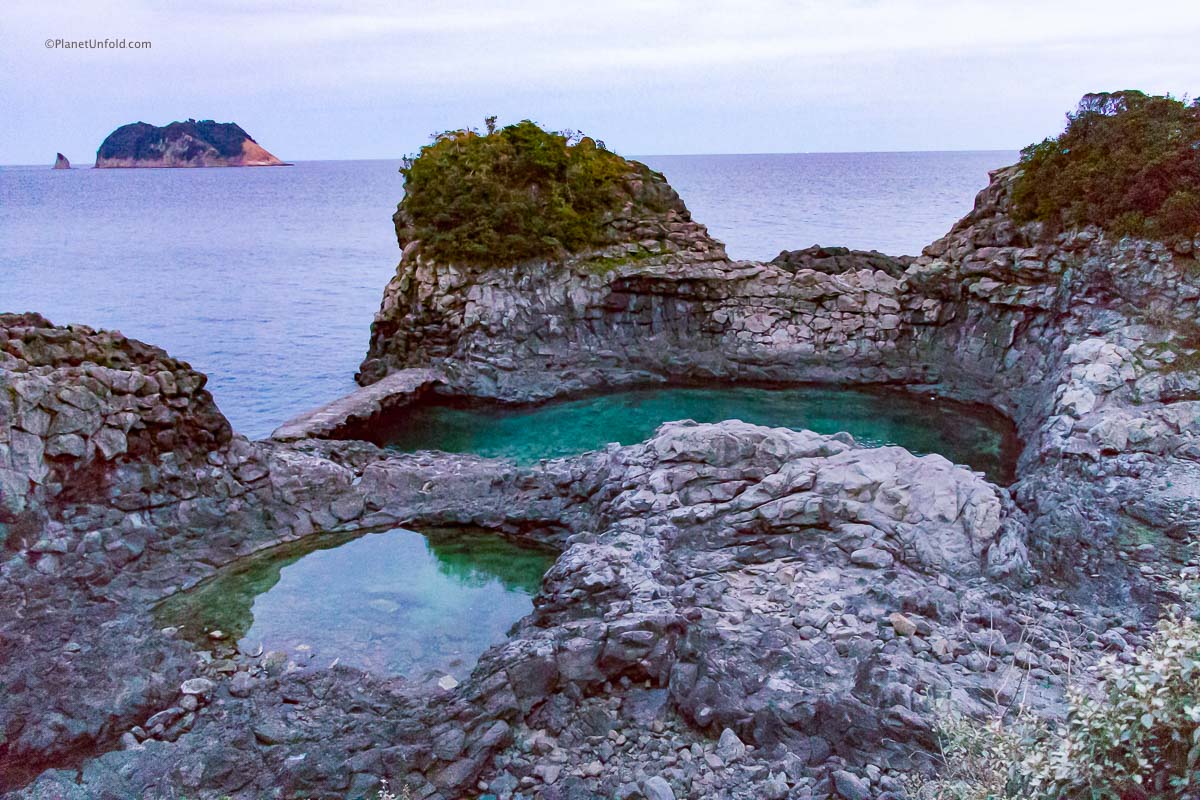 Hwangwuji Natural Pools
Hwangwuji Haen pools were the most beautiful spot we found on Jeju's southern coastline. It's a hidden gem located on Route-7 of Olle Trail. The shallow emerald water ponds crafted by rocks look gorgeous and perfect for a snorkelling dip.
There are steep stairs to reach down and it was all empty when we arrived. So, we had the whole panorama to ourselves for the evening. We took a walk around the area at its right and encountered some native bird life on our pathway towards Oedolgae Rock which is another picturesque spot on the trail. The trail further takes you to panoramic seaside serenity embracing islets in its realm.
Address: 790-5 Cheonji-dong, Seogwipo-si, Jeju-do, South Korea
Recommended Dining and Stay
Seogwipo is second largest city enriched with both natural beauty as well as topnotch accommodations. The most popular segment amongst tourists for stay is Jungmun Tourist Complex located in Saekdal-dong. Since this place is precisely well developed for tourists, it consists of major beach resorts and hotel brands, iconic continental eateries, spa outlets and shopping markets. The complex offers supreme facilities and so, stands expensive. Do check out the Saekdal Beach area to relax your nerves.
Alternatively, if you long for local experience more, then you might prefer staying in Jungang Dong (areas near to Cheonjeyeon Falls) or Cheonji-dong or Jongbang-dong. These are central city segments and have more Korean authenticity to offer.
The best food streets here are Chilsimni Food Street, Myeongdong street and Olle Market. Olle market closes around 9 pm so go there early and get your hands on some of the best fresh produce of Jeju.
Don't Miss !
The best things to do in Seogwipo other than visiting falls includes the central city experience, with local food streets and markets. We recommend embracing the town's laidback vibes by taking an evening stroll around areas mentioned above. You will find lots of skincare and spa outlets here and they are way too cheap, try on a foot bath to relax those sore muscles.
Day 4
The southern part of jeju is gifted with loads of natural cascades, dramatic scenery, flora and fauna. There is so much to see around that one day seems insufficient, we had to be picky and it was hard to do so. Our top picks for the day were:
Chase the Waterfalls
Cheonjeyeon Falls
Cheonjeyeon Falls
It really was fun chasing this set of three tiered waterfalls that originates from a cave and carved its path amid lush green forest. The walk is easy and there are small stairs for most parts within approx. 2km circuit. You also see the Arch Bridge displaying a 'legend of the seven nymphs and the mountain god' which connects Cheonjeyeon Falls with Jungmum Tourist Complex. You will need around 1-2 hours here.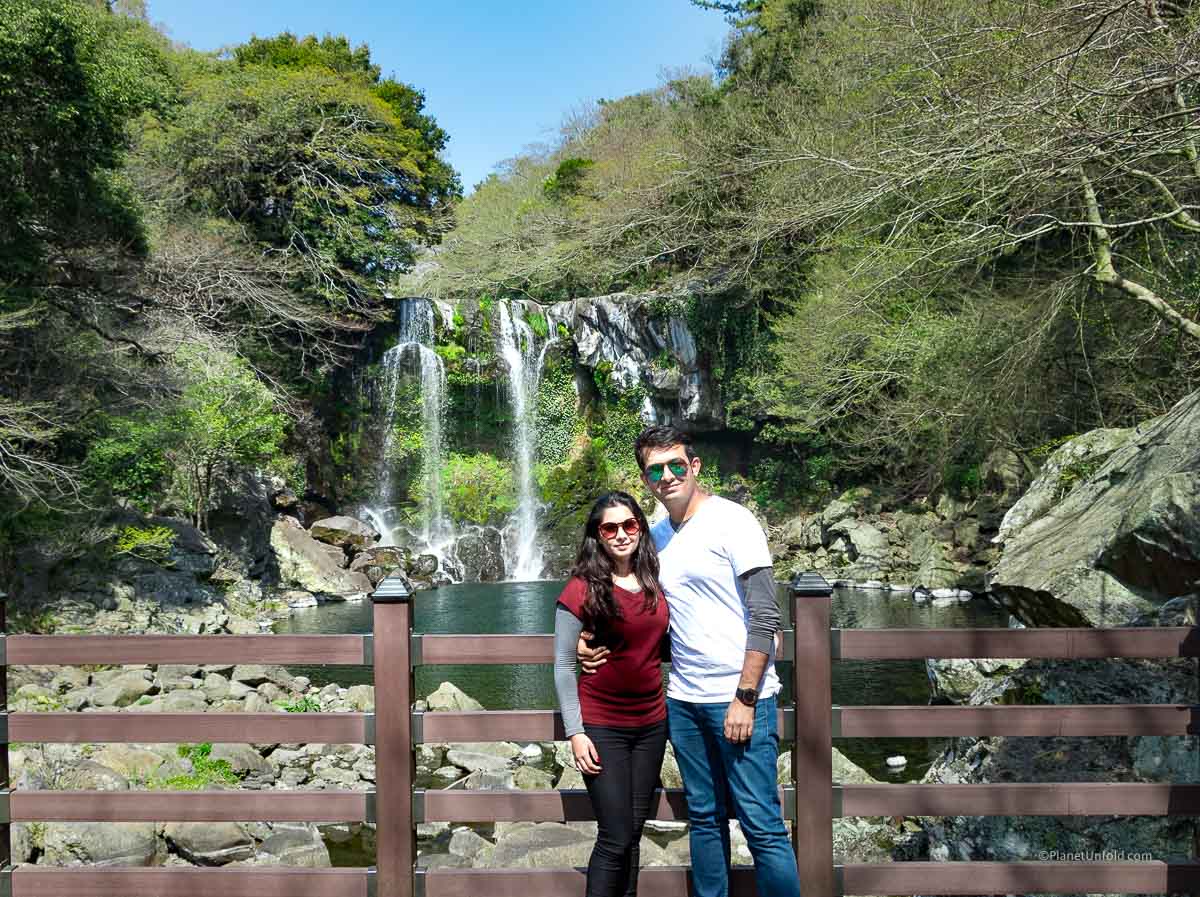 Us at Cheonjeyeon Falls
Address: 3381-1 Saekdal-dong, Seogwipo-si, Jeju-do, +82-64-738-1529
Opening hours: 9am -5:30pm,
Entry fee: 2500 won per person, (credit card is accepted)
Feel the Breeze at Jusangjeolli Lava Cliffs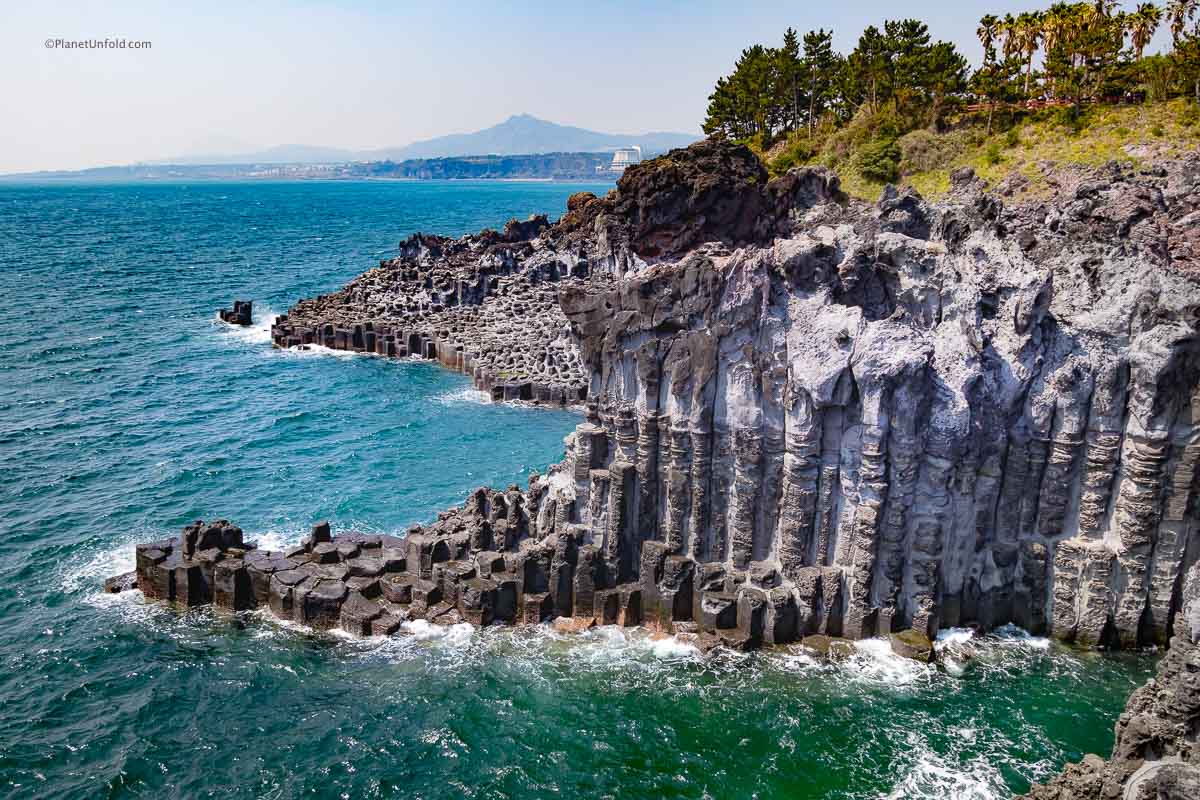 Jusangjeolli Lava Cliffs
Jusangjeolli are deep black lava-stone pillars heaped up along the Jisatgae coast, formed when the lava from Hallasan Mountain gushed into the sea of Jungmun. The pillars are shaped like cubes or hexagons of different sizes and appear artificially carved.
The waves of the high tide crashing into the side of the cliff provide a breathtaking view of the ocean surrounding this rocky cliff. This coast gets too windy and you will need a jacket even on a clear day.
Address: 36-30, Ieodo-ro, Seogwipo-si, Jeju-do
Opening hours: 8 am -6 pm
Entry fee: 2000 won per person
Grab a Bite at Jungmun Tourist Complex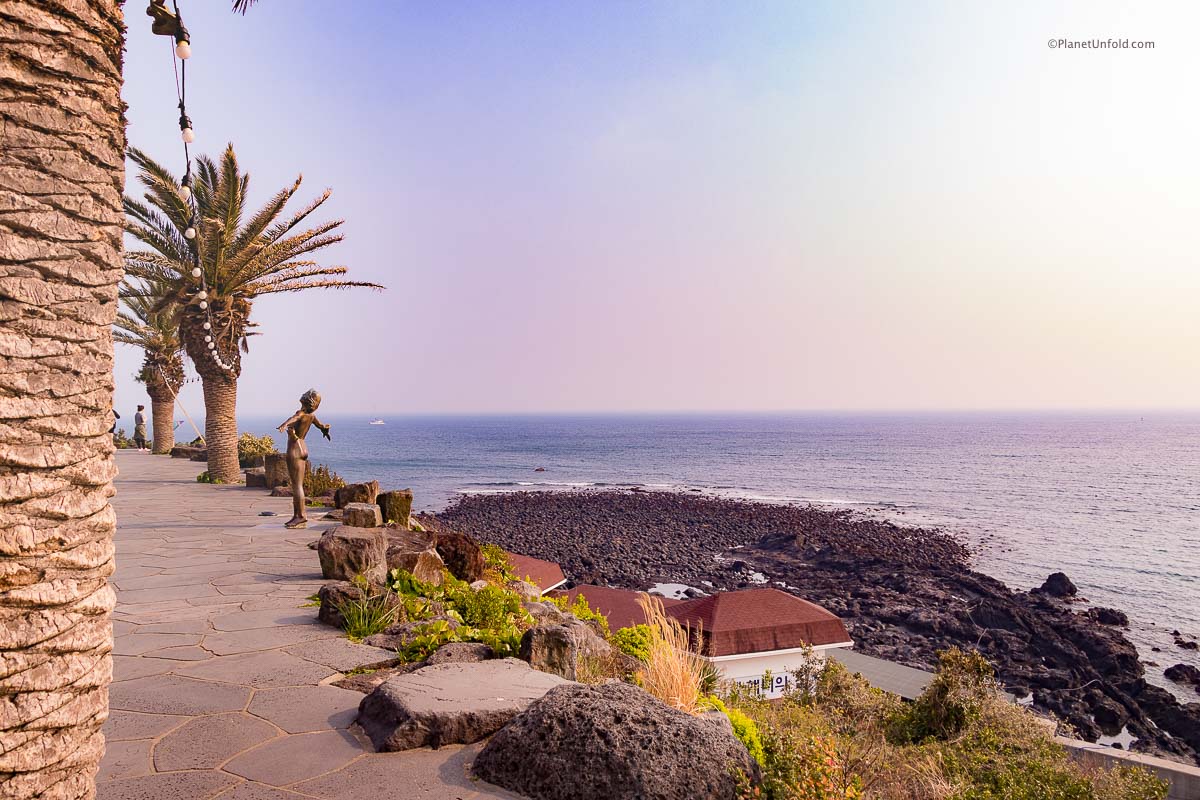 Jungmun Tourist Complex
The Jungmun Tourist Complex is a huge span of land near Jeju's southern coast which encompasses luxury resort and hotels like The Shilla Hotel, Lotte Hotel, and Hyatt Hotel, few malls, cafes and restaurants.
If you have a day or more, you shall leisurely explore Pacific Land, Yeomiji Botanic Garden, Fishing village, Seonimgyo Bridge, Jungmun's Beaches. Internationally famous hotel branches, such as  are situated here.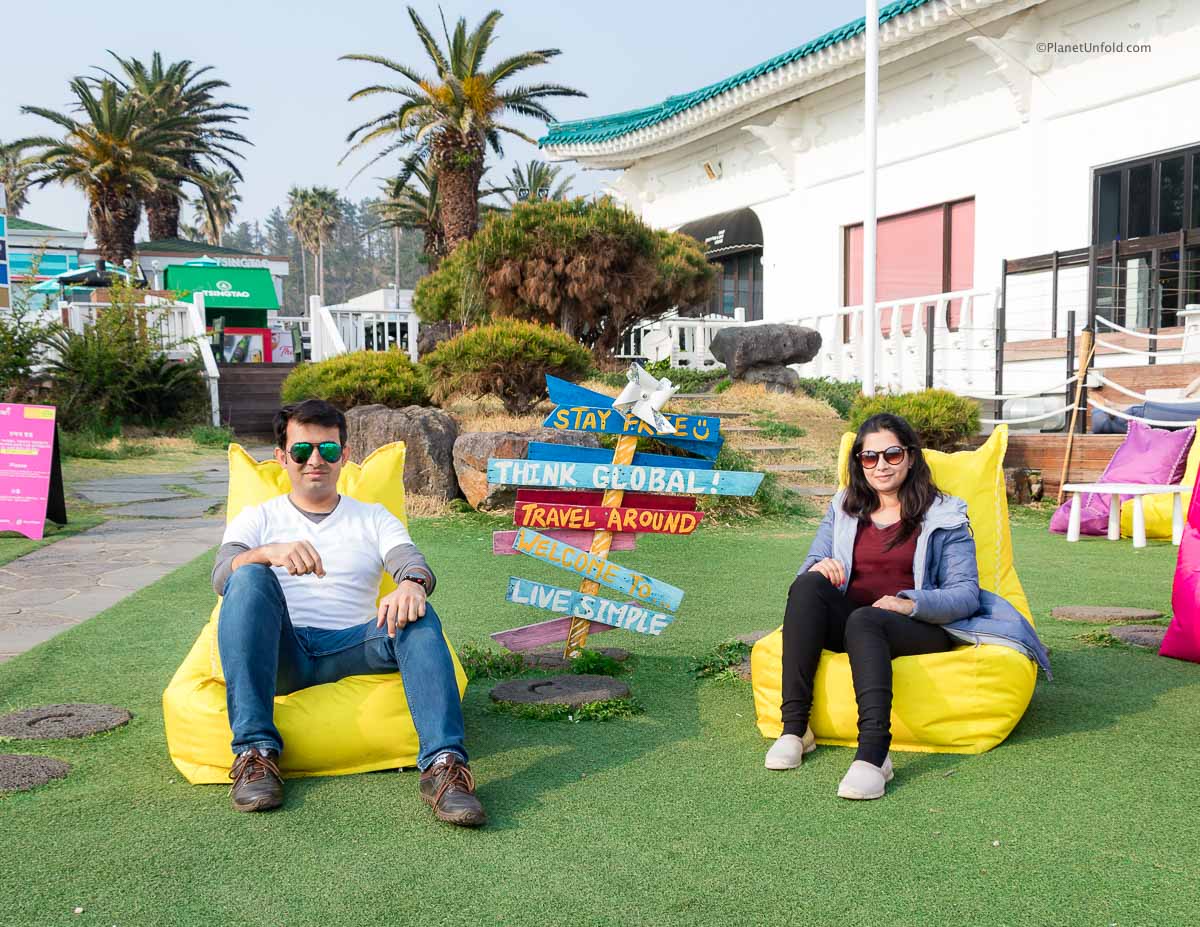 Relaxing at The Cliff
Taste some delicious grilled mackareel at Deomjang Jungmun or have a pizza at The Cliff at Saekdal Beach. The area is popular among tourists for the variety of intercontinental cuisine it offers.
You can also drive around some big western bakeries nearby and treat yourself with sinful dessert assortments.
Drive across Hallasan Mountain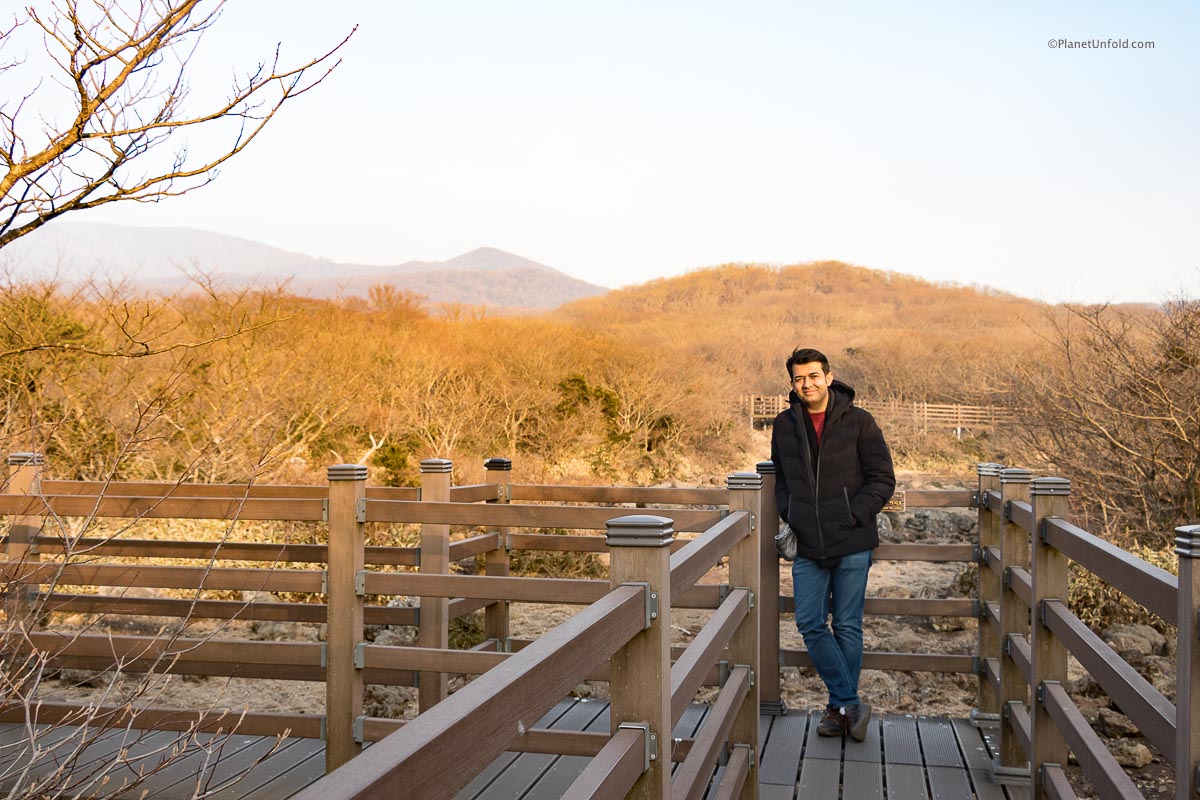 Trail near Hallasan Mountain
If you wish to see all of Jeju at once, this is your spot. Hallasan Mountain is the tallest and absolutely a paradise staircase for hikers. It is recognized as the most beautiful place on Jeju island offering wonderful scenic trails for nature lovers. The best time to visit is during summer months (May to July). The early morning hikes are allowed during winter and autumn months too.
It is ideal to plan a day trip to hike the Hallasan summit if you got some extra time. Various guided tours are offered too. Check on more info about the trails here. We skipped the hike but decided to take a route besides the mountain to reach Jeju City. So glad we did that, this scenic drive offers amazing mountain views and mesmerising sunset.
Get witty at Loveland
Love is in the air at Jeju's Loveland
We were going to skip this one but we had some extra time on the way so we stopped by. So glad we did that, it was such fun to visit this as couple. We couldn't stop smiling and teasing each other for all the time we were inside. Quick Tip: Visit this place after 7pm.
Jeju Loveland is an outdoor sensuality and eroticism themed sculpture park. The park displays work of art students. It also runs educational films on the subject, and features about 140 human sculptures in various erotic positions. According to tourism authorities- "Jeju Love Land is an attractive place where art and eroticism meet in cool, fun, humorous styles". A must-do for couples.
Address: 2894-72, Cheonbaengi-ro, Jeju-si, Jeju-do
Opening hours: 9am to 12 am
Entry fee: 12000 won
Recommended Dining and Stay
Jeju's city center has amazing local restaurants, we enjoyed scrumptious dinner at Red Station (GPS:7119245) located near Noyeon road, highly recommended. Do try their fish cake stews and spicy stir-fry dishes.
We recommend staying at Jeju's city center which exists in Nohyeong -Dong and Yeon-Dong. It has bursting numbers of hotels in all ranges, street markets and many restaurants. We stayed at Jeju Central City hotel as it was close to airport and has many eateries and shops around, some are even open till midnight.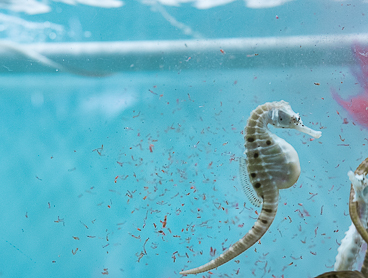 Things to do in Launceston
Things to do in Launceston
https://www.planetunfold.com/wp-content/uploads/2018/04/IMG_0261-Thumb-1.jpg
368
278
Sheetal Khatri
https://secure.gravatar.com/avatar/a8c4e10205dce919119e3338d8d5269d?s=96&d=blank&r=g
Summary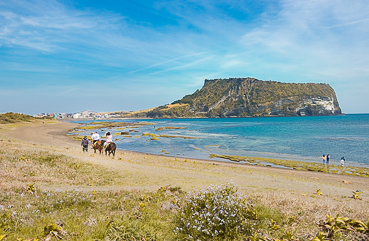 Article Name
Jeju Island: Top Tips & Travel Guide
Description
The volcanic resort island has a hypnotic vibe to it, makes it a top romantic sojourn. The island is eminent host of eight UNESCO world heritage sites.
Sheetal Khatri
planetunfold.com
https://planetunfold.com/wp-content/uploads/2019/09/Final-logo-1.png