Kenting To Taitung: Day Tripping on the Black Coast
(Day 6)
To this time, we had spent five days on our thrilling road trip exploring western and central Taiwan from north to south so far. On day 6, we commenced our jaunt towards its eastern slice which features the veiled charms, Taitung, Hualien and Yilan for its countryside.
We were already refreshed by the southernmost tidal breezes, driving alongside Hengchun and Kenting only yesterday. Now it was time for us to measure longest ever black sand coastlines of the east to reach Taitung, our next destination.
East Taiwan
The scenery along way changes dramatically compared to the west here and you will find tempted to stopover at many places in between just to admire mother nature. Solely, that was our purpose for taking such a long span of time (a day) to reach Taitung.
Normally, it takes around two and a half hours (127 km) of drive to reach Taitung from Kenting. We drove on highway 9, its a prolonged coastal road and includes various scenic spots to hop on.
Here is list of some stunning and lesser known spots that we cherished on the way.
Kangtz Big Desert, Manzhou
Kangtz big desert
This is a wide and remote black sand beach that only locals know about, it features sand dunes next to shores but the place isn't well developed for tourism, we found the coast a bit dirty to sit down and relax.
The neighbourhood has few resident houses and entry points to nature trails/bushwalking along the coast. The location doesn't appear on google maps search, we found a board for this while parking for the coastline and explored it by chance.
Alangyi Historic Trail & Xuhai Grassland Trail
Alangyi historic trail
The 8 km long Alangyi Historic Trail traverses sideways to the wild Pingtung and Taitung at south-eastern coast of Taiwan. Most of the trail is flat and easy to walk, normally takes about 3-4 hours.
You will see steep mountains, bushy forests, high crests, and deep valleys adjoining pebbled seashore. Earlier this path was the way for to carrying wood, stones, fish, mountain pigs etc.
Duoliang Coastline
Duoliang Coastline
There used to be an old yet most beautiful railway station along Duoliang coast in Mudan Township offering majestic pacific views to its passengers on ride. The long pacific coastline of black sand still lures while on highway 9 and you can definitely stop to take a look from its designated view point at the roof of this station.
A little further from the station there is Dawu Seaview Trail for views of ocean and Dawu river mouth. There are no signboards to exactly mark the trail loop (1km) but you will see a traditional architecture and a thin hike trail ascending for the same near parking lot. You can definitely give it a skip as the drive further brings better spots.
Custard Apple Territory
custard apple trees
At this point we had already crossed half way of our trip and were only 33 km far from Taitung city but there was one more place we didn't want to miss on the way. We were passing amidst the huge custard apple fields and shops selling fresh ones, don's miss stopping to taste those delicious ever custard apples on the way to Taimali Kinchen mountain.
custard apple
Taimali Kinchen Mountain
Taimali Kinchen
Taimali Kinchen proudly ornates like a jewel of nature in Jinfeng. Turning a left on Nanhui road marks the beginning of a 12 km narrow route to reach the top at Dawang village. It takes around 45 minutes to reach since you need to drive slow as the terrain is curvy and tricky at some parts that only one vehicle can pass at a time. Driving gets exhausting at such routes but it is worth the mystic scenery, unforgettable views and serenity.
flower season Taimali
Flower Seasons: The mountain slopes spurt with colorful flower fields during different seasons and each season brings its own extraordinary relishes.
January to February: Cherry blossoms
March to April: Wild lilies bloom
May to July: Hydrangeas bloom
August to October: Daylily bloom
November to December: Apricot blossoms
We didn't realise this place was blessed with the mist-laden fairyland vibe until we drove till the top. It must be worth spending few days to feel the ambiance. But we had missed and there was a language barrier to gain any info in the vicinity. So, we didn't change our plans and drove off to Taitung city (31km) for the stay.
Unexpected Food Surprises Throughout New Zealand
Unexpected Food Surprises Throughout New Zealand
https://www.planetunfold.com/wp-content/uploads/2020/02/IMG_9490-Mussel-Inn-lamb-pie-1-1024x607.jpg
1024
607
Sheetal Khatri
https://secure.gravatar.com/avatar/a8c4e10205dce919119e3338d8d5269d?s=96&d=blank&r=g
Summary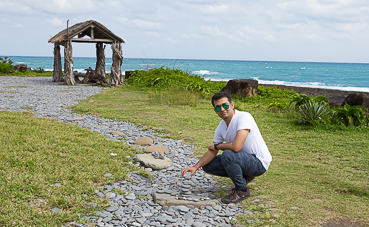 Article Name
Kenting To Taitung: Day Tripping on the Black Coast
Description
Our jaunt towards eastern coast of Taiwan featuring the veiled charms, Taitung, Hualien and Yilan for its countryside. The scenery along way changes dramatically compared to the west here and you will find tempted to stopover at many places in between just to admire mother nature.
Sheetal Khatri
www.planetunfold.com
https://planetunfold.com/wp-content/uploads/2019/09/Final-logo-1.png