Mole Creek Caves, Fossil Bluff and The Nut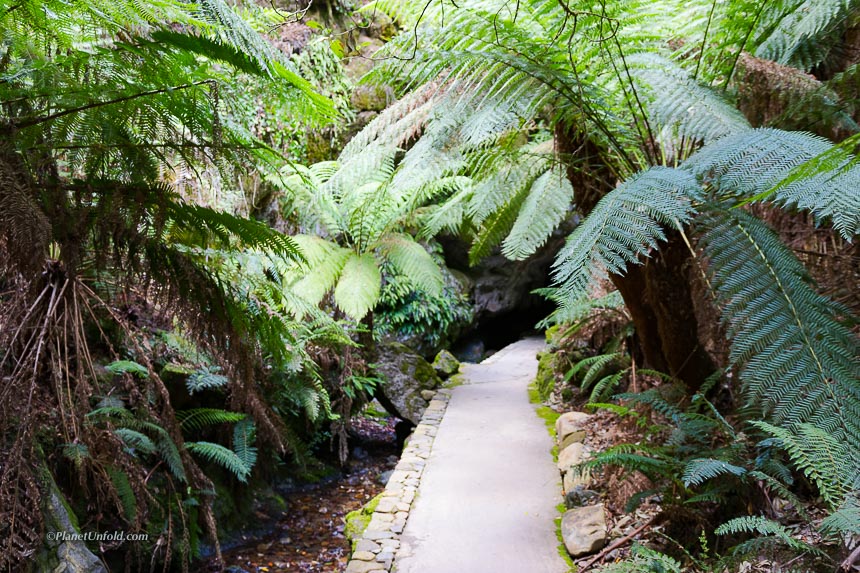 Image: Cave Entrance
Day 5 involved the longest (approx 400km) driving route we ever finished in a single day, yet full with arrays of lures we traveled. We started from Launceston early in the morning, paced deep into a mysterious cave, marched amongst millions of years old fossils left by the beach, hovered through a chairlift and then drove into rugged paths to finally get a good night nap.
Mole Creek Caves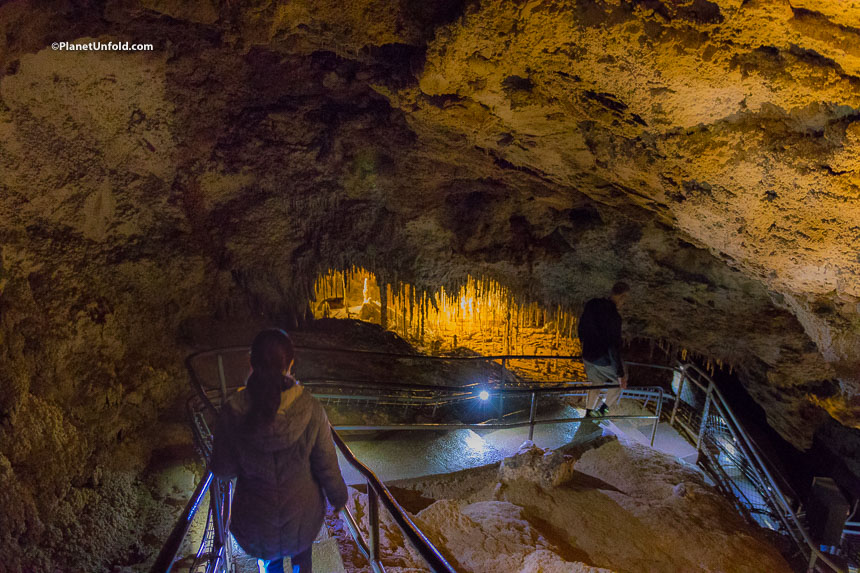 Image: Cave Tour, Mole Creek cave
The Mole Creek area is renowned for its sparkling caves, an area that features over 300 known caves and sinkholes. Other typical karst features here include gorges and huge secretive streams and springs. Finest of caves that got most of the protection and fame are Marakoopa and King Solomons.
The glow-worm display in Marakoopa Cave is the largest you'll see in any public access cave anywhere in Australia. There is a large area displaying glow worms on a ceiling of cave when it is pitch dark. Photography of glow worms is not allowed however.
Although guided tours of the caves are provided thrice a day, it will be ideal not to miss short walks through the beautiful forests where these caves occur.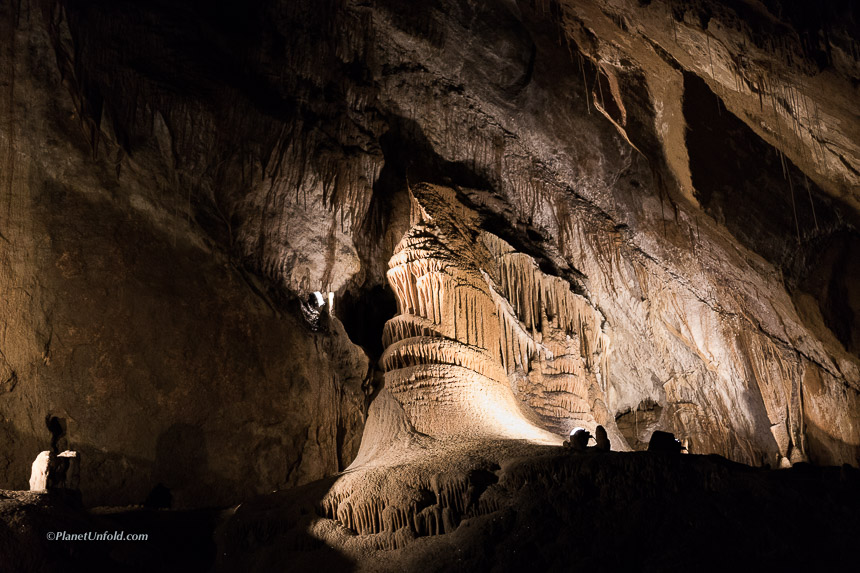 Image: The Cathedral
We chose Maarkoopa Cave tour since we wanted to see glow worms. Within Maarkoopa they provide 2 types of tours, one of them features underground rivers and the other one features cathedral inside the cave, both include glow worms tour as well. We were absolutely mesmerized with the magnificence of sparkling crystals, reflective pools, stalactites and stalagmites.
It was so amazing to see the giant forced curved path on the upper wall of the cave, conclusively created by powerful ancient stream flowing uphill for many years. There are few unique formations inside the cave, like a face they call Kong and a design as of cathedral with so many pillars. The tour was for about 45 minutes costed us AUD 15 each.
The website link for the same is: Mole Creek Caves tours and prices.
Tripods are not allowed, photography inside the cave is allowed except for the portion where glow worms are.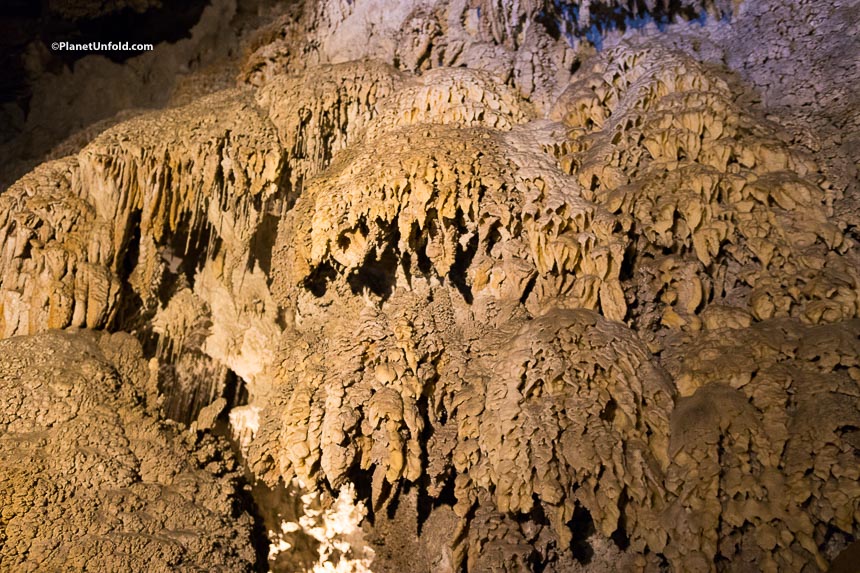 Image: Inside the cave
If you are fond of caves you should also try Gunns Plains cave, the longest cave in the northwest region. It has an underground river that still flows and contains freshwater crayfish and eel. Platypus sleep and nest in the sandy banks along the river. Camping, accommodation and refreshments are also available nearby. Prices are same as above.
Fossil Bluff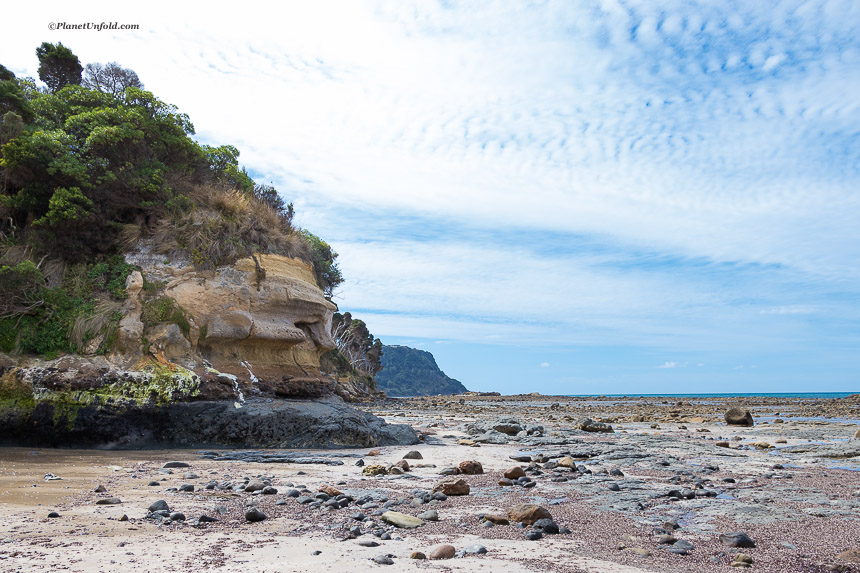 Image: Fossil Bluff, Wynyard
Ever thought of holding small fish fossils in your hands and wondering how ancient they must be? We not only did that, in fact we actually roamed around stacks of them. In the first look, the white boulders at Fossil bluff coast seems as if huge white dinosaur fell down there and broke its bones. Spend some time there and you can get a rare insight of fossils and also touch several types of old shell fish preserved in rocks. It's the discovery site of Australia's oldest fossil marsupial and a fossil whale uncovered in the mid 19th century.
Image: Fish fossils 280 million years old
Fossil Bluff is located at Wynyard, (follow the brown signs). It is one of the best known places in Tasmania for viewing an unusually rich fossil site along with Permian rock layers. It contains both earthly and marine fossils in its sandstone cliffs deposited by an ancient glacial action 280 million years ago, while Australia was still part of Gondwana.
The Freestone Cove sandstone is full of over 300 species of identified fossils. The list includes algae, single celled shell fishes, corals, lamp shells, snails, barnacles, sea urchins and shark's teeth. Some decomposed wood has also been found here.
We went on so curious exploring this sight and also met a Brazilian geologist couple who educated us more about the place.
The Nut Chairlift, Stanley
Image: The Nut Chairlift in Stanley
Take the safest chairlift ride and enjoy a 2 km walk track on top of a magnificent high plateau famed as "The Nut". It really looks like a nut in shape enriching splendor of north western coast of Tasmania.
Image: The 2 km walk circuit on top of The Nut
The cosmic blue ocean on both sides of The Nut can be admired from the top. We were astonished by the unique landscape and surrounding scenery that includes entire town range of Stanley to be viewed from above.
The walking trail on top is home to little bird species, their nests can be seen left with their eggs sometimes. There are insects in the area active during evening. The chairlift is open from 9 am to 5 pm and there is a 10$ ticket price for the same. If you are visiting later than that and want to visit the top, you can take a steep trail towards left of chairlift.
Image: We enjoyed some quality time
We spent ample time adoring the lovely sunset and then walked down only to drive further towards the coast grasslands to get gorgeous pictures featuring The Nut. We loved the change in scenery that doesn't comprise lots of high rise buildings. The visibility of nature far-far away was such a relief to eyes.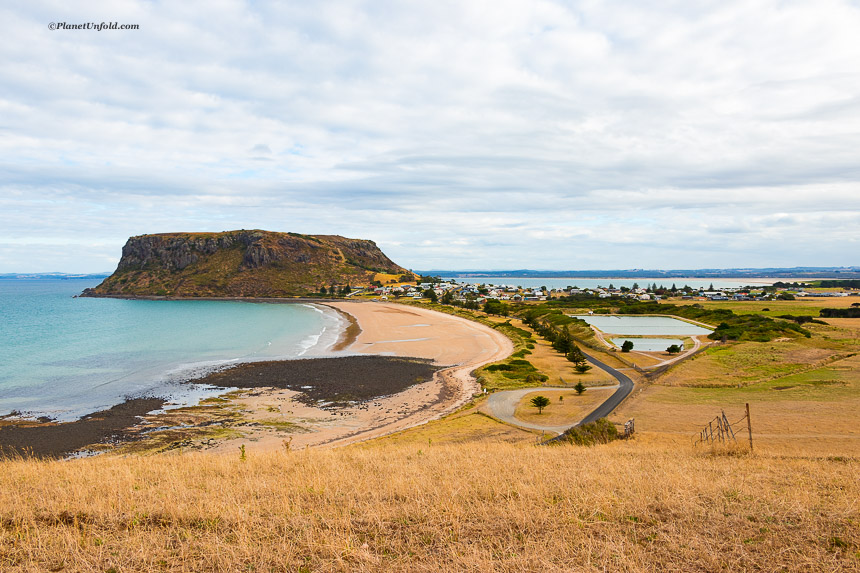 Image: The nut from opposite grasslands
There are many small cafes and local pizza houses in the town at reasonable prices. Few restaurants are on harbor side for a great seaside dine. The area starts to close very early, around 5 pm, so better to grab a bite or takeaway, this is another town to refill supplies.
Long Drive to Queenstown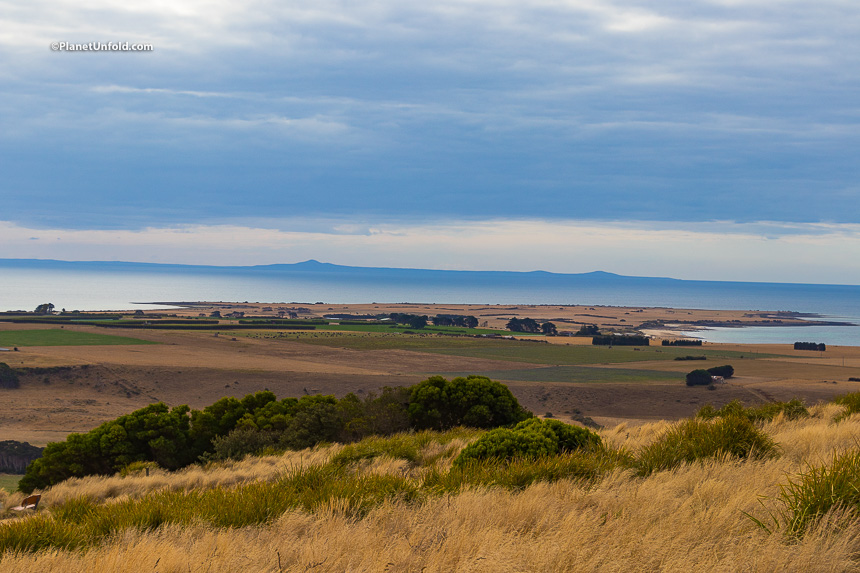 Image: Scenery on the way to Queenstown
Stanley to Queenstown is 226 km and takes approx. 3 hours to drive. We drove back through Wynyard on Bass highway following East Camdale road to get further on route for Queenstown. The route is exclusively mountainous, very scenic with damp green forests all along starring pretty lakes, lush creeks, waterfalls, rivers and deep forest reserves. It also embraces the renowned Cradle Mountain, almost halfway, via Belvoir road perpendicular to Murchison highway. A lot of groups visit here to hike, camp and picnic for days.
This became an elite romantic long drive for us as soon as we put off our car's Air-con and opened windows to feel the fresh fragrant natural breeze, paused to relish scenery, quick bites and rejoice our time together.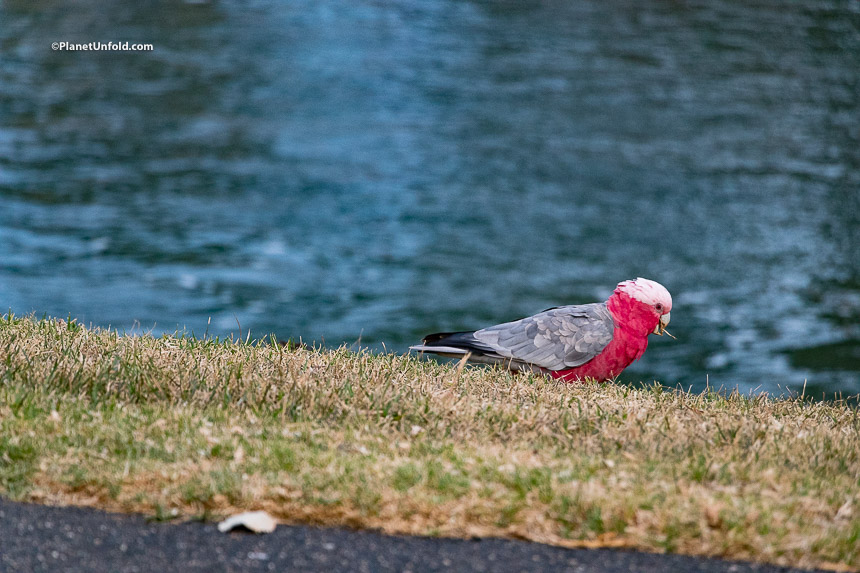 Image: Red & Black Cockatoo on our way
On the other side we did not find anything but rugged nature & colourful birds, for at least 2 hours of our drive since Tasmania is 70% forests. Once we crossed Hampshire, there weren't any houses or shops until Queenstown, it was just the two of us for kilometers which was enough to realize that there won't be any help if needed. Networks won't work either, so keep yourself prepared for the ride with downloaded maps on phones, power bank, torches, water and some food handy. It is hard to find any public amenities on the way which means local possums or wallabies might stare you attending nature's call 😉
The roads are sealed and curvy with sharp turns time to time. The best way is to take this drive during day, if you are late somehow, just drive slow and careful to avoid hitting animals. The region is full of possums, wallabies and Tasmanian devils who are active during dawn and try to cross roads. It was worth and we loved it.
A little about Queenstown, Strahan and West Coast
Our short trip allowed us to halt only for a night in Queenstown, but there are some bucket list spots that we gathered information about, have a look below.
Queenstown
Queenstown sits in the valley of Mount Owen on the west coast of Tasmania. The town is lowly populated and rich in wilderness as it is enfolded by scenic hills, mountains, gorgeous waterfalls and fishing lakes. It was known as world's richest mining town in the past, some mining sites can be explored within the Tasmanian World Heritage Wilderness Area.
Strahan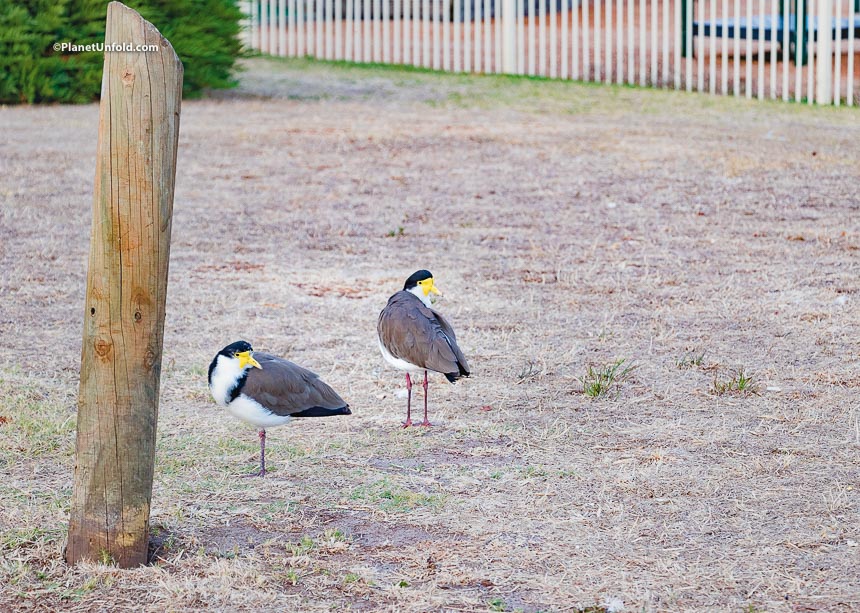 Image: Strahan, Tasmania
The small village nestled on shores of Macquarie Harbor has a shady felon history at nearby Sarah island's former prison. Strahan is gateway to World Heritage acknowledged, Franklin Gordon Wild Rivers National Park where one can go cruising on primeval rainforests of Gordon river. The village is also famous for its amazing local produce and artisan wares. Enormous sand dunes, infinite forest adventures and crazy long beach walks are some outstanding lures to get engaged while sojourning in Strahan. If you love biking, this is a place to go for it. The renowned Hogarth Falls 30 min trail will let you spot rare platypus.
Strahan is also another departure point for West coast wilderness railway, from here half day and full day rides can be taken till Queenstown and back.
West coast wilderness railway
An 18th century engineering marvel, world's steepest steam-operated railway takes you to a comfortable 16 km ride through wildlands, uphill through spectacular landscapes. The price ranges are AUD 110-AUD 175 per person for Heritage and Wilderness carriers from Queenstown to Dubbil Barril and back. There are both half day as well as full day tours to choose from, plus you can enjoy fine meals and beverages on the go.
You can gather more info and choose your tour on its government website: West Coast Wilderness Railway, Strahan
There is a museum too, which treasures the steam age history and reserves to let us envisage what it was like to live in that era.
Other West Coast Attractions
If you have ample time to see the west coast, you might like to dive into the excavating sagas of Tullah, Corinna, Zeehan and Rosebery.  These towns are small yet crowded with unique geological structures and a rich mining history. They gained recognition for mine tours (silver, lead and zinc), nature walks with ancient rivers, lookouts, majestic views of mountain ranges, giant sand dunes, historic sites, lakes, falls and rainforests. The entire west coast is ideal spot for sea kayaking, fishing and canoeing ventures.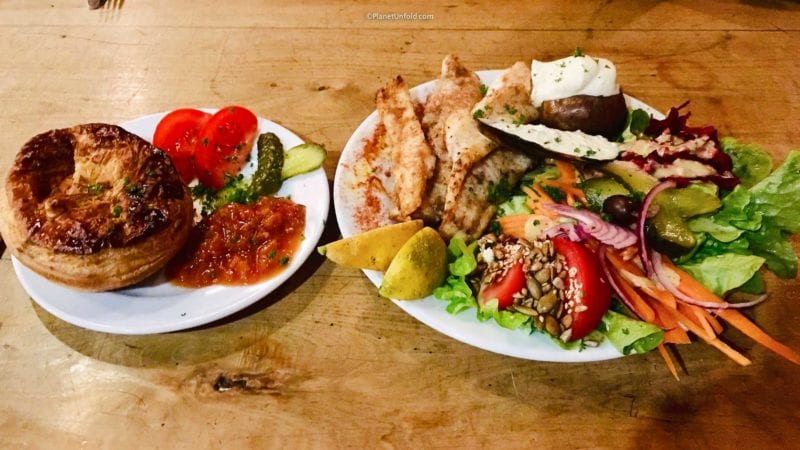 Unexpected Food Surprises Throughout New Zealand
Unexpected Food Surprises Throughout New Zealand
https://www.planetunfold.com/wp-content/uploads/2020/02/IMG_9490-Mussel-Inn-lamb-pie-1-1024x607.jpg
1024
607
Sheetal Khatri
https://secure.gravatar.com/avatar/a8c4e10205dce919119e3338d8d5269d?s=96&d=blank&r=g
Summary
Article Name
Mole Creek Caves, Fossil Bluff and The Nut
Description
The longer route comes with more diversity of places to see. Our self drive from Launceston to Stanley and then Queenstown features some unique spots of Western Tasmania.
Sheetal Khatri
planetunfold.com
https://planetunfold.com/wp-content/uploads/2019/09/Final-logo-1.png