Seoul Travel: Full Guide, Blog & Itinerary (4-7days)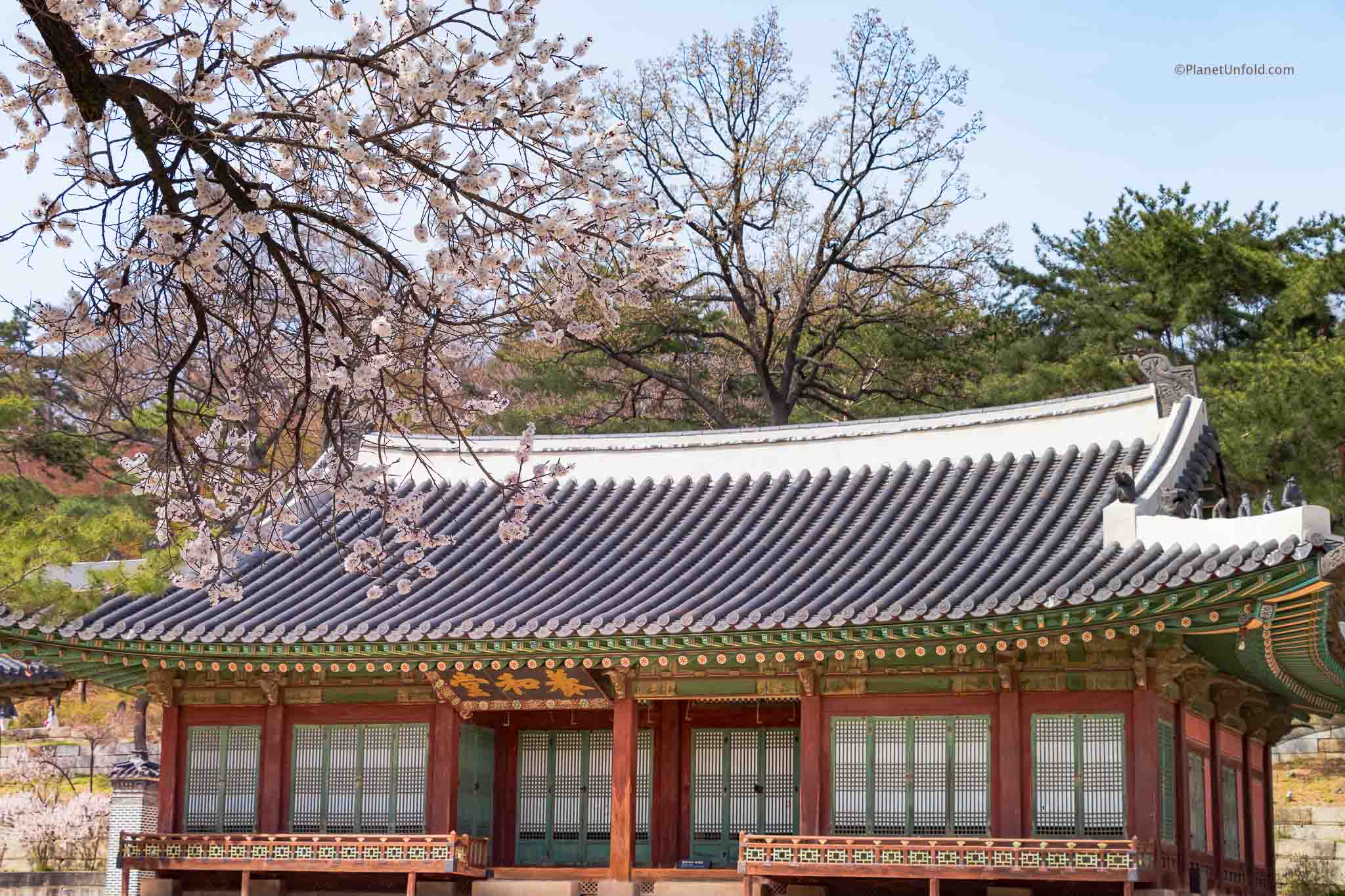 Seoul, the metropolitan capital of South Korea is one the most populated as well as visited cities within Asian continent. Even if you are a first-time visitor, Seoul has a lot of offer to make you wish you had more time here. The best way to explore Seoul is mix and match its best experiences in your everyday itinerary. Getting around is really easy through its fast and efficient subway network that is well connected to every corner of Seoul.
Read on further to find the basic information about Seoul for your trip planning and the best experiences to include in your itinerary.
What is Seoul Famous for?
Seoul is one of the most developed cities of Asia and world renowned for its Complex Public transport system, Ancient Palaces, Cherry Blossom festivals, Artistic museums, Korean BBQ and Street Food, variety of Jimjilbangs, Underground Shopping lanes and numerous Cosmetic brands.
Another thing you notice about Seoul is Lotte world, a trip to Seoul is certainly incomplete without visiting this giant tower from where you can witness fabulous city views. It's an amazing place to find 'what not!', get your Lotte World Discount Tickethere.
Our favourite part was eating in a food court here, such varieties of meals and desserts are rarely found. So don't miss.
If you only got a day or two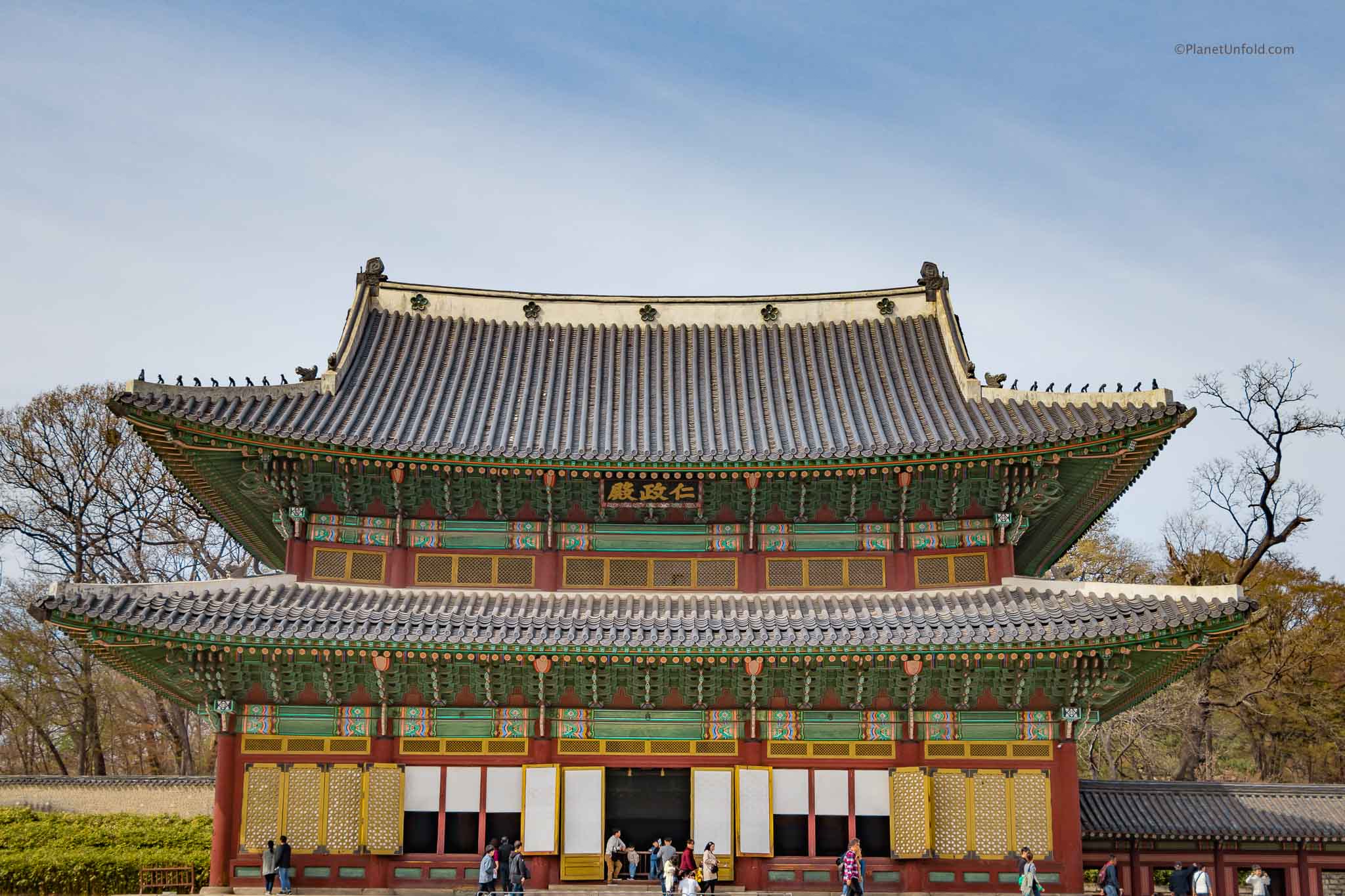 If you only got a day or two you should check out Seoul's Gyeongbokgung Palace, Bukchon Hanok Village, Gangnam, Itaewon and Myeongdong areas (for food and shopping) to get an essence of this massive city. Don't forget to spend a lazy night at a Jimjilbang, where you can stay and sleep the night off after scrubbing your old self off 😉
Best time to visit Seoul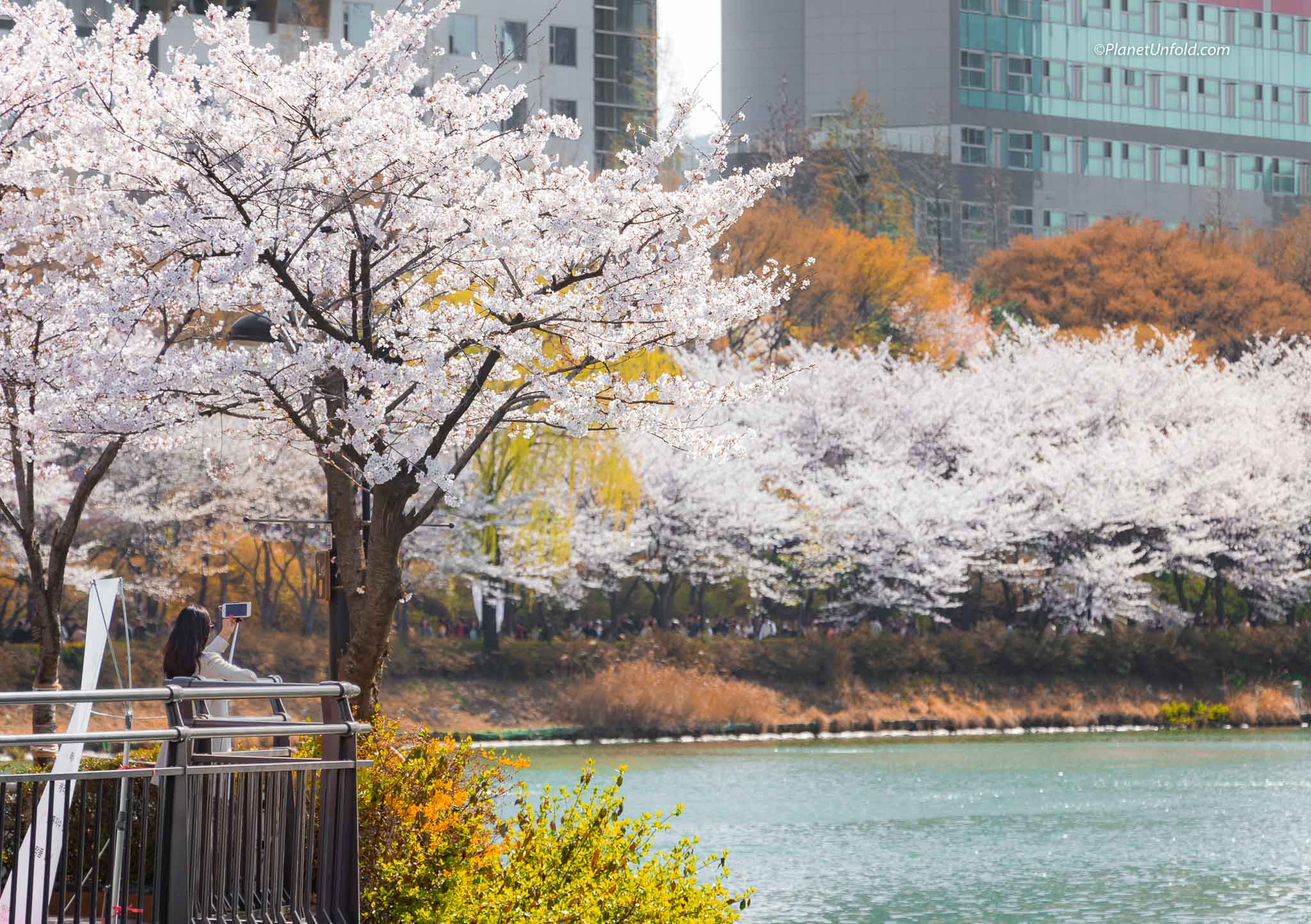 Catching a spring glimpse 🙂
Certainly, the best times to visit Seoul are either spring or autumn months. Springs usually takes tourism to its peak in Seoul due to its divine cherry blossom blanket all over the country. Before deciding our dates of travel, we checked cherry blossom forecasts to plan our leaves. This step is important to ensure you don't miss the spring flower festivals held in Seoul and Jeju Island.
Shall I Drive or Use Public Transport in Seoul?
The recommended way to get around in Seoul is to use Subway. The public transport system of Seoul is both complicated and wonderful. It is complicated because sometimes it can easily get confusing to find the exact platform to catch your train, but there is English speaking station staff to help and guide. Note that the staff may not be there late night, so it becomes crucial to use subway map apps to figure out how to reach a certain place.
Read in detail about Getting Connected in South Korea in our main article for public transport tips, maps and apps to use. Other than that, communicate with your hotel staff or Airbnb hosts to guide you for bus numbers and timetables as such people are more likely to speak English if you don't know Korean. Just catch a taxi if you get confused.
We won't recommend driving in Seoul due to heavily trafficked roads, also its very expensive and difficult to find parking. If you still choose to drive around then you must carry a valid IDP (International Driving Permit) and a valid driving license.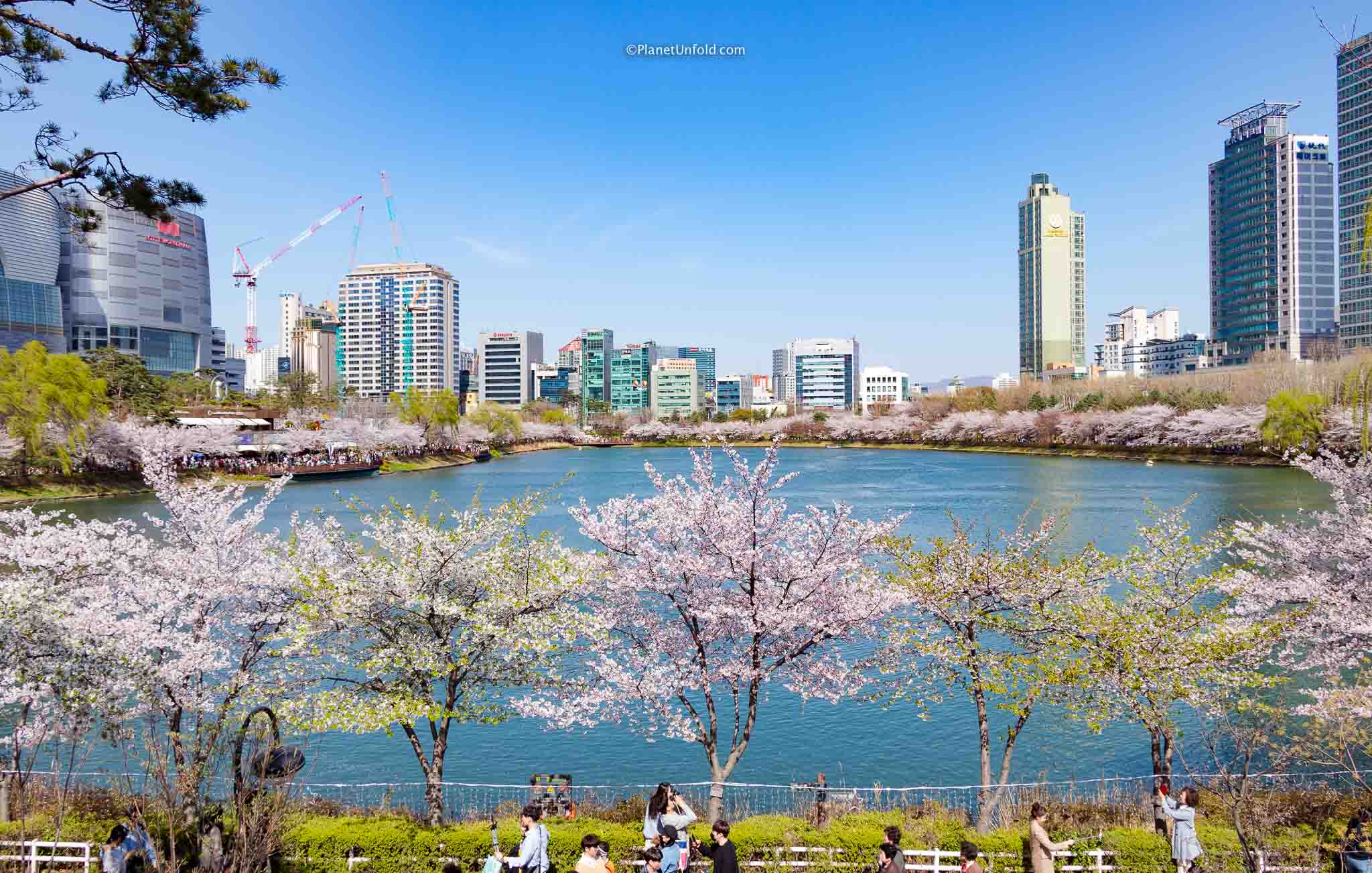 Is it safe?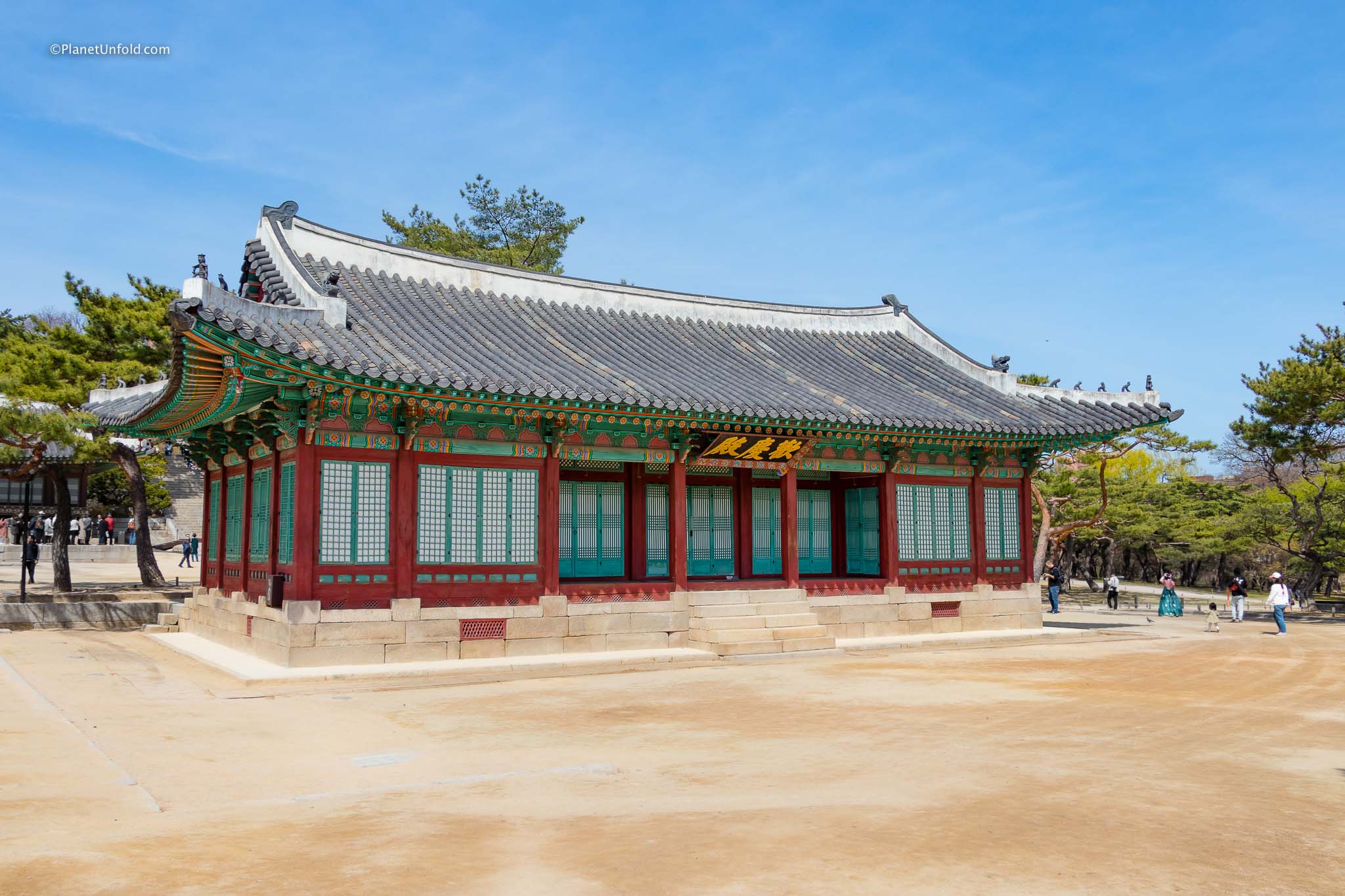 Seoul is very safe overall yet there are some precautions that one should take while visiting. Since the city's center is usually crowded there lies some risk of pick pocketing, teahouse scams (where girls asking tourists to help practice English which ends in a teahouse with a huge bill), overcharging in restaurants with 'tourists only' menus.
Seoul is also safe for female solo travelers yet they should avoid low-lit and secluded areas at night.
We also check this website beforehand, that has safety information for most countries and cities.
The 'Must Include' experiences in your Seoul Itinerary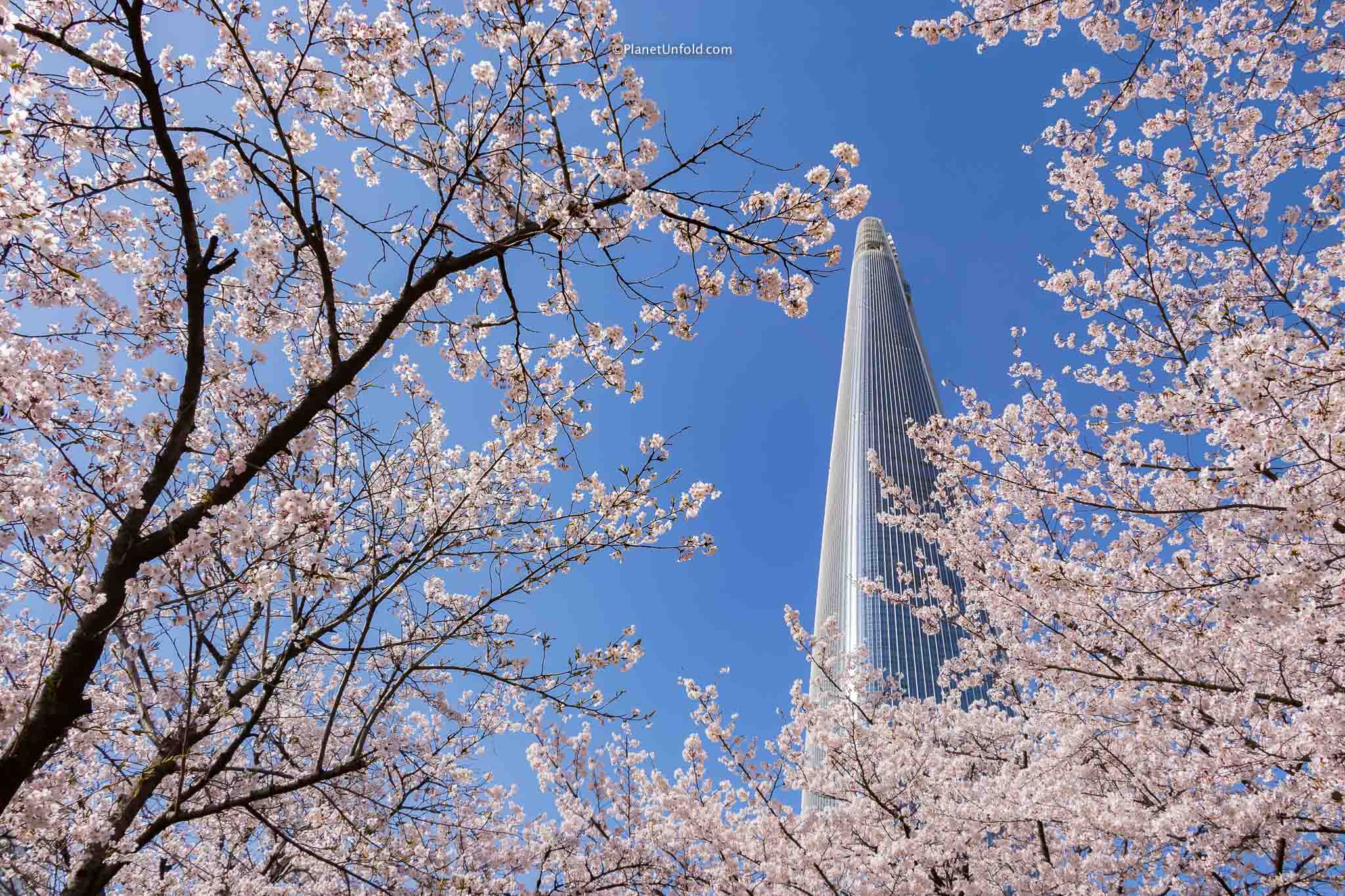 Seoul is such a massive city and each region of it offers something for every type of traveler. We spent about four days here and researched more before going, to have ample alternatives for any change of plans. Here are our top picks to include in your 4 days, 5 days or one-week itinerary in Seoul. We recommend at least one whole week to cherish most and best of the city.
Quick Tip: An ideal approach to spend you days in Seoul is to sightsee spring flowers and parks early morning, palaces and museums during the day and vibrant markets by evening.
Dress in Hanbok and Walk the Royal Palaces for Free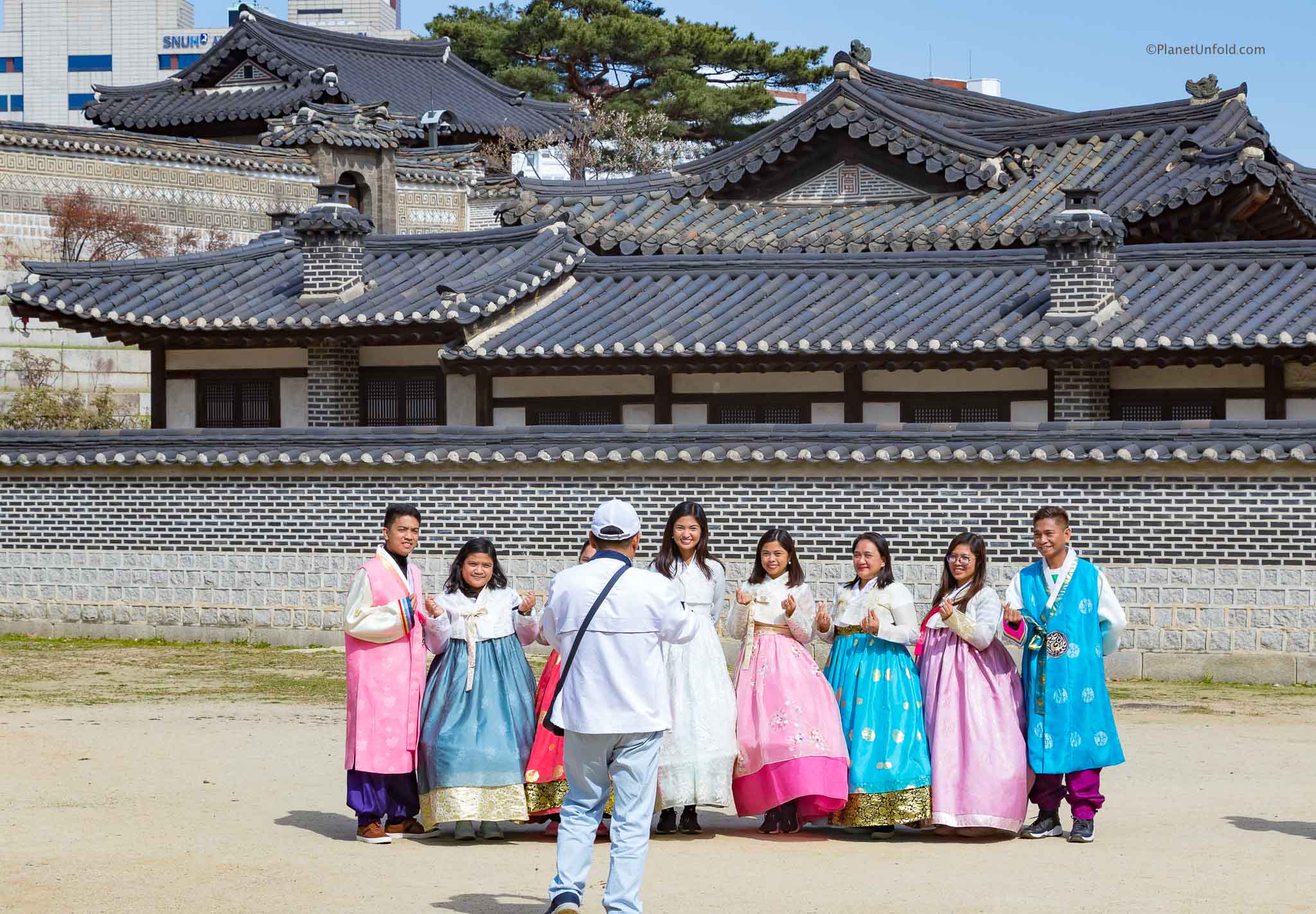 There are five palaces and a shrine in Seoul to get a glimpse of Korea's historyic Joseon dynasty (1392-1910), its beauty and culture that lasted over 500 years. The best ones to see in a day are Geyongbokgung and Changgyeonggung together with Changdeokgung Palaces as these are prime, symbolic and most dwelt palaces with central locale, neighboring each other and also have gorgeous floral displays during spring and autumn.
Also, entry is free to those who wear the traditional hanbok, do wear one to enhance your experience here. Hanbok is Korean traditional attire that comes in gorgeous colors. It can be rented from a bunch of shops (price range within 50, 000 won per couple set) found near palaces and Hanok Village entrances.
Additional Info: The last Wednesday of every month is Cultural Day when entry to all palaces is free. The opening hours of all palaces are 9 am to 5-6pm depending on season. Average duration required to visit is about 1-2 hours in each palace.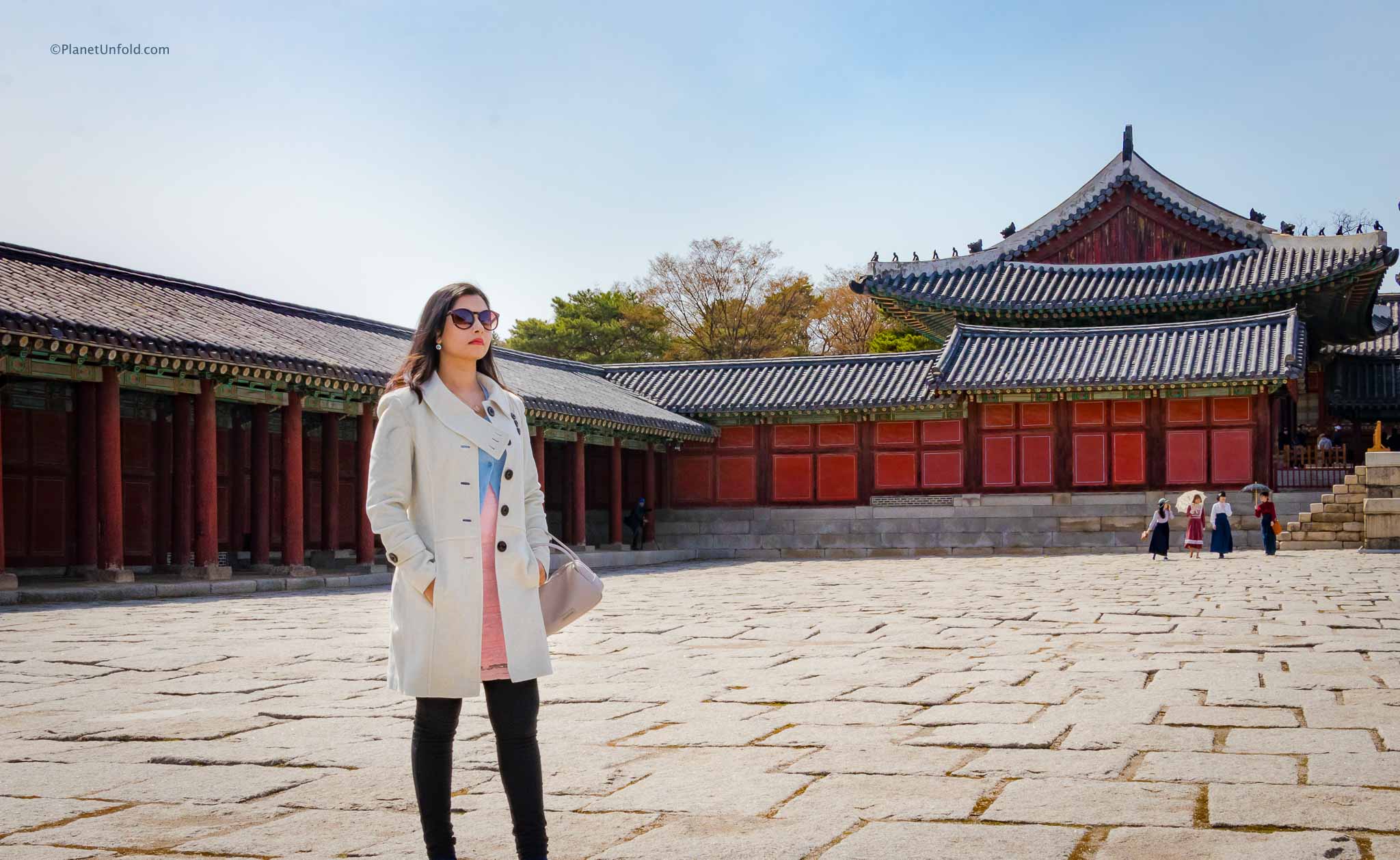 The Five Palaces in Seoul: Location & Entry Fee
Gyeongbokgung Palace: 161, Sajik-ro, Jongno-gu, Seoul. Entry Fee is 3,000 won (closed on Tuesdays)
Changdeokgung Palace: 99, Yulgok-ro, Jongno-gu, Seoul. Entry Fee is 3,000 won (plus 5,000 for the Secret Garden)
Changgyeonggung Palace: 185, Changgyeonggung-ro, Jongno-gu, Seoul. Entry Fee is 1,000 won (Closed on Mondays)
Deoksugung Palace: 99, Sejong-daero, Jung-gu, Seoul. Entry Fee is 1,000 won (Closed on Mondays), Nearby Attractions:

National Museum of Modern and Contemporary Art, Namdaemun Market- (9am-5:30pm (closed on Mondays)

Gyeonghuigung Palace: 55, Saemunan-ro, Jongno-gu, Seoul. Entry is free as it is a public park
Jongmyo Shrine: 57, Jong-ro, Jongno-gu, Seoul. Entry Fee is 1,000 won (closed on Tuesdays)
Traditional Perceive in the Alleys of 'Bukchon Hanok Village'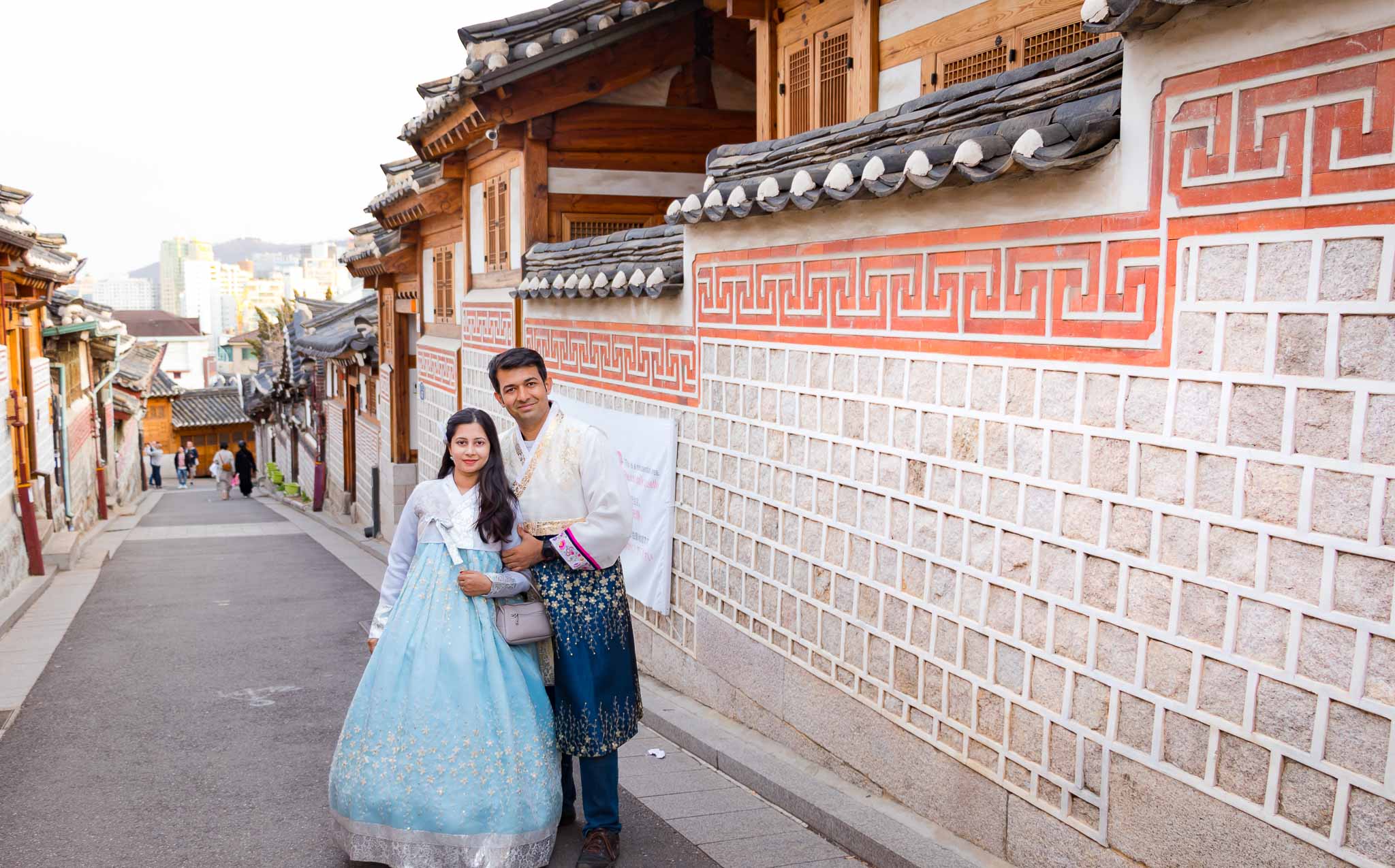 A traditional Korean village popularly known as 'Hanok Village', is one of the most beautiful segments to witness Korean culture inside Seoul.  The area constitutes of well-preserved 14th century houses which were originally designed by Joseon Dynasty. The area is also residential with some vintage wooden houses serving as cafes, tea houses and craft workshops. The location of this village is prime as it is nestled amid significant Seoul landmarks–the Cheonggyecheon Stream and the Jongno area.
It takes about 3 hours to leisurely explore all the streets of Hanok village and you can find many photography spots. There were guides in this area who gave us maps (also available just outside Anguk station) to find the eight views mentioned below.
Don't miss 'The Eight Views'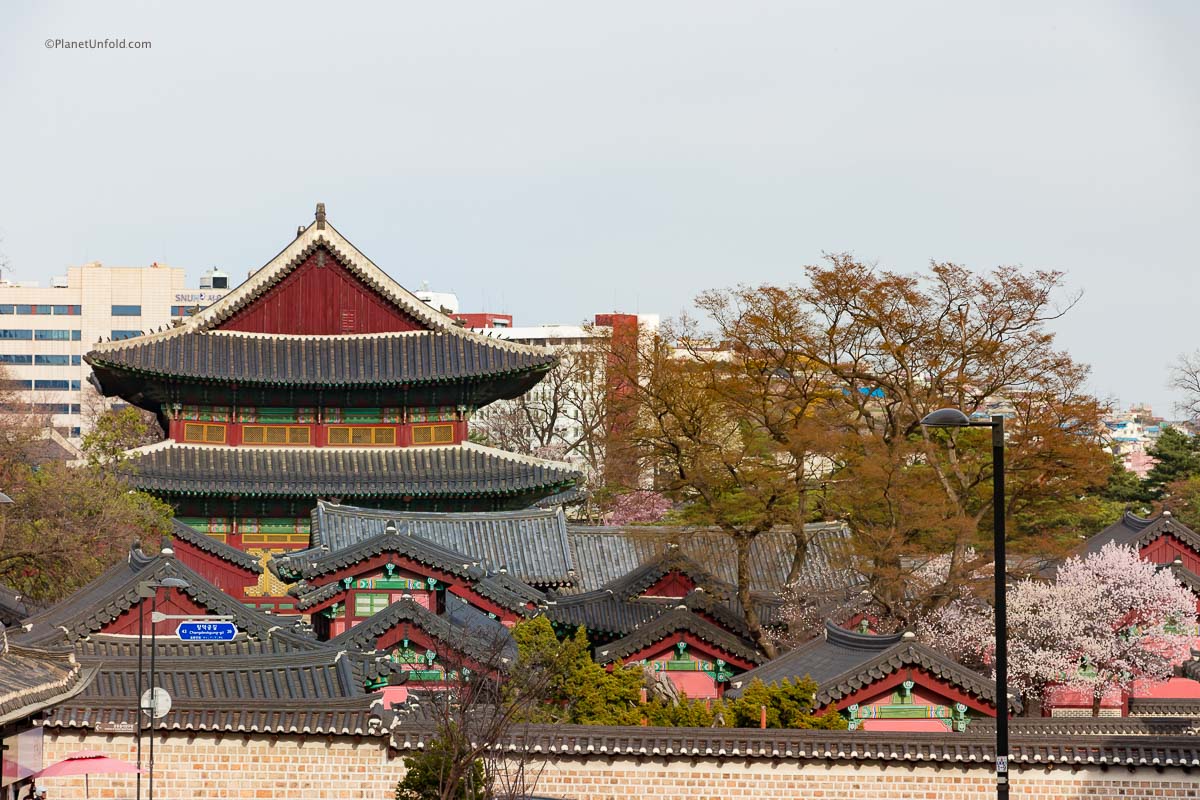 Grab a map and walk around these eight views to get the most of your Hanok Village trip.
View 1: View of Changdeokgung Palace
View 2: Wonseo-dong Gongbang-gil-workshop rd.
View 3: Gahoe-dong, Area of 11.
View 4: Hillside of 31 Gahoe-dong
View 5: Downward alley in Gahoe-dong
View 6: Upward alley in Gahoe-dong
View 7: Hill of 31 Gahoe-dong
View 8: Stone steps in Samcheong-dong, Dolgyedan-gil
Quick tip: The best ones are Views no. 5&6 on Bukchon-ro 11-gil, if you have limited time.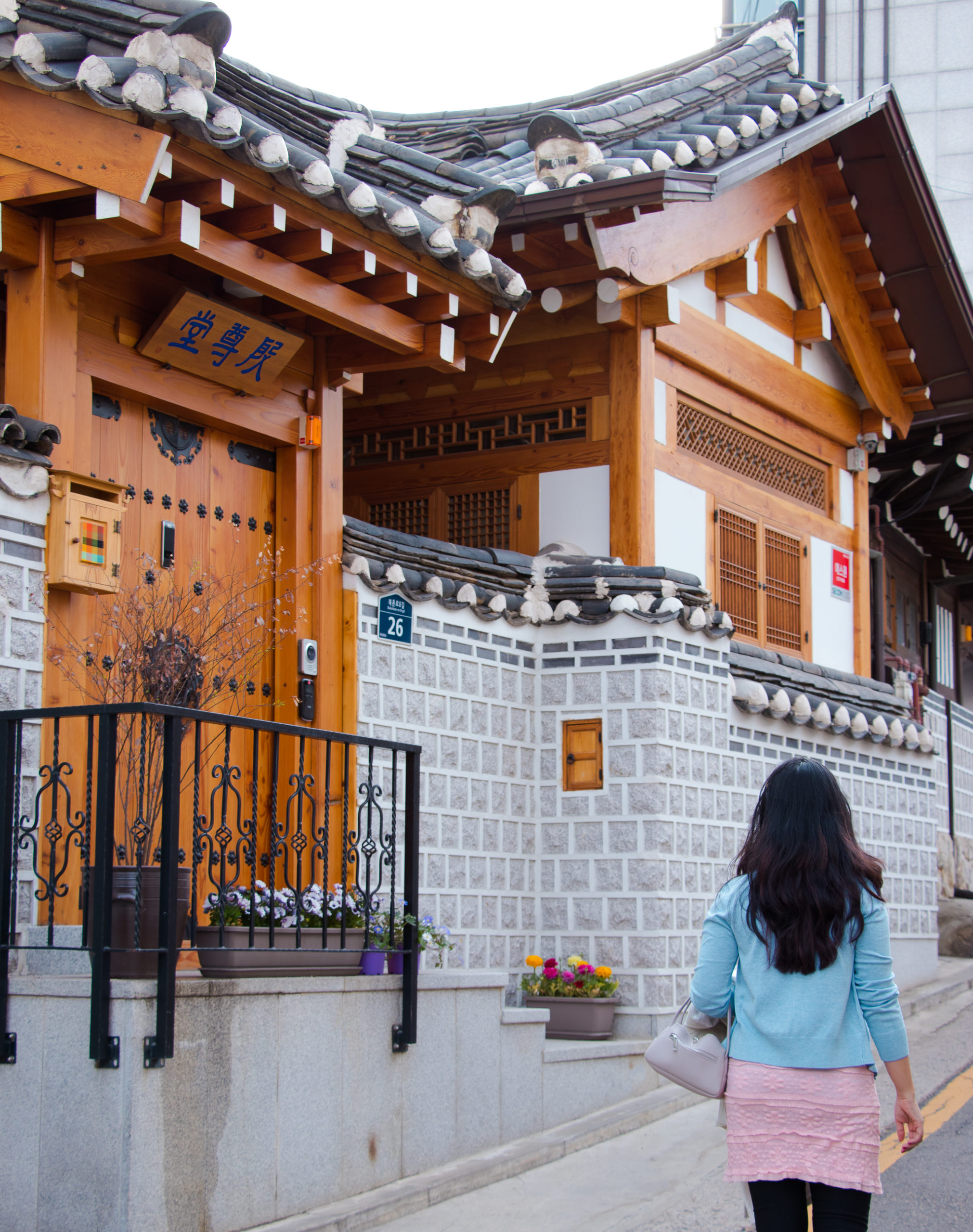 Useful Info:
How to reach Hanok Village?
Palace and Changdeokgung Palace. You can go to Anguk Station by taking Seoul Subway Line 3, then Exit 1 or 2. Alternatively, you can also take the Bus no.-172.
Location: Seoul, Jongno-gu, Gahoe-dong, 계동길 37
Where to rent a Hanbok?
There are few shops both inside and outside the village providing hanboks for rent. The price ranges start from 50k won (for 1 hour) for a couple at shops inside the village but if you rent from outside it is a bit cheaper.
Stay in Hanok Village
There are about 5 Korean style accommodations in this village to enhance your experience of this traditional gem. All guesthouses have limited rooms so it important to book in advance. We couldn't get one available during spring but here is the website where you can check all details about what each of them offers.
Treat your vision with most beautiful Cherry Blossom spots in Seoul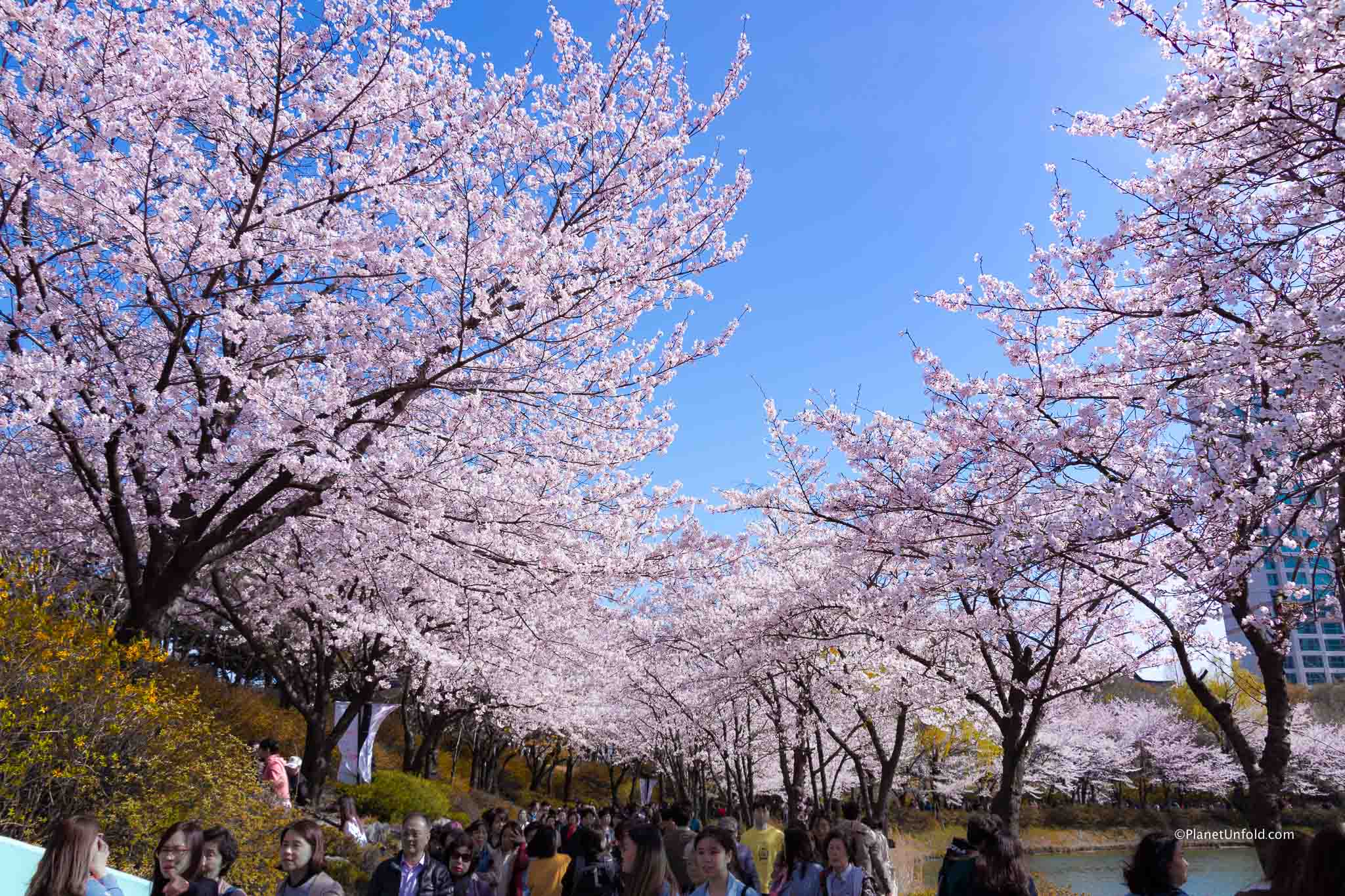 Cherry Blossoms in Spring Season, Seoul
Spring flower or Cherry Blossom festivals are usually held at different spots in Seoul for a period of 6-10 days. So, you can easily fit visiting one or two everyday while you are there. The most scenic cherry blossom spots are:
Seoul Forest: 273 Ttukseom-ro, Seongdong-gu, Seoul(near Gangnam)
Seokchon Lake Park:148, Jamsil-ro, Songpa-gu, Seoul(near gangnam)
Yeouido: Yeouiseo-ro street, Nearest Station: Yeouido Station (Exit 5 or 9) or Yeoinaru Station (Exit 1) or National Assembly Station (Exit 6)
Kyunghee University: 26 Kyungheedae-ro, Dongdaemun-gu, Seoul
Dream forest: 173 Wolgye-ro, Beon-dong, Gangbuk-gu, Seoul
Yeouido Park flower festival
Remember to check the nearest festival location before starting your day. For example, the nearest spots to Gangnam are Seokchan lake and Seoul Forest. Similarly, Yeouido Park is closer to Myeongdong Street while Dream Forest & Kyunghee University is closer to Palaces and Insadong.
We recommend to chase cherry blossoms earliest in the morning if you desire that perfect Instagram shot as all the spots stay crowed all day. Yeouido Park is especially the most crowded place for a spring evening. It is also most happening by that time because of the colourful lightings under trees and abundance of street food. We really enjoyed taking a stroll there with the locals and kept our cameras aside.
Experience the Korean Jimjilbang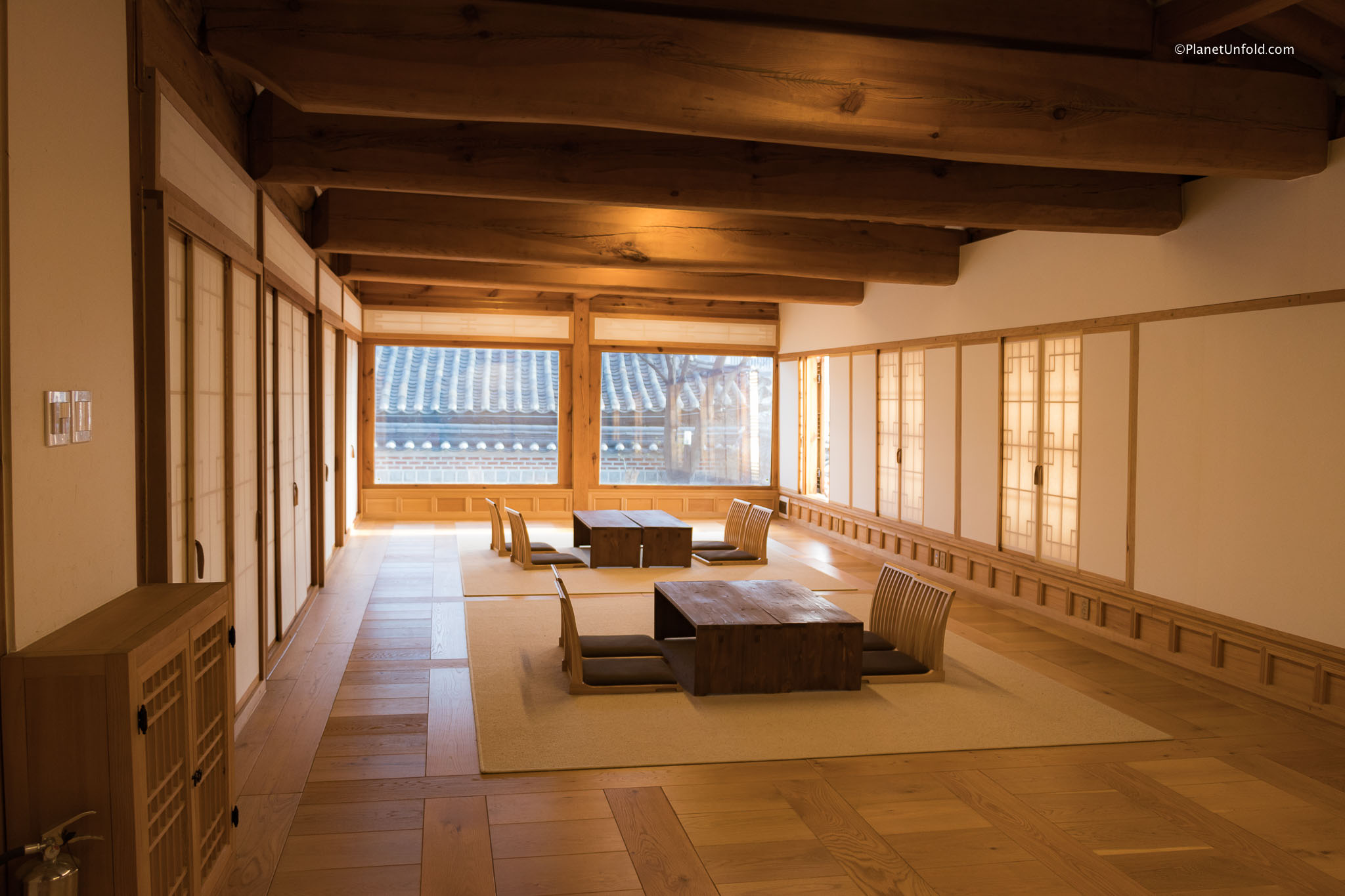 Korean neighbourhood bath houses are locally known as Jimjilbang and are an important aspect of Korean culture. Koreans take their bathing very seriously and many people visit jimjilbangs on a regular basis. Hence jimjilbangs are found on almost every street.
Jimjilbangs are a gender-segregated bathhouses that encapsulates soothing hot and cold soaking pools, bathing, scrubbing and massage areas, saunas, amusement lounges, communal sleeping chambers as well as an eatery. They run 24/7 and have entry prices slightly differing for day and night use.
The arrangement of a jimjilbang set up includes different relaxing amenities at several floors, some offer gardens, spa and cinema as well.
10 Steps to experience a Korean Jimjilbang?
There are certain etiquettes or steps to visit a jimjilbang. Since jimjilbangs are naked affairs, many people feel shy about visiting one. Knowing that the bath areas are separated for men and women may relive some nervousness though. There are ten steps to relish this overall cultural experience.
STEP 1: Pay entry fee, get your towels, gowns, wrist band and locker key at front desk
STEP 2: Secure your belongings in a locker
STEP 3: Show your stripping talents 😉
STEP 4: Take a shower
STEP 5: Try different saunas and cold room
STEP 6: Soak in the hot pools of herbal infusions
STEP 7: Scrub and shed
STEP 8: Get pampered with some massages.
STEP 9: Eat if you get hungry Try some seaweed soup at eatery
STEP 10: Take a nap on warm bed of flaky wood
Jimjilbangs also allow people to sleep and stay the night, it is a common practice among tourists to save accommodation costs.
Go on a Shopping and Food Spree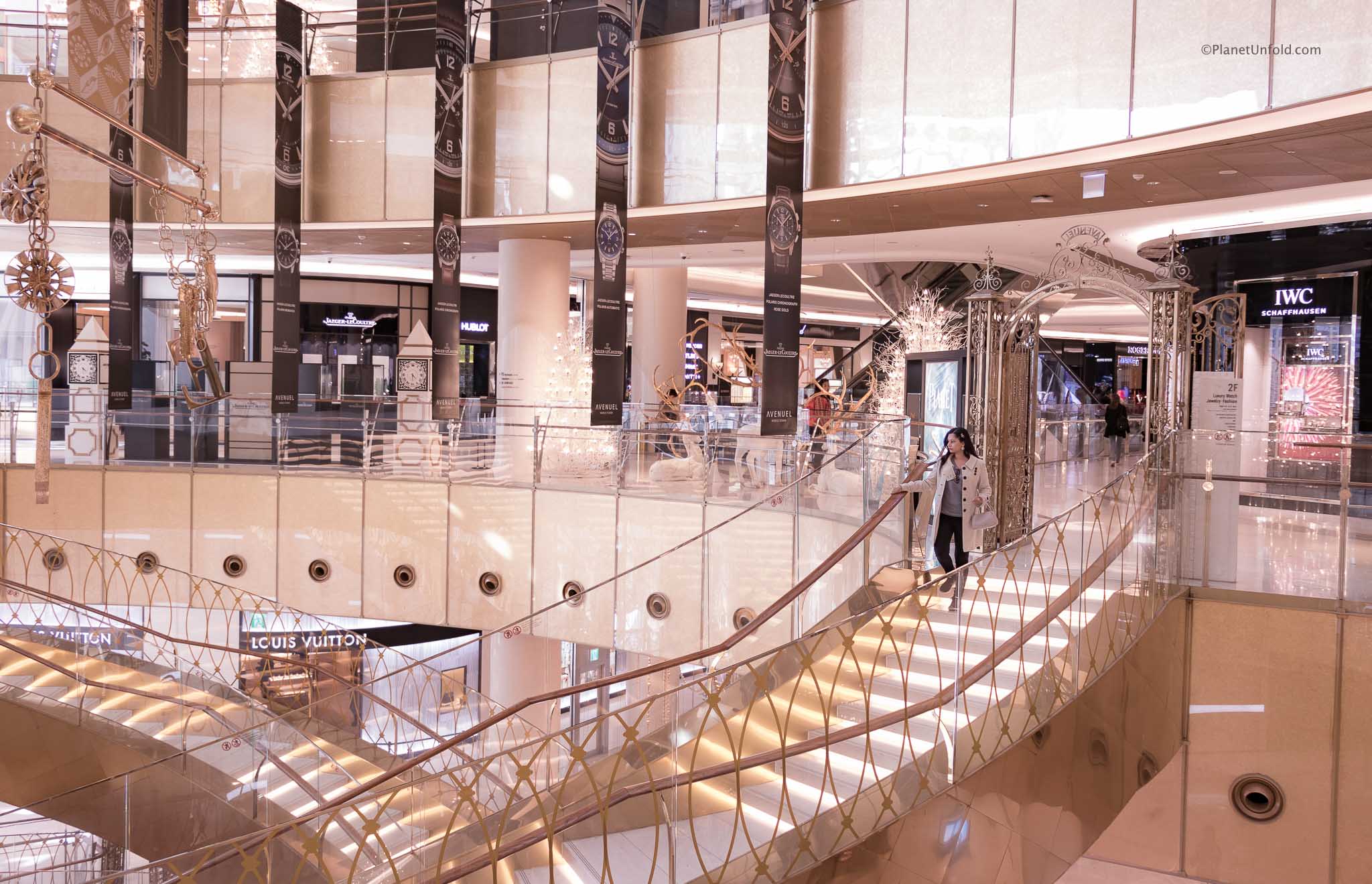 Seoul is a massive shopping paradise for every kind of consumers. Within Seoul's numerous towering malls and underground streets there is always something for everyone. Pack your bags with limited stuff before going so you can shop there, we did and we don't regret it. People buy loads of cosmetics for a whole-year supply. Here is a list of our top picks.
Posh & Stylish for both Shopping and Food
Gangnam: The most happening area in Seoul for evenings and late night strolls. Location: 128-4 Banpo-dong, Seocho-gu, Seoul
Itaewon: Great for global cuisine, nightlife and bars. Location: Exit 2 or 3 of Line 6, Itaewon Station.
Lotte World Tower: 300 Olympic-ro, Jamsil 6(yuk)-dong, Songpa-gu, Seoul, South Korea
Top Shopping spots in Seoul for both Men & Women– Best Shopping Streets and Underground Markets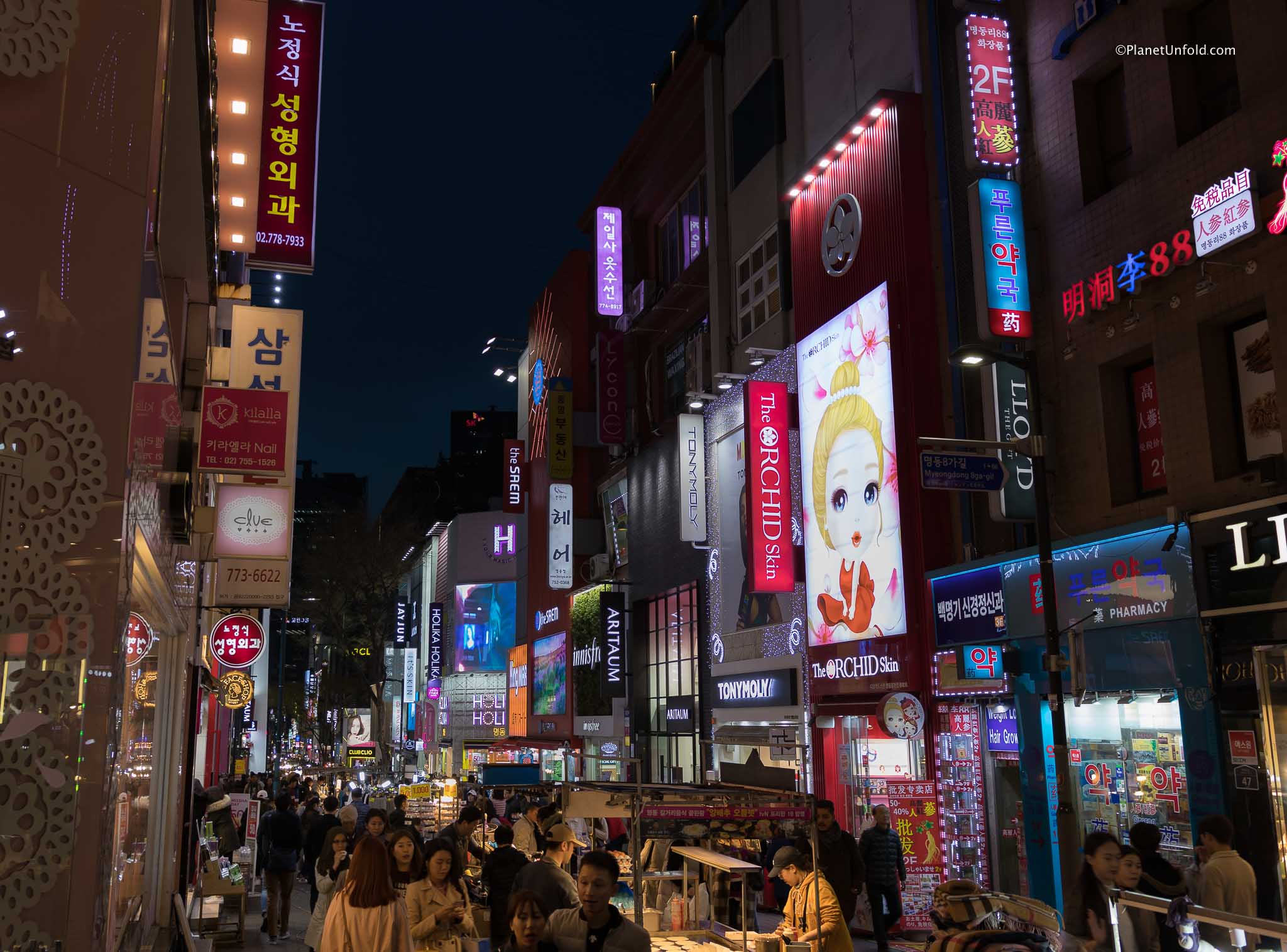 Myeongdong Street: Myeongdong-gil, Jung-gu, Seoul
Nearest stations: Myeongdong Station, Exits 5, 6, 7, or 8 or Euljiro 1 (ij-ga) Station, Exits 5 or 6
Insadong: Insa-dong, Jongno-gu, Seoul, South Korea
Nearest station: Anguk Station, Exit 6 or Jonggak Station, Exit 3
Hongdae: Eoulmadang-ro, Mapo-gu, Seoul, Nearest station: Hongik University Station, Exit 8 or 9
Garosu-gil: Exit 8 of Sinsa Station of Line 3
Dongdaemun Shopping malls: Subway Line 1, 4) and Exit 9
Seoul is a paradise for cosmetic shopping, but there are so many brands to choose from that it can get really confusing. We spend a lot of time finding out the right cosmetics to buy and factors to consider before buying Korean Cosmetics. You can read our post on Korean Cosmetics:What to Know Before Buying? 
Traditional Shopping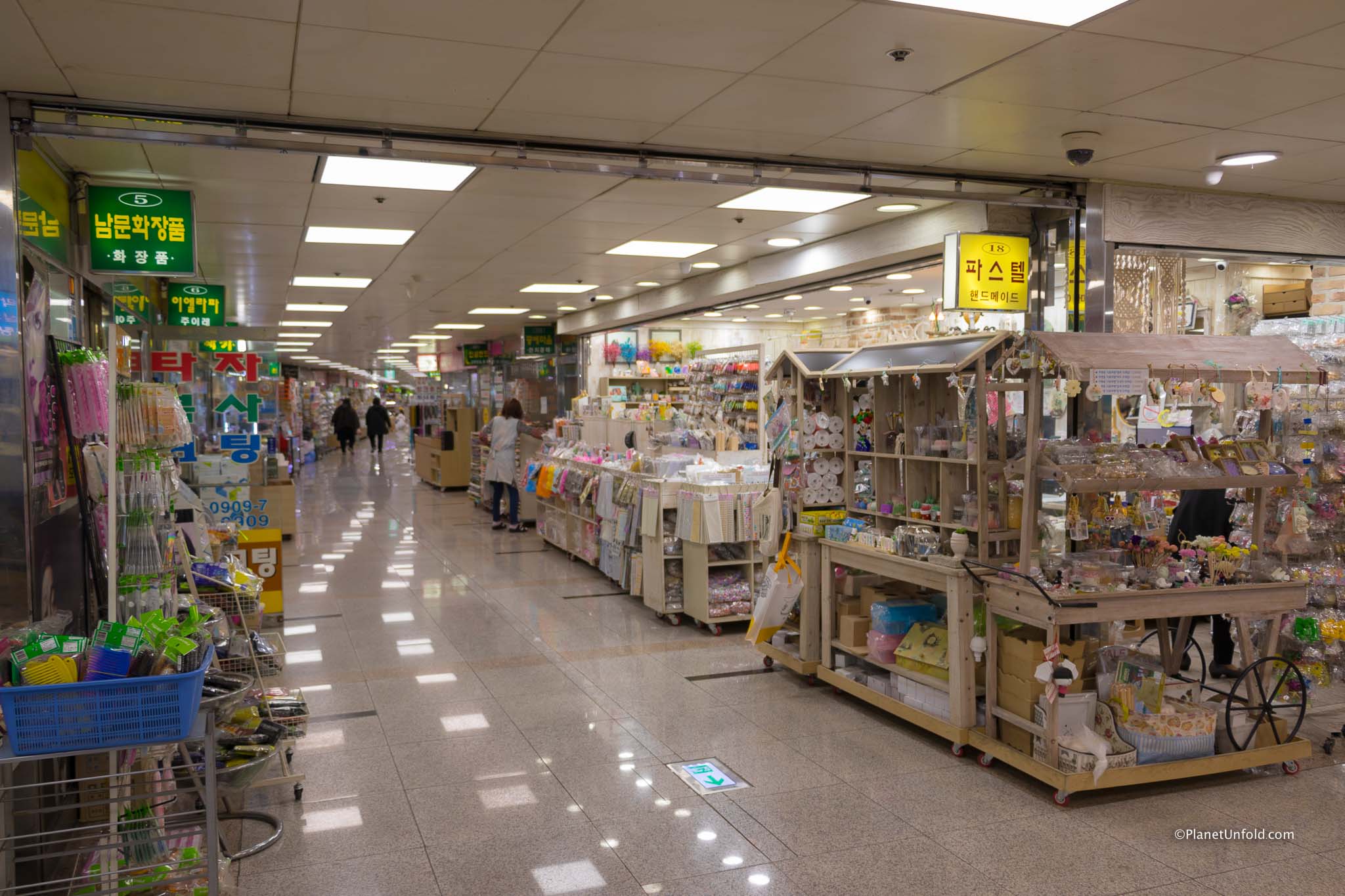 Seoul's Namdaemun market is an amazing spot to spend your time leisurely. There are so many traditional artistic designs in accessories and attire definitely worth adding to your country specific collection.
Address: 21 Namdaemunsijang 4-gil, Jung-gu, Seoul.
Nearest station: Hoehyeon Station, Exit 5, Opening hours: 11pm to 5pm, Monday to Saturday
Shopping for Men in Seoul
San Francisco Market: 647-18 Sinsa-dong, Gangnam-gu Seoul, 135-120, South Korea
Unipair (for shoes): Anju-ro 164 Gil 37-1, Sinsa-dong, Gangnam-gu, Seoul
Kasina: 13 Eonju-ro 164-gil, Apgujeong-dong, Gangnam-gu Seoul, 135-120, South Korea
Tom Greyhound Downstairs: 10-3 Dosan-daero 45-gil, Sinsa-dong, Gangnam-gu Seoul, 135-120, South Korea
Works out: 52 Wausan-ro, Seogang-dong, Mapo-gu Seoul, 121-160, South Korea
Ecru: 656-10 Sinsa-dong, Gangnam-gu Seoul, 135-120, South Korea
Take a Sneak Peek into North Korea-DMZ Tour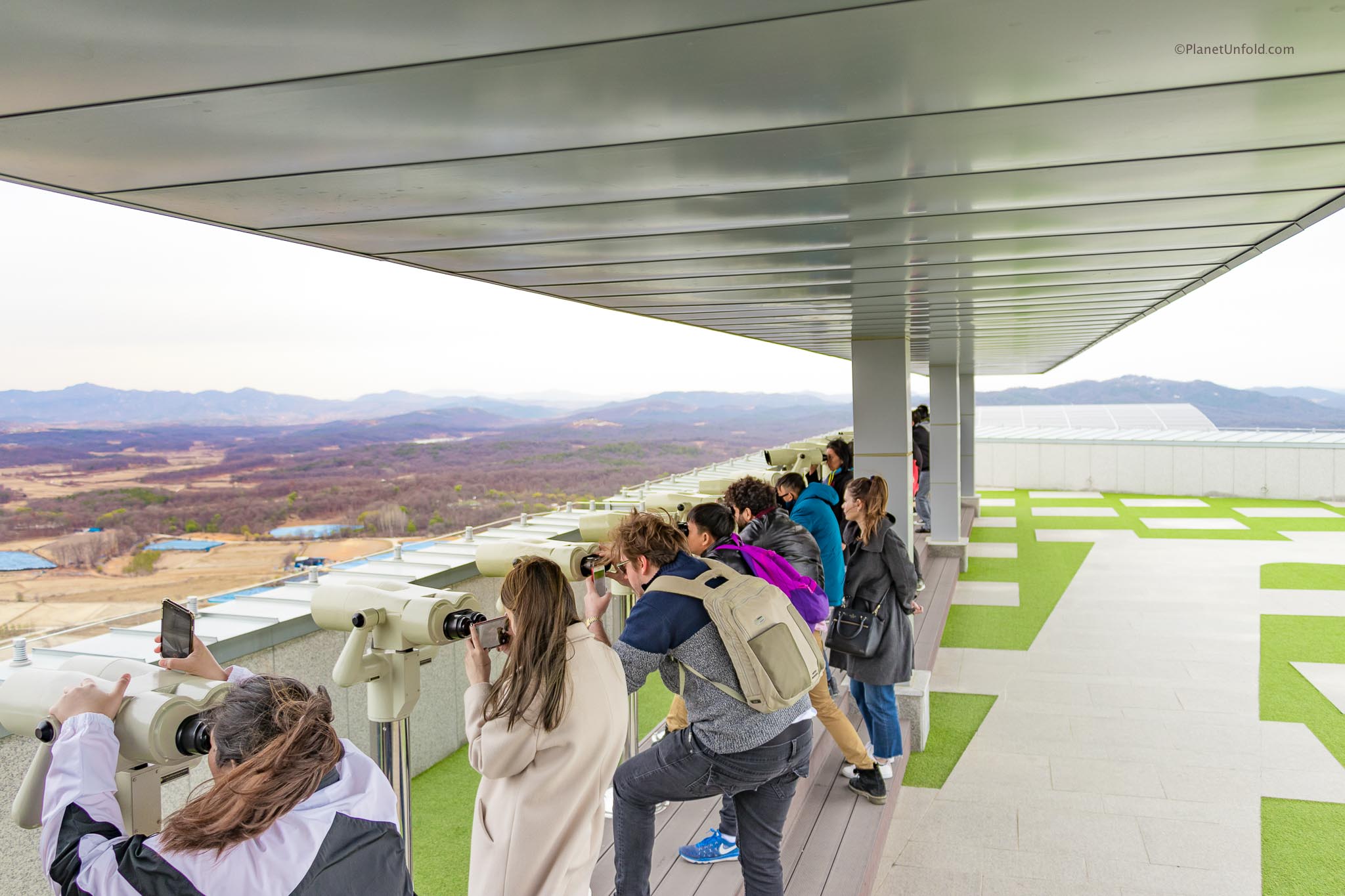 Dora Observatory-DMZ Tour
A half day tour around Korean Border was an intriguing fragment of our trip to Seoul. It is very informative tour highlighting interesting historical and political aspects of two nations and people torn in between.
The Korean Demilitarized Zone (DMZ) is a 250 km long strip of land athwart the Korean Peninsula established to serve as a defense zone between North Korea and South Korea. This place has been a point of political meetings between the diplomatic leaders of both countries.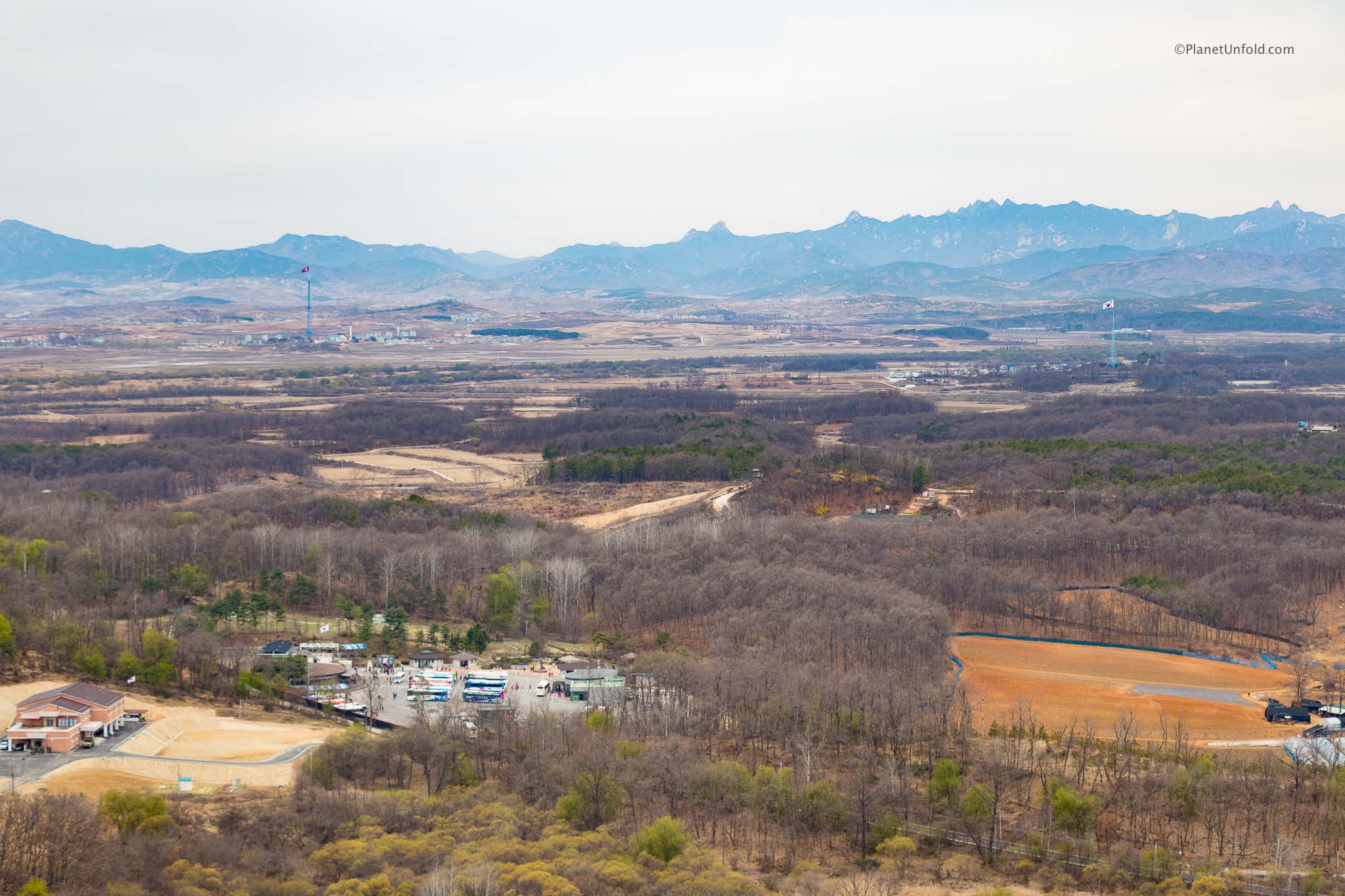 The North Korean Border- Can you see the Flags?
How to reach?
Well, Seoul is the nearest spot (50km) to get to DMZ border and it is only accessible by guided tour operators who have permission. So, you basically need to book a tour (pickup is included from most locations in Seoul) in order to visit the DMZ.
The DMZ Tour: The half day tour is a unique experience to witness South Korea's turbulent past. Overall tour duration is about 3-4 hours that includes about 15-20-minute visits to each Imjingak Park, Freedom Bridge, 3rd Infiltration Tunnel, DMZ Exhibition Hall, Dora Observatory, Dorasan Station, and Unification Village.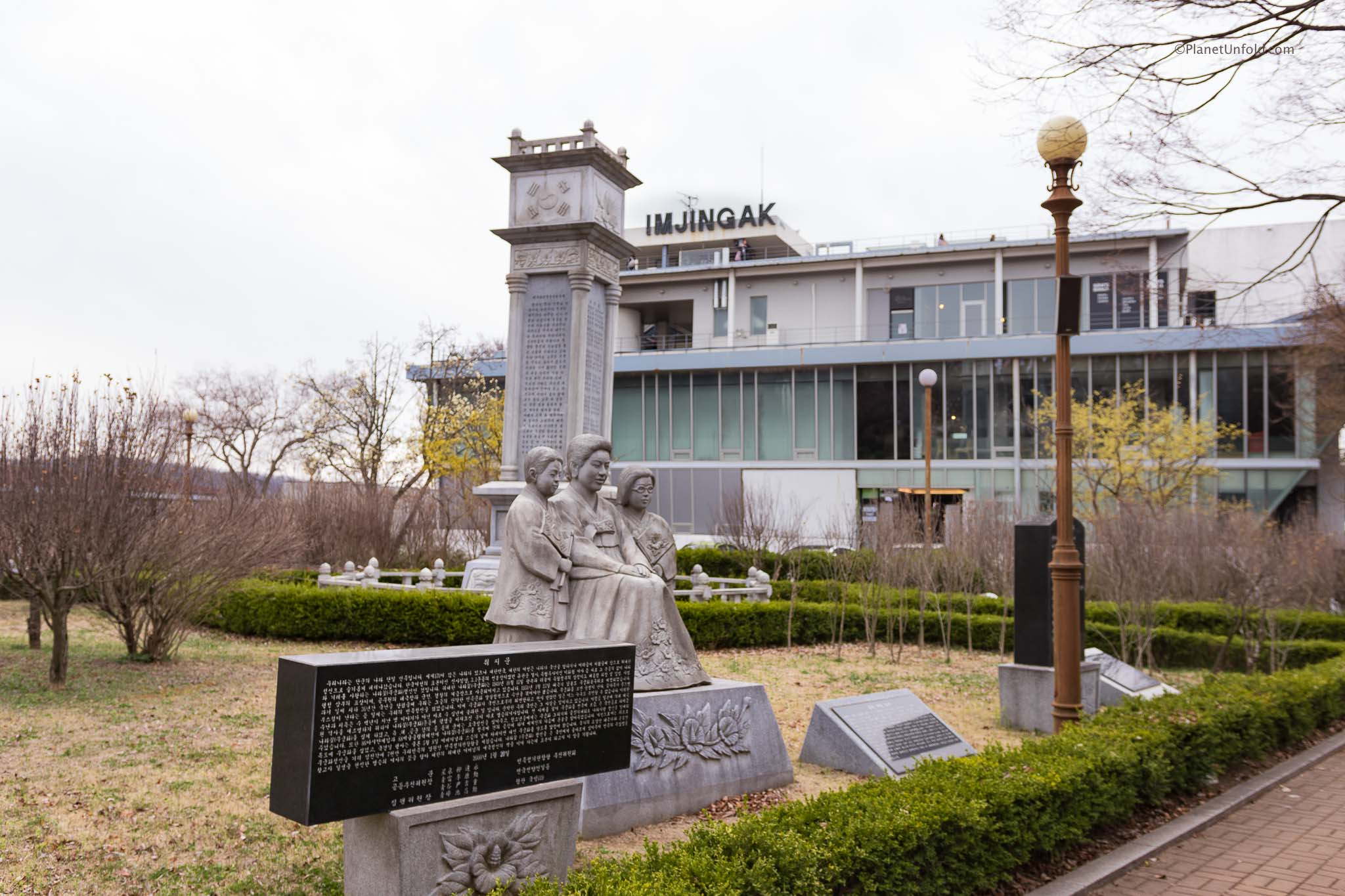 Our experience and review:
We were picked up from a Gangnam station exit 12 around 7:30 am by our guide who shared interesting facts and history throughout the drive. The story of Hyundai can make you cry. Tourists can also talk to North Korean Defectors and listen about the stories of villagers who spend their lives at the border since they can't return. We also bought some soy-bean chocolates made by them, they were simply good.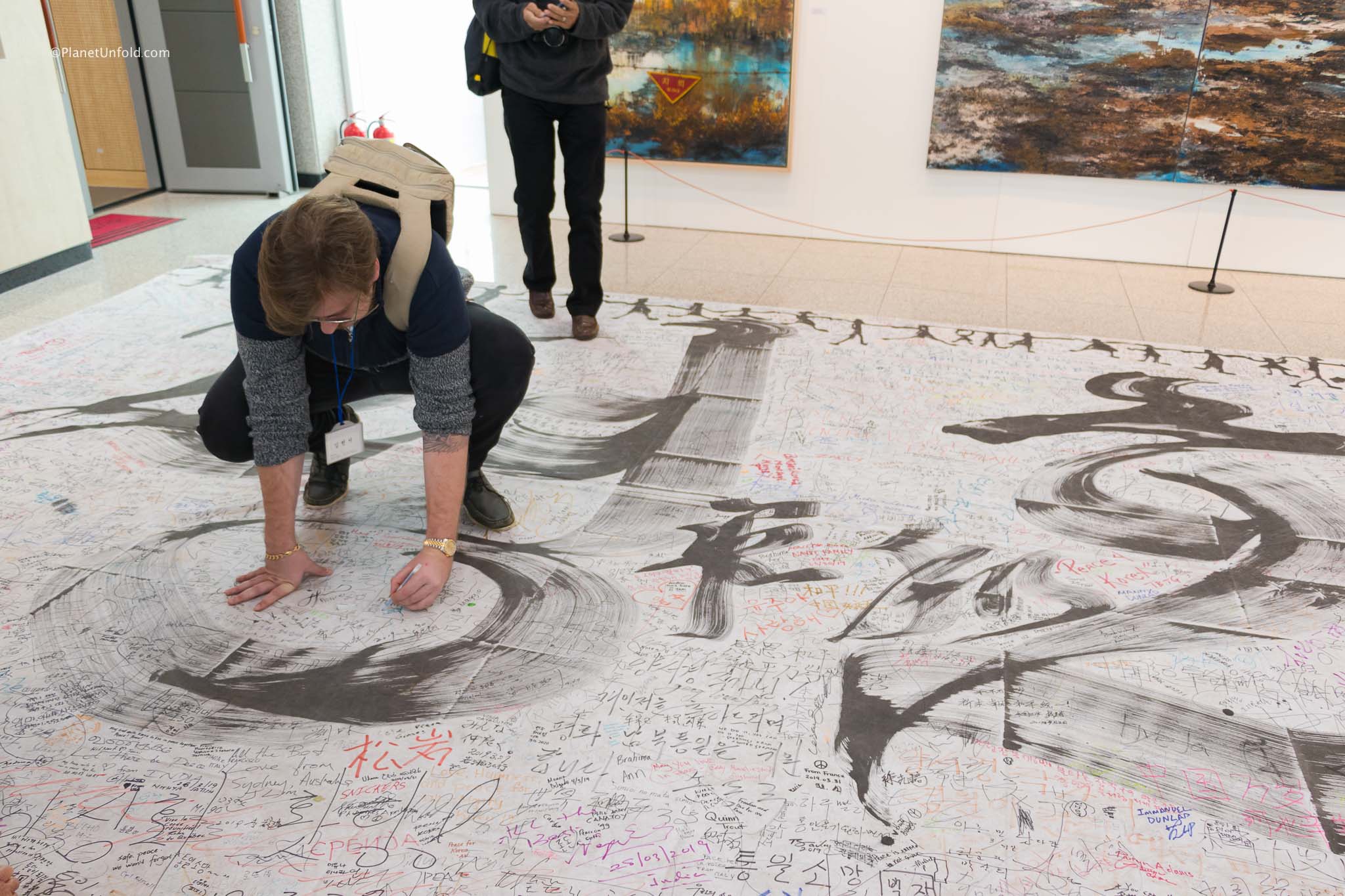 Visitors writing their names on the memoir
The tour within was rushed (as we already read in many reviews) and got very little time at each location. There is a big café at Dora Observatory to have coffee and refreshments on a cold morning. At last our bus also stopped at a small shop that displays and sells Korean Ginseng.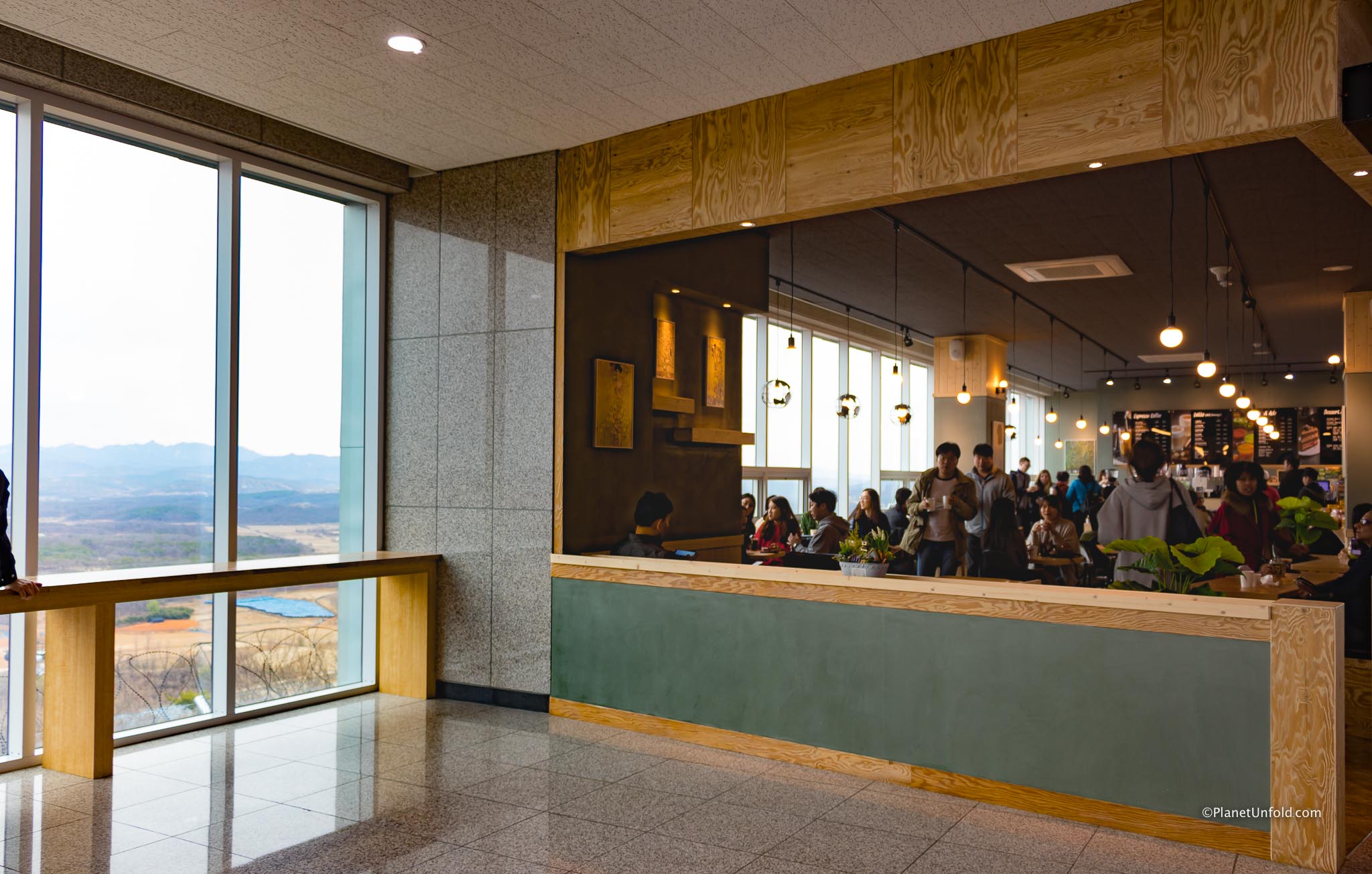 Its quite a unique spot to have coffee overlooking at North Korean Border and thinking about what it's like to be on the other side of this vast landscape.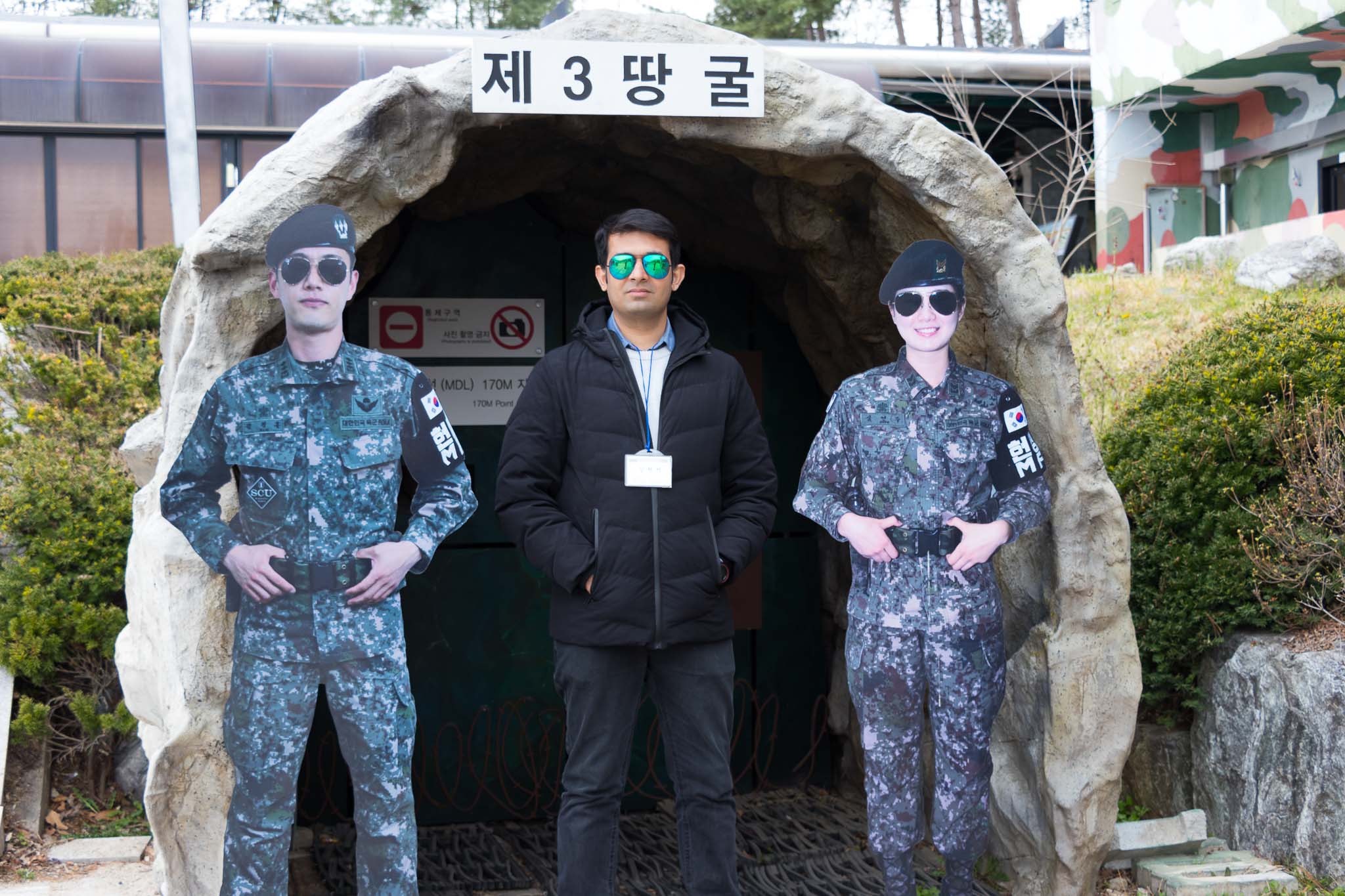 Our next stop was third infiltration tunnel where it is allowed for people to enter till a specific point and it takes about 40 mins to explore. Those who do not wish to enter tunnel (as it requires moderate fitness level), they can spend their waiting time exploring nearby exhibitions and shops.
We chose the package with lunch and our guide took us to a nice local restaurant after dropping us at City hall stop at the end of tour. Our tour was very safe and well guided, only rushed but it was worth learning about such history of this beautiful country.
Price: Approx. SGD 60-70/- per person, Closed on Mondays
Nearby: Namdaemun Market.
Important Note: Upon reading some reviews online we found that some tour companies mention the full day tour including the Joint Security Area (Panmunjom) which is non-refundable if cancelled due to political meetings. The tour has been always cancelled in the past two years and the tour companies convert it into half day tour on the day itself in order to earn money out of it. So, beware of this situation and book only half day tour.
Day trip from Taipei: Yangmingshan and North Coast
Day trip from Taipei: Yangmingshan and North Coast
https://www.planetunfold.com/wp-content/uploads/2019/01/IMG_5109-Yangmingshan-NP-thumb-1.jpg
369
246
Sheetal Khatri
https://secure.gravatar.com/avatar/a8c4e10205dce919119e3338d8d5269d?s=96&d=blank&r=g
Summary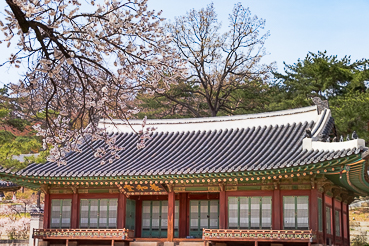 Article Name
Seoul Travel: Full Guide, Blog & Itinerary (4-7days)
Description
Planning your first trip to Seoul? An efficient itinerary to explore Seoul this spring. Mix and match its best experiences within your 4-7 day trip.
Sheetal Khatri
planetunfold.com
https://planetunfold.com/wp-content/uploads/2019/09/Final-logo-1.png