Sunset Sail-A Romantic Dinner Cruise in Singapore
Serenity is sailing across the marine salty breeze, sun-kissed shores holding hands and saying "we made it!!"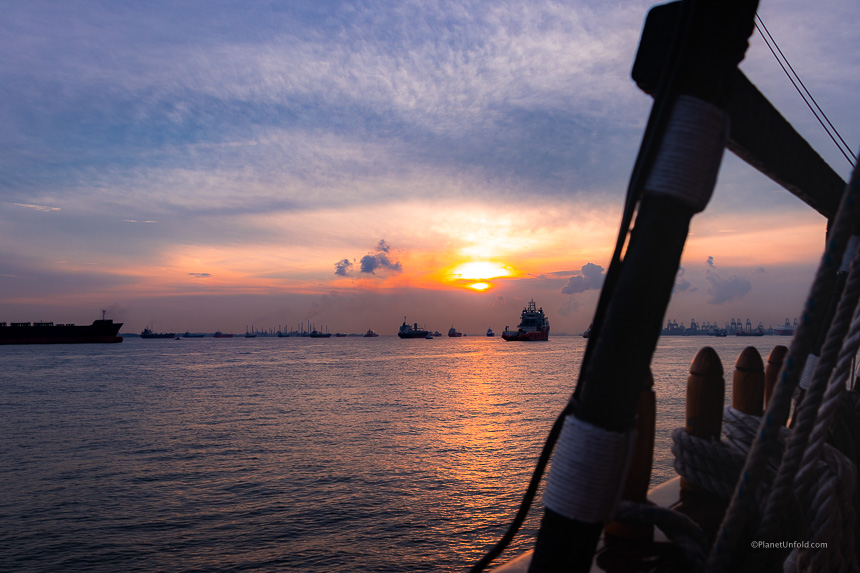 Sunset Sail
A dreamy date with your partner or a celebration with loved ones, sunset sail seems like a perfect idea. We love embracing nature, the thought of sailing over boundless seascape, admiring gorgeous panoramic sunset colors while soft cool breeze brushes our cheeks, filled our hearts with joy.
We celebrated a special occasion when we took the sunset cruise recently. Sunset cruises have been few of the most exhilarating experiences in South-east Asia. The Asian continent is surrounded by lovely island clusters and the landscapes provide adorable summer sceneries. We adored the sight of huge ships surrounding Singapore's coastlines from our flights to Singapore always and wondered how would it be like to sail across those. Taking the sunset city lights sail was special for us, those 2.5 hours were astonishing to mark a unique celebration evening.
The Ship
Royal Albatross-The Ship
This huge masterpiece is known as "Luxury Tallship – Royal Albatross", probably built in Chicago before sailing towards southeast Asian shores. The ship has an inimitable design and includes canvas and flamboyant lights making it ideal for parties, celebrations and gatherings.
As soon as we entered, we started roaming around to explore the ship. It has 2 floors; the upper deck is open air for views and there is cooled cabin inside lower deck with spacious seating and windows. The lower deck area is like a rescue from bad weather during sail which contains a sophisticated bar at its nook.
Our personal experience during the sail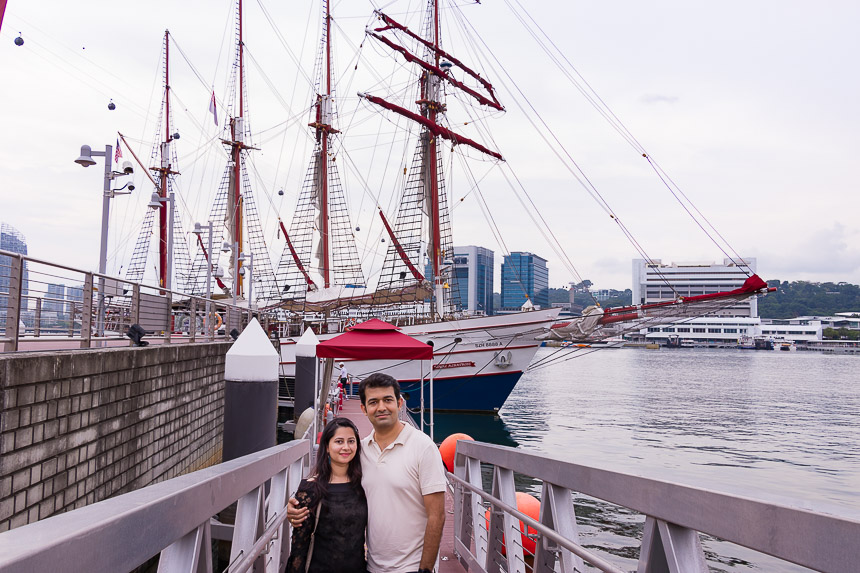 Our personal experience on dinner cruise
We have always loved doing things that let us explore nature, those long seashore walks, lovely sundown evenings, so taking a sunset sail was a great romantic idea for us. We reached at the location way before time. This was a surprise for Mohit's birthday, so I had to face those little challenges to get him here on time. The sail started on time, it was lovely to see beyond outer domain of adventure cove and marine life premises. The neighboring greenery feels reviving remarkably with the cooling twilight breeze. The ship took us further athwart St. Johns, Lazarus and Sisters islands where the scenery got exclusive reminding us of our short trips to these islands before.
The beverages looked refreshing after a hot Singapore afternoon, the ginger ale served with cherry and lemons was pretty thirst-quenching. Sometime later, they started serving starters and main as we enjoyed our sail. The deck also has live music and you may request a song for your loved one, we didn't get a chance to ask the name of the singer but she had a beautiful voice. She also announced celebrators time to time.
When it got dark, the ship was bursting with colorful lights all around, we could see some splendid city lights shimmer and enhancing the ambiance.
The saloons are open till night after the sail, so for people to enjoy drinks and stay longer. Overall, our experience was wonderful and we could say this was worth.
Location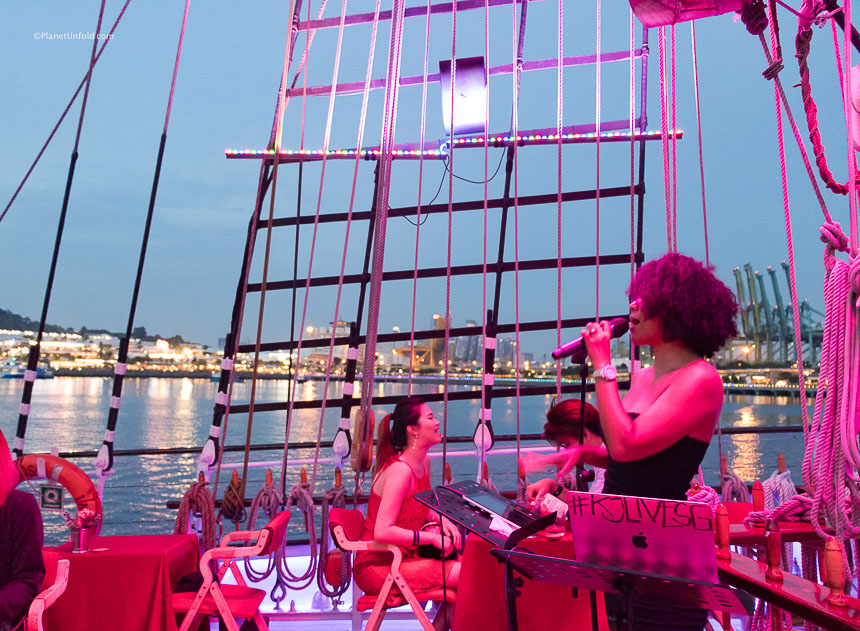 Location
You might wonder looking at an artistic ship and thinking it is for display, and simply overlooked a sleek passage while roaming around Sentosa, well that thought crossed our minds until we found out that we can actually board this amazing piece of art.
The venue is located near entrance of Adventure Cove past the ticketing line of Sea Aquarium on Sentosa island. It can be easily accessed through the broad walk or sky-train (waterfront station) from Vivocity mall. Take the right turn towards the aquarium boundary and walk straight, you will see their ticketing counter. The ship is visible through the broad-walk itself which makes it even easier to find, just follow the waterside pathway.
Timings and check in
The sunset sail starts sharp at 5 pm ending by 7:30 pm daily, it's a 2.5-hour sail. Boarding starts about 40 mins prior to sail. The check ins can be done either online or at the counter when the status displays "open". We booked the tickets on Tuesday for a Sunday sail and were able to check in online immediately after entering details on its registration page.
The Dinner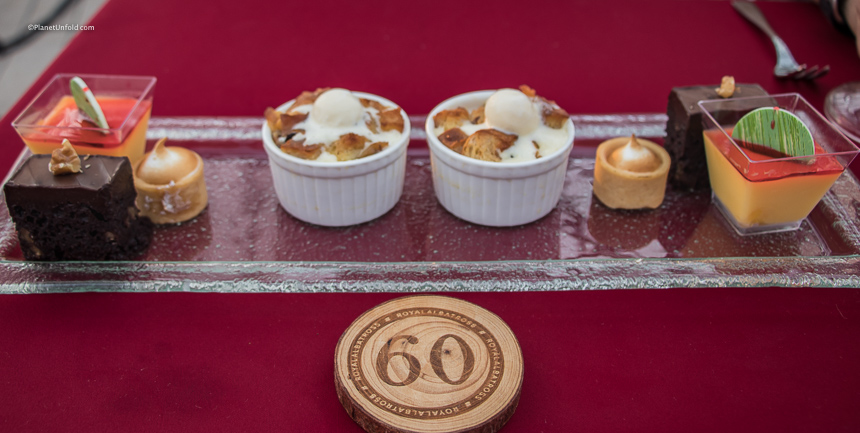 Food and Drinks
Sunset sail at Royal Albatross includes a superfluous dinner. We found an international buffet set up at the lower deck. The counter is set just outside air-conditioned cabin. On booking platinum seats, a three-course meal on the upper deck is served by their staff. The quality of food is simple yet good; it may taste bland to people who have a spicy choice. The quantity served is ample, especially the variety in desserts is more than enough. If you avoid any particular meats, tell them in advance so they can arrange.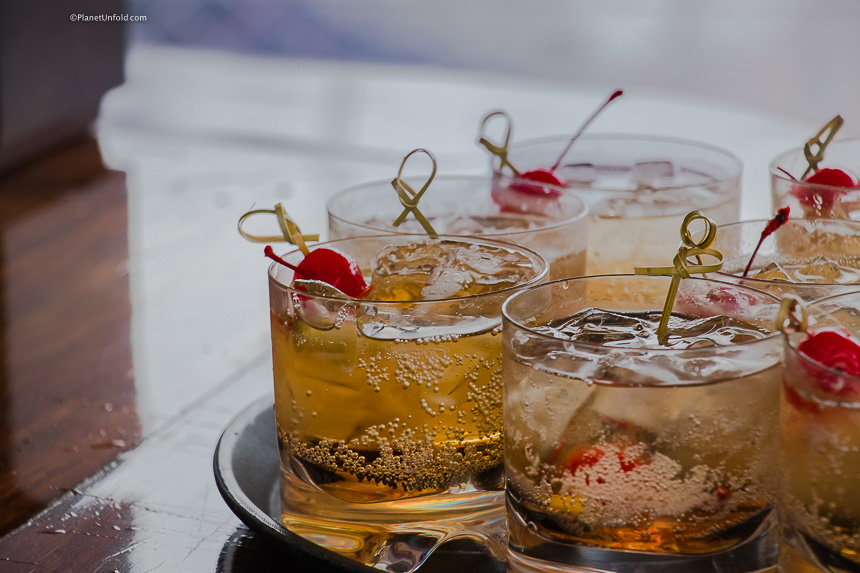 Food and Drinks
Folks can also relish refreshing drinks at the saloon located on deck as well as one downstairs inside the cabin. They serve a variety of drinks except for water.
Attire
We were so glad to learn that there wasn't any particular dress code for the sail. People can wear anything comfortable as the journey is fairly stable. No footwear is allowed on the ship to protect the wood texture. Wooden deck was actually very comfortable to walk bare feet, the material never felt harsh on skin, we enjoyed walking so freely like that.
Tickets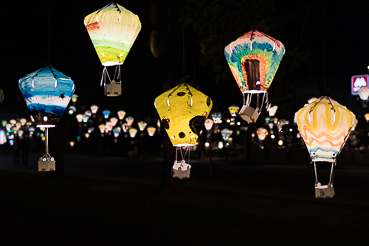 The Phenomenal Sojourn in Taitung
The Phenomenal Sojourn in Taitung
https://www.planetunfold.com/wp-content/uploads/2019/03/IMG_6736-lanterns-thumb-1.jpg
369
246
Sheetal Khatri
https://secure.gravatar.com/avatar/a8c4e10205dce919119e3338d8d5269d?s=96&d=blank&r=g
Summary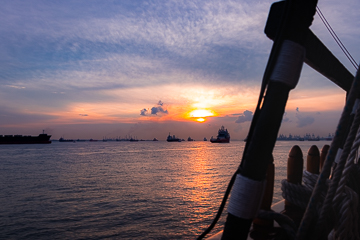 Article Name
Sunset Sail-A Romantic Dinner Cruise in Singapore
Description
A tag along for most special Singapore experiences. A dreamy date with your partner or a celebration with loved ones, sunset sail with a romantic dinner seems like a perfect idea in Singapore.
Sheetal Khatri