Best Lookouts Between Queenstown and Hobart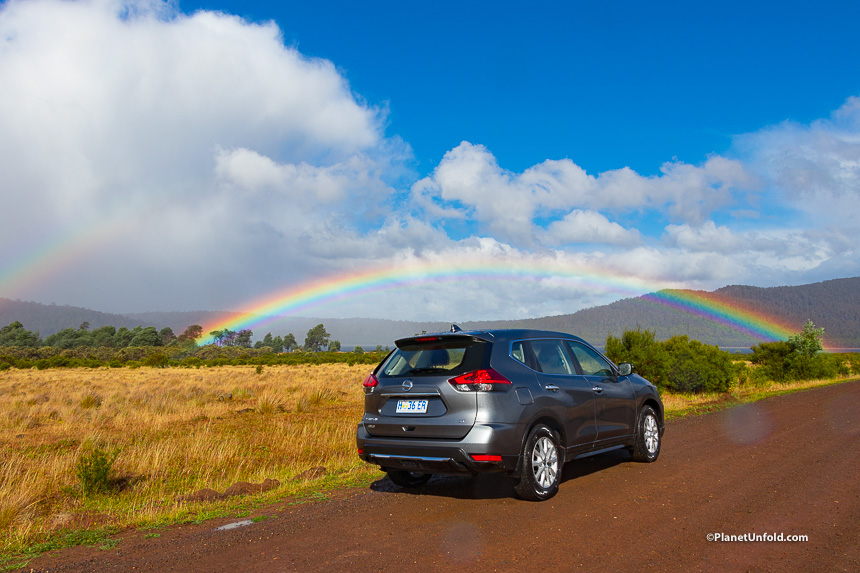 Our car under 2 rainbows
The west coast this morning gave us a weather challenge for parting without tour. It was windy and started to hail as soon as we went out for breakfast. A huge challenge was to find a nice place to eat as most of the shops didn't open yet, few shops served cold wraps, such a turn off when you want something warm to eat on such a rainy icy morning. Luckily, we found 3k's café with decent options and much needed hot coffee. We also indulged in a conversation with the guy serving us and were amused to watch him do a little tap dance move while he customised our vanilla chai latte for takeaway. A lot of people we met there, acknowledged that it is their personal favourite hot beverage. Look for Woolworth stores to refill supplies and packed salads, fruits or meals for your long driving day.
We planned on reaching Hobart by evening exploring the lookouts and waterfalls on our way. The best time to visit any waterfalls in Tasmania is after rain as the milky water flows with gush which is a treat to eyes. So, in a way it was in our best interest that it was rainy. An interesting aspect we experienced was frequent showers along with strong winds.
Horsetail Falls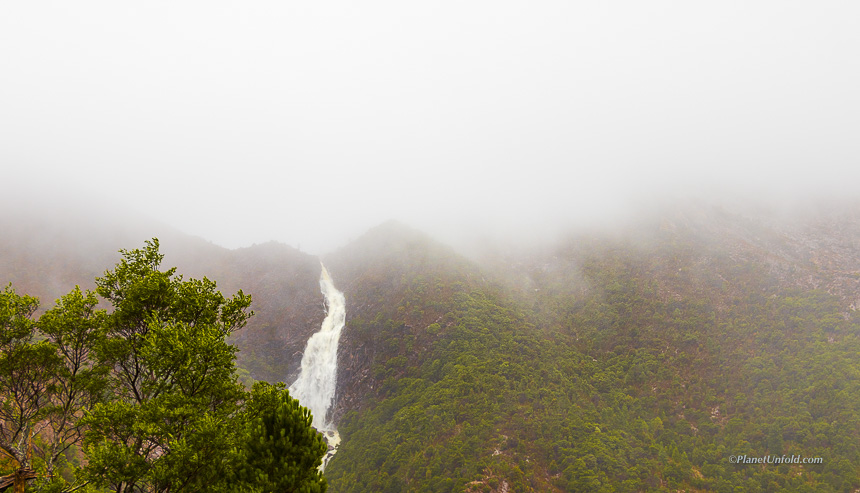 Horsetail Waterfall
We saw this incredible fall while crossing Lyell highway from Queenstown, approx. 5 km from town. Its location is on Moore creek. We had to find a suitable pull over on the windy highway to admire it cascading down a steep green cliff. Nearby, it has a 1 km return walk track built in 2017 ends at a platform offering panoramic views of mountains to the south and ocean to the west with side view of Horsetail Falls.
Iron Blow Lookout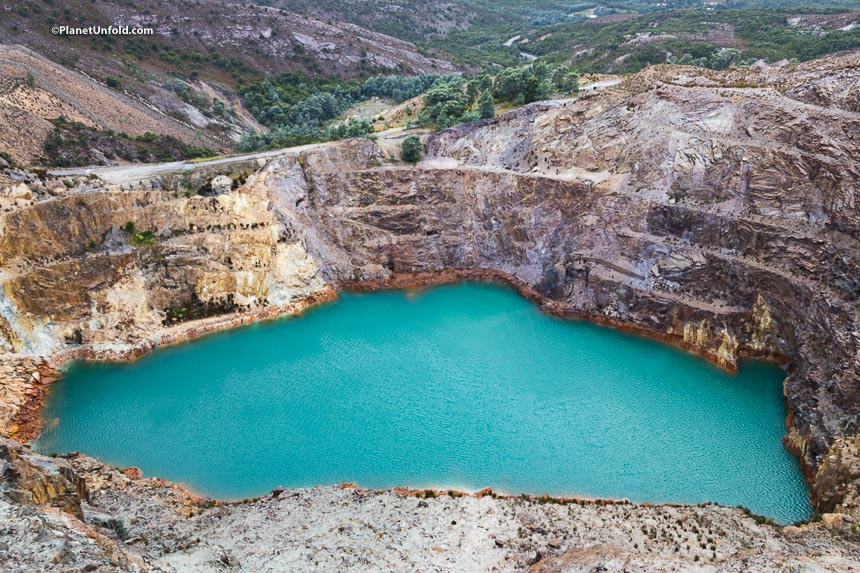 Iron Blow Lookout
They were looking for gold but found copper instead. To our surprise, this was an abandoned copper mine. The scenery of this slice is unique and picturesque. It clearly tells us the story of mining effects on the colour of water and its bordering scenery which turned green and lush mountains into desolate landscape over the years. An utter geological wound can be seen from Gormanston Hill on the Lyell highway through a springboard pavement. Looked down and we see a massive pit filled with emerald water, seems really deep as it was the open cut mining pit.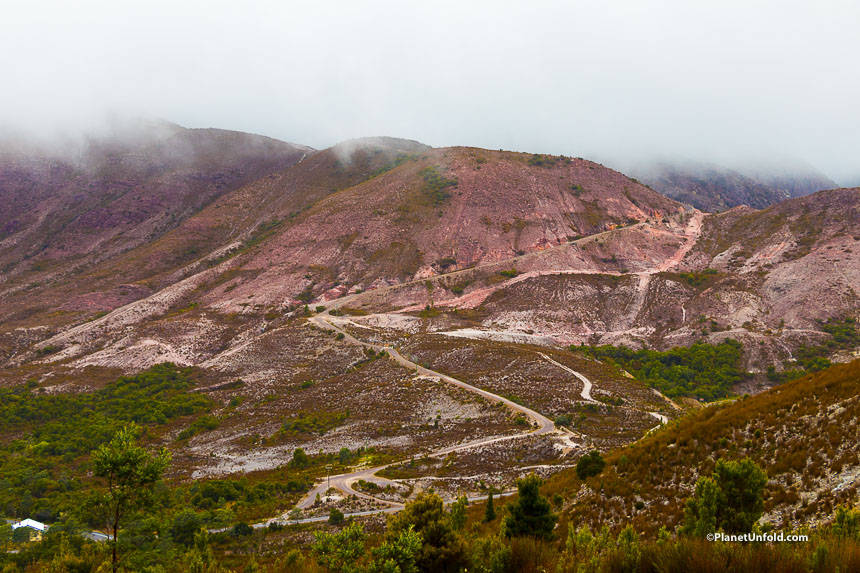 View from Iron blow Lookout, Tasmania
As we approached towards the road to Iron blow lookout (1 km from Horsetail Falls), it was hailing every five minutes. Curvy roads got really windy, we felt our SUV trembling due to stronger winds.
Somehow we managed to reach up to a small bridge streamlining winds and showers against us to get a glance of this stunning remainder downhill. These mighty south western winds are the reason how Tasmania was first sighted in history by Europeans (earlier in 1642 by Abel Tasman & later in 1777 by Captain James Cook). The winds have changed currents a lot of times in the past resulting wrecked ships wash up on its shores.
We suggest you to stay very careful while driving, especially when its rainy, you will definitely enjoy the ride and stay safe if you go slow.
Nelson Falls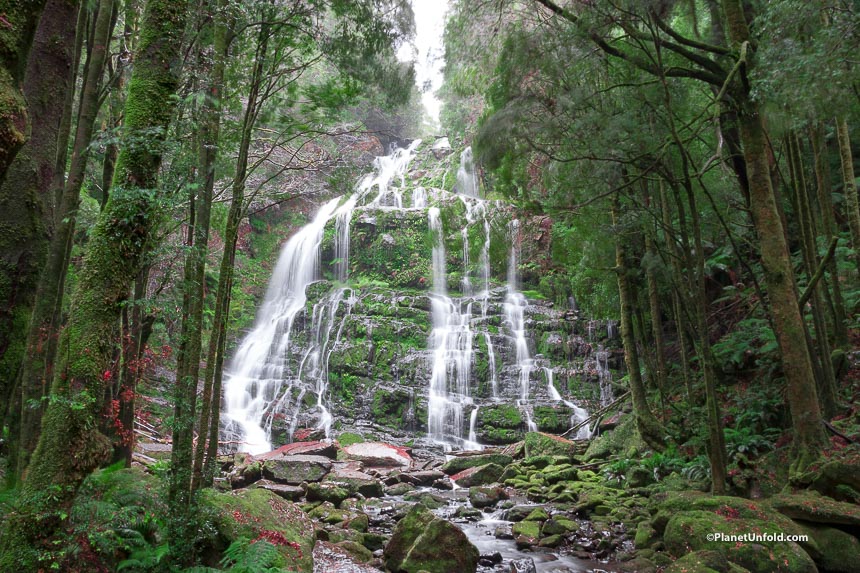 Nelson Falls
Further approx. 23 km we took a brief stop to see Nelson Falls elevated between Queenstown and Derwent Bridge on Lyell Highway. It was a short 20 min return walk from carpark and visitor center. The walk is through exemplary damp rainforest that gave us a feeling how it would have been a thousand years ago. Some brilliant educational sign boards explaining evolution of the habitat are on the lush green trail to falls. Few plants here are ancient species which survive the cool, temperate climate Nelson valley rainforests require. It is suitable for wheelchair access as well as kids friendly, making it an ideal family spot.
Lake St. Clair, Derwent Bridge
Lake St. Clair, Derwent Bridge
An hour of drive from Nelson Falls, and we reached an ideal picnic scene well-known as Lake St. Clair in the central highlands of Tasmania. This one is Australia's deepest freshwater lake, approx. 160 m deep in total area of 45 km². The area has most attractive wilderness, ferry rides are provided for scenic cruise with views of mountain peaks. People also visit here for day walks and the famous Overland track.
Derwent Bridge is a 2:30 hour drive from Hobart, Launceston and Strahan. It is the opening to southern end of amazing wilderness and wildlife preserved in Cradle Mountain-Lake St Clair National Park. Lake King William also sits nearby for a good trout fishing. Major attractions of this region include, ferry rides, world heritage cruise, mountain hiking, bike riding tours, fishing, walk tracks and camping. For more info on camping you may want to visit the below link. http://www.parks.tas.gov.au/
There is a local restaurant and pub at its entry for distinctive refreshments as well as a spot to sleep. We are sharing the below link for ferry timetable, prices along with other things to do here. Ferry Timetables
Russel falls & Horseshoe Falls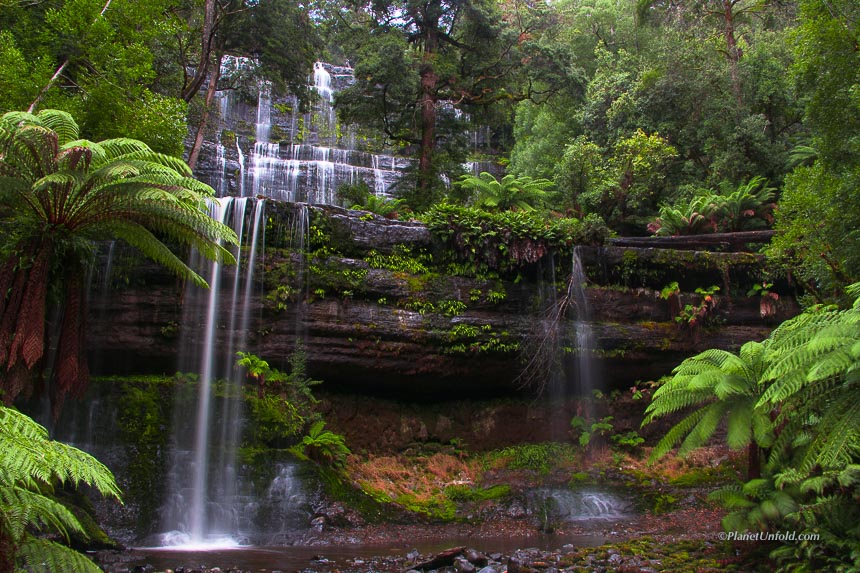 Russel Falls
Russel falls, recognized as the prettiest and most photographed waterfall in Tasmania's Mount Field National Park, is also the easiest to get to. Sits only an hour's drive from Hobart and around 114 km from Derwent Bridge, there was no point missing this stunning spot on our way. We took a small turn from Ellendale road to Gordon river road to reach. On the same road we found "Forests Secrets", which is profoundly another doorway to explore some nature and wildlife on your way, it is one of the destinations to take your kids and spend a day.
The lower altitude track for Russel falls is only 20 min return walk from carpark, we were overjoyed to take a peaceful walk, there was no one around us. The cool temperate forest constitutes of unique alpine plant groups inclusive of few tallest flowering trees in Australia. The falls has two main drops contributing to its size and pleasing appearance.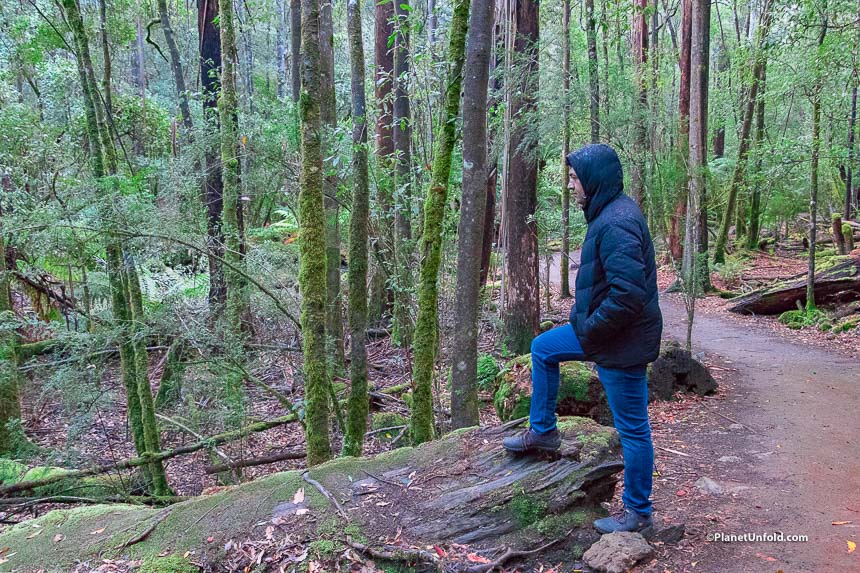 Rainforest walk at Russel Falls
If you are a camper, do take a walk at night on the wooden hand-trail here to see magical glow worms twinkling zone.
In a close range of 210m an extended walking track will take you to iconic Horseshoe falls. If you choose to stay in the region for a few days, the park also features Lake Dobson, Lake Fenton, Lady Barron falls The Junee cave, and many more in the circuit along with incredible vistas, caves, wildlife and amazing nature walks.
The park has all camping amenities, electric barbecues, kiosk and a visitor center near the track entry. Cabins are also accessible just outside the park boundary.
If you choose to visit in winters this wedge of plateau offers downhill skiing and snowboarding with active tows.
Sullivans Cove, Hobart
Sullivans Cove, Hobart
We ended our day around 6 pm by settling in Hobart. As soon as we arrived in Hobart CBD, there is Sullivans Cove adjacent to it on the banks of Derwent River. Sullivan Cove, which was the initial landing site for earlier European settlers, also features a port, lot of hotels and chains of waterfront restaurants & bars to spend amusing twilights. A dinner is absolutely recommended here, they serve fresh catches and classic meals. Do try local Fish N' Chips and grab an assortment of home-made ice creams while you take a walk on the docks.
Helpful Insights
We recommend not rushing but taking an entire day driving to tour all above sites, so you can spend ample time on spots you like. The only thing that fenced us from staying longer on few stops was hailing every 5 mins throughout the way. Slowing down is helpful to move safe as the winds are fiercer, our quaking SUV gave us chills for a bit, but no worries as the roads are all sealed and good to drive.
Since we carry our luggage the whole time on a road trip, we always pack a small bag handy on the back seat with extra pairs of clothes including woolens, first aids, charging cables, torches and important things we might need, so we don't have to get out in rain to open car trunk.
It's best to carry enough food and water with you for such a long drive, weather may not allow to get out and grab something or else it might be difficult to find any place open. It is advisable to keep your itinerary flexible if weather changes frequently and networks may not work sometimes. Starting early helped us to reach Hobart on time and enjoy our dinner at Sullivans Cove, Good news !! there is an Indian restaurant who also serve Indian tea, just like home J.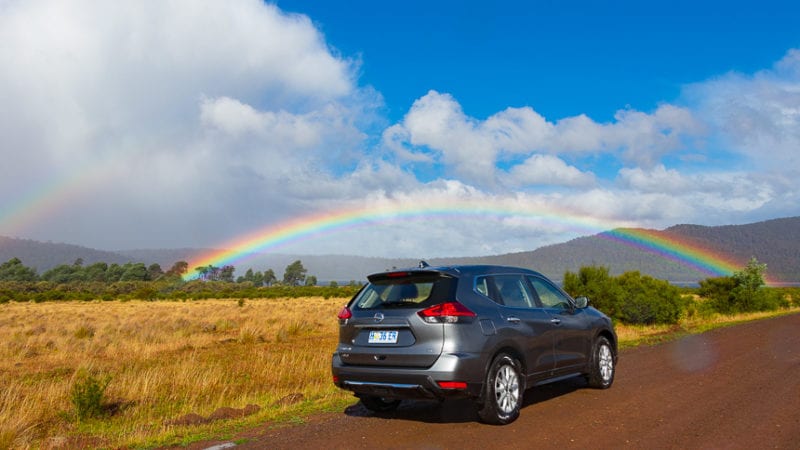 Making Most of Road Trips Every Time
Making Most of Road Trips Every Time
https://www.planetunfold.com/wp-content/uploads/2018/05/IMG_1124-Post-1.jpg
860
573
Sheetal Khatri
https://secure.gravatar.com/avatar/a8c4e10205dce919119e3338d8d5269d?s=96&d=blank&r=g
Summary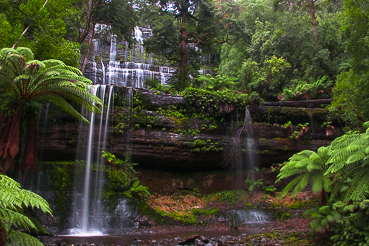 Article Name
Tasmania's Best Lookouts Between Queenstown and Hobart
Description
A day drive from Queenstown and Hobart uncovers many wonderful destinations on the route. A guide to most amazing waterfalls, lakes and forests along the West Coast of Tasmania.
Sheetal Khatri
planetunfold.com
https://planetunfold.com/wp-content/uploads/2019/09/Final-logo-1.png