Things to do in Launceston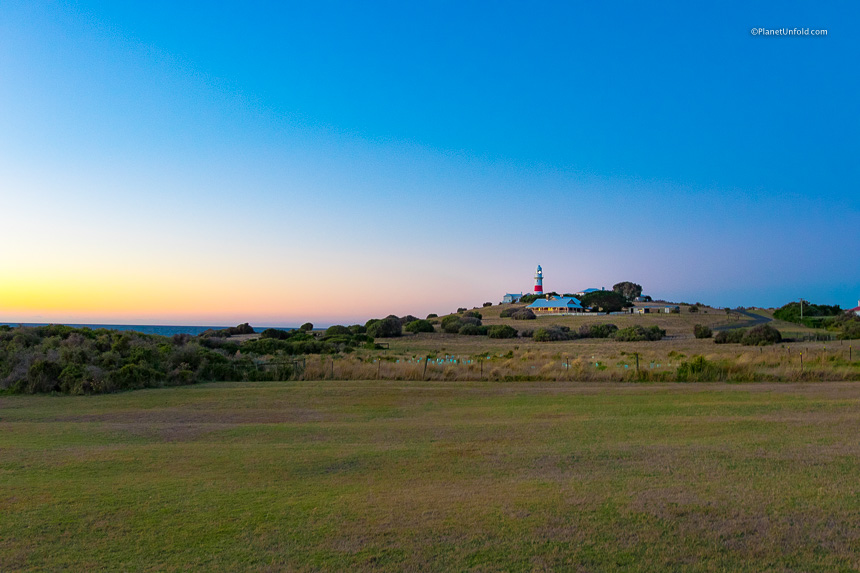 Launceston
We took a 7 am flight to reach Launceston that took about an hour from Melbourne, great option to get us settle down before starting next excursion. We stayed for 2 nights in this beautiful city located in northern Tasmania.
Launceston is recognised as the second largest city in Tasmania after Hobart. Well-known for Tamar Valley region, its vineyards and Cataract George with stunning panoramic views. It also features on-foot trails, carved gardens and a chairlift. The Queen Victoria Museum, in a 19th-century railway workshop, has exhibitions on Tasmanian history. It is another vibrant hub for food and wine, nature and ethos.
What fascinated us the most was to meet Seahorses and Penguins, which we had never done before. Meeting both on same day was possible due to their close proximity in locations.
Seahorse World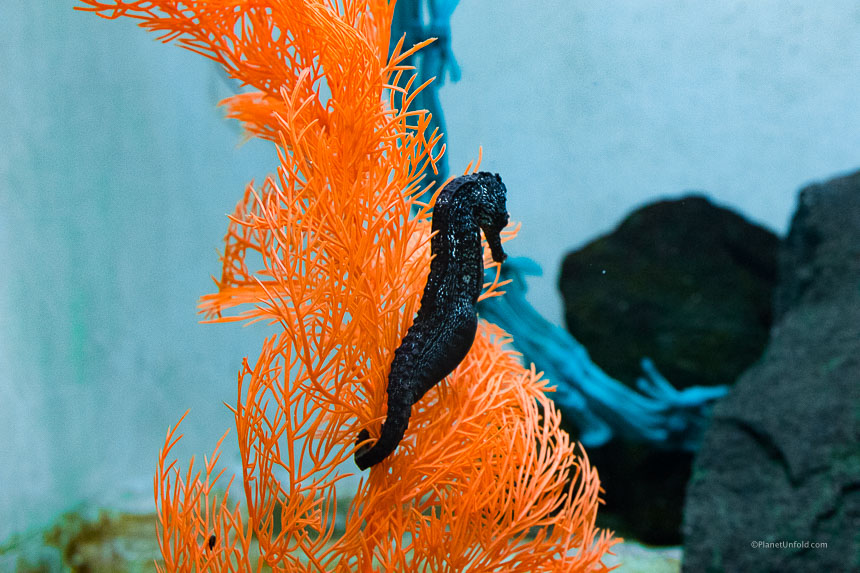 Black Seahorse
Seahorse world is located on Flinders street at Beauty Point, a coastal setting, where they conserve different varieties of rare seahorses from all over the world. This is less than an hour drive from Launceston or Devonport.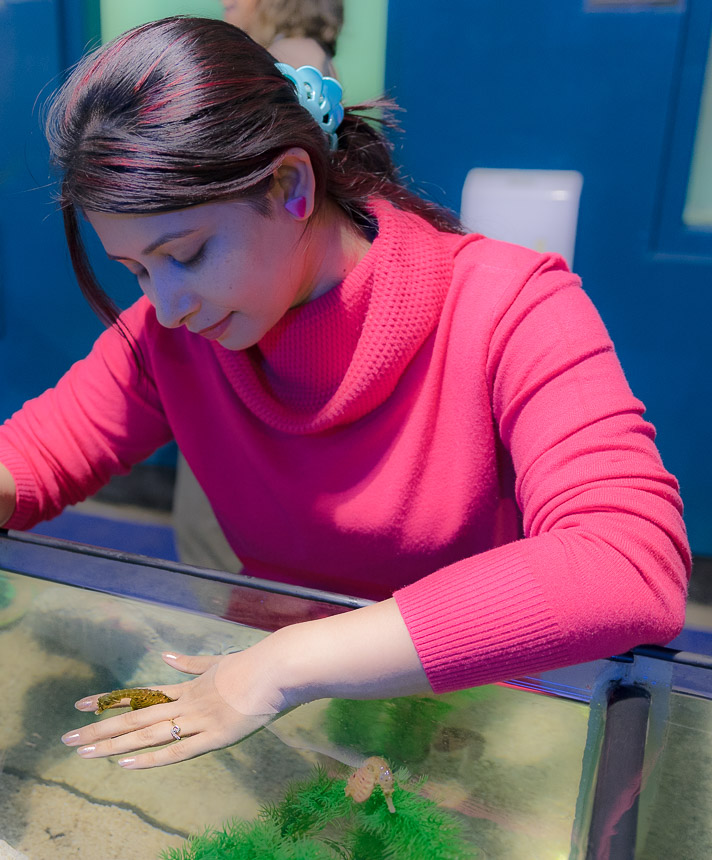 Seahorse World
The best thing about this unique place is that you can get much closer to these enigmatic miniatures. We felt so blessed holding a few seahorses in our palms. For me, feeling a seahorse wrapped around my finger was extraordinary. I was moved when I gave the fragile yet beautiful seahorse a little rub on his neck and he slept a few seconds, coiled amid my fingers.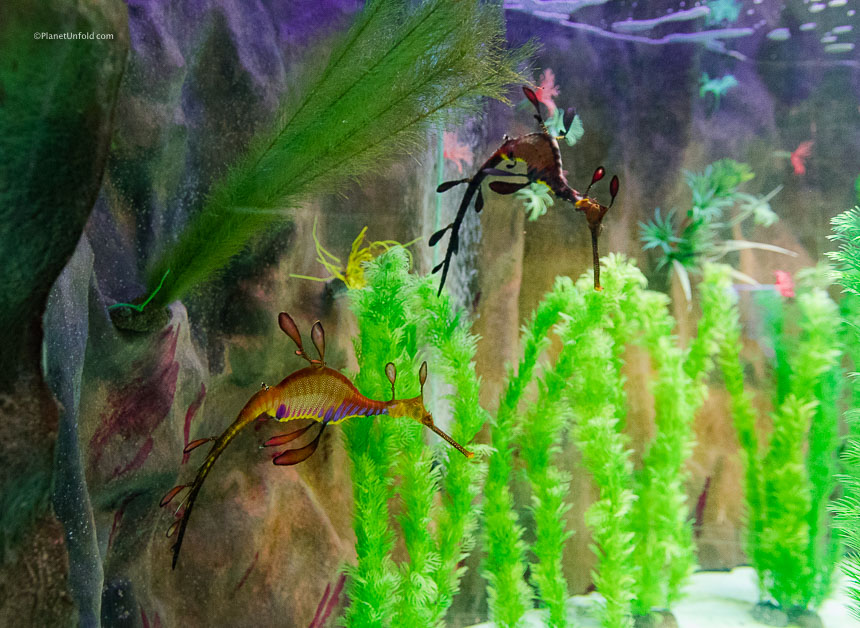 Sea Dragons
This 45 min tour gave us a walkthrough of some unique marine life along with diverse colored, big and smallest seahorses. They educated us on some distinct facts about them including their survival, lifespan, breeding, behaviors and meal intakes. You can see different vessels containing hundreds of seahorses in their growth phases from newborns to few weeks older.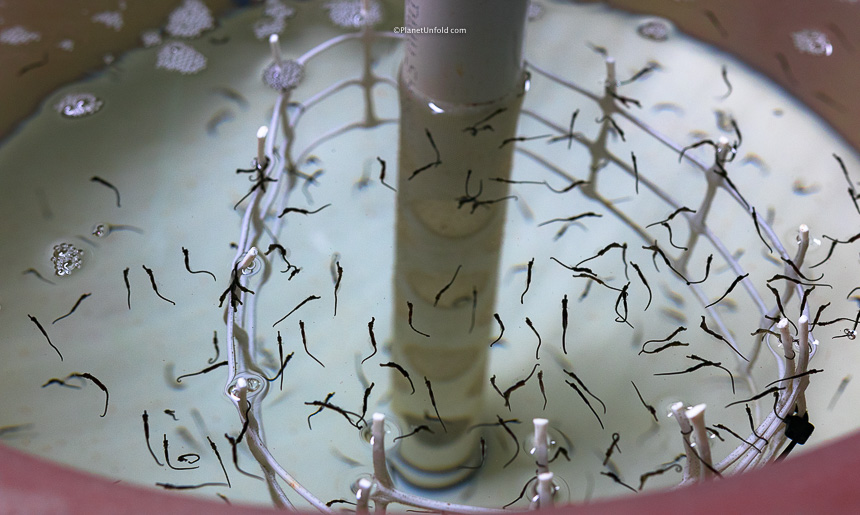 Baby Seahorses
Apart from the unique collection of little Seahorses, there were other incredible marine creatures too. To mention a few, there were flamboyant sea dragons, a giant crab, a rare fish with petite nose.
Fish with a nose
To our utmost wonder the retain dried shrimp eggs that can be preserved for years and be used to feed these seahorses to grow.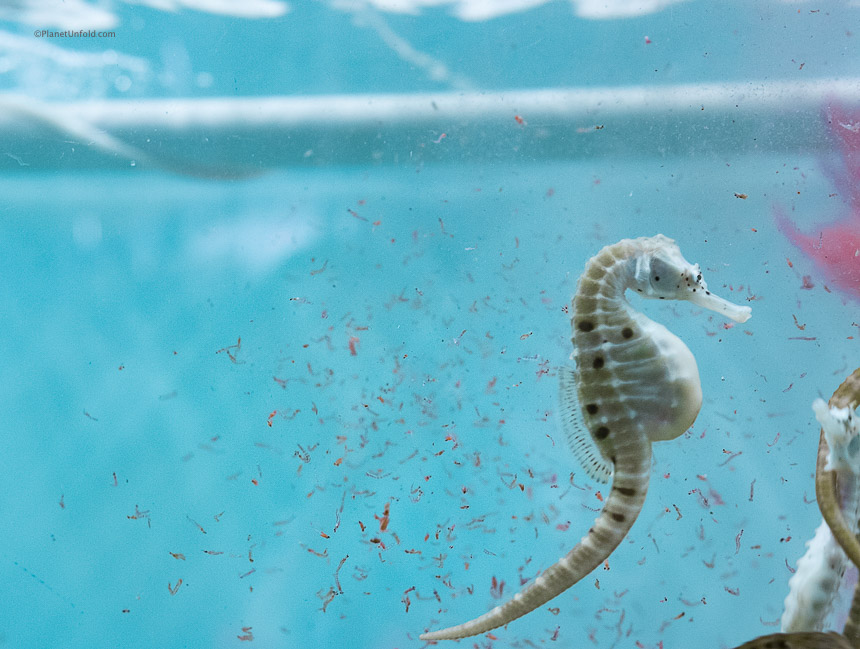 White Seahorse
White Seahorses immediately stole our hearts with their divinity. Did you see tiny shrimps around this one? Well he's going to be full soon.
The tours are guided and scheduled hourly from 9:30 am to 4:30 pm and the price is AUD 22 per person, we booked via call and paid upon arrival.
Nearby Attractions
Just opposite to it there is Platypus house. If you have ample time then you may visit this small sanctuary conserving both platypus and echidnas who are the only mammals to lay eggs, found in eastern Australian and Tasmanian rivers.
The carpark is same for visiting both Seahorse and Platypus houses and basic amenities are there along with small cafes.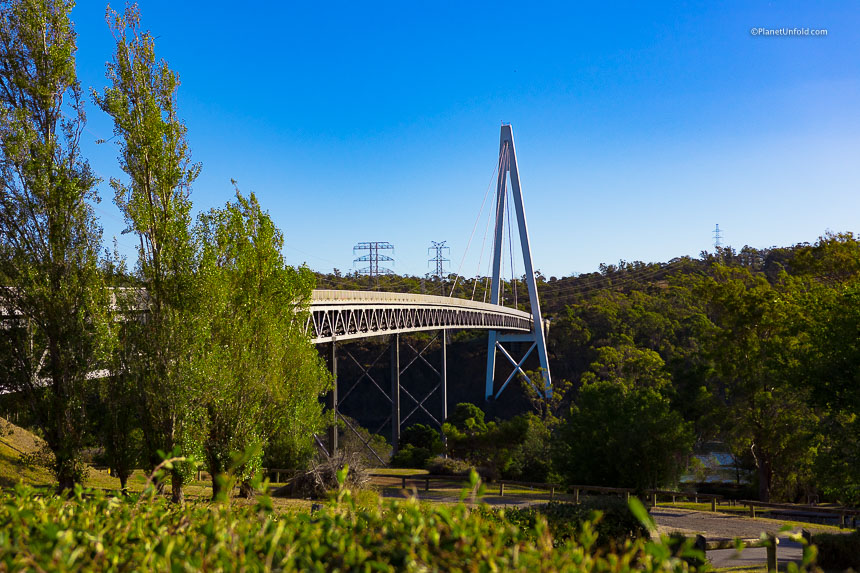 Batman Bridge, Launceston
The above is Batman bridge, one of the first cable stayed bridges in the world, that connects north east to north west in Tasmania crossing Tamar river. It is named after John Batman, one of the founders of Melbourne. There is a picnic ground at the bottom of this bridge that gives a cool view of it.
Penguins at Low Head
We moved on from Beauty point to Low head road around dusk and met our guides for the next adventure of the day. I never imagined my birthday being better than this. Meeting seahorses and penguins on same day.
Low head is located at the northern seashores of Tasmania facing the Bass Strait. Its pristine beach is home to smallest species (only 30 cm high) of blue penguins known as Fairy Penguins. These penguins return at shore after dusk and waddle towards their hidden burrows amongst coastal rocks and long grasslands. Penguins spend 75% of their time in water hunting for food, yet raising their young on land.
Video: Penguins at Low Head Beach, Launceston
It was an exquisite experience to watch these adorable penguins waddle and feed their hungry offspring who await and come out of the burrows at dawn. Our guides were experts who enlightened us about penguin facts, their hunting and survival strategies. We found it interesting to know that penguins only sleep for few seconds at a time (20 seconds max), however they take multiple short naps during the day or night, primarily in groups to stay at guard all the time. They are social birds who form 'rookeries' including thousands of them.
We booked the tour through Low head penguin tours and ticket price was AUD 22 per adult. We reported their around 8:30 pm, our tour started around 9 pm when it was completely dark. They told us that the penguins keep coming at the shore until 2 am.
Tamar Valley
Tamar Valley is a region which can be explored leisurely as most of its lures are within a stretch of 50 km approx. To name a few places it has Tamar river, Matthew Brady's lookout offering panoramic views of the river, various wineries, Nudist beach, Narawntapu lookout, European style resort Gindelwald featuring its own lakes, Beaconsfield mines and Heritage center where you can get a hold of museum stuff, they also mine gold.
If we had more time we would have surely included Tamar valley in our itinerary. We still had an amazing day amongst seahorses and penguins.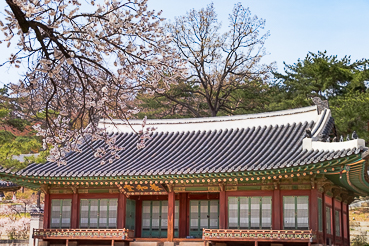 Seoul Travel: Full Guide, Blog & Itinerary (4-7days)
Seoul Travel: Full Guide, Blog & Itinerary (4-7days)
https://www.planetunfold.com/wp-content/uploads/2019/06/IMG_0747-Seoul-Thumb-1.jpg
369
246
Sheetal Khatri
https://secure.gravatar.com/avatar/a8c4e10205dce919119e3338d8d5269d?s=96&d=blank&r=g
Summary
Article Name
Things to do in Launceston
Description
Meet seahorses and penguins. Amazing things to do in Tamar Valley & Beauty point in Launceston, Tasmania. Well-known for Tamar Valley region, its vineyards and Cataract George, on-foot trails, carved gardens and a chairlift. It is another vibrant hub for food and wine, nature and ethos.
Sheetal Khatri
planetunfold.com
https://planetunfold.com/wp-content/uploads/2019/09/Final-logo-1.png