Travel Guide to Port Arthur and Tasman Peninsula
We reached Hobart a night before and stayed at Blackmans Bay so we can tour Port Arthur and its surrounds on the next day. Blackmans Bay is an ideal central location to save some drive time next morning, it is only 15 min drive from CBD. Also, per night charges are comparatively less than staying in CBD area. Getting up early is a great idea to cover legendary spots by evening.
There is a lot to see around Port Arthur and one single day will be very short to do so. We picked a few locations based on distance and our interest. Starting from Eagle hawk Neck onwards to maximum southern region possible before sunset.
We commenced with a quest to find some breakfast near CBD. Only one Indian shop was open with limited options for takeaways, that made us realize we can't be choosers early morning. Most of the restaurants here open after 4 pm and be closed by 6-9pm. Some Airbnb hosts provide breakfast cereals and we recommend choosing them as it saves time. Alternatively, once we crossed Tasman highway, we found Sorell café near gas station, this area has other restaurants too, luckily a lot were open.
Here are our best picks for the day in sequence:
Tessellated Pavement & Eagle hawk Neck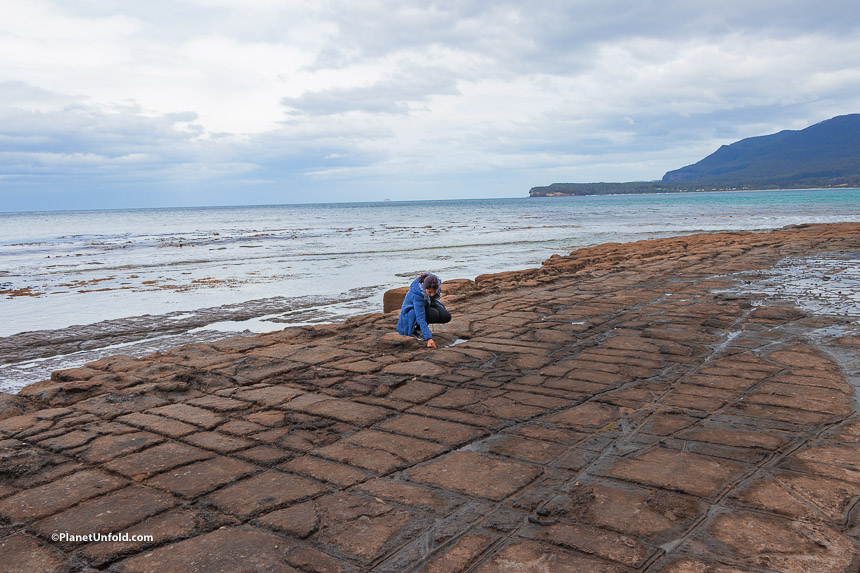 Tessellated Pavement
The Tessellated Pavement is extremely rare phenomenon found on earth only in a few places. This is a significant geological site that features flat rock surface subdivided into regular rectangles, polygons or systematic joints. They look manmade but in reality, these occur due to a rare kind of natural erosion.
The rock comprising this pavement is siltstone formed 300 million years ago by sediments accumulated and got compacted to form solid siltstone, then fractured in certain direction resulted in jointing. These joints have salt crystals spacing the rocks causing further erosion. The signposts explain it very well
The isthmus also connects Tasman Peninsula to Tasmanian island through Eagle hawk neck. This little spot is about an hour drive from Hobart and also the starting point to explore other interesting spots on this slice. This narrow strip once was guarded by dogs to prevent convicts from escaping Port Arthur.
Eagle hawk neck is a thin strip of land which is also natural gateway to Port Arthur Historic site, Tasman Peninsula, Tasman Arch, Blowhole and Devil's Kitchen. There are some local cruises offering rides past sea cliffs to see dolphins, seals and penguins. The area is great for bushwalking, rock climbing, kayaking, diving and surfing. The area has public amenities nearby the blowhole road and at whale-watchers lookout.
Blow Hole & Fossil Bay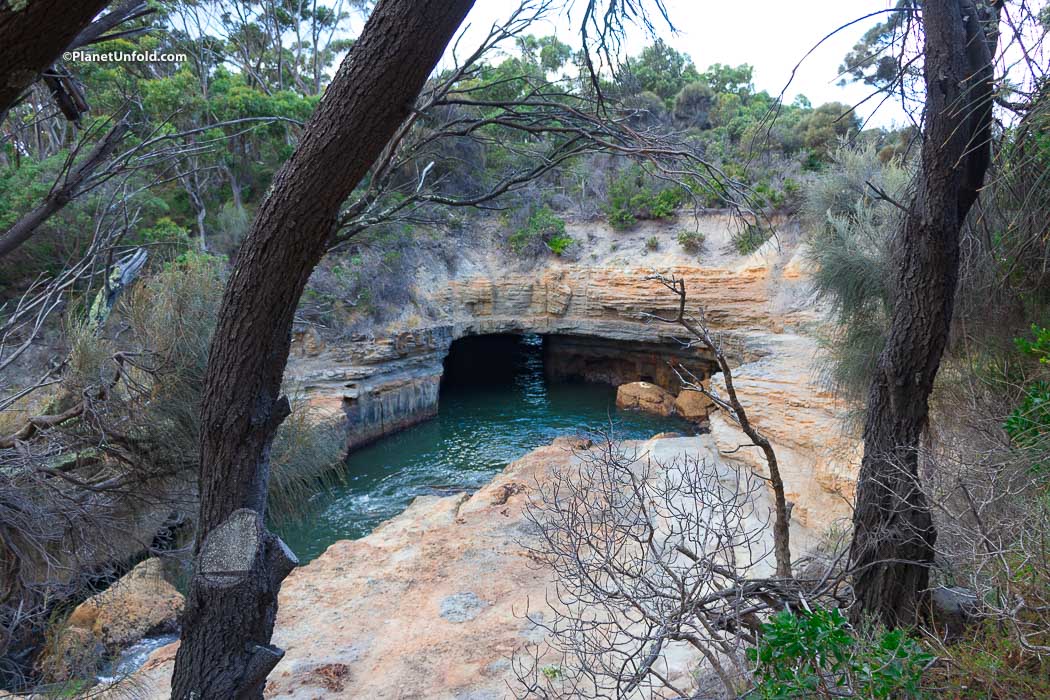 Blow Hole
The best times to admire blowholes is during ocean swells. The spray and vivacious sound can amaze you with its powerful display as enormous waves force their way through a small opening from the ocean and smash into the massive boulders in deep rock cauldron.
Formed in millions of years of erosion by water and winds of Pirates Bay, the blowhole is only 5 mins drive from tessellated pavement (2.6 km).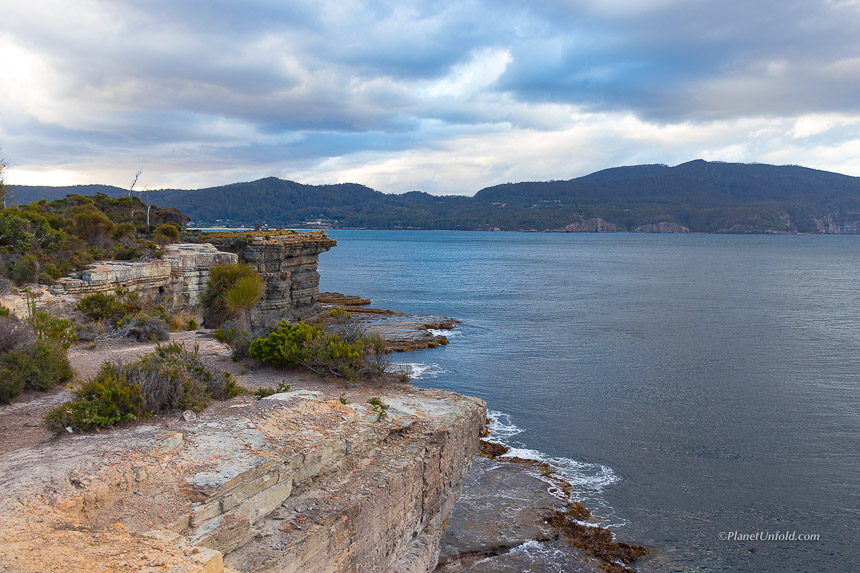 Fossil Bay Lookout
To the north of blowhole, there sits Fossil island and Fossil bay. A path descends in left to a viewing area alongside the Blowhole. The track to the right ventures out to Fossil Bay Lookout. The renowned picnic spot near jetty and a car park where you may find 'Doolishus' food truck serving their specialty fish n chips and homemade ice creams. The place is well known for fresh seafood. A boat ride further can be taken to explore its western side with all of Pirates Bay and various striking cliffs facing Fossil Bay. The island is worth a visit if you got ample time, we only walked through blowhole and the lookout as we had more to cover in a day.
Tasman Arch & Devil's Kitchen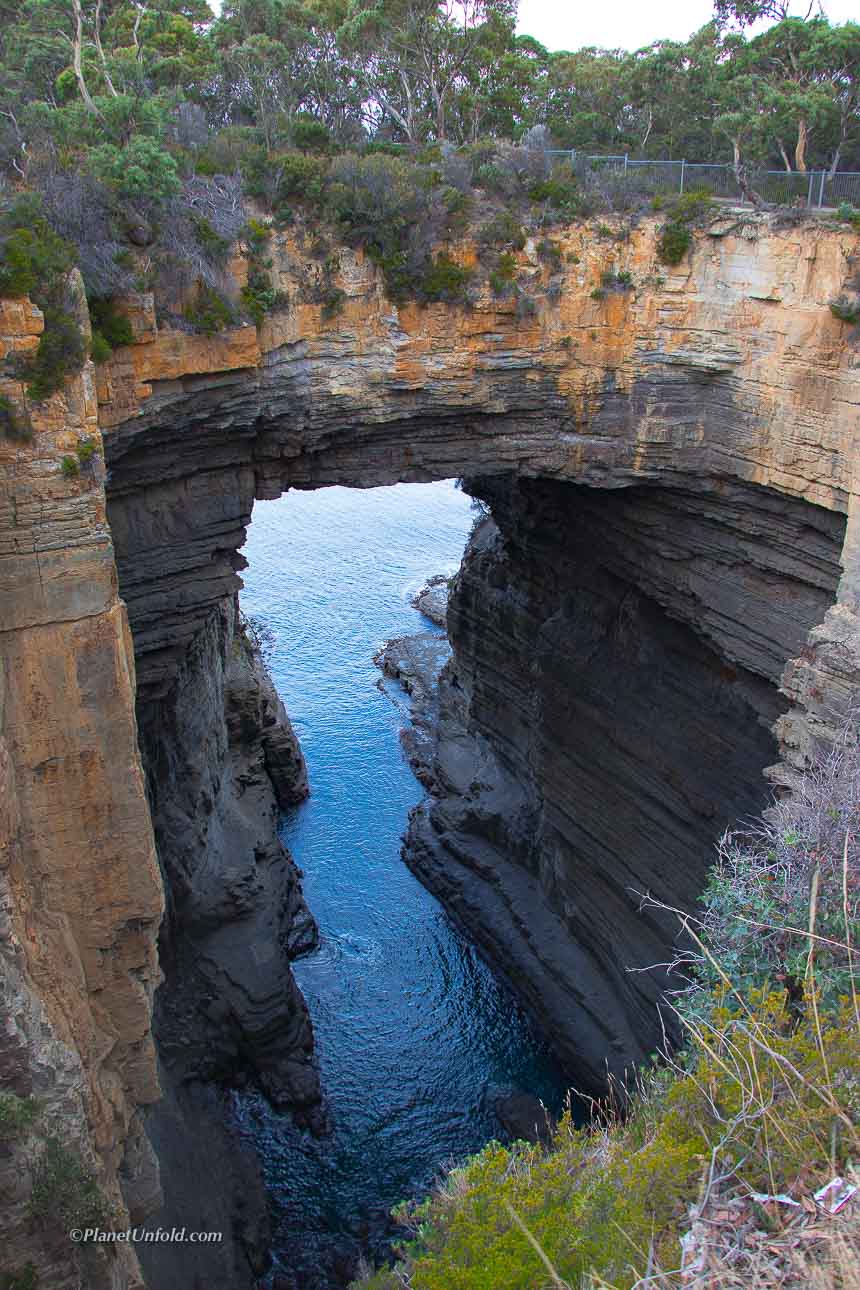 Tasman Arch
Our next lookout was Tasman arch and Devil's Kitchen situated alongside the Fossil Bay. It took only 5 mins to drive further south of Eagle hawk neck, there are easy sign boards. The Tasman arch is a huge solid rock spanning the gap, looks like a natural bridge. The shape is unique and massive that makes it a perfect picture spot.
Devil's Kitchen sitting side by side along the arch, is a rugged 60 m deep cleft with many sea caves alongside ready to blow your mind. These numerous sea caves are formed over millions of years due to weathering caused by winds and waves. A boat ride gives real majestic views of these unique formations closely.
Port Arthur Historic Site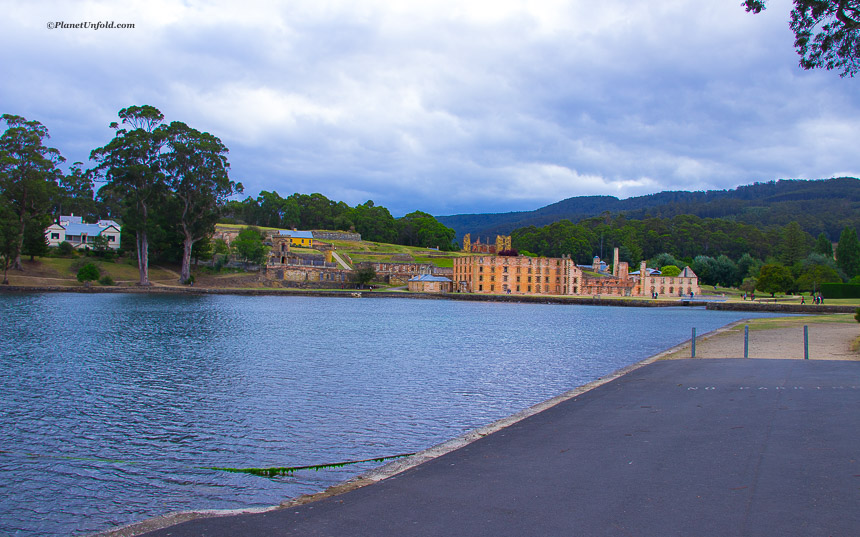 Port Arthur-The Penitentiary
World heritage listed Port Arthur Historic Site is well preserved convict settlement from the colonial times. Renowned as notorious prison, Port Arthur is Australia's significant felon era location. About 23 km further via Arthur highway, it is accessible through church street. There parking is spacious for large vehicles too.
From small timber station in 1830 to penal settlement until 1853, Port Arthur was founded with a unique idea, that prisoners could be reformed while punished. Governor Arthur designed a system built on punishment and strictness, grouping and separation, religious and moral order, trade training and education. In code, to provide the prisoners with prospects to turn themselves into useful future citizens.
The site features many tours enlightening about the settlement, the staff and people who shaped it while it was still operating. When we entered we bought a package that includes a tourist intro walking tour and a harbor cruise for 15 mins to sail around important islets in the surrounds.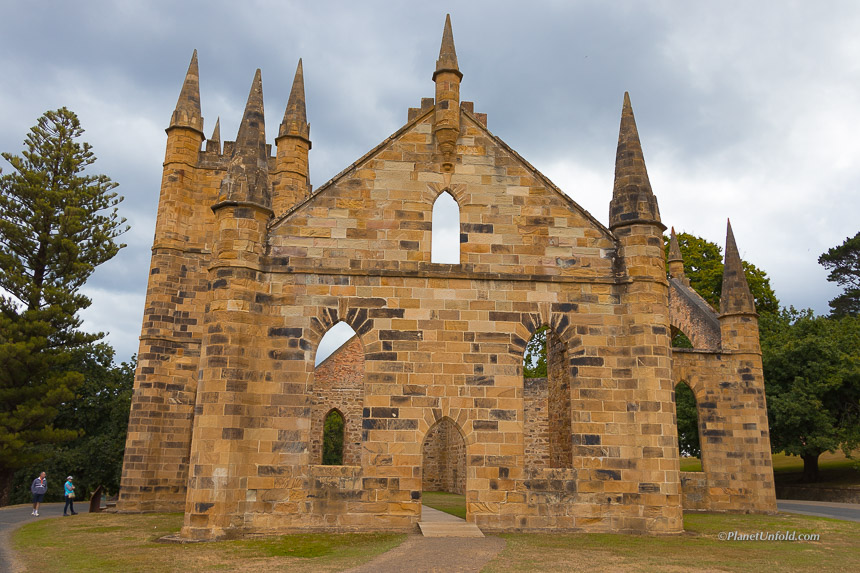 Port Arthur-The Church
Our tour guide was very informative, he elaborated interesting facts and bizarre incidents of this naturally isolated, ideal yet cruel prison ruins. We later on sightsaw the place by ourselves with the help of a map provided. It takes around 3 hours to tour entire settlement with 31 sites. Important locations/tours can be discovered in their website: www.portarthur.org.au
If you like some adrenaline boost, you should get on ghost tours they offer between 6-10 pm. They open few restricted areas, tarnished spots and ruins, tell you intense stories about unexplained events that stumped soldiers and free settlers around.
Opening hours: 9am to 5 pm
Prices: AUD 39 per person
Remarkable Cave & Maingon Bay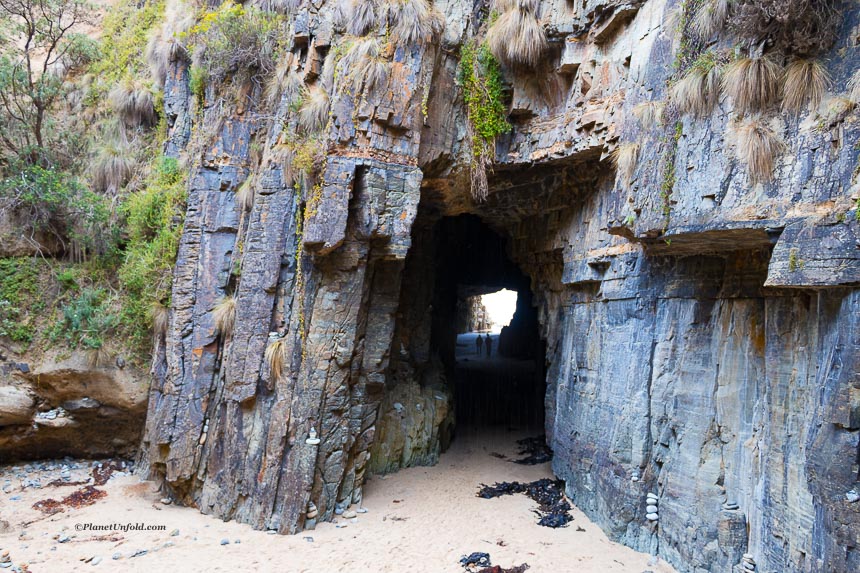 Remarkable Cave
A nice coastal carpark, 7 km ahead of Port Arthur Historic site took us to a spectacular coastal car park area from where we descended over 130 stairs to see this biological spectacle called Remarkable Cave. Its sight is truly remarkable during low tides as you can jump down the viewing platform and cross from inside the cave to reach an iconic seashore of Basket bay.
A walking track to Mount Brown from here leads to Maingon blowhole. We did not see any public amenities here, it was a small lookout and very isolated coast.
Other Nearby Attractions
Maingon Bay
The above places will consume a day's time but there is still a lot to see around this astonishing island. If you have ample time, a few places worth exploring are Waterfall Bay Lookout, long walking (approx. 4-5 hours return) tracks like Cape Huay and Cape Raoul track, Ship Stern Bluff Lookout and Coal Mines Historic Site Track.
Taking a Tasman island cruise is also recommended as it features sheer dramatic sea cliffs, southernmost bleak coastlines along with encounters with Penguins, seabirds, sea-lions and dolphins. The cruises (AUD 130 pp) are generally at 11 am and 2 pm for 3 hours.
On Arthur highway, you might want to meet the native endangered species of Tasmanian Devil that roams around free here at a wildlife park called Tasmanian Devil Unzoo. You get to pet and feed native kangaroos, wallabies, birds and wildlife in their natural scenic habitat.
For some relaxation, you might enjoy visiting Port Arthur Lavender farm which is located at a short 5km further to the wildlife park.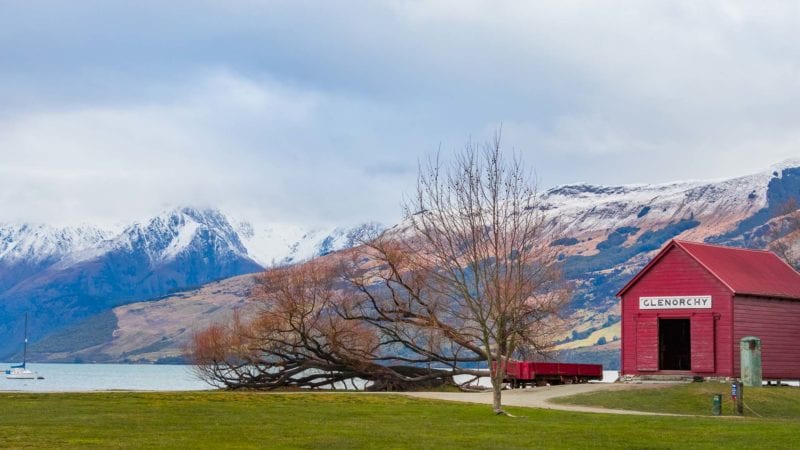 Day 9: Incredible Places to Visit Around Wanaka and Queenstown
Day 9: Incredible Places to Visit Around Wanaka and Queenstown
https://www.planetunfold.com/wp-content/uploads/2019/12/IMG_7226-glenorchy-1-1024x683.jpg
1024
683
Sheetal Khatri
https://secure.gravatar.com/avatar/a8c4e10205dce919119e3338d8d5269d?s=96&d=blank&r=g
Summary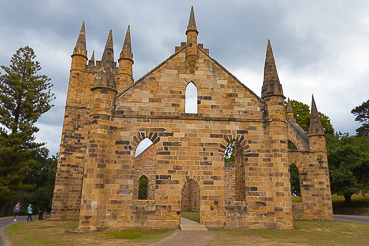 Article Name
Travel Guide to Port Arthur and Tasman Peninsula
Description
An ultimate travel guide and a list of amazing locations to cover from Eagle hawk Neck onwards to maximum southern region possible before sunset. Tasmania's southern slice is a blend of scenic beauty and history. Tasman Peninsula has many legendary attractions that can be seen in a day including Port Arthur.
Sheetal Khatri
planetunfold.com
https://planetunfold.com/wp-content/uploads/2019/09/Final-logo-1.png