Unexpected Food Surprises Throughout New Zealand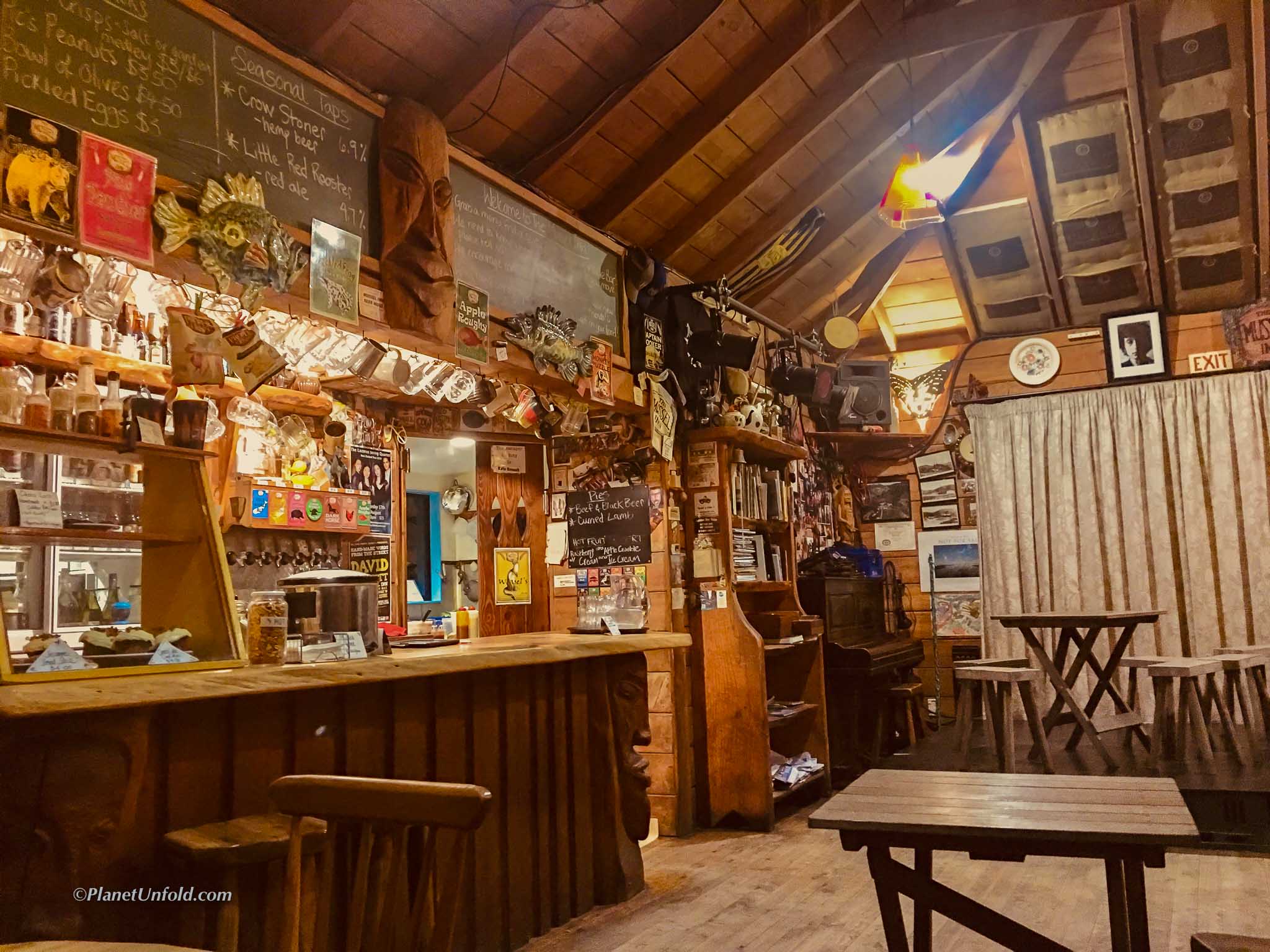 Mussel Inn, Collingwood
A long road trip in New Zealand revealed some unexpected food surprises to us throughout both North and South Island. Several of such places and food relished still remains unforgettable and we can't wait to visit again someday.
So sharing a list of our finest food experiences and places where to find them in NZ. You might wanna mark them up in your maps for when you visit.
Recommended Food in South Island
Marlborough Sounds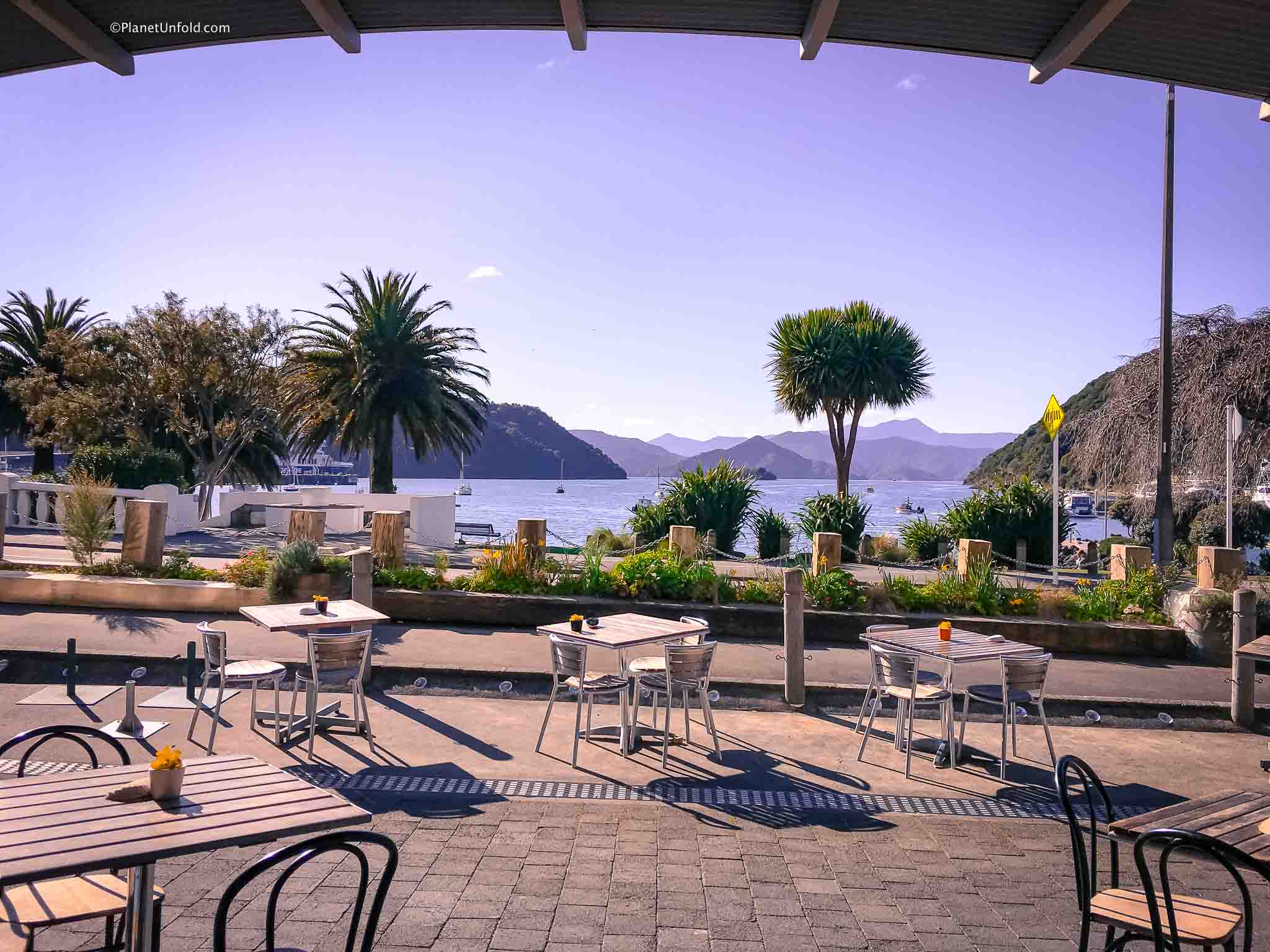 A Beach road Cafe in Picton
Marlborough sounds in the northernmost edge of South island is known for its exquisite culinary arts and wines made from Sauvignon grapes. The vicinity of Blenheim and Picton consists of amazing vineyards to choose from, many estates are run by local families for several generations.
The best way to detour in Marlborough sounds is to immerse in its food and wine culture whilst admiring the serenity of landscape. Marlborough's premier estates render enhanced wine tasting affair in combination with gourmet brunches and artistic cheeseboards.
You can also indulge into sailing and getting some fresh catch Fish N Chips at Picton's seaboard too.
Nelson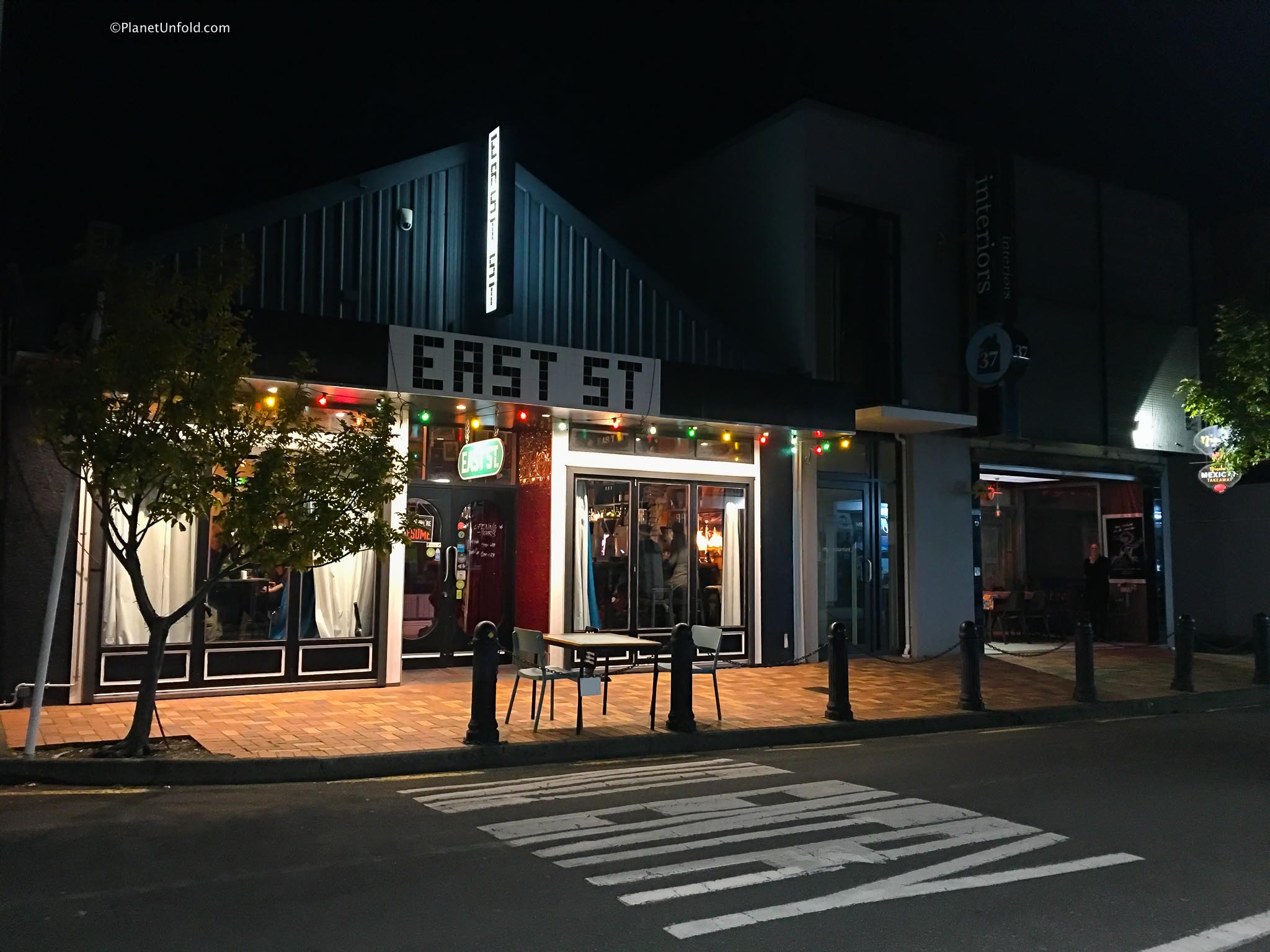 East Street Vegan
The small town of Nelson is located within the landscape surrounding Tasman Bay. It serves as an ideal stopover before you venture to explore the perks of Abel Tasman National Park and Golden Bay in the north of South Island.
This well developed town features many restaurants but there is only one that stands out amongst all. You won't regret trying some creative vegan recipes crafted by East St Cafe, Restaurant and Bar. 
The place has a relaxing ambiance with live music and fabulous vegan food. A true paradise for vegetarians and even non vegans who like to explore something new. A savoury jackfruit risotto, some appetisers and dessert varieties are absolutely worth trying.
Collingwood, Golden Bay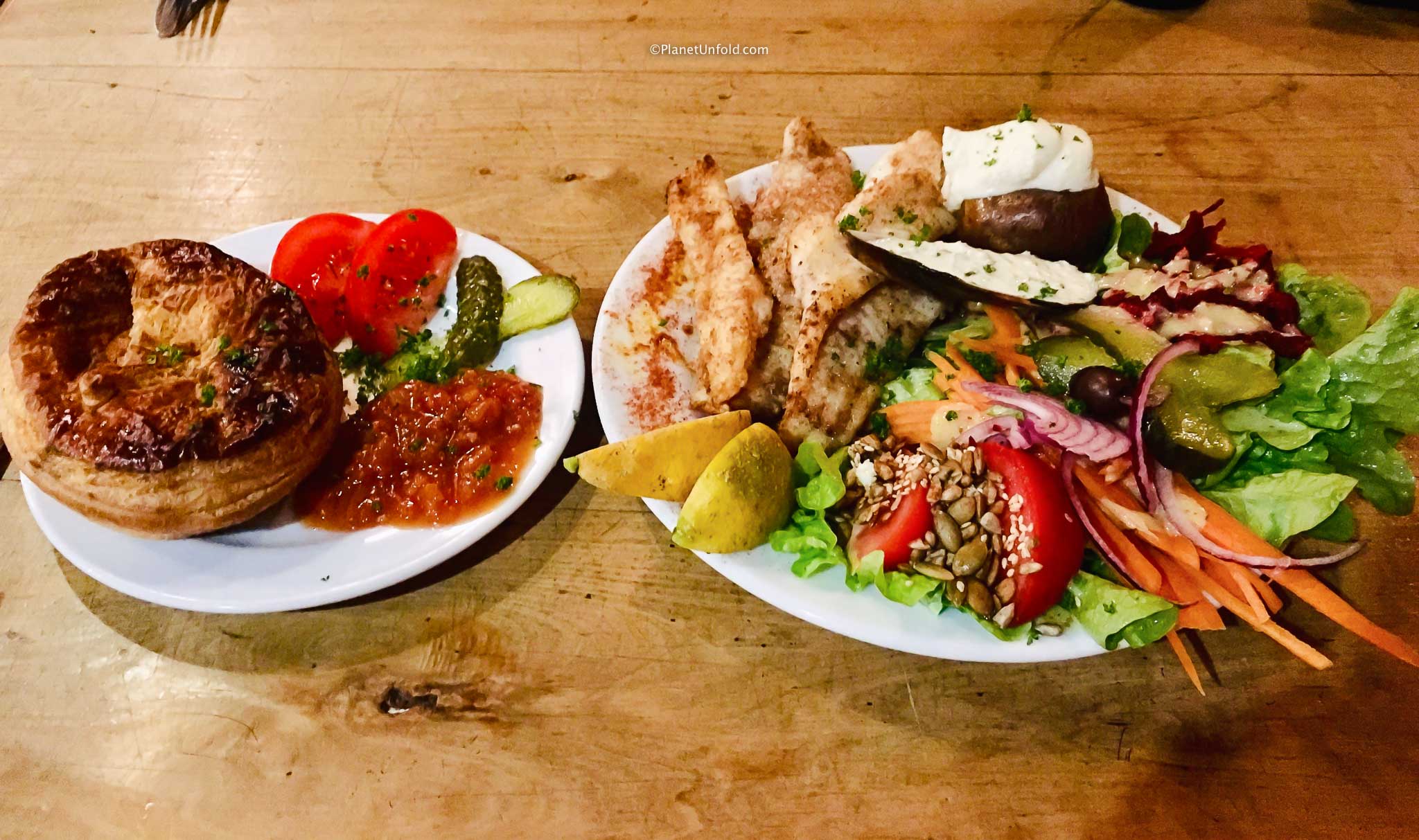 NZ's most relished Lamb Pie & Fish N Chips
Collingwood is a very small setting just a short drive away from majestic Golden Bay on the northwest coast of South Island. While you immerse yourself in the beauty of nature, don't forget to try some marvellous delicacies at Mussel Inn located on highway 60.
They excel in offering warm and cozy interior in rainy winters, you can always get a place besides fireplace to soak in warmth. Not only they serve an amazing lamb pie, their Fish N Chips variations are quite popular too. Go for both and you will be treated with real goodness of NZ cuisine. Everything is reasonably priced and worth every penny.
We also loved sipping perfect roasts of a coffee blends in rustic themed cups they sell, couldn't get enough of it. Bear hugs for them <3
Murchison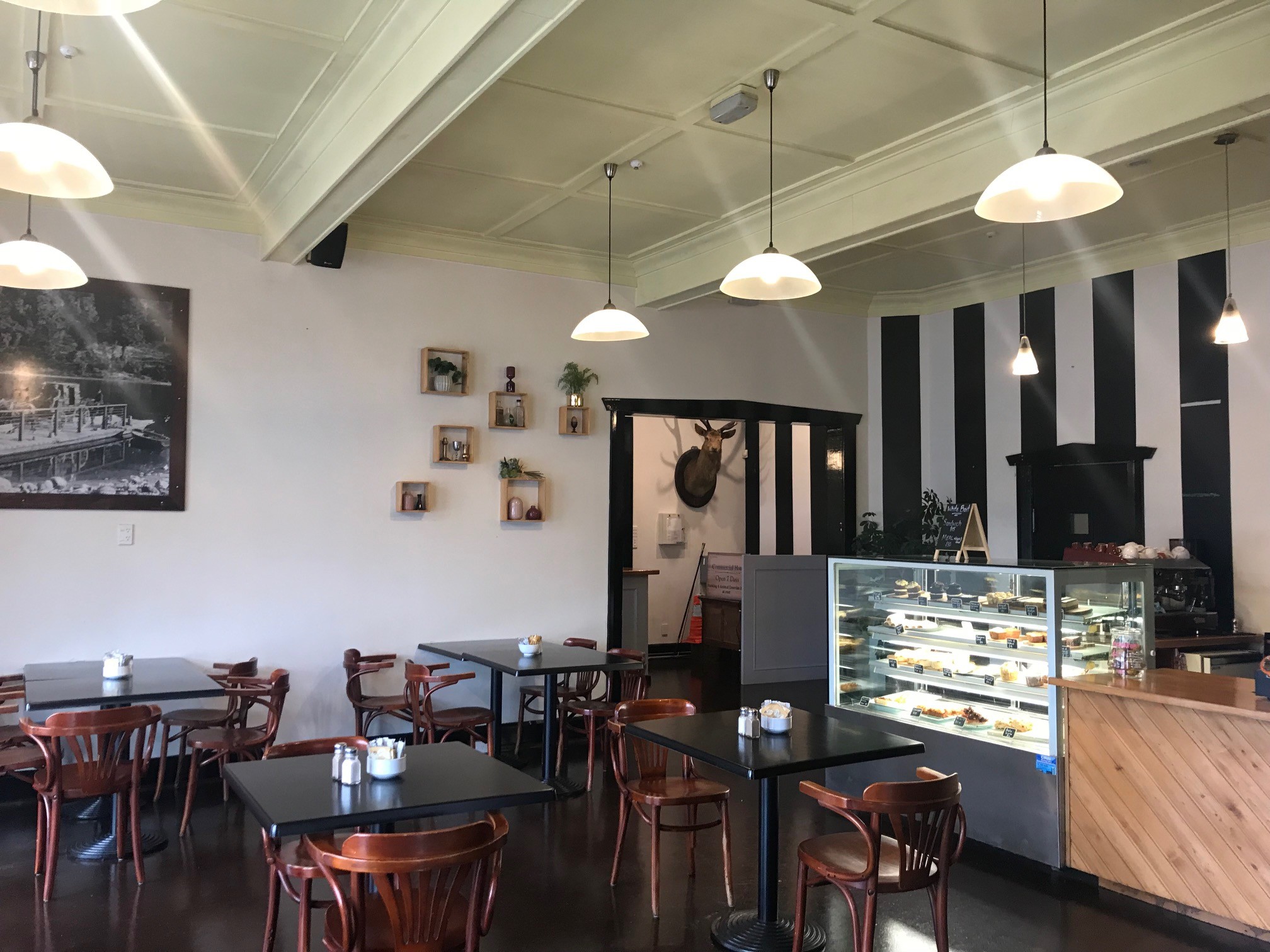 The Commercial, Murchison
The Commercial, located on 37, Fairfax street is an amazing choice for having a meal on your quick stop in Murchison. They are renowned for their coffee selection and superb meals on the go. Their breakfast muffins are loved by many and so is the fast service. You might wanna try some long black and soy cappuccino when here.
If you are stopping for dinner, not only they serve rich and creamy seafood chowder to pair with continental sandwiches and bread assortments, they also offer discount coupons for customers staying at Murchison motel located on an opposite street bend.
Christchurch & Akaora
Its a great experience to start your morning at the most iconic street in Christchurch known as New Regent Street, located in the city's heart. The pastel confined structures with vintage wall arts definitely create mood for that perfect sip of coffee.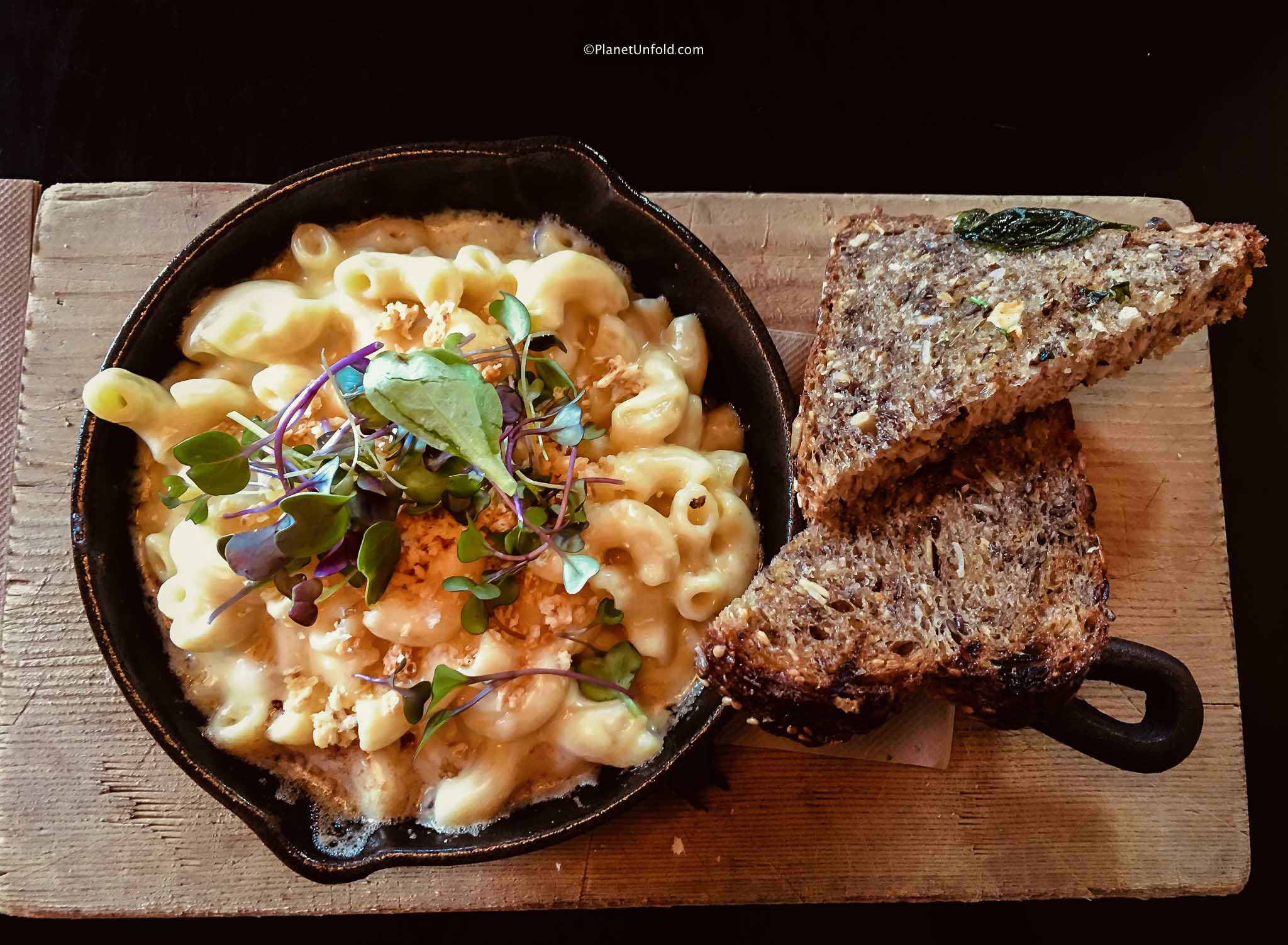 Breakfast at Caffeine Lab
There is no better way to kick start your day with a brunch at Caffeine Laboratory (7am to 3pm). Don't forget to pick some oven fresh homemade cookies/pies/wraps from Mrs. Higgins to chow for later. Our personal favourites were macadamia and white chocolate ones, a must try.
The street has some authentic kiwi eccentric restaurants like 27 Steps and Casa Publica for dinner and they open only in the evening from 5-10 pm.
fish n chips at Akaora region
The beach road around Akaora's French Bay & Children's Bay features many restaurants & bars offering fresh seafood and steaks, just perfect to have your meal amid serenity. Don't forget to get some fish n chips to have a kiwi style retreat overlooking the South Pacific.
A day drive is recommended here to sightsee the township enriched with striking bay side panoramas, regal architecture, galleries, craft stores, top-notch cafés close to the harbour offering cruises, fishing tours and various other fun activities.
Arrowtown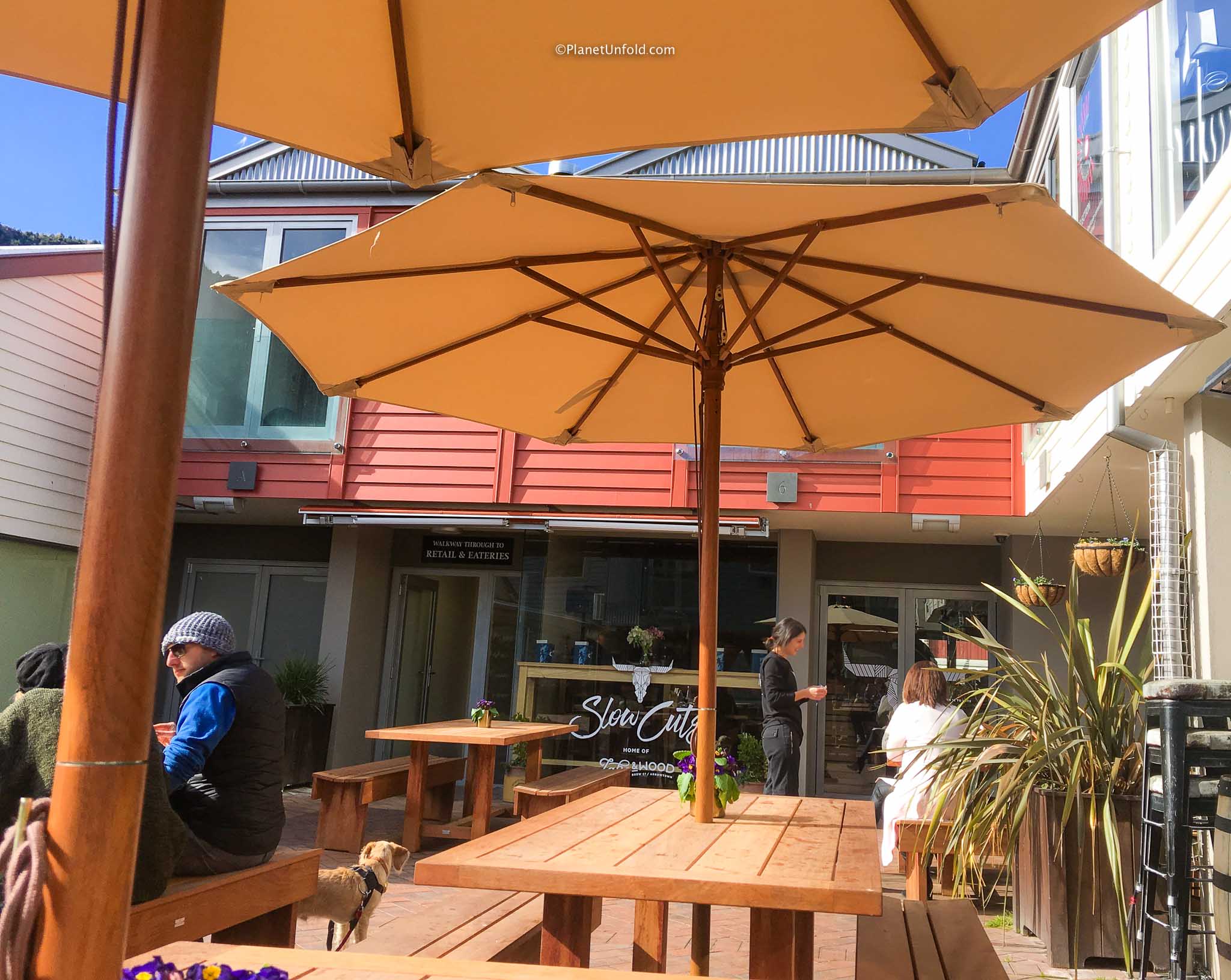 Slow Cuts in Arrowtown
Don't miss pausing in Arrowtown if you are around Queenstown. Home to soothing nature trails, this scenic hotspot has a hidden gem of a lane called Buckingham street where you can find trendy food joints for kiwi style cuisine.
We recommend trying some varieties of delicious kiwi burgers and fried smashed potatoes at Slow Cuts. They have both vegetarian and meat burgers and a several mouth watering items in their menu to choose from. A cozy corner in a casual outdoor setting is something we craved after hours of driving.
Queenstown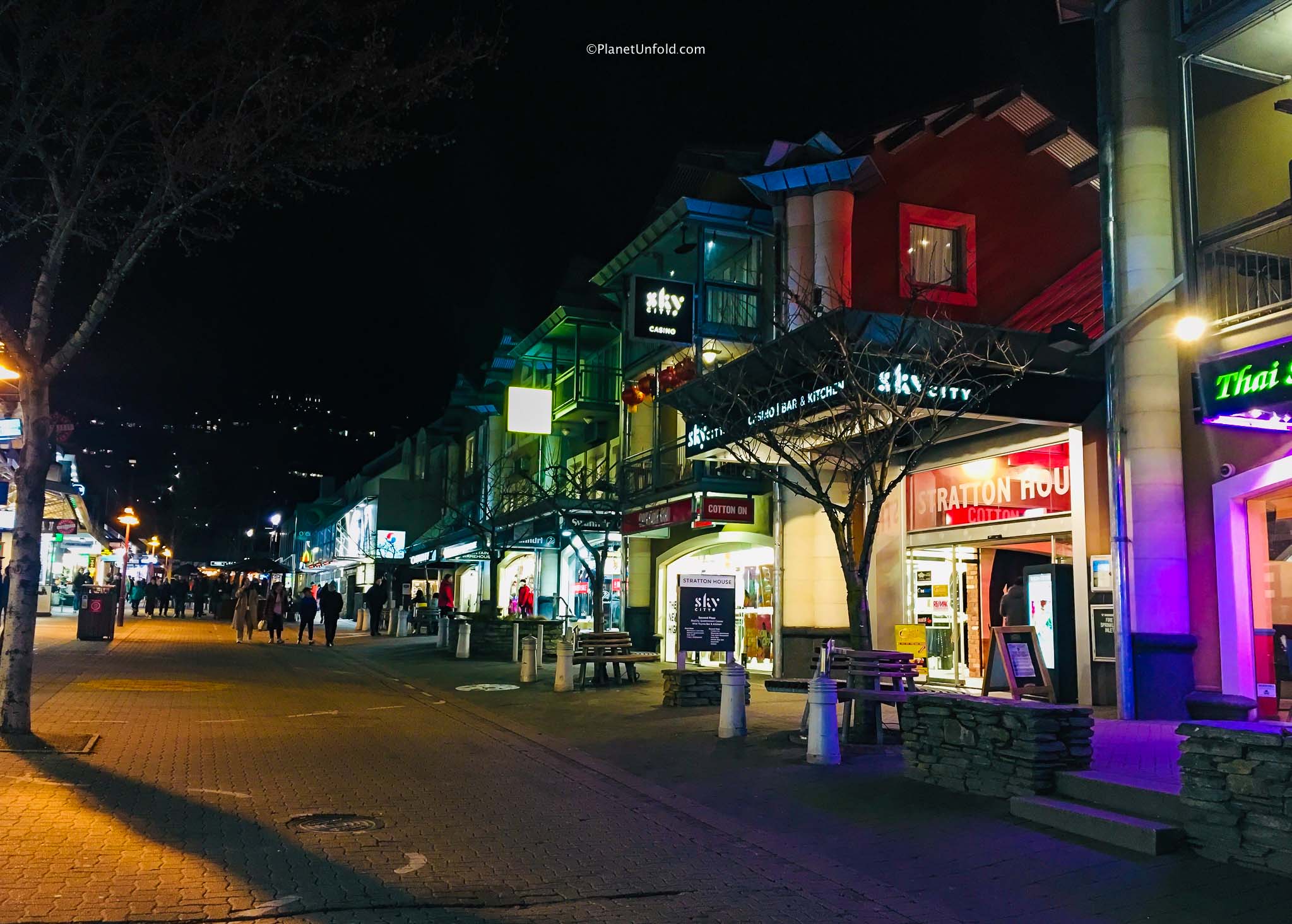 Fergburger in Queenstown
Queenstown is bursting with authentic NZ flavours, sometimes interestingly blended with unique ingredients. Satiate your hunger for burgers in this lovely town at Fergburger which is one of the most popular joint amid both locals and tourist crowds.
A little warning though, you may find long queues in the evenings, so always be prepared to wait. The wait is worth your while and the queues move really fast, they also have huge heaters fixed outside for customers waiting during cold winters. We were also offered appetising freshly baked cookies while waiting by their staff at the bakery attached next to the joint. So sweet of them 🙂  It is also worth trying some fresh breads, cookies, rolls and pie assortments from this bakery. 
Alternatively, Queenstown also features some classic as well as trendy food outlets in surrounding lanes of Britomart to explore as you walk in the city.
Wanaka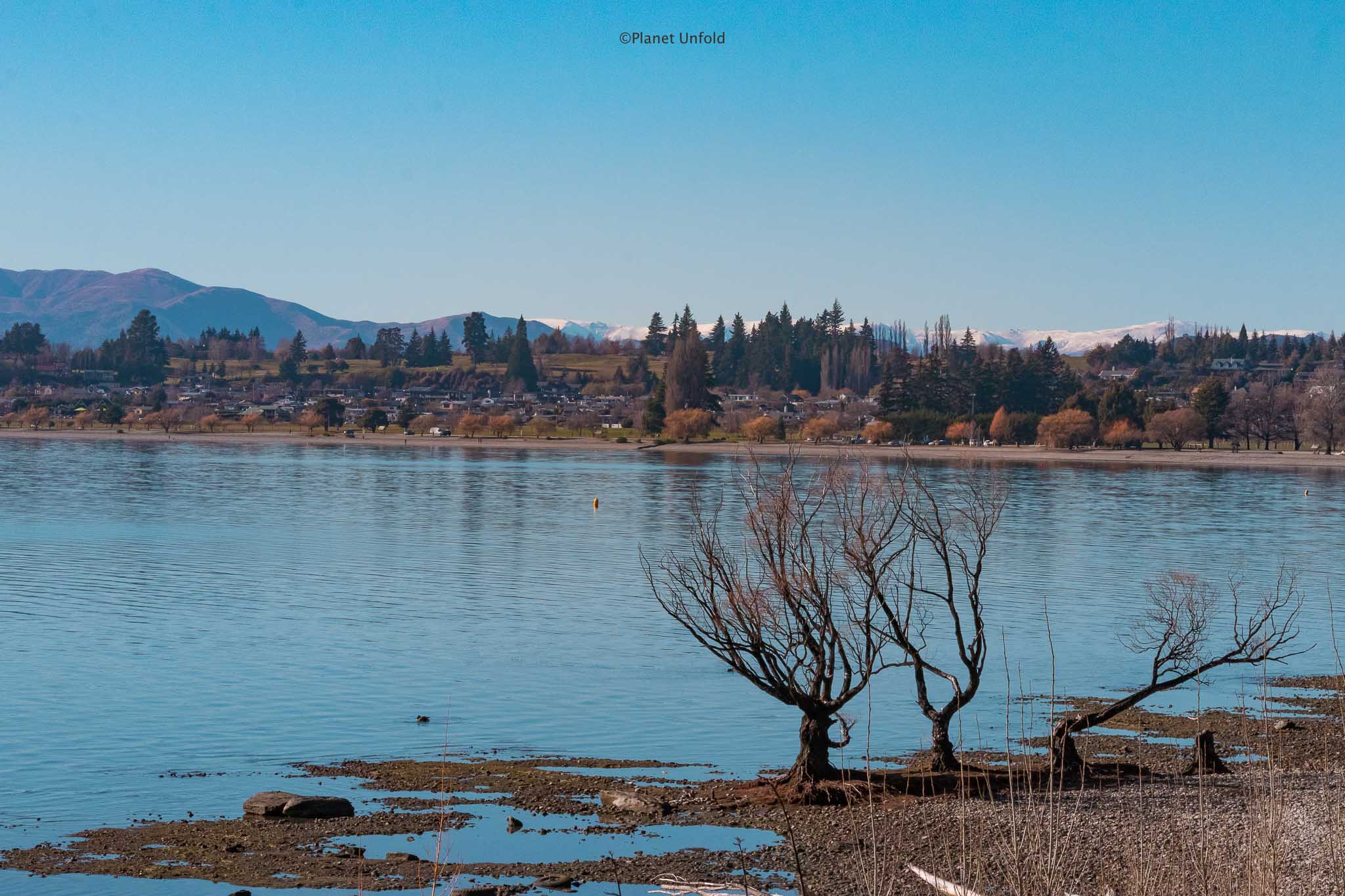 Lakeside eateries in Wanaka.
Wanaka is no doubt a food paradise for every type of foodie to try on several cuisines in one single region. Flavourful food combined with assorted classic wines and contemporary salads reach an artistic level at this heaven of nature. Just park your car near lakefront and stroll leisurely to find your taste. You can try stone grilled dining at Wanaka Gourmet Kitchen, you will be surprised to see how quickly those meat chunk cook over a hot stone right in front of you. No worries if you are vegetarian, try their vegetable lasagne before they run out of it. They are usually booked, so go early or make reservation.
If you like spicy and asian flavours, try some authentic Asian, Indian and Nepalese delicacies at Sagun restaurant located in a quiet corner near Bombay Palace, try some perfectly steamed/fried dumplings and stir-fry noodles varieties in town. There are only few outlets serving amazingly flavourful dumplings in other asian countries, this place is one of them and sadly, it has been hugely underrated by reviewers.
Alternatively, you can also try Bombay Palace for authentic Indian curries, biryanis, sweets and snacks. The place has really a cozy ambience and royal decor loved by families and large groups.
Hokitika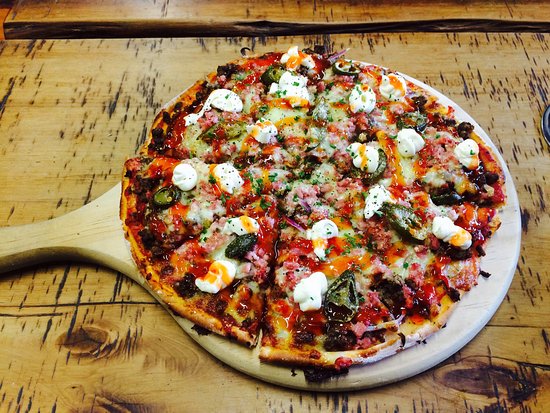 Fat Pipi Pizza, Hokitika
Hokitika, the coolest town of NZ has a fantastic local pizzeria that got its name from a boat called 'Fat Pipi'. Yes you heard it right, 'Fat pipi's pizzeria' is a fast food joint run by a local family.
This outmoded vibe outlet serve extraordinary pizza combos topped with loads of ultimate sauces. All pizzas have funky names like 'T-Rex', 'Amigo' etc. and the most popular one is 'whitebait' pizza. Vegan options are available too, like 'the punk' comes with an unusual topping, pumpkin in it. You can also get pastas & coffee here.
Their white sauce bases and gluten free bases are also relished by many loyal customers. The crust is soft and the pizza toppings look gorgeous with vibrant colours. This outlet is very close to Hokitika beach, so get ready for a savoury bite alongside pipeline waves, sounds awesome right!!
Dunedin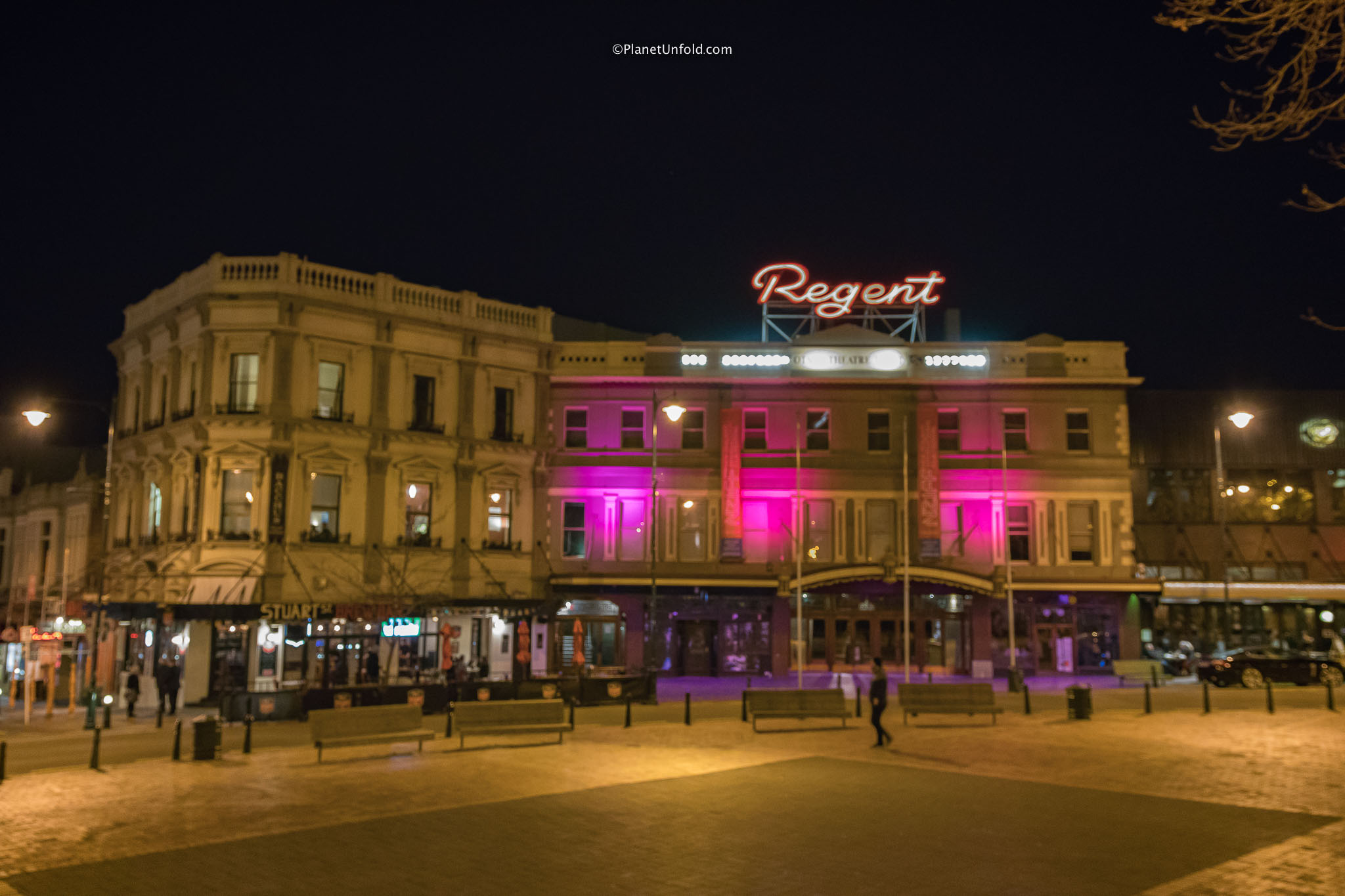 Octagon, Dunedin City
Dunedin lures many visitors with a remarkable display of historic architecture, wildlife encounters amid spectacular nature. On top of these the city stands out for its rich culinary arts.
Take your experience level, a notch up by entering into Octagon, located in the heart of Dunedin city. You will find eateries inside epic upscaled colonial structures, they are slightly decorated to compliment the setting for groups and families hanging out and dining. You will easily find several trendy food outlets in the vicinity.
Alternatively, you may want to enjoy dining with views of iconic Dunedin Railway Station at Ironic Cafe across Anzac avenue or else locally recommended Best cafe.
Recommended Food in North Island
Auckland
The CBD area in Auckland is chockfull of wonderful eateries of every range serving authentic NZ cuisines with blends of Maori culture. From western to traditional NZ food, you can find world class restaurants in almost every lane that adjoins Queen Street and Britomart.
Go for an afternoon walk to treat your appetite particularly in the CBD, streets like Gore Street, Tyler street, & Vulcan lane are absolutely worth you time.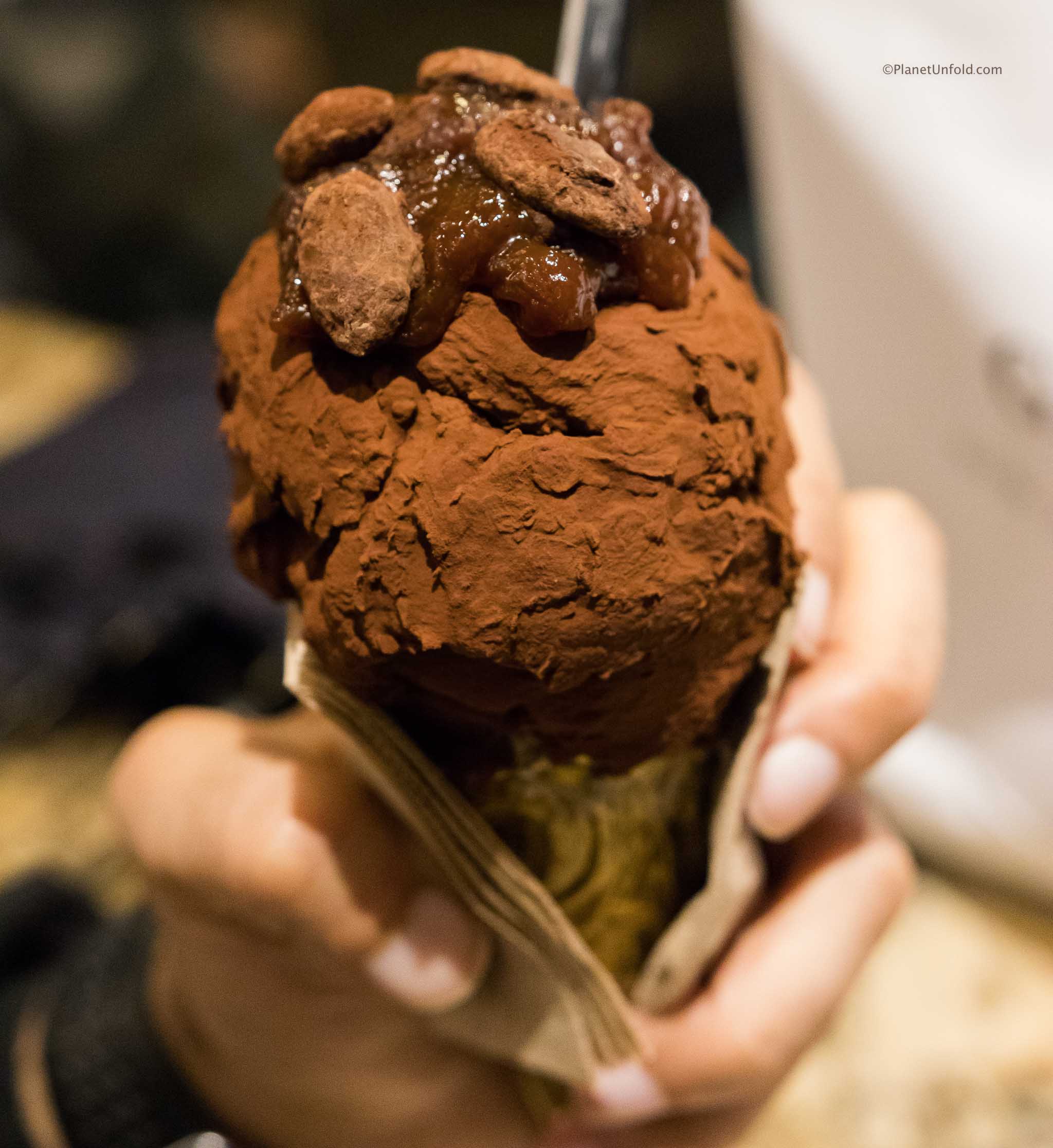 A delicious scoop of Siamu Popo at Giapo
Its Ice cream time ! Do spare some room in your belly to treat your sweet tooth cravings with the most creative  ice cream assortments at the one and only, Giapo. The staff patiently educates you about their unique creations and combinations while you sample every single ice cream before ordering the one you like most.
These guys got creative in terms of shapes and sizes too, ever imagined a giant squid or a thumb replacing your ice cream cone ! Anyway, we loved most flavours and highly recommend trying 'Siamu-Popo' to treat your tastebuds with some sweet tang topped with goodness of superfine cocoa powder and nut garnish.
Those who fancy fine dining, shall visit Downtown and check out some of their seafood restaurants, grills and bars. Alternatively, Posonby and New Market feature some classy diners, cosy bars amid designer shopping retreats.
Marinated Olives are a must try at La Cigale French market
Located close to Parnell Village in Auckland, Le Cigale French Market sets on weekends from 8am-1:30pm (At 69 St Georges Bay Rd, Parnell, Auckland 1052) many locals put up stalls to serve a huge variety display of fresh breakfast.
You would be amazed to find delicious assortment of freshly ground hummus, marinated olives, French baguettes, burgers, appetising Turkish snacks and Greek desserts along with good coffee selections.
Don't forget to takeaway some artisan loafs and sweets for the road. Remember to plan your Auckland stay around a weekend so you don't miss this marvellous brunch opportunity.
Hobbiton, The Shire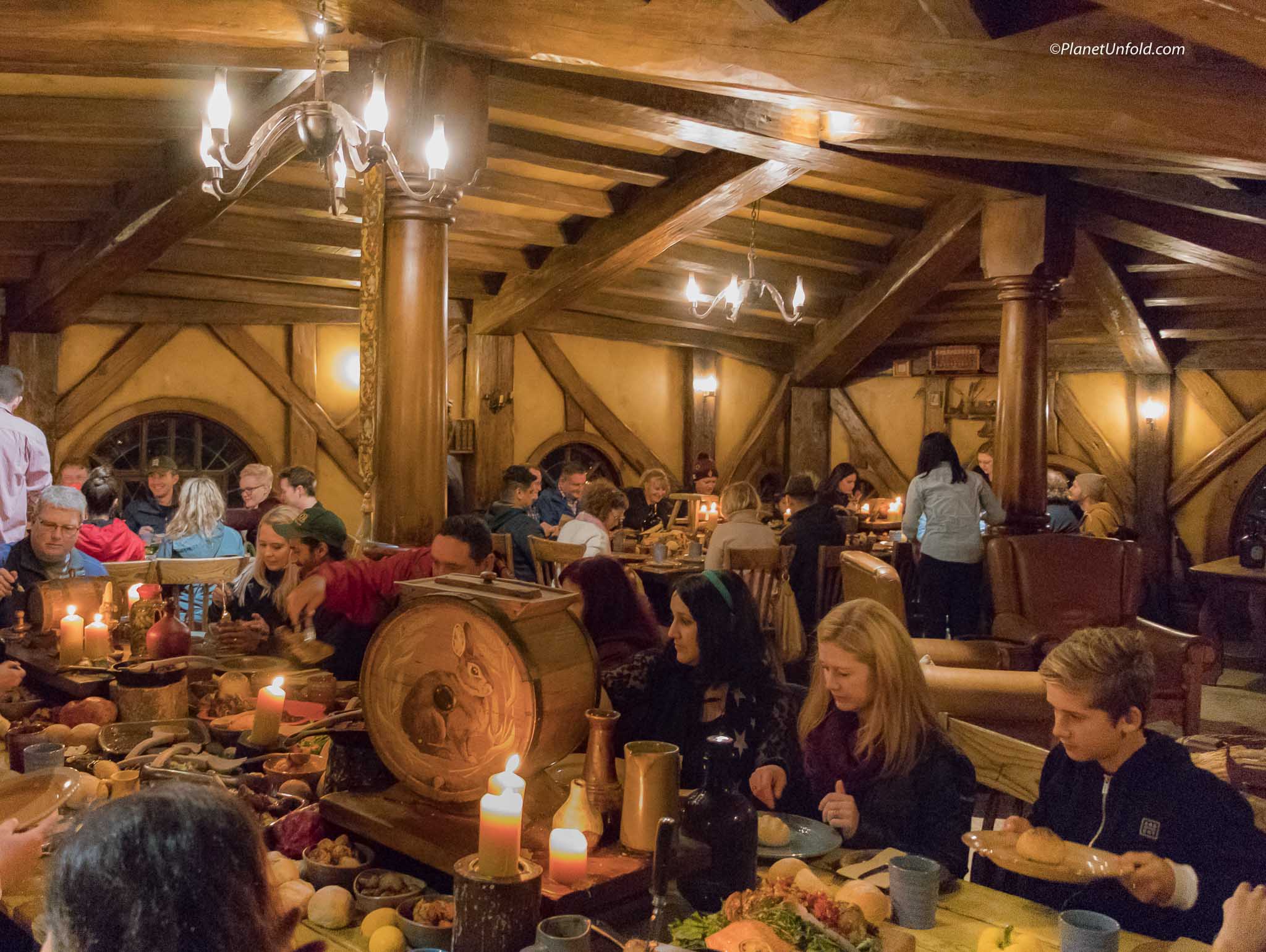 Feast at The Shire
Are you an LOTR fan who is also a foodie at heart? Then Hobbition has to be next in your food bucket list. Eat like hobbit in this Hobbiton's evening tour. The tour is awesome and the food is worth every penny. Plus you get to eat with all the guests like a big happy family.
There are loads and loads of marvellous country style roasts, stews and scrumptious desserts to keep you full. The ambience is great at night, with all the lightings, drinks (you will love the ginger ale by the way), and food. What more can you ask for?
Rotorua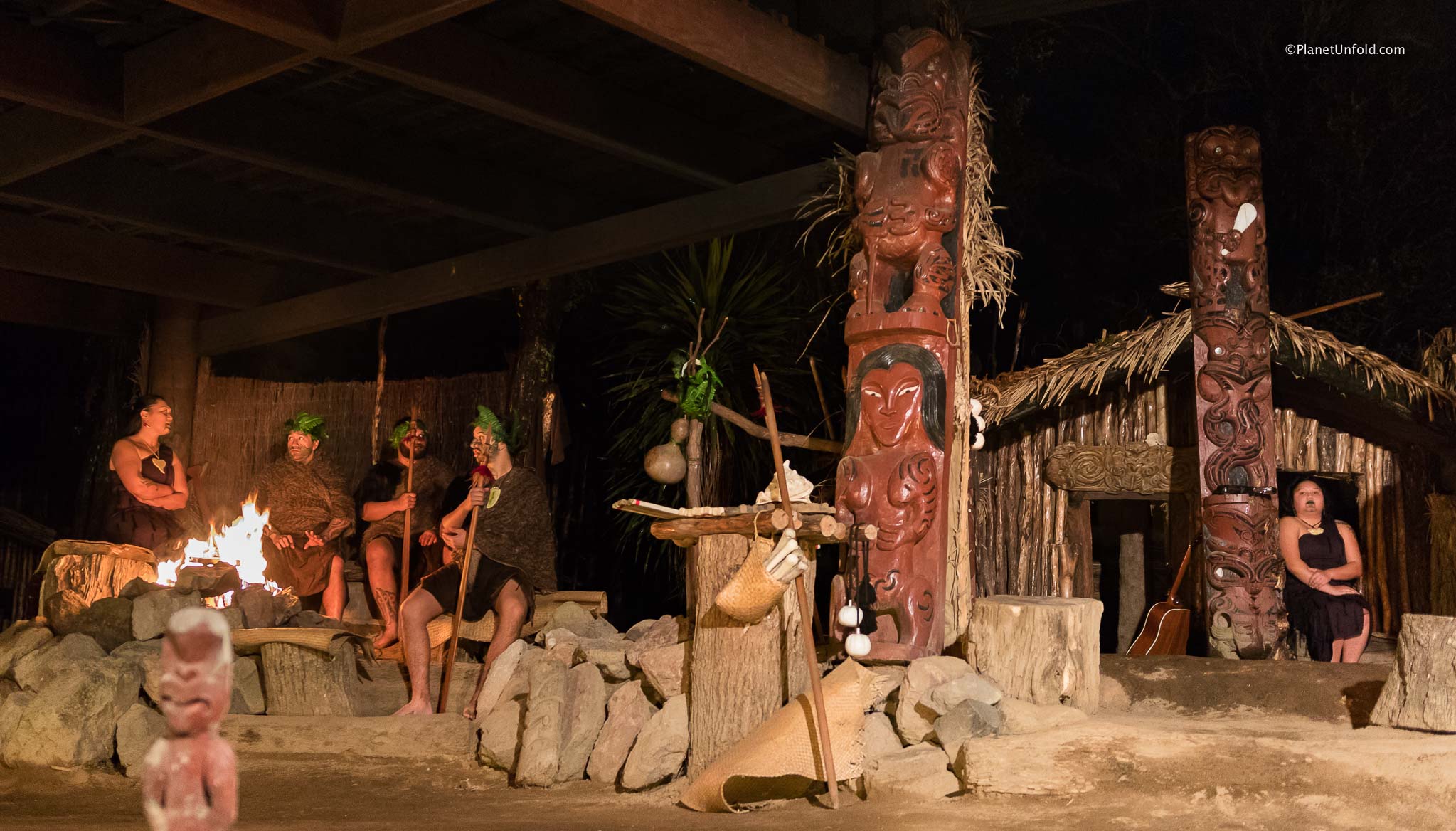 Hangi slow cooked in earthen oven
Once you are done exploring all geothermal wonders of Rotorua, indulge your senses into authentic Maori style dinner at Mitai Maori Village located near Lake Rotorua. You will need to book a tour which offers Hangi buffet in it.
Hangi is a traditional Maori meal made of slowly cooked meats and vegetables in an earthen oven. You can't easily forget the taste of such outstanding food. They make the best seafood chowder and slow roasted lamb with lots of flavour in it as it is pleasingly tender. They also serve NZ local kumara sweet potatoes, delicate and smoked.
Read the full guide on Rotorua's stunning geothermal gems and Maori Culture here.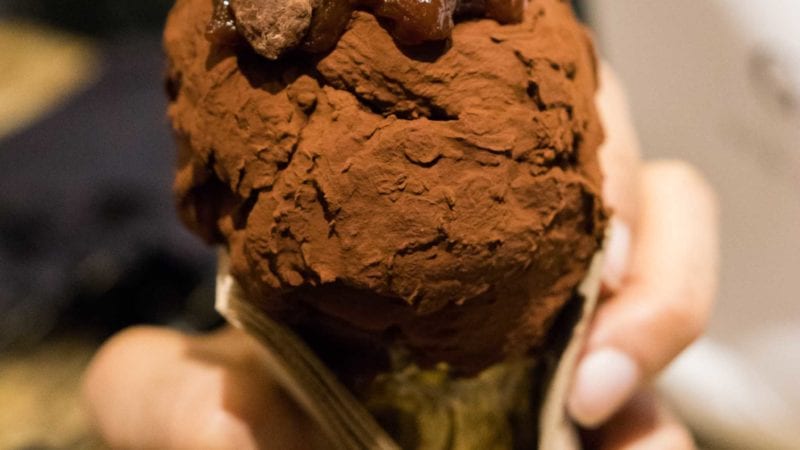 Day 1: Highlights of Auckland
Day 1: Highlights of Auckland
https://www.planetunfold.com/wp-content/uploads/2019/09/IMG_2181-Giapo-ice-cream-1-940x1024.jpg
940
1024
Sheetal Khatri
https://secure.gravatar.com/avatar/a8c4e10205dce919119e3338d8d5269d?s=96&d=blank&r=g
Summary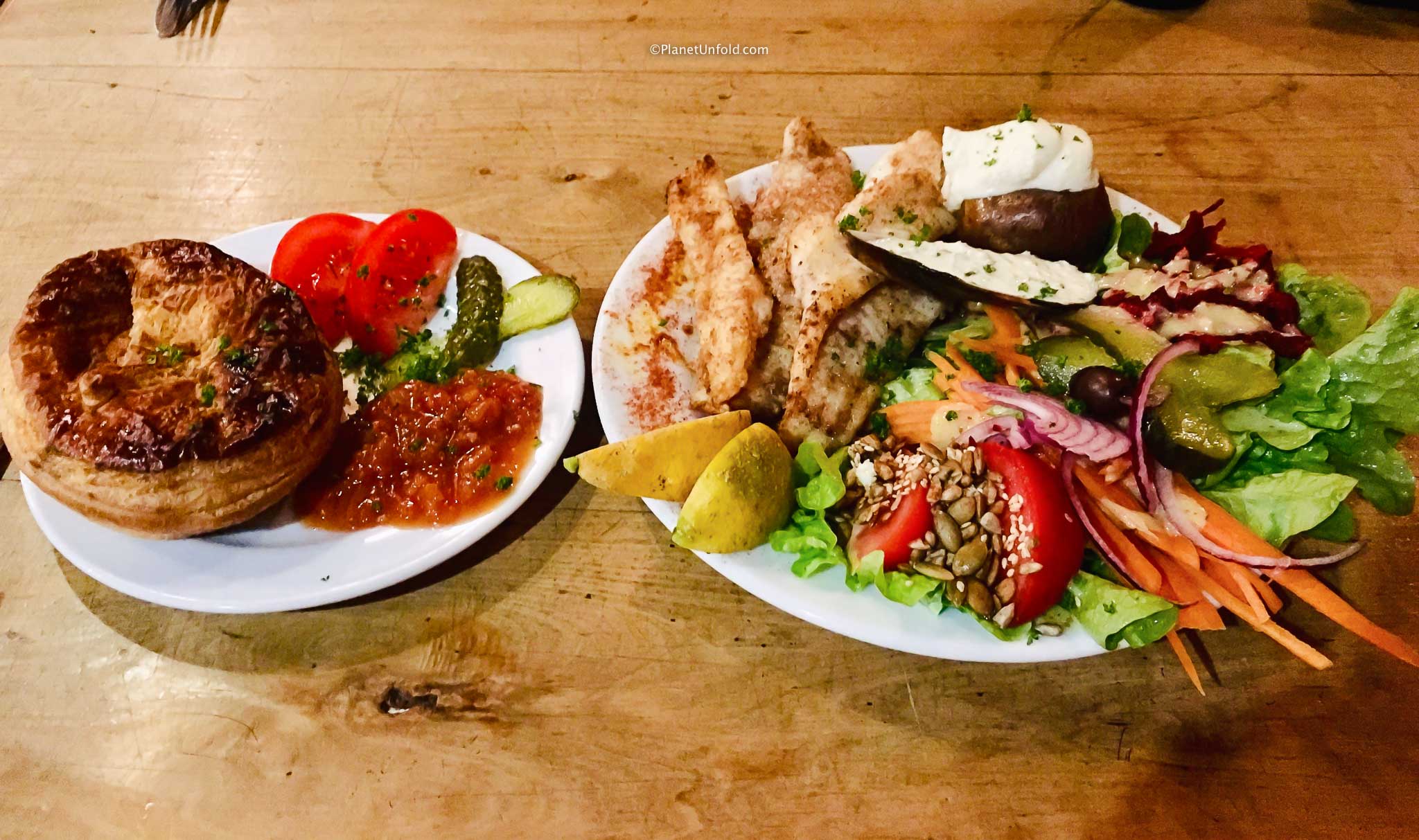 Article Name
Unexpected Food Surprises Throughout New Zealand
Description
Creative twists, unique combinations and mouth watering kiwi style treats, exploring some delicious and unexpected food surprises in New Zealand's North and South island.
Sheetal Khatri
planetunfold.com
https://planetunfold.com/wp-content/uploads/2019/09/Final-logo-1.png