Western Australia|Travel Guide, Tips, Useful Info & Itinerary
A well cherished wilderness gem, Western Australia comprises of nearly one third of the vast Australian continent, it is lowly populated, wildly natural and intact. Taking a road trip is an ideal way to witness the transitioning of winter landscapes into colourful spring. It is also a great time to see rare wildlife, transforming scenery, magnificent whale migrations and lovely wildflowers blossoms in the southern region.
Best time to visit
Although WA can be visited all year round, you may prefer visiting during its shoulder season, which is around March to May or September to November as you won't see extreme weather, instead a transitioning scenery all around with clear blue skies, warm days, cool nights, pleasant weather and lower crowds. This is also the time when diverse wildflowers blossom around coastal plains.
We picked early September as it was end of winter and beginning of spring season here. The temperatures range between 14°c to 16°c degrees during days and 8°c to 3°c degrees during nights. It gets very windy, especially around heights and shores along with seldom morning/afternoon showers in the southern region.
Packing essentials: A wind and water proof jacket really comes handy. Keep an eye on weather updates each morning to plan a better everyday. Layered clothing (3-4 layers) is preferable as weather keeps changing frequently. Even if you are carrying luggage, keep a small bag with at-least 1 pair of extra clothes, woollen scarfs, gloves, wind & water proof jackets, extra pairs of sports shoes (for uneven surfaces) and socks for backup, ready in the car always.
See & Do (Route/Itinerary for 11-15 days)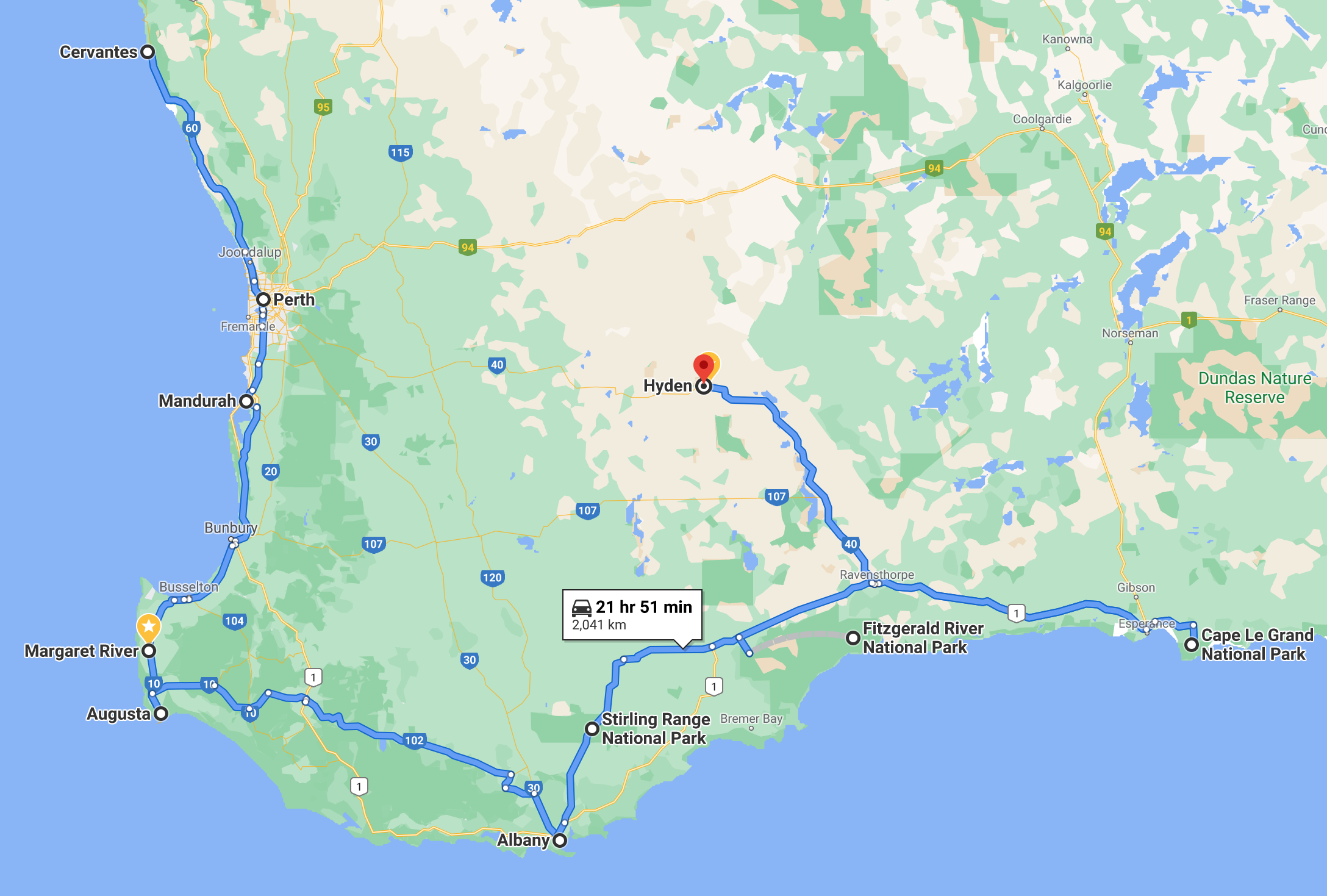 Route to explore Southern WA
Perth & Surrounds (3 days)
Perth, being the capital as well as the largest city of WA is also the main landing location for kickstarting your road trip. The city holds some best kept secrets in its belly as it is home to majestic Swan river that neighbours some of its iconic mountain parks along the way to the southwest coast where you can be mesmerised with the beauty of its cerulean beaches alongside scenic suburbs. Perth not just surrounds wonderful nature but also embraces fabulous art and culture within state ballet, stunning galleries and opera.
The below are our picks for Perth and surrounds.
Perth City (Day 1)
Our whole trip encompassed mostly natural lures, it was only on last day that we thought of visiting malls in Perth until we rush to airport. Since the markets are only open on weekends and we were there on a weekday so we randomly decided to go for Garden city and Westfield Carousel Mall. We did not click any pictures here as we felt like taking a break. So here we are just sharing our experience of the day.
Garden City is a major regional shopping center in Perth, located at the corner of Marmion street in Booragoon. We were famished when we reached here only to find a large food court and try delightful varieties of fresh gourmet meals. The mall expanses in a broad space of land comprising numerous shops to explore from latest fashion outfits, accessories to creative tea-shops, sports, beach-wares as well as art and craft stores in it.
Indian tea is served as "Chai Latte" in Westfield Carousel shopping center, we tried some and found it reasonably good. This one is located on Albany highway and consists of approx. 290 shops. Good enough to kill some time as it is nearer to Perth airport.
Swan Valley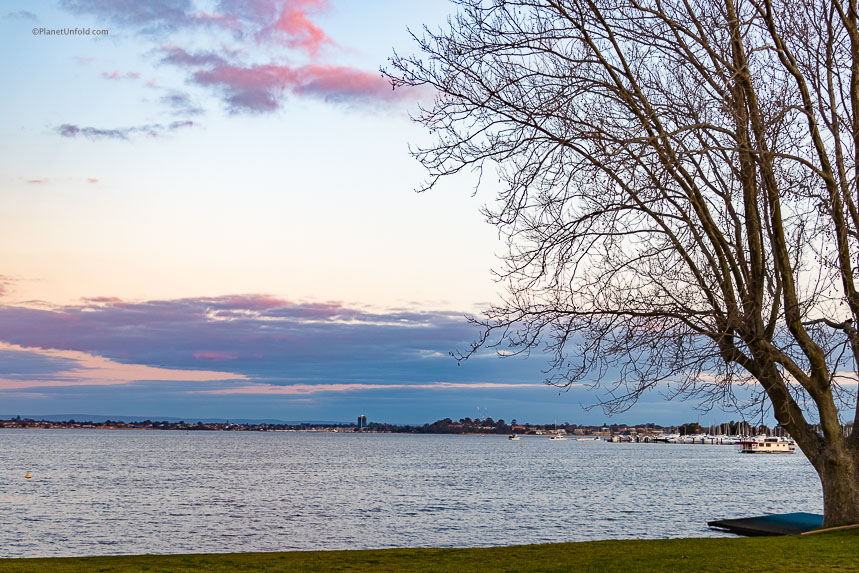 Swan riverside, Perth
Eminent for its 32 km loop embracing oldest as well as world class wineries, breweries, restaurants & cafes, arts & crafts, museums and fresh produce, the Swan valley lies in east of Perth only a 30-minute drive away.
The Swan valley zone is also famed for its waterway cruises that offer wine and cheese tasting on board, premium lunches along with live entertainments. This is an amazing place to stay with boundless accommodation alternatives.
Just 16 km away from Perth, there is Caversham wildlife park boasting over 200 species and over 2000 animals including koalas, wombats, Tasmanian devils, Dingos, Possums, Flying fox, Owls, Emus and many more. People can also feed kangaroos here and meet farm animals staying in natural bushlands.
We also enjoyed walking at the coastlines of Swan river, admired a bunch of black swans that are natives of this river, the early explorers didn't know that black swans even existed before they saw them here. There is an entire walking and jogging track surrounding the river exists opposite to the Kings park.
The Blue Boat House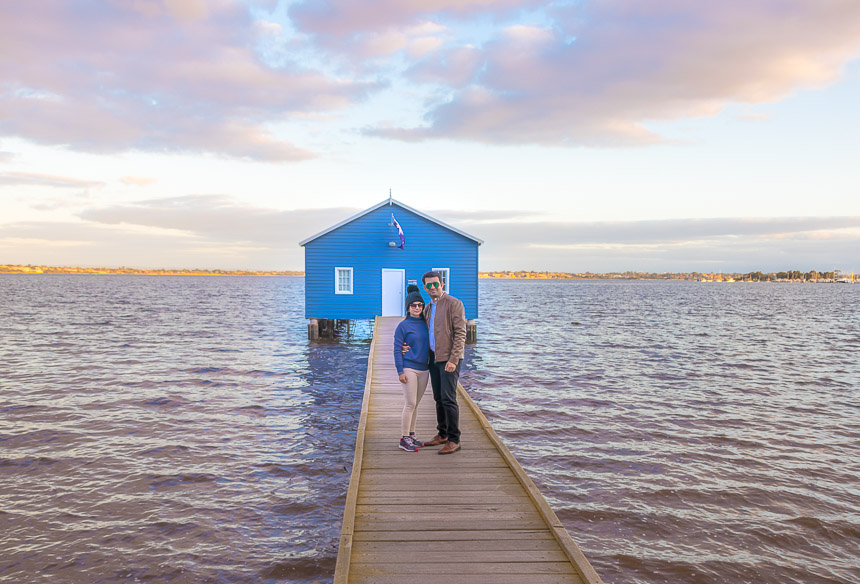 Blue boat house
The Blue Boat House in Perth on Swan river drive is also known as Crawley Edge Boatshed. This place is highly recommended if you need an amazing Facebook or Instagram pic. We saw a small que of visitors to take pictures and had to wait for our chance. Finding a carpark is tricky as it is not close to it as you may expect but don't worry, just keep driving straight opposite to the Kings Park near shore of Swan river and you will find one within few meters. From there take a short walk back towards the boathouse enjoying the river scenery.
Blue boat house for sunset views and pink sky.
Fermantle (Day 2)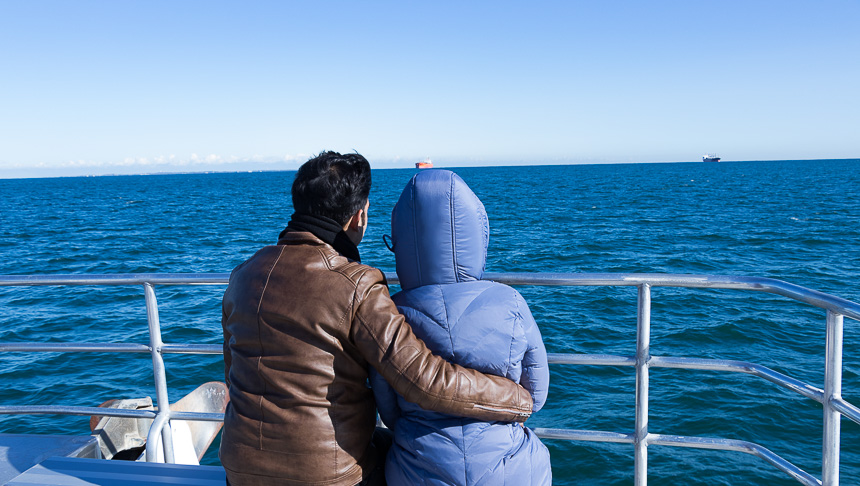 Waiting for whales to show up!
Fermantle is a colorful corner of the continent with various things to do if you are there. The region is most famous for its weekend markets and fresh produce operating every Friday to Sunday. A few of its markets are Fermantle markets, E-shed markets, South beach sunset markets and Growers green farmer's markets.
This place is rich in almost every aspect as it already embraces amazing markets, beaches, history, music and nightlife, festivals, wildlife, science and culture.
We began our day checking out early morning and reaching to Sardine Jetty, Fermantle for whale watching.
Whale watching was scheduled at 9 am. The tour duration is 2 hours. Our tour was originally scheduled from Augusta on day 4, but the tour company emailed us stating that they monitor whale migrations and the whales have already moved ahead from Augusta, they may now be seen in Fermantle and Perth very soon. So our tickets were transferred to Fermantle, since we kept extra time while planning our itinerary, we rescheduled it on our last day of trip.
Price: AUD 80 per person.
The weather was windy and cold nearly 14°c with some sunshine and clouds. We could watch a few humpback whales in couples, few young calves bouncing out of water, they really swim fast. Watching these magnificent creatures in real made us feel so tiny and we couldn't take our eyes off them. Their sprays initiated lovely little rainbows for a second. Still feels like doing it again, where more whales can be seen.
We tried to shoot a short video of them from our constantly moving jetty which we are sharing below, with some information to give you essence of the moments being there.
As we waited for the whales, we could admire the amazing 'Gannets' who hunted fish from the ocean. These seabirds fly high and above the vast ocean and speed shoot themselves like as arrow streamlining air to go beneath water, catch fish and rise above again. They can also swim as they wait for the catch or to rest.
We saw them hunt and were amazed how quick they dried up their feathers and go back hunting in the sea.
Take a Day Trip to Pinnacles Desert (Day 3)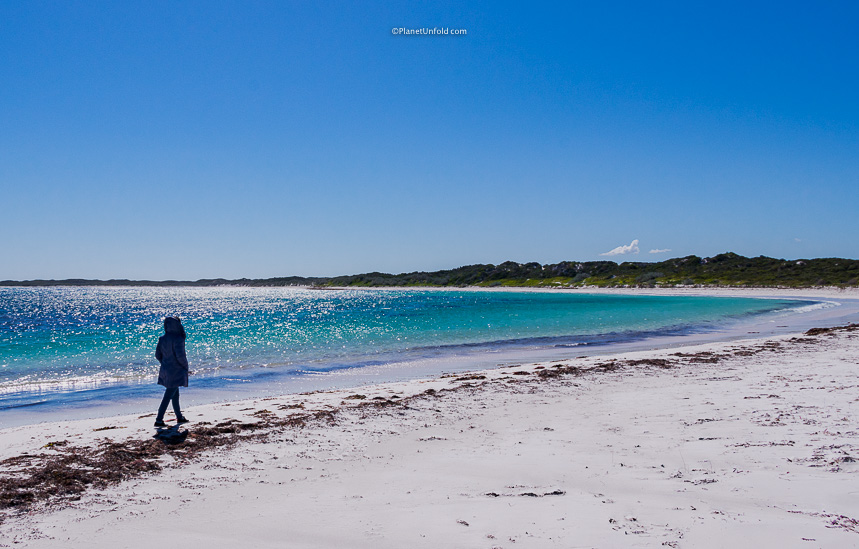 Hangover Bay
Take a day trip from Perth to explore its marvellous surrounds like Hangover Bay and Pinnacles Desert.
Hangover Bay:
This one is a beautiful bay with turquoise seawaters, very natural and intact. The shore was chilling breezy yet dreamy for us to cherish a romantic long walk together. People snorkel, go fishing, swim here and also launch a boat. It was very windy when we visited, I could literally feel my ears going numb within minutes.
Hangover bay is only 6 km from Pinnacles desert which makes it easier to see both at same day, we had lunch at Cervantes (20 min drive from the bay) and spent late evening stargazing at Pinnacles desert again.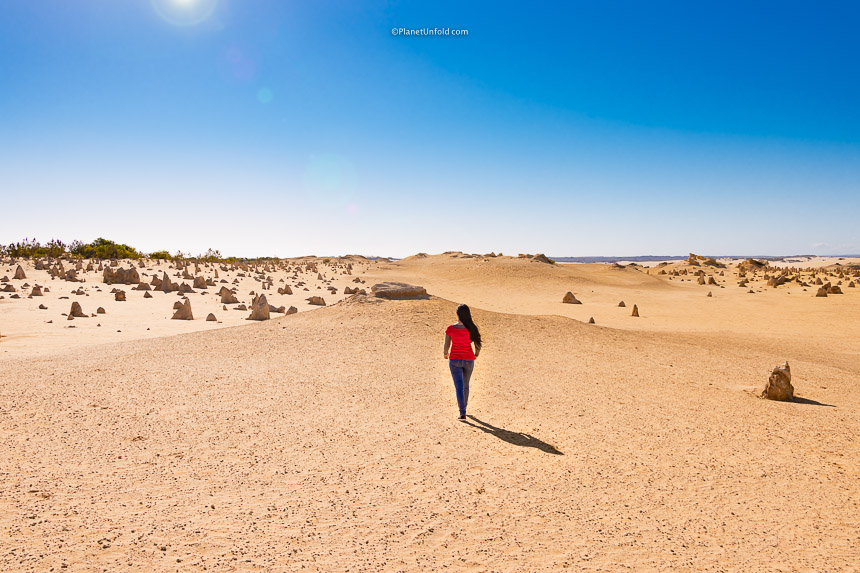 Pinnacles Desert
Ever thought of walking over the surface of moon?? The vast Pinnacles desert seems just like that. One gem of a sight. It takes about 2 hours by car to reach Nambung national park from Perth, starting early is a good idea to enjoy a long drive. Stopping at a few look outs on the way with stunning sights parallel to the Indian ocean.
Pinnacles desert embraces profuse limestone pillars up to 4m tall that risen mysteriously from the dune sands formed over 25000 years ago, after the sea receded. Coastal winds removed the surrounding sand over the period exposing these pillars.
Some are jagged, sharp-edged columns rising to a point however others resemble tombstones.
We explored the place in decent sunlight plus, it was quite windy, windproof jacket comes really handy as it was already 14°c.
The Mighty Milky Way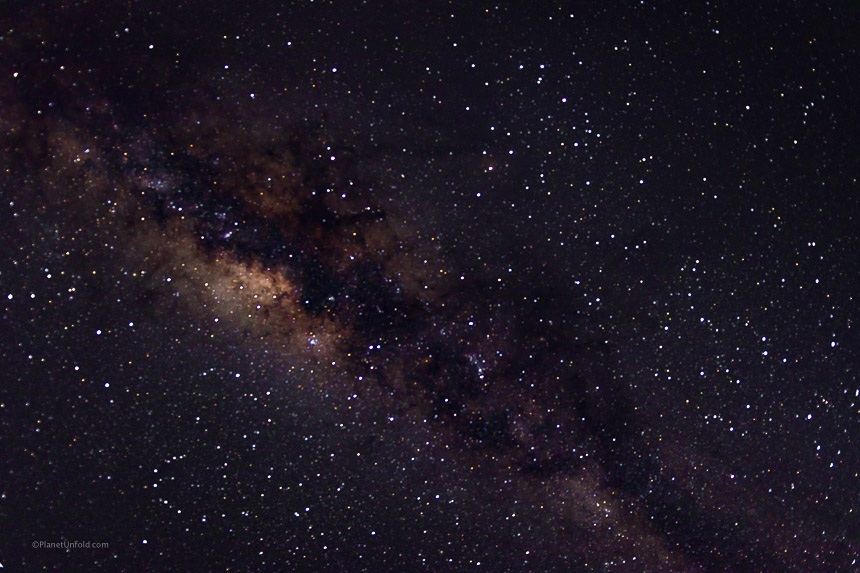 It was magical to capture the sight of our galaxy.
Pinnacles desert is also an amazing place to stargazing at night as the place is far-far away from light pollution. The visitor center is open only till 4:30 pm but it is an open road to access anytime even after that.
It was an amazement to watch our incredible galaxy, Milky Way appearing slowly above our heads around 7pm. The sight of millions of stars in our galaxy with naked eyes just above us, left us enthralled for quite some time. There was a little bit of moonlight but, it wasn't blocking any stars due to its alignment far away from the galaxy. Thanks to the clear sky that night.
Entry fee and Tips
We paid AUD 12 for a day pass. Cost of day pass is based upon type of vehicle, two-wheel drive(TWD) or 4-wheel drive (4WD).
It was a pretty good approach to wear layered clothing and especially wind and waterproof jackets above all as there are frequent weather changes. Do not rely on usual clothing. Do keep extra water and meal options with you as everything like restaurants/café or supermarkets closes by 5 pm.
Where to stay?
We stayed for one night at Windbreak B&B in Cervantes, which is a privately held residence offering beautiful comfy rooms for stay. It was lovely to see a gorgeous front yard outside our room along with a classy dining shed.
The owner Mrs. Holmes is an amazing host, warm and jovial. We loved the fresh homemade muffins baked by her along with breakfast next morning and are overwhelmed with her cordiality. Her guidance for local attractions and maps next morning was useful too.
Sweet Charms of Cervantes & Lancelin (day 4)
Thirsty Point lookout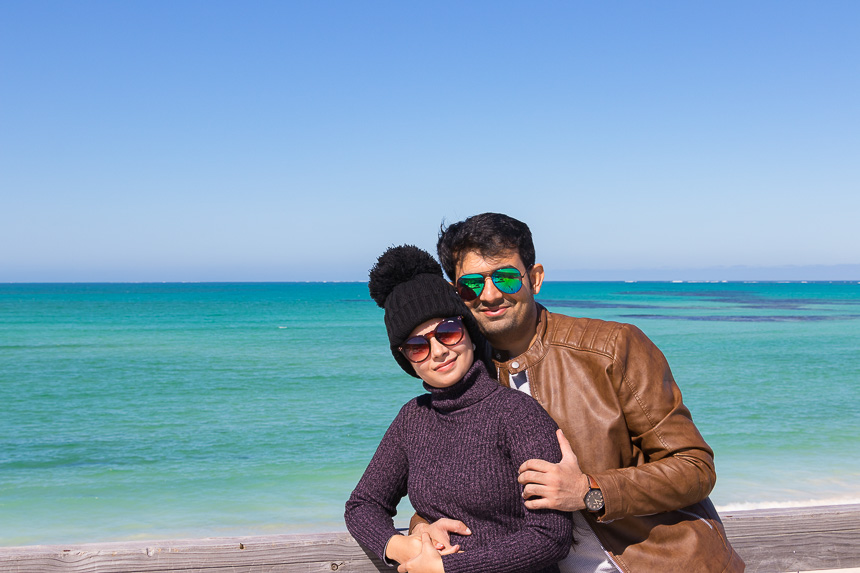 Thirsty Point lookout in Cervantes, WA
On Day 2 morning we proceeded to drive back towards Perth, slower and admiring various natural wonders on the way.
Thirsty point lookout in Cervantes, was named by sailors as they used to stop here for water after yearning for it during the longer sea routes. This lookout offers stunning panoramic views of the ocean, surrounding bays and the town of Cervantes.
It's a beautiful beach to find pink shells with amazing artful designs, hundreds of purple shells shed by myriad snails is one of a kind.
Stromatolites at Lake Thetis, Cervantes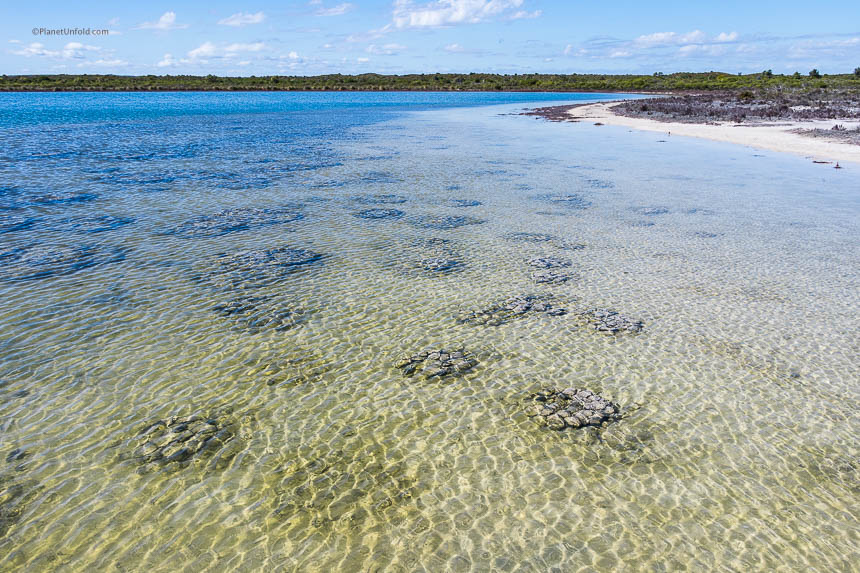 Ancient Stromatolites
Our next stop was 6 km away Lake Thetis. It is home to Stromatolites, an oldest life form on earth also known as living fossils. These are believed to be surviving for about 3000 years. You can enjoy a walk or a picnic around the lake stretching for 1.2 km, the nearby area also has bush walking trails between Hansen bay and Thirsty point which looks attractive in the wildflower season (from June-July onwards).
We encountered a small strip of unsealed road just before the final turn towards lake, we were on a 2WD, it was allowed for such a short distance as the road was dry. There wasn't any entry fee here.
Lancelin Beach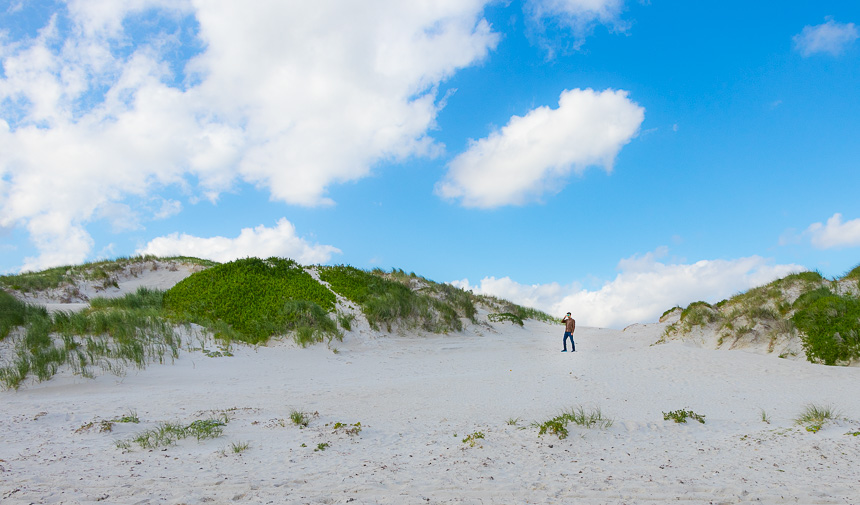 Lancelin beach with huge sand dunes.
A scenic small town on the way between Cervantes and Perth (127 km from Perth), known for its pristine beaches and high white sand dunes. People visit here for wind surfing, sand boarding, watersports, fishing, diving and spotting dolphins. The price for sand-boarding was AUD 10 approx. with some additional cost for board wax.
We drove cozy and discovered the gorgeous blue beach veiled behind elevated sand dunes. A nice shore to relax on soft white sand and watch long pipeline waves. Lancelin was a great place for us to take a break from long drive. There are all basic amenities, a few restaurants offering seafood, western and continental meals.
We ate at Endeavour Tavern here and had a lots of fun watching seagulls around us.
Nilgen Lookout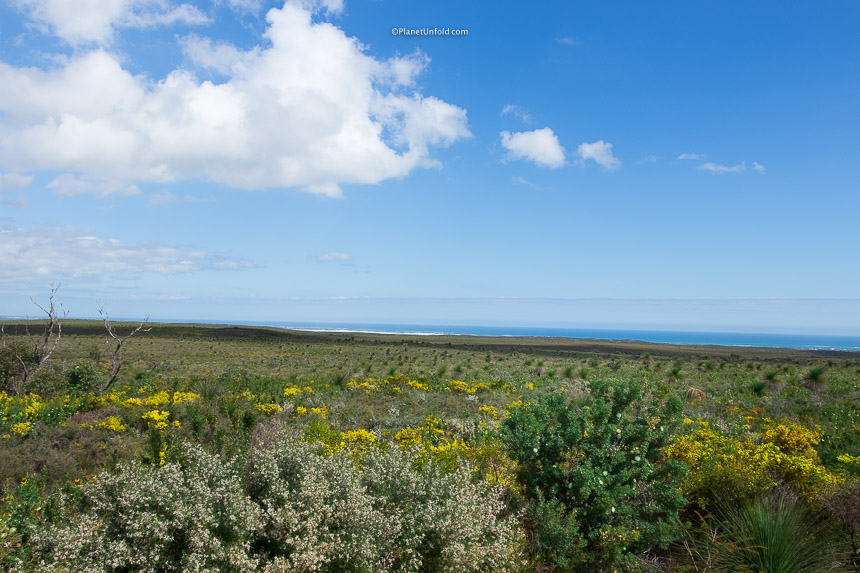 A wide range of wildflowers at Nilgen
A few minute stopover at Nilgen lookout appeared worth breathing some fresh air, a nature reserve about 22 km from Lancelin, to see beautiful wildflower trails. A small picnic area is alongside with the lookout and a carpark area. As soon as we reached the edge of trail, a wide spread panoramic views of Indian ocean left us totally spell bound. Do stop here for a refreshing break and be overwhelmed with special treat to your eyes.
We reached Perth by evening, halting at all above stops was totally worth it.
Where to stay?
We checked in to our hotel, Quality hotel Bayswater for the night. They have decent staff, limited formalities, huge parking space and spacious rooms with all basic amenities.
Besides an entrance of reception, a large restaurant offers a great range of food. The continental salad counter serves incredible assortments for dinner, it is definitely a must try. Prices are reasonable for the great quality and abundance of meal options provided.
We stayed here for three different nights during the road-trip and never faced a single problem.
It is located about 6 km from Perth airport.
Also see this website for things to do in and around Perth. You can explore more things to do in Perth here as per your interest area.
Mandurah (Day 5)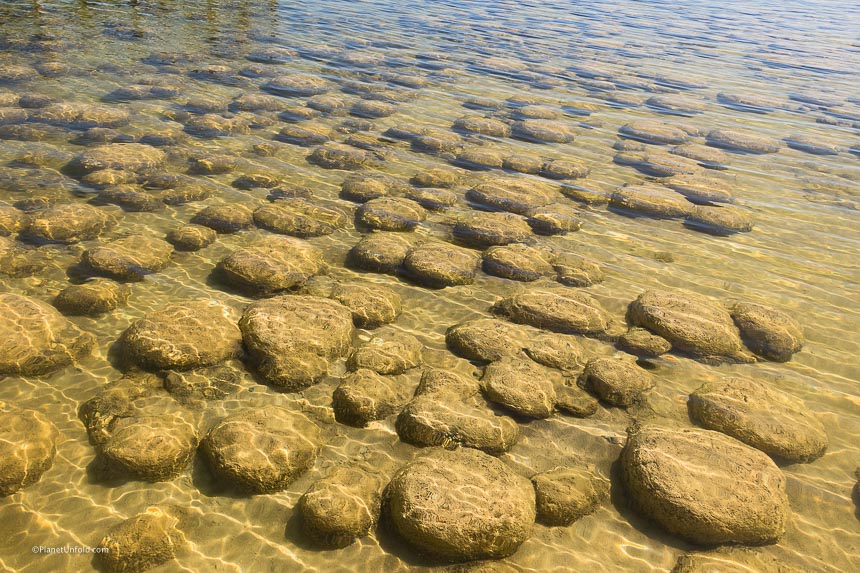 Thrombolites at Mandurah
Thrombolites at Lake Clifton, : On the way from Perth towards Bunbury, we called on to see these 3.5 million years old life forms called Thrombolites, that continues to exist since the dawn of time, now giving us a pretty good idea about how life looked like on earth.
Lake Clifton is located in the Yalgorup Lakes National Park, south of Mandurah along Old Coast Road. The Thrombolites sit in shallow water alongside a 6 km long section of Lake Clifton's eastern shoreline. The best time of year to visit is probably during late summer and autumn, to you get a better view of Thrombolites when the water levels are low.
At the time we visited, Thrombolites were merged into shallow but clear waters, so we still had good visibility.
Most of the lake's shores are not easily accessible, but at one point a boardwalk/jetty has been built out over the shallows to allow people to view Thrombolites without damaging them.
Busselton Jetty
Busselton Jetty
A brief halt at Busselton Jetty cannot be overlooked, it stays 224 km away from Perth and 121 km from Lake Clifton, we reached there by noon.
It is the longest timber-piled jetty in the south western stretching for about 1.8 km above ocean. An interpretative center at the start of the jetty gives an insight of 151 years of history.
Visitors can walk or take the jetty train to reach an underwater observatory to see marine life, corals and invertebrates in their natural habitat. We enjoyed a long walk on the jetty, in the chilling breeze with slightly relieving sunshine, adoring few shore birds that came to relaxed very close to us. The surrounds have small eateries/cafes. We tried some fresh scones for a change.
We also crossed Bunbury and Dunsborough on our way, these are the stops to take when you wish to watch migrating whales from Augusta towards Fermantle and Perth via azure waters of Geograph Bay.
Dunsborough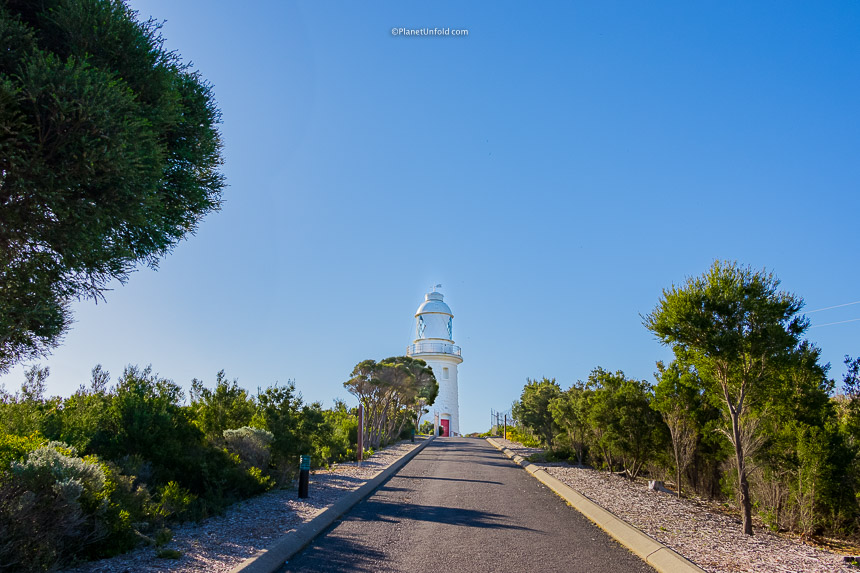 Cape Naturaliste Light house
Yalingup, Leeuwin Naturaliste NP  : Cape Naturaliste Light house: The balcony of this huge lighthouse near Dunsborough, is blessed with stunning scenery of the surrounds and vast panoramic views of the Indian ocean ahead of it. Spectacular walking trails lead from the Lighthouse around the stunning bays and beaches of the Cape, providing amazing views over the ocean and of the local wildflowers.
A separate whale lookout platform provides superb whale watching during their migratory phases, from September to December. We were here in August and could spot a few whale sprays far away.
Sugar Loaf Rock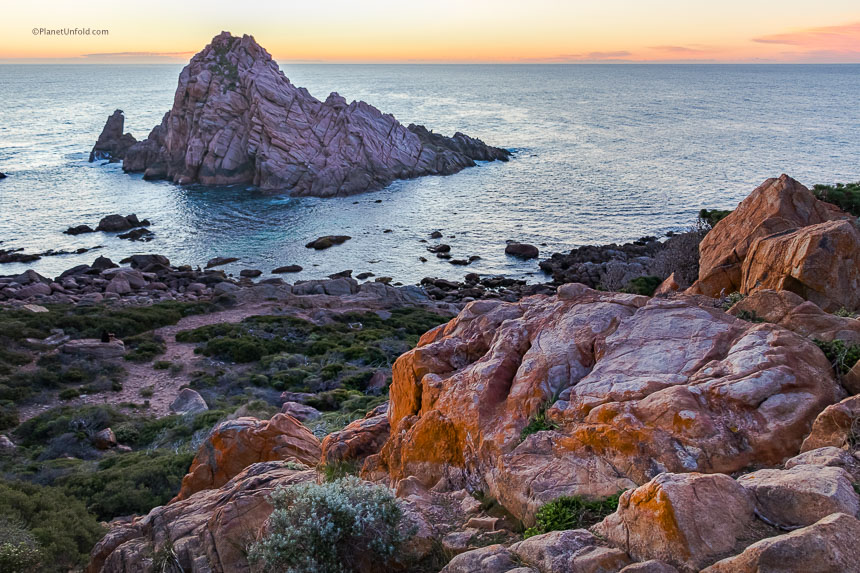 Sugarloaf Rock
"I wish I could spend more time here". These were the words we uttered when we left this place. The remarkable colour composition witnessed at Sugarloaf rock is unforgettable with panorama of coastal sunset views. A mesmerising sunset is just what anyone could crave to end the day with, so did we.
Margaret River Region
Forthcoming two days were planned to explore Margaret River region. I feel that a trip to WA is incomplete without sightseeing this part. The Margaret river region is vast stretching from Busselton and Dunsborough in the north, down to Augusta in the south. There is a light house on each promontory, Cape Naturaliste in the north and Cape Leeuwin in the south.
The region particularly is renowned for its world class wineries, fresh gourmet produces and farms. For those who like to enjoy variety of wines or preserve assortments at their home, this is just like a fantasy land. Not only this, the entire region has numerous nature resorts, bush walking areas, an entire Karri forest, ancient caves, natural pools and many other biological wonders to explore. The longest cape to cape walk that expanses more than a hundred kilometers, starts somewhere in between of the Margaret river region.
It takes approx. 4 hours of drive to reach Margaret river region from Perth, so we took halts on the way to avoid stress.
Where to stay?
Edge of Forest, Margaret River Region. It took us an hour to reach Edge of Forest, our motel for two nights, after watching a mesmerizing sunset at Sugarloaf rock. We asked for a late check in via email in advance during the day and it was arranged quickly.
It is a beautiful resort style hotel located amidst damp forest near the mouth of Margaret river. We were delighted to find a small dining terrace just outside our room. It felt exquisite to sit there for coffee next morning, in the dewy nature, listening to bird songs creating memories together. So hushed and so natural. We even saw few bird species on a tree just above our heads, consuming from a bud.
Augusta-Ancient Caves & Forests (Day 6)
Ancient Caves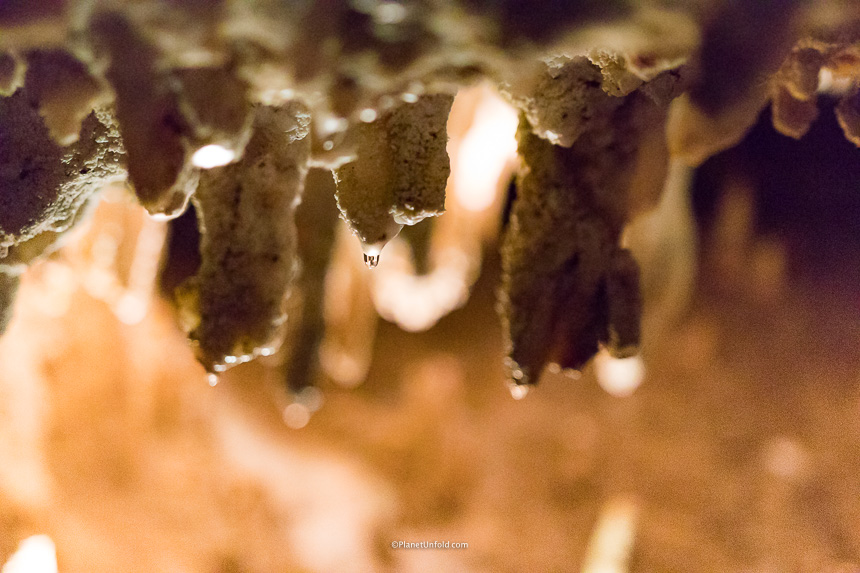 Caves in Augusta
There are 4 enormous ancient caves spread around the Margaret river region. Ngligi cave, Lake cave, Jewel cave and Mammoth cave. Sightseeing each cave demands a 2-hour slot including approx. 30 mins of travel distance from each other and waiting time for the tour to start as it starts every half an hour, then 1 hour for the entire tour. The price of visiting one cave is AUD 22 approx. and a four caves pass is AUD 67 approx. We preferred visiting only Lake cave to get an experience due to limited time and considered roving nearby region.
Lake Cave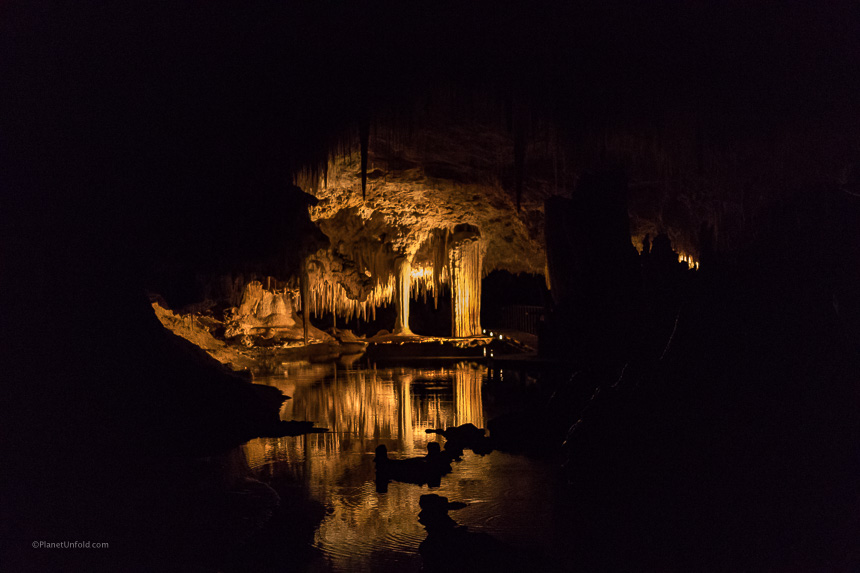 The hanging table at Lake Cave
Descend a deep set of staircase of approx. 300 stairs, gaze up the towering Karri trees as part of a sunken forest, that's a sight you get at the entrance of deepest and mighty Lake cave. The lake cave has been known as a mirrored wonderland at the depth of about 62 meters underneath earth. Water is constantly dripping from thousands of pointy limestone crystal sticks (looks like spaghetti) at its interior forming a permanent lake within cave.
Our tour guide enlightened us all about the history, geology and ecology of the cave along with the fact that these crystals take about 5 years to grow up to a centimeter. The main attraction of Lake cave is an upside down limestone table formation hanging just above water, clear reflection of which is stunning. A few insect species exist as permanent residents to the cave.
Rest decks are constructed all the way downstairs and moderate fitness level is required to manage climbing up back.
Any stuff like tripod or something that may damage the natural formations must be avoided, if you carry camera, strap is a must, one can only carry drinking water.
Boranup Drive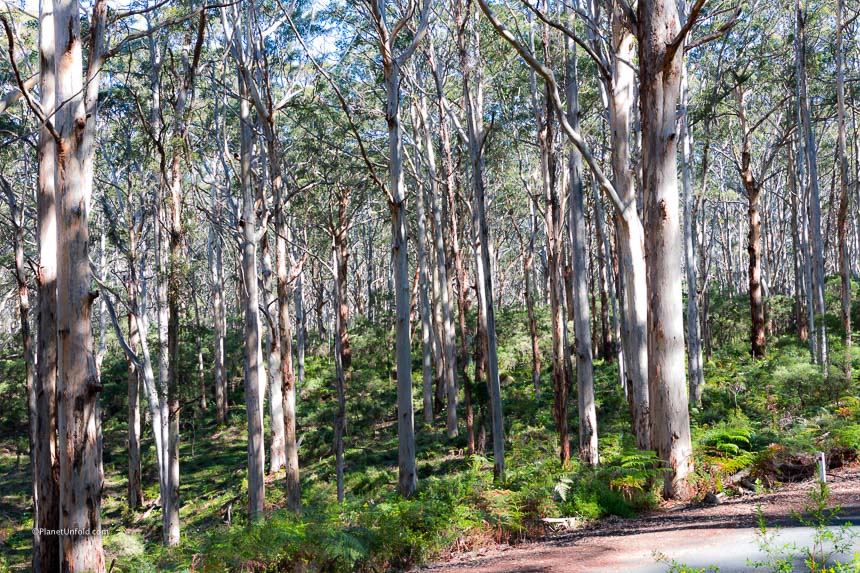 Enchanting Karri Forest at Boranup Drive
The best part of WA's road trip is to drive through scenic surrounds on the way, the roads are straight as long as your eyes can see, bordering to which there are farms, gardens, bays, cliffs and the shoreline of Indian ocean, what more to ask for!!
Driving through stunning Karri forest at Boranup drive track just made our day, it is a sealed road along with few lookouts to admire the high and dense Karri forests, these trees really makes us feel miniatures amongst them. A mild midair aroma was so refreshing to make us forget all our strain. The area feels really damp and remote with sounds of birds chirping. There are few bush walking trails as well to savor wilderness amongst these Karri trees.
Augusta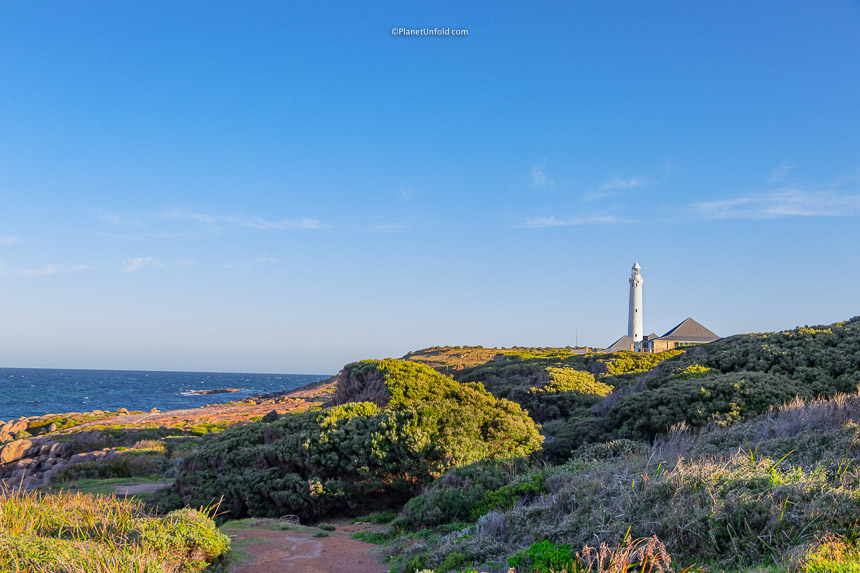 Cape Leeuwin lighthouse
A rugged coastal town where Southern and Indian oceans meet. Augusta is on the south-west coast of Western Australia, where the Blackwood River emerges into Flinders Bay. Climb Cape Leeuwin lighthouse to get impressive panoramic views of two great oceans merging into each other here.
Ancient Jewel cave is only 10 minutes away from Augusta. This coast of the ocean also becomes whale highway from June to August. You may also visit Hardy Inlet and Blackwood river for dolphins, birdlife, fishing and watersports.
Other shoreline lookouts include Flinders bay and Hamelin Bay where stingrays are found in shallow waters quite easily. Spending time amidst of the coastal wilderness and dewy forests drives in Augusta indeed takes all the stress away from our hectic lifestyles.
Turner Street Jetty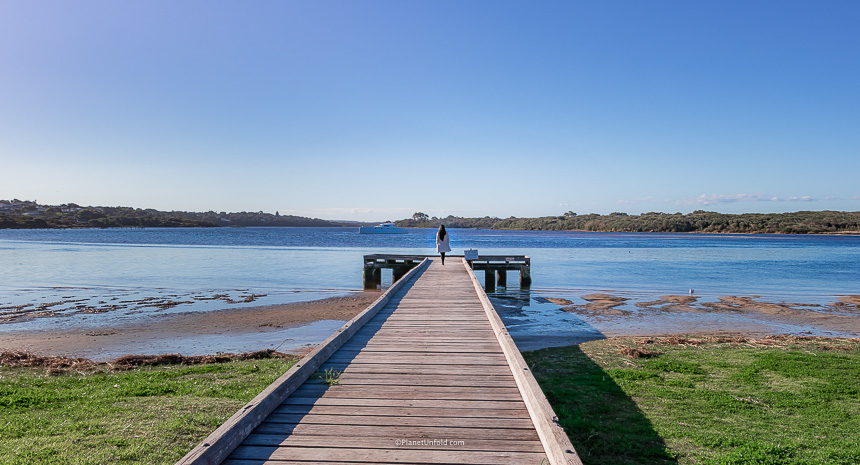 Turner Street Jetty
Somewhere hidden in Augusta, it is a little tricky to find Turner Street Jetty on google maps, we found it with the help of a local paper map, searched for the cafe opposite to it (The Colourpatch Fish & Chips & café). The street is opposite to a local suburban zone, alongside a tiny edge of sea. A small jetty is located where people come to fish, relax and feed pelicans. Relaxing here was much needed after a good long drive, feeling the cool breeze on our faces.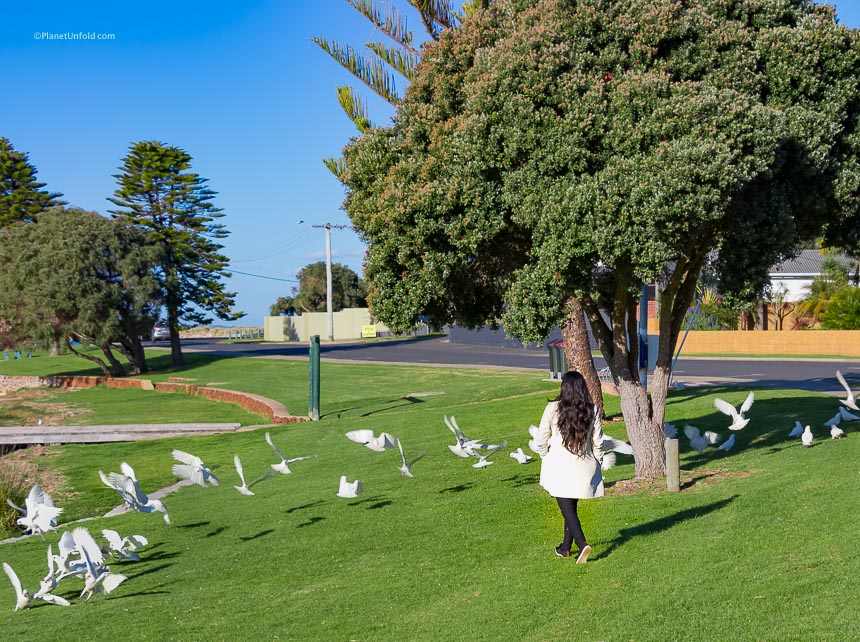 Those birds.
The moment we reached, a small group of white parrots landed on the grass to feed, and my spouse stopped the car as he knew I wanted to jump out to watch, that's what I usually do when I see parrots, my favourites. We could walk and sit very near to these sweet little birds as they let us share the space sweetly.
Flinders Bay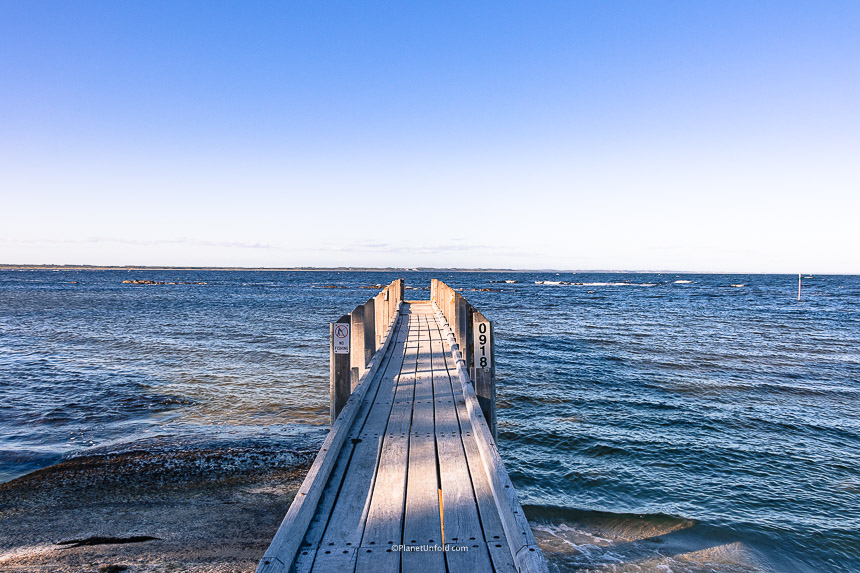 Flinders Bay
Located at the very edge of Augusta, Flinders Bay is a whale watching hot spot in winters yet a stingray watching spot anytime when the waters are calm and they see you plunge your ankles into it. A lot of visitors claim to have seen eagle stingrays coming close to the shore near feet and swimming. That's what we learnt before going, however when we visited the weather was cold and windy triggering waves in the water and we could not spot any stingrays. The bay's location is beautiful to visit anytime of the day, you will get lovely views of the ocean and the town at coastline.
Hamelin Bay
The most beautiful sunset at Hamelin Bay
One of the best beaches for swimming, snorkeling, diving, kayaking and photography, this beach has further facilities of a boat ramp and nearby holiday park with a kiosk. The pristine white sandy beach is topped by the color of its shallow blue waters.
Old timber jetty offcuts, a tiny islet with friendly stingrays as regular companions here in summers, add to the interest of this serene bay. If you like fishing, this might be your choice to catch dinner. We captured a picturesque sunset in the neighborhood of floating seagulls and ducks relaxing at the shore rocks.
Nornalup NP, Walpole & William Bay NP (Day 7)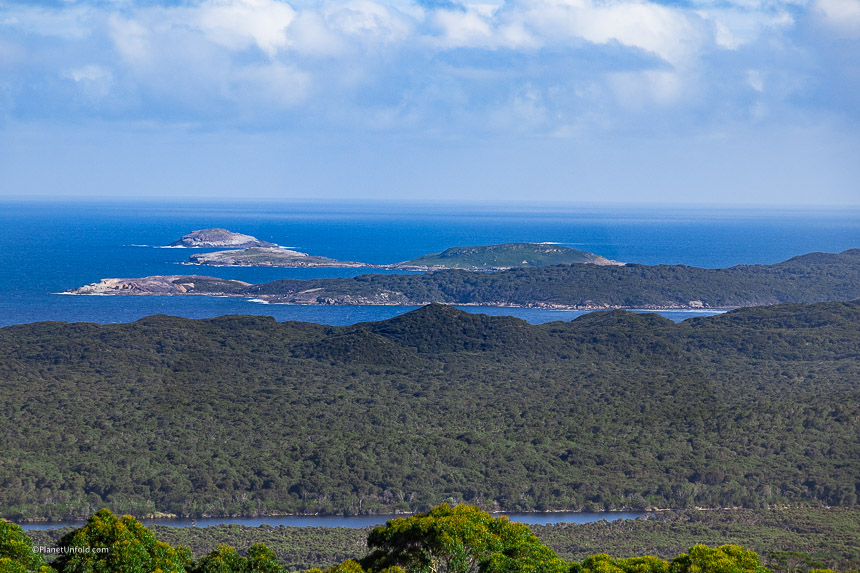 Coastal vistas enroute' !
It is about 4 to 5 hours drive from Augusta to Albany (355km) but there are many natural wonders in between, so we seized an entire day to reach Albany halting at few great lookouts on our way. The passage is so attractive that we never felt fatigued. The next destination from previous one always appeared to be more striking and contrasting.
The southern coastal scenery on the way was cherry on top. The entire Australian continent is well known for its best beaches in the world and we could realize it here on our road-trip.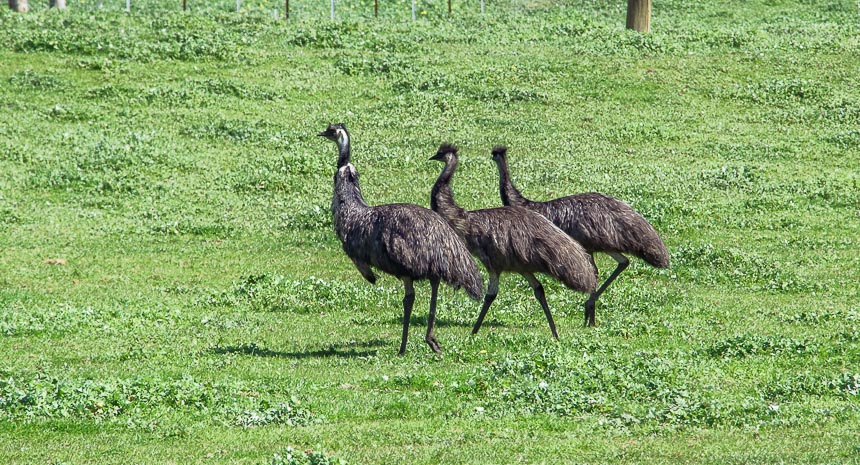 Wild Emus on the way
It was beautiful countryside scenery all the way, farm animals are seen on the vast spread grasslands, small ponds, bushes, native birds and never ending landscapes didn't let us get bored.
Nornalup National Park, Walpole
Amid the deep green forest
Walpole is a small town in the south-western region of WA, situated about 430 km southeast of Perth and 66 km west of Denmark. If you have more time than a day, we suggest you to stay and cover its neighbouring attractions like Giant trees in Nornalup National Park, Circular pool, Conspicuous cliff and Peaceful Bay and many more. We only selected the below ones as we had only one day, starting at 9 am approx.  We packed adequate food with us, as its uncertain to find eateries on the way, proved a time saver practice.
The Giant Tingle Tree
MK in the world of giants
In the heart of amazing Karri forest, a small section of Giant Tingle trees shines as a hidden gem.
It is an 800-meter loop located about 7 km from Walpole. We were on south coast highway when we reached Walpole visitor center. We took a locality map and paid for our tickets for Tree top walk.
To reach at Giant Tingle tree, we stayed on the same highway further to which we entered from Hilltop road, a fragment of unsealed road (only two-wheel drive is allowed, not suitable for caravans) led us to the loop, then followed same road to taking an exit at Gully road which connected us back to South coast highway. It is all one way so make sure you enter from Hilltop road, not Gully road.
Entrance of loop is through a wooden boardwalk around the base of this epitome of trees. This was a great spectacle of wilderness, learn as you walk. This hollow describes how the heartwood is charred from the trees and how the outer layer withstands these giant trees. The signposts have all information about the flora and fauna of this native forest of the south coast.
We had to skip Circular Pool, Conspicuous Cliff and Peaceful Bay due to shortage of time. If you are staying in Walpole, you can plan to see these places too.
Valley of Giants-Tree Top walk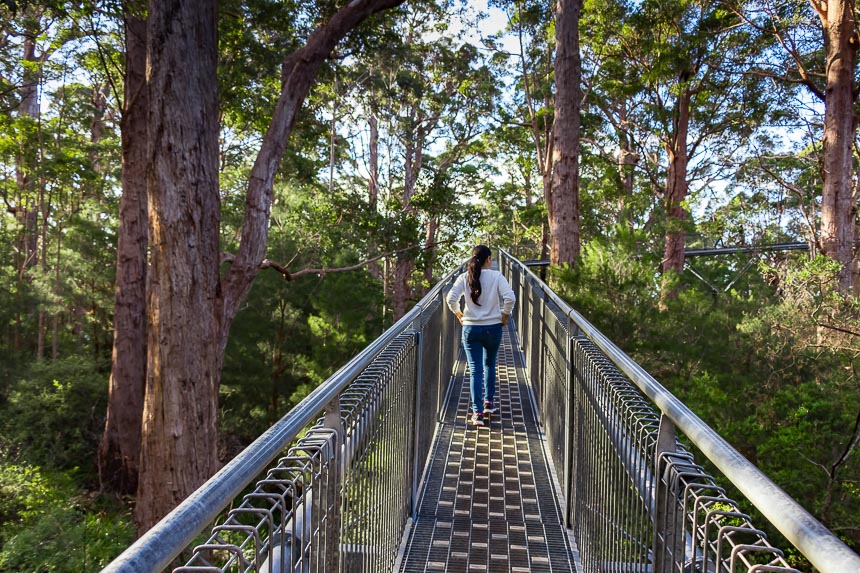 SK taking a Tree Top walk
A walk to remember always, in the canopy of spectacular tingle trees and getting up closer to these ancient giants on the ground level Ancient Empire Walk. The tree top walk is an amazing location between Denmark and Walpole. The walk leads with a long high bridge amongst very high eucalyptus and Karri trees. To complete an entire loop, it takes about half an hour, however you may take longer if you wish. As we ascend inside the loop higher, we began to realise that we were walking almost at the top of huge trees and could sense how large they were. These giants will make you feel so tiny. The ambience is one of a kind, we could smell the fragrance of eucalyptus in the breeze refreshing us from exertions of long drives.
Ticket price was AUD 21 each and the visitor centre closes by 4:30 pm.
William Bay National Park
The entire national park streache for approx. 1734 hectares. We suggest not to miss this miraculous part of nature at any cost, we reached there by sunset, but soon realized to have reached earlier. It is located 63 km from Denmark however starts within 10 km away from Walpole.
Many species of wildflower and orchids grow here all around the year, even in the hottest weather. The famous Bibbulmun Track also passes through this national park.
Greens Pool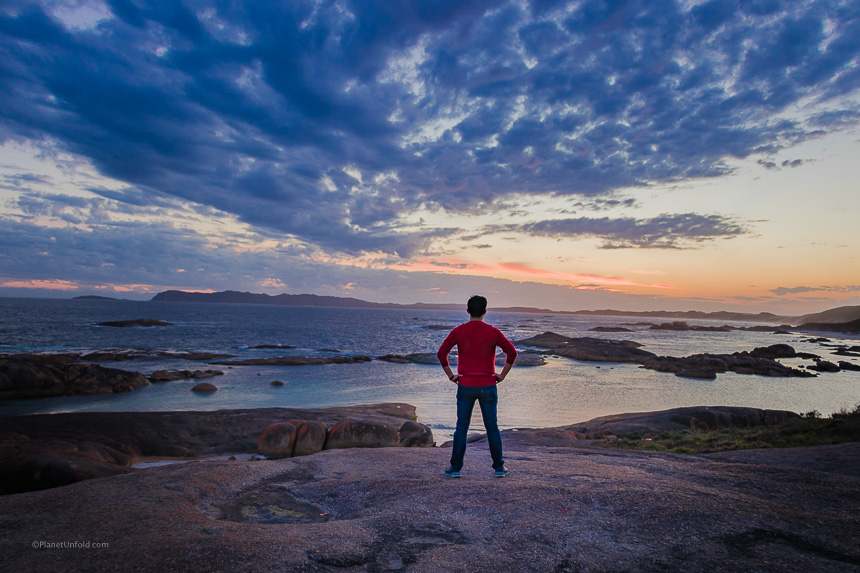 sunset colours at Greens Pool
Greens Pool, being an iconic centre piece of the national park, is just perfect for swimming and peaceful interval alongside tranquil waters and rocky edges at its windswept bayside. Located approx. 20 km away from Denmark.
Elephant Rocks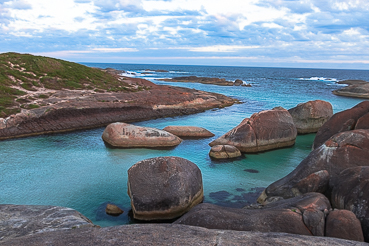 Elephant Rocks
Elephant Rocks are the major point of attraction here. Towards left of Greens pool, you can see giant granite boulders at the seashore standing tall like elephants, one of them is even shaped like an elephant. The bird eye view from the lookout at these rocks is salient. There is a trail going down for access to the coastline. These rocks are giant sized and there are many of these, signpost have warnings to avoid climbing due to risks of falling.
Other activities here include bush walking, diving, canoeing, surfing, fishing and kayaking.
Stay at Albany
Albany is more populated compared to other coastal towns in WA. We planned to stay in Albany for 2 nights. The next day was planned to explore specifically, the southern most part. We also used this stopover for refilling ourselves with fuel and stuff to eat, the night we reached in order to save time next day. Read all about Albany in our next post.
Staying at Country Comfort Amity Motel, Albany
We reached Albany about 8 pm and stayed at Country Comfort Amity Motel. We had to request for late check in via email by early evening itself and they arranged it quickly. Its location being a little secluded, makes it serene to unwind.
I think the parking space just in front of our room made it really convenient to drag out luggage easily. A stay of two nights here was comfortable in all aspects, from room space to amenities and services, everything was nice. They also provide an easy to use laundry room. The pool area is nice as well.
The best feature of this motel is an Indian restaurant which opens for dinner daily 5 pm to 9 pm, the food is no doubt, delicious.
Stunning Charms of Albany (Day 8)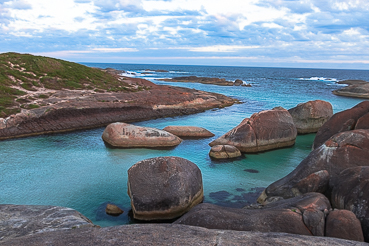 Elephant Rocks
Albany : Plethora of national parks and nature reserves, Dramatic Peaks, rugged diverse coastlines, lush nature, adventures, history and arts could be only few words to describe insights of Albany, situated on the south coast of WA. That's is not it, Albany has so much to offer that made us want to spend more than just a few days here.
This place has historical cultural importance to people, as Noongar culture used to thrive here long ago. The heritage park and National Anzac Center offer cultural, natural and historical delights.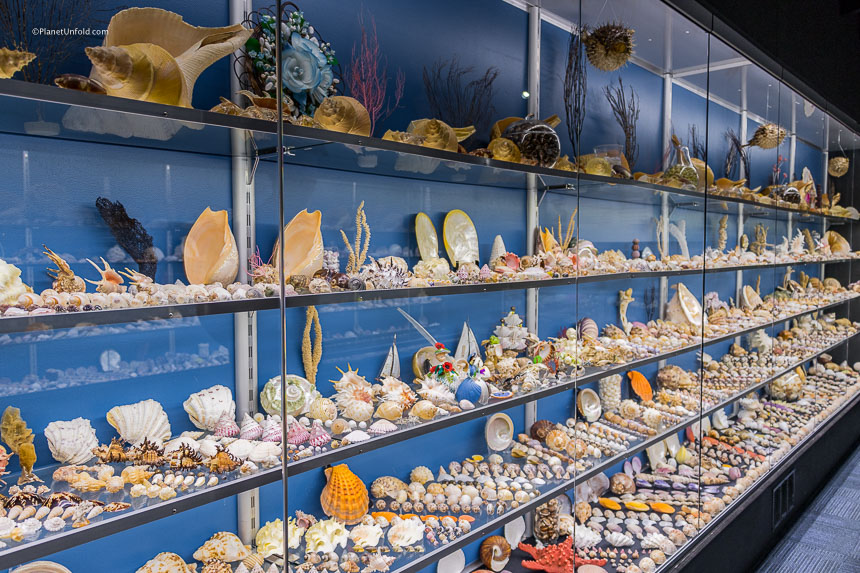 Shell Collection, Albany, WA
Majestic buildings, shipwrecks, Anzac memorials, convict relics, museums and evidences of Albany's whaling, agricultural industries and wildflowers are further spaces to explore in this historic town Albany.
Albany is also home to globally acclaimed wineries and fresh local produce. The natural topography of the great southern region delivers adrenaline pumping holidays to thrill seekers. They can have fun by hiking, biking, paragliding, horse riding, surfing and other 4WD adventures.
It also has one of the longest whale watching seasons in the world. Annual migration of humpback, southern right whales and rare blue whale brings these marine creatures to Albany waters from June to October.
Torndirrup National Park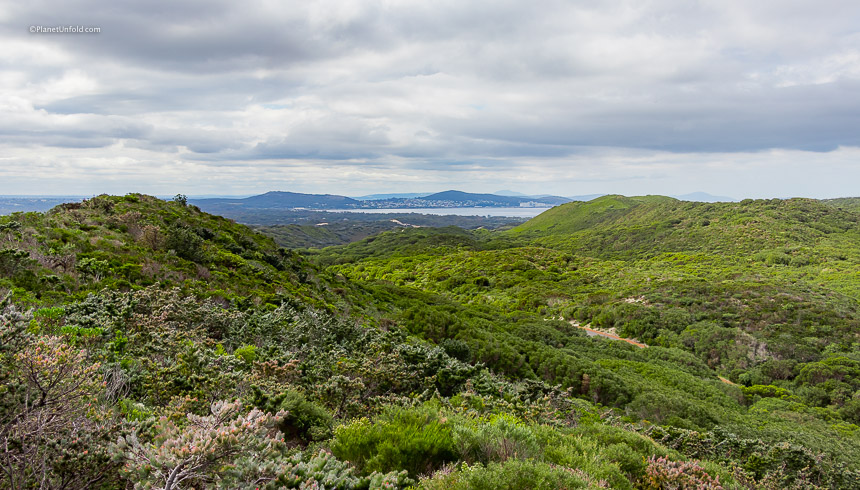 Torndirrup scenery
The national park is recognized as major point of attraction of Albany. It is said to be the most impressive and diverse National Park along the southern coast. Featuring massive granite outcrops, sheer cliffs, wonderful walks and sandy soft beaches, not to be missed. It has some of the most extraordinary natural features like "The Gap" and "Natural Bridge" rock formations and "Blowholes", formed over thousands of years.
The Wind Farms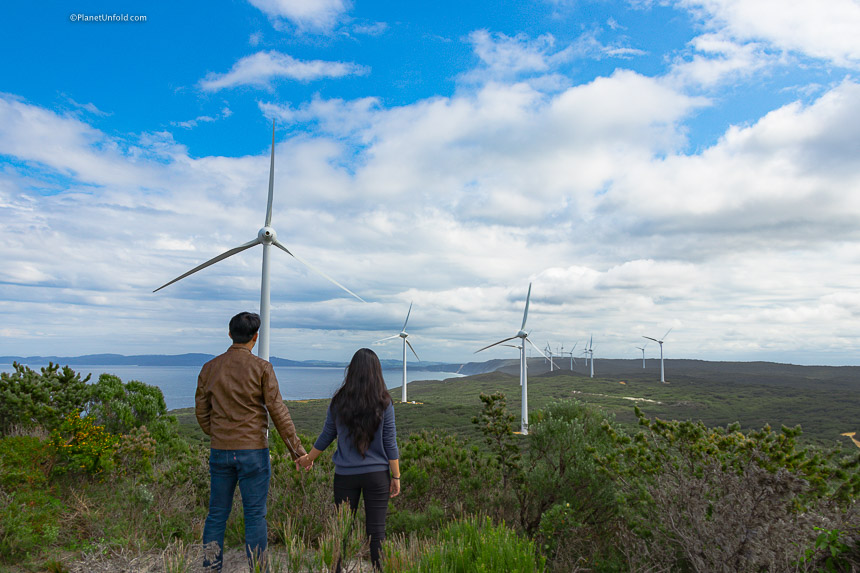 The Wind Farms
We began exploring Torndirrup National Park at Wind farms, these windmills are higher enough to be compared with mountains. There are 2 lookouts uphill and a broad-walk trail amongst these giant wind mills following southernmost coastline. We went up the hills to get an amazing view of ocean on one side, a panoramic view of hillside and behind that, entire Albany. It was such a striking location to walk around and feel the breeze. The atmosphere was all foggy and a somewhat sunny at the same time. Entry was free here anytime. The temperatures at Albany were almost same but with some afternoon showers. It never affected us as the rain lasted only for 15 minutes.
The Gap and Natural Bridge
The Gap with a manmade bridge to view the mighty oceanic scenery
As soon as we set feet on "The Gap and the Natural Bridge" surrounds, we were standing on the land that secluded itself from the polar continent Antarctica long ago. This part of Western Australia was once part of the supercontinent Gondwana.
Our excitement was nothing less than compared to spotting something incredible, it was once in a lifespan moment. The rock formations at "The Gap" are carved by the waves of the Great Southern Ocean crashing against the granite coastline forming a spectacular sheer drop of almost twenty-five meters. It is accessible via a metal platform that is elongated to give visitors an edge to edge view and ample signboards are secured to provide information about the rocks, area history and safety.
There was no entry ticket to see these two locations.
The natural bridge made by withering
Walking few meters towards right, is the "Natural Bridge" formed due to gradual corroding rocks by the southern-ocean's powerful waves. It was so astonishing to observe loud waves eroding these rocks constantly. The sealed paths and lookouts with guard rails are a fantastic way to see this powerful coastline. They say that the natural bridge would collapse gradually over the period due to its constant weathering.
Historic Whaling Station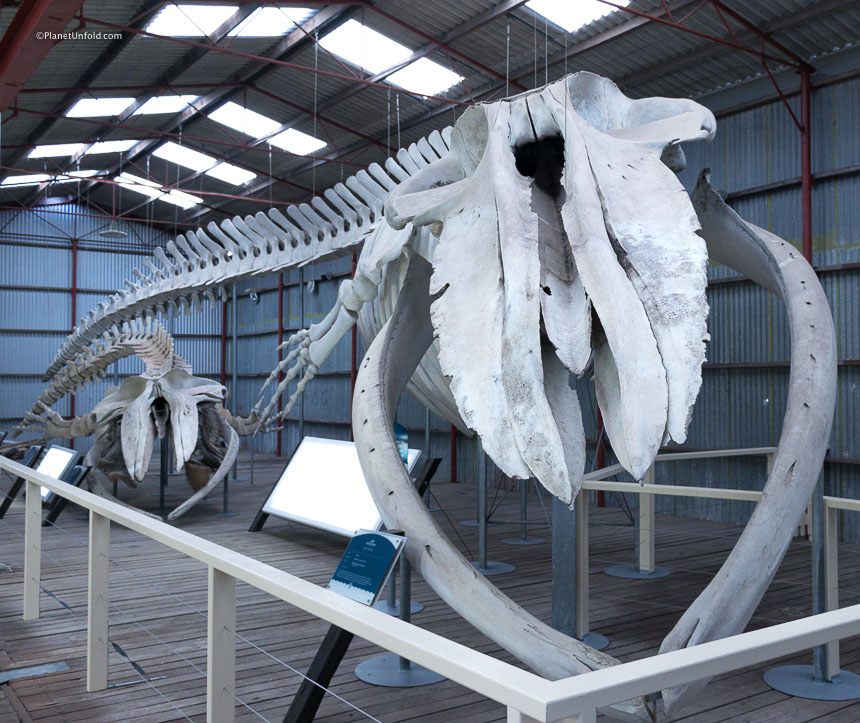 Whale Skeleton
Our next stop was Albany's Historic Whaling Station at Discovery Bay. The Albany whaling company commenced its operations in 1947 and was succeeded by Cheynes Beach Whaling Company in 1952. Shore whaling continued until 1978 when a downturn in industry and pressures from environment crusade led to the closure of whaling station. The site has evidences, tools, large engines and photographs of the last 8 years of their whaling operations. The place is very much automated as well as interactive for a thorough learning experience.
We were left in surprise of the deadly history we learnt in about an hour that day. They preserved huge whale skeletons that filled us with utmost curiosity making us rethink several times about how on earth did they used to catch the largest and heaviest living specie on earth.
The entire tour takes about 4-5 hours which includes session with local guide who shows around and shares important history and tons of information on whaling industry and the company's operation days, procedures, engines and tools used. They also have video segments that show short documentaries of about 2-3 mins.
Besides the whaling station there is a wildlife park where animals roam around in a free environment, an hourly guided tour which takes about 2 and half hours to explore.
We reached here around 3 pm and didn't have much time to explore this park as it started raining heavily. We suggest you to go early and keep at least 5 hours of time to go through every corner. You may visit the park next day again if you are staying longer, just give them your names in advance and keep the ticket handy. Ticket price was approx. AUD 29 each and timings are from 9 am to 5 pm.
Stirling Ranges (day 9)
Bluff Knoll, Stirling Ranges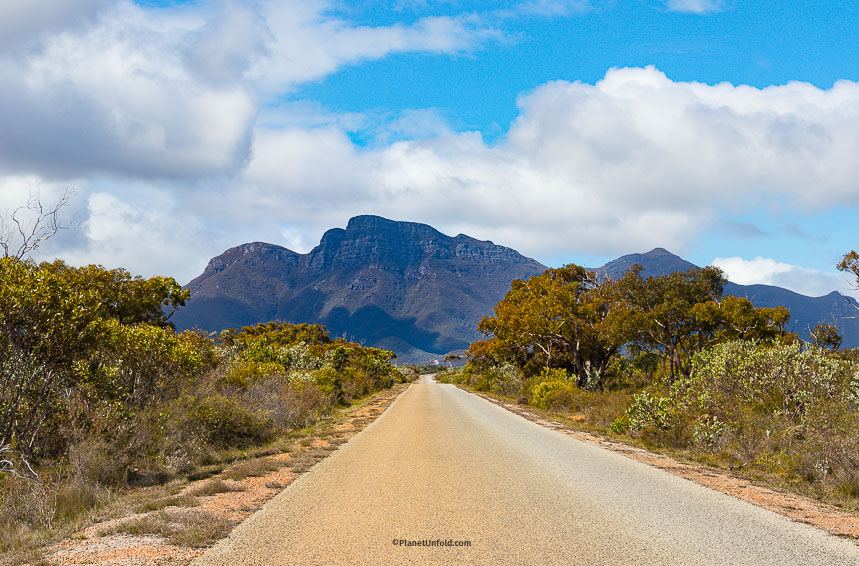 Road to Bluff Knoll
How can our excursions be complete without some adrenaline boost? Bluff Knoll is a must-must do activity in the only major mountain range in south of WA, 98 km drive from Albany.
Bluff knoll is listed as one of the best hikes of Australia, it has an elevation of 1099 meters above sea level. A total hike of 3 km, consumes about 4-5 hours of total time. A half day trip was feasible to plan here.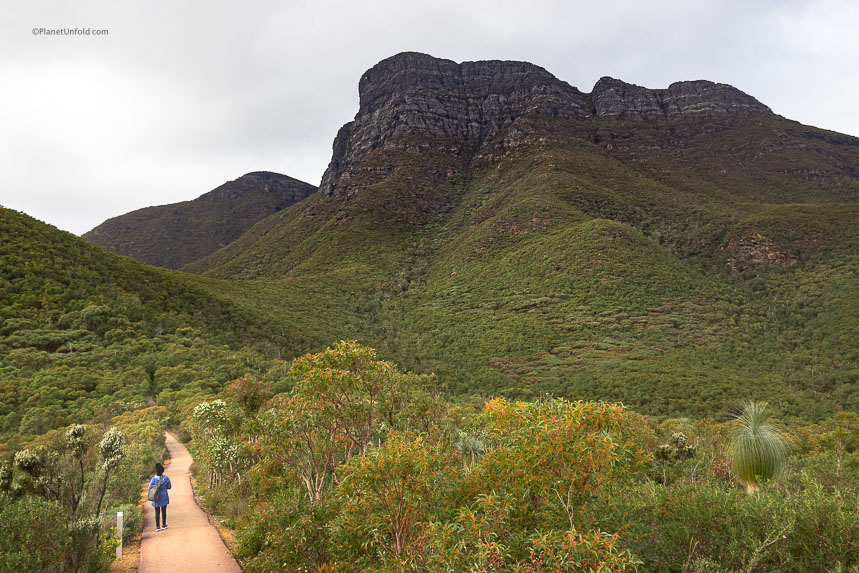 Starting point of the hike
The Stirling Range National Park, renowned for its unusual, however spectacular cloud formations. Colossal mist encircling the mountain peak looks fabulous. It also has aboriginal ancient repute majorly due to its enchanting wild flowers, jarrah and marri trees, other 1500 flora species, many of which are found nowhere else in the world.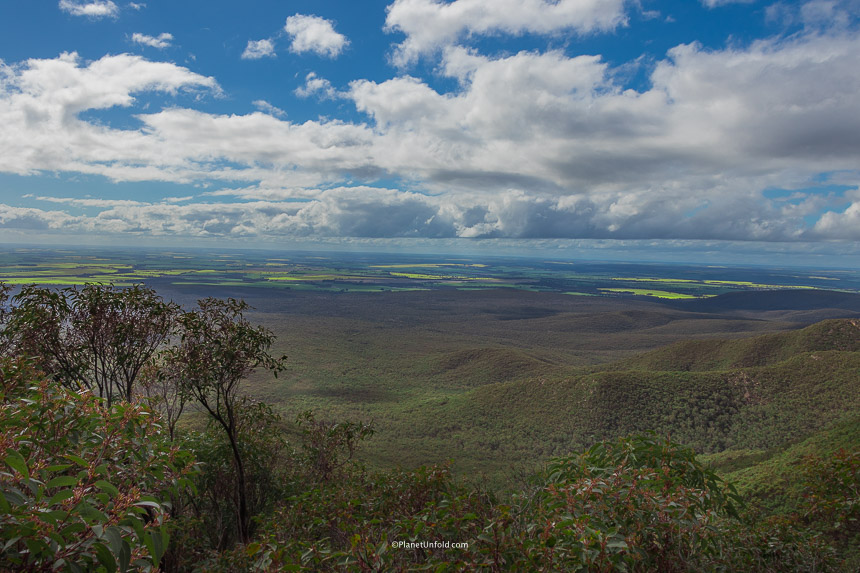 Views from Top
The peaks have unpredictable and frequent weather changes; it will be a good idea to go prepared. The path is not very tough but requires a reasonable fitness level because of uneven steps, rocky, muddy and it gets really steep at some parts. We wore layered clothing and strong footwear due to uncertainty in weather, it was gloomy, windy and our windproof jackets were really helpful. The hike can make you both sweaty and icy at the same time. Beware of frequent showers coming as bunch of surprises too.
Fee & Packing Essentials
The parking fee at the car park was approx. AUD 12. Other than parking no other fee is applied. We packed a light bag with some food, water, wind and water proof jackets and scarfs, paper towels, torch and Band-Aids.
Scenic Drive to Esperance
Scenic drive to Esperance
It's a 432 km drive from Bluff Knoll to Esperance. It was the longest drive of this trip yet so we planned it by the afternoon as soon as we finished Bluff Knoll hike. There are no other restaurants on the way but, we found a few good ones upon reaching Esperance. We kept taking small breaks in between for coffee and refueling.
You can feel the biodiversity all along WA, both northern and southern regions are quiet different from each other in terms of weather, flora and fauna. We admired the refreshing long mustard fields on the way. These fields seem visible as far as our eyes could see.
When we started the trip, we desperately wanted to see some kangaroos as we had never seen them before. Though we luckily caught eyes on a few but not very clear as they kept hiding besides the bushes, or stood far away.
Kangaroos on the way
During our drive towards Esperance we saw around 30-40 kangaroos sun bathing and relaxing on a plain grass. We stood near to admire these beautiful creatures and found them curiously staring at us. The moment a car passed by, most of them started running only to give us this panoramic shot.
Staying in The Jetty Resort, Esperance
We stayed in The Jetty resort for two nights, it was all rainy and we reached around 9 pm. Since we were going to reach late we requested for late check in via email and they sent us our safe box password to collect keys. The reception was closed and there were no other formalities to be done. They charged our card on the date of arrival and kept the receipts in the safe box for us.
The resort has basic as well as luxury rooms, our basic motel had all useful guides and a small kitchenette in it with all necessary utensils, a microwave and an induction. The temperatures fell down due to rains between 11°c to 8°c by the night.
The Jetty resort doesn't have their own restaurant in the premises, but there are few options nearby. We found Mc Donald's Restaurant open till 11 pm, a few bistros and bars are open till midnight but less likely on a rainy night. It's always better to keep some meal options packed with yourselves while crossing a town so that you don't have to sleep hungry.
Fitzgerald National Park (Day 10)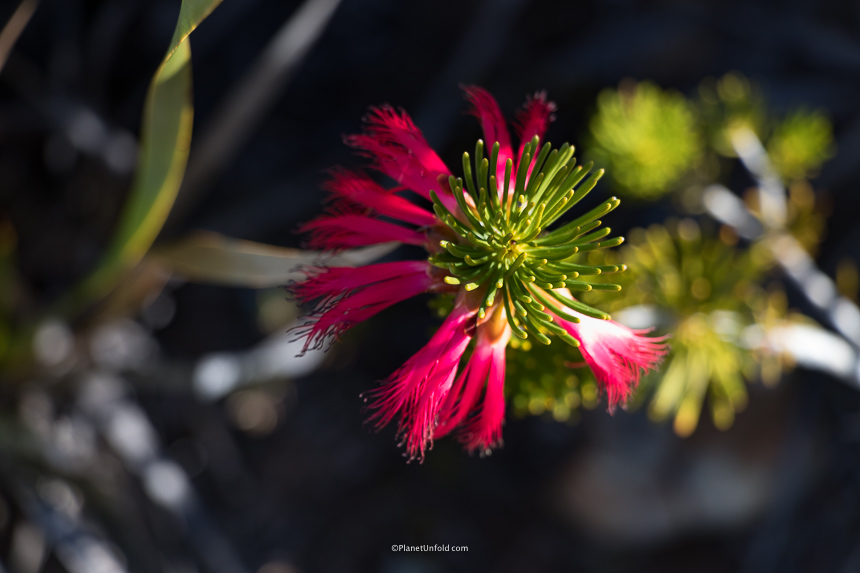 blooming wildflowers
Fitzgerald River National Park is an ideal camping ground (with 6 inlets) as the entire region is very famous for its multiple whale lookouts like Point Ann, Bremer Bay and Cave point.  The park is one of the largest and most botanically significant national parks in Australia due to many of its floral species that occur only within the park's boundaries.
It also features an enticing assortment of landscapes to discover from rolling plains, colorful ruptures, weathered peaks and peninsulas to stunning bays and inlets. During winter, southern right whales shelter close to shore with their newborn calves.
We followed the southern portion of Hamersley Drive which is a sealed road, this drive took us to all the main leisure sites of park in its south-eastern corner: Four Mile Beach, Barrens Beach, Barrens Lookout, East Mount Barren, East Mylies, Mylies Beach, Cave Point and West Beach.
Since we were driving here from Esperance, we came via Hopetoun situated on the south coast of Western Australia in the Shire of Ravensthorpe. It's a 2-hour drive (191.5km) and a nice stop on the way for a short break, a few eateries and basic facilities accessible.
Barrens Lookout
Barrens lookout
No matter we wanted to stop or not, the moment this seascape caught attention of our eyes, we couldn't go further without a halt. We reached to this very first lookout via Hamersley drive when we saw a very thin strip of sealed road underneath which there was only wet sand and ocean water at both sides. To our right a natural pool with marine birdies swimming and on our left was the infinite Great Australian Bight. The shade of blue is much opaquer here which looks magnificent.
The sealed road goes ascending higher to carpark, take a short walk for edge and we have Barrens lookout to admire the beauty of this panorama in bird view. We could also observe some buds of Hakea wildflowers in surrounds. There is a small trail that allows further viewing of scenery and towards East Fourmile Beach.
Fourmile Beach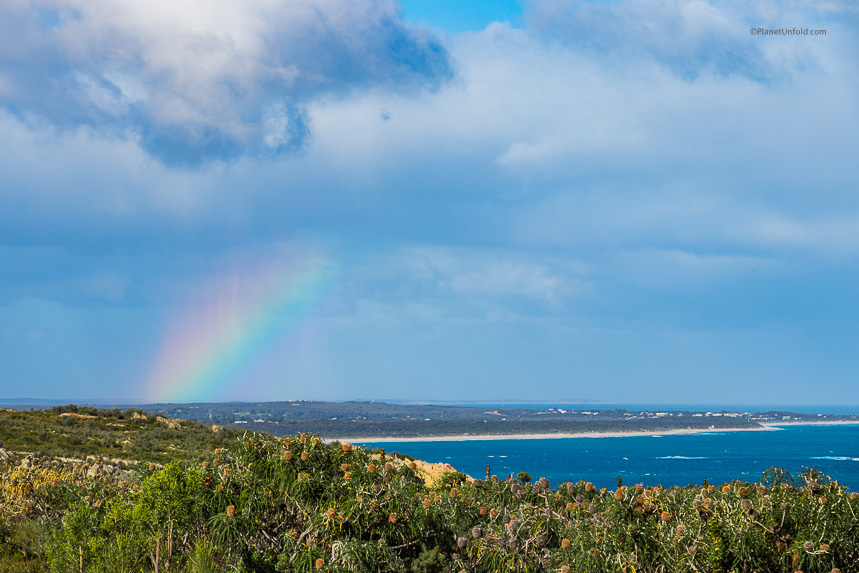 Rainbow in the ocean
The entire Fourmile beach stretches from Culham inlet to Barrens Beach. It is a great little spot to enjoy a picnic, swimming and fishing. Also a suitable place to camp when visiting East Mount Barren, Barrens Beach, Mylies Beach and West Beach. The temperatures ranged between 12°c to 14°c with little sunshine, very windy and cloudy, it also rained frequently, still a lot fun. We definitely enjoyed feeling the sprinkles where we also witnessed a beautiful rainbow emerging above the sea at this lovely landscape.
Cave point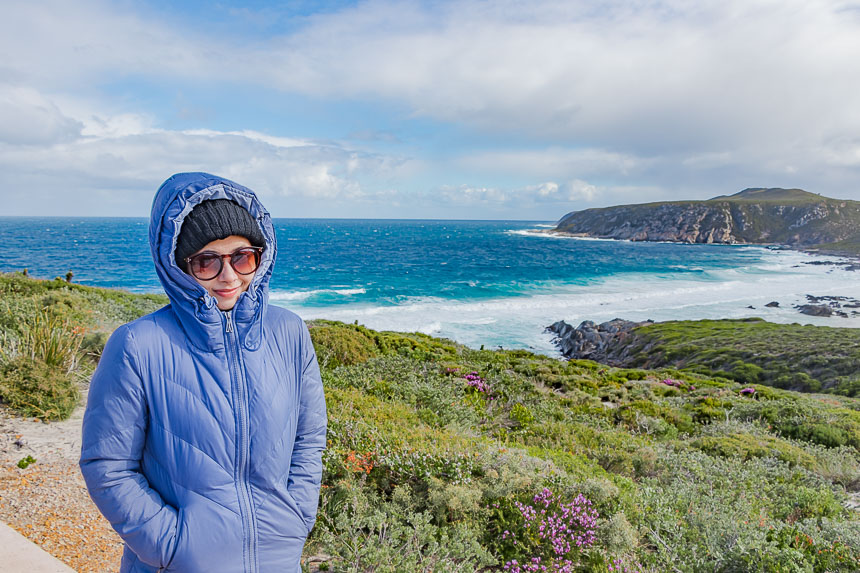 Thanduram!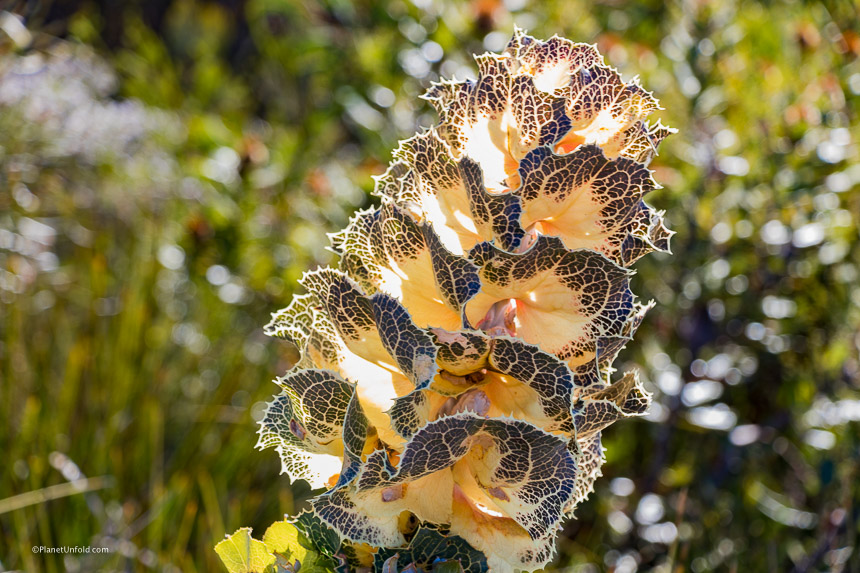 Royal Hakea
We found Cave point the most striking spot in the expanse. It is also renowned for migrant whale sightings just as Bremer bay and Point Ann. The lookout is fashioned at a paramount verge of the cliff, delivering incredible views of Great Australian Bight.
The fresh icier winds chilling our faces made us sense the existence of, Antarctica beyond that arcane ocean.
It was very windy and chilling at Cave point nearly making it challenging to get out of car without a windproof jacket. We saw only a few people around. It also rained shortly for few times during afternoon.
There is a long trail of Royal Hakea wildflowers that belong to the region exclusively.
We did not go further than Cave point, however there seem to always have more and more attractions to explore in WA, but we had limited time.
Cape Le Grand National Park (day 11)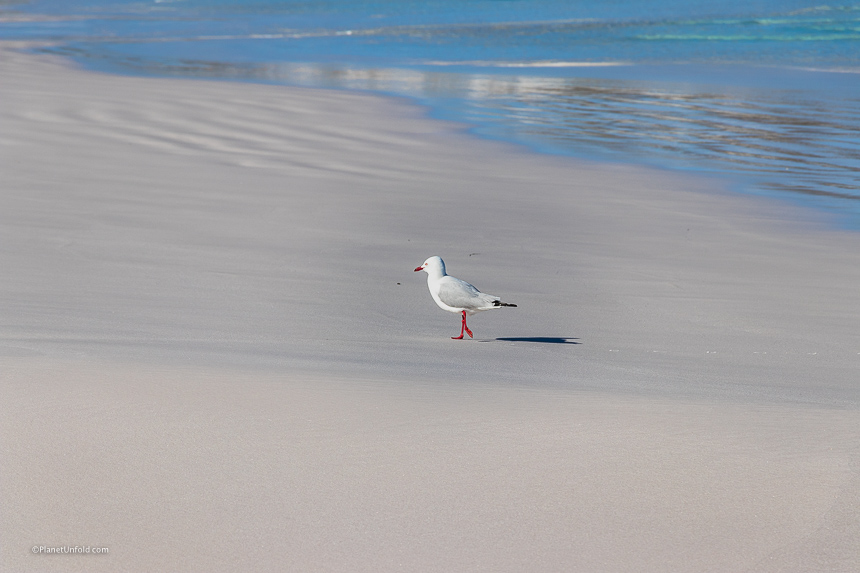 The big white sand beach
Being only 57.8 km from The Jetty resort in Esperance, Cape Le Grand National Park is further a destination in the great southern that should not be missed. A home to most spectacular scenery in the south west where massive granite and gneiss peaks rise from the coastal plain. Expect to see pygmy possums, western grey kangaroos and a diversity of colorful wildflowers including dense thickets of splendid bankasia.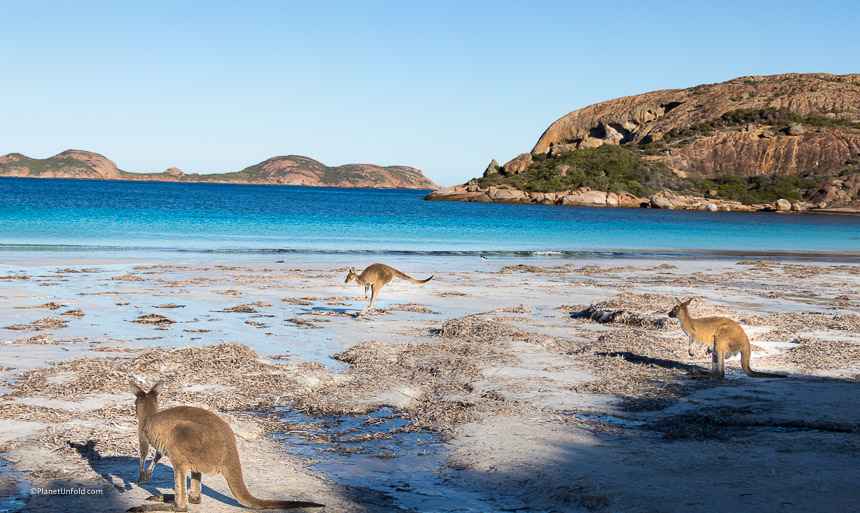 Lucky Bay and its very own kangaroo family 🙂
Visitors enjoy swimming, surfing, fishing, or recreational boating in picture-perfect bays here launching boats from Lucky Bay and Cape Le Grand Beach. One of the best camping sites and picnic area is also available here and the campsites have kitchenettes, barbeques and other basic facilities.
There are many outstanding bush walking trails through the park which crisscross the rugged coast and beaches.
Lucky Bay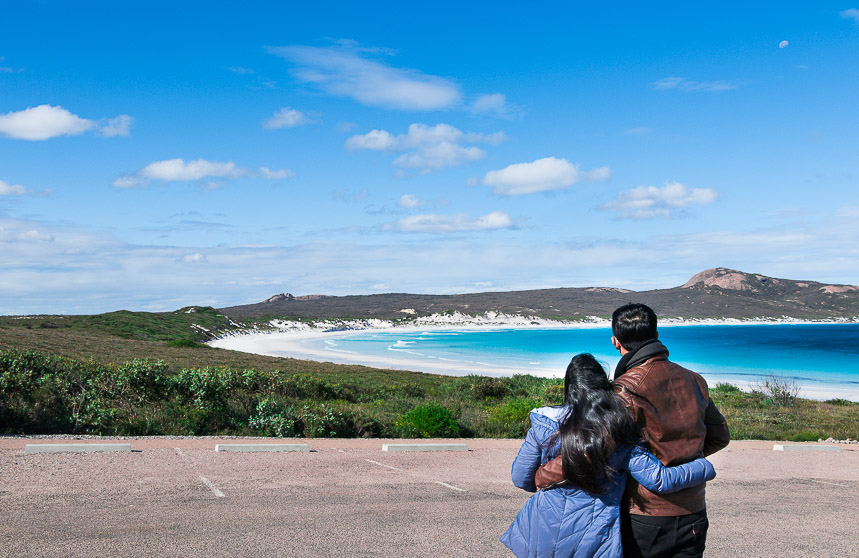 Stunning nature at Lucky bay
Lucky bay is the most stunning and an absolute dreamy location for couples. We were thrilled to spend most of our day at the beach admiring the bluest water ever, romantic coastal walks and adoring the local birds and a sunbathing kangaroo family that dwells here. See the one with a baby in her pouch, so adorable !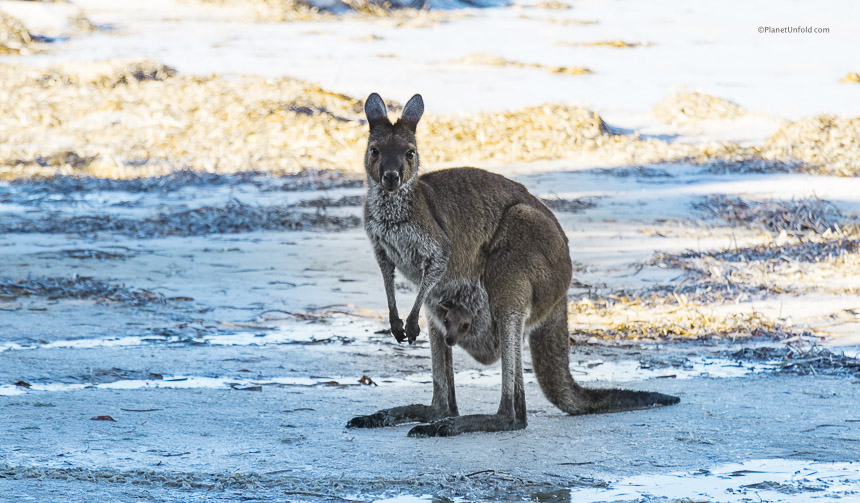 Baby Kangaroo in her pouch
We were so glad to stretch our trip till this part of the great southern. The kangaroos are the highlights of Lucky bay as there are not many bays places in WA where you see them soaking up sun on the beach.
Thistle Cove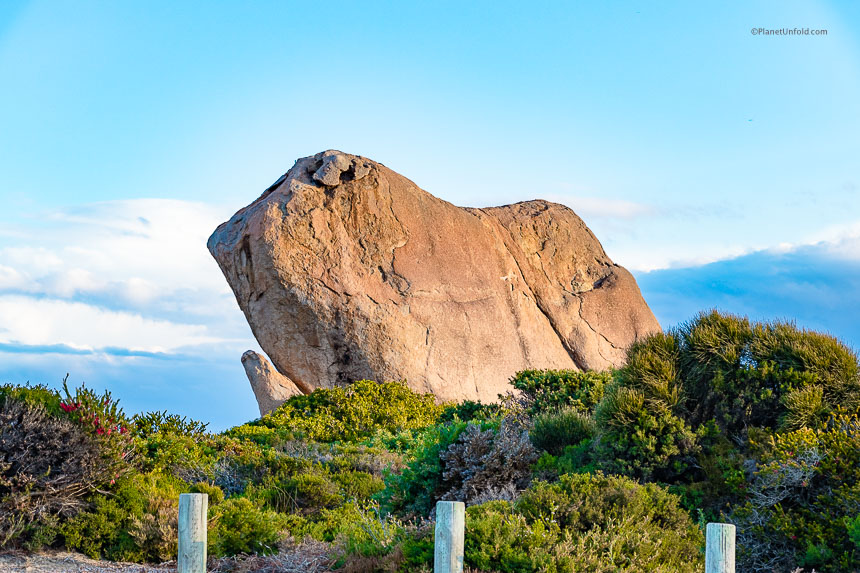 Whistle Rock
We were almost taken aback to see a giant rock in shape of a Sperm Whale head, that looks magical at the entrance of Thistle cove, it is named as "Whistling rock".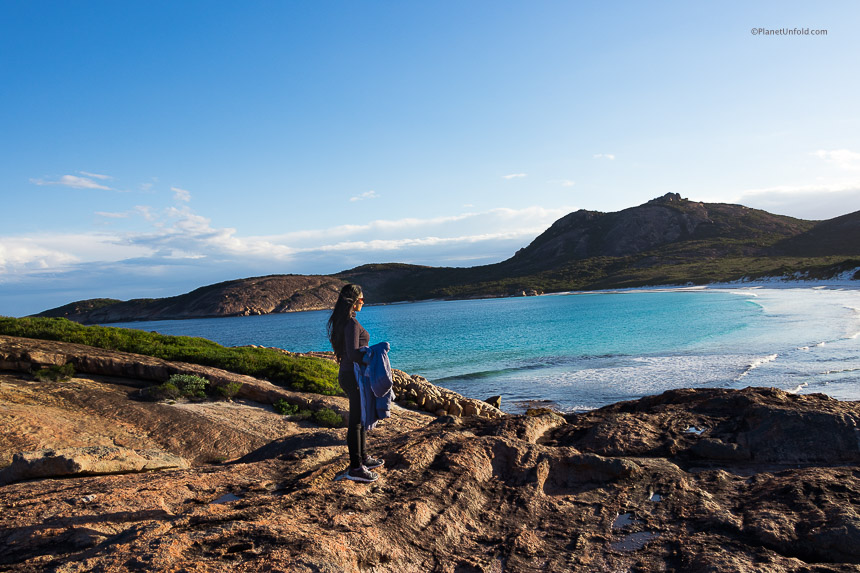 Wind in my hair!
A special feature of this cove is its Low-lying areas on the coastal plains peppered with small freshwater wetlands which support unique community if plants and animals. Traditional aboriginal people used to camp here during journeys. A short bush walking from Thistle cove leads to a coastal trail of the park offering views to rugged headlands descending steeply into the Southern Ocean.
The waves at this bay seemed moderate but we in awe of this place ideal for candid photographs and of course, for a beautiful evening twilight.
Frenchman Peak
A mountain connected to thistle cove is a hiking attraction for thrill seekers. Frenchman peak is seen clearly as soon as we entered the park. Stunning coastal and land views can be admired from its peak. It was gloomy when we reached here and so we dropped the idea of hiking as it may rain anytime. We suggest you to keep weather conditions in mind when planning to visit or hike. We ended our day driving back to Esperance by 7 pm.
Dine & Stay
We were now beginning to end our trip soon, driving to Hyden, the same day was a great idea to save distance and time. We planned one night stay in Hyden to avoid a direct 6-hours' drive to Perth, which could have been a lot more tiring. Overall we drove for two hours in the morning from Esperance to Fitzgerald national park and left for Hyden by late afternoon, again marking a two-and-a-half-hour drive to Hyden Hotel (Wave Rock Motel). There was beautiful scenery all the way along, mostly wildflowers and birds came along our way only to make us spell bound with their blooming colors and beauty.
There are limited stay and food options available, so it's better to make reservations well in advance. We stayed at Wave rock motel, their rooms are well maintained and beautiful. The temperatures dropped here up to 2°c by midnight.
Wave Rock, Hyden (Day 12)
It was crazy getting up at 4 am and driving to Wave rock area to admire the tail-like-curve of mighty Milky way in such chilly morning. The sky was clearer than ever without any light pollution only to give us another chance to see millions of stars, just couldn't missed that!!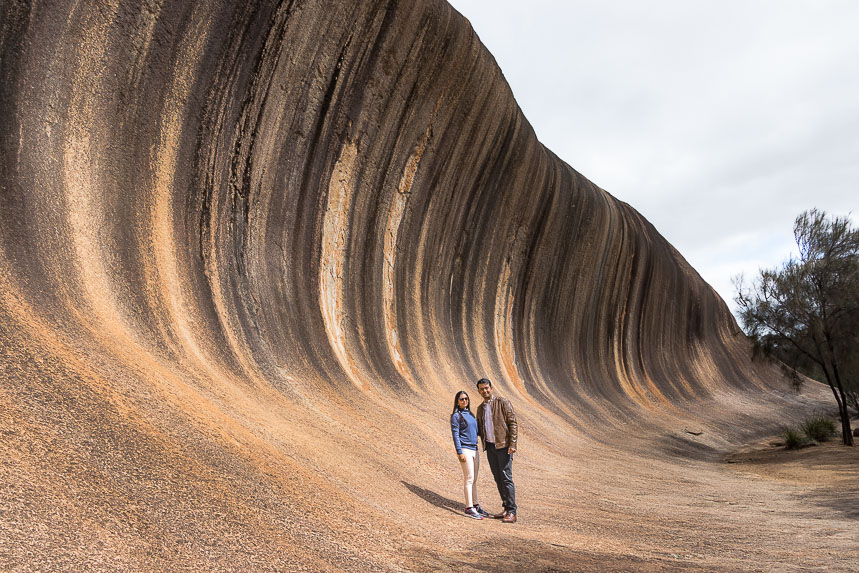 Wave rock and us!
A granite cliff, 15 m high and 110 m long renowned as "Wave Rock" looks like a frozen stone wave from ancient times.
It's a natural solid rock formation at the north side of solitary hill, known as Hyden Rock. This tall breaking ocean wave shaped rock looks beautiful along with the star-filled night sky, making the location perfect for holiday camping.
We started our day by driving again to Wave rock, the parking fees is about AUD 12, but if you are camping here you may get a complimentary entrance to see Wave Rock.
Camping fee ranges for non-powered and powered sites range between AUD 30-38.
nature in surrounding area
Hyden also has other attractions like Aboriginal history at Mulka's cave, the Humps, Hippo's yawn, wildflower trails from September to November, bird watching, wild life park with Koalas and rare white Kangaroos, Scenic flights, Lake magic, Miniature soldier museum and Pioneer museum. One can ideally spend a day or two around here exploring all.
We made a stop to this place in order to avoid longer driving hours. So we explored Wave rock area by the noon and then started our drive back to Perth.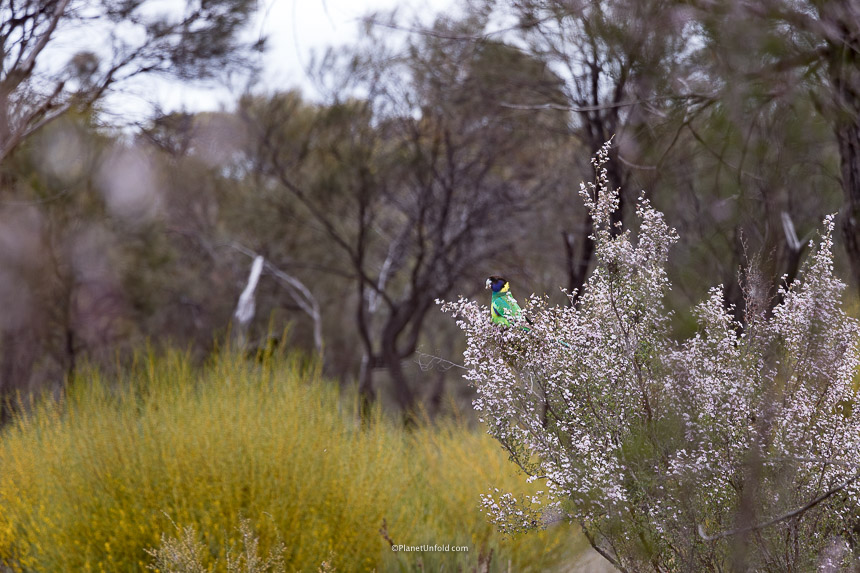 nature in surrounding area
"The journeys are more beautiful than destinations".
Well whoever said that is totally right. The scenery while driving in WA is also as lovely as the destinations and that entirely justifies why people prefer road-trips to discover this part of the continent. It was a lot of fun watching birds and animals crossing our ways and sometimes wildlife was in such a close proximity to us that we could see admire them in their natural habitats.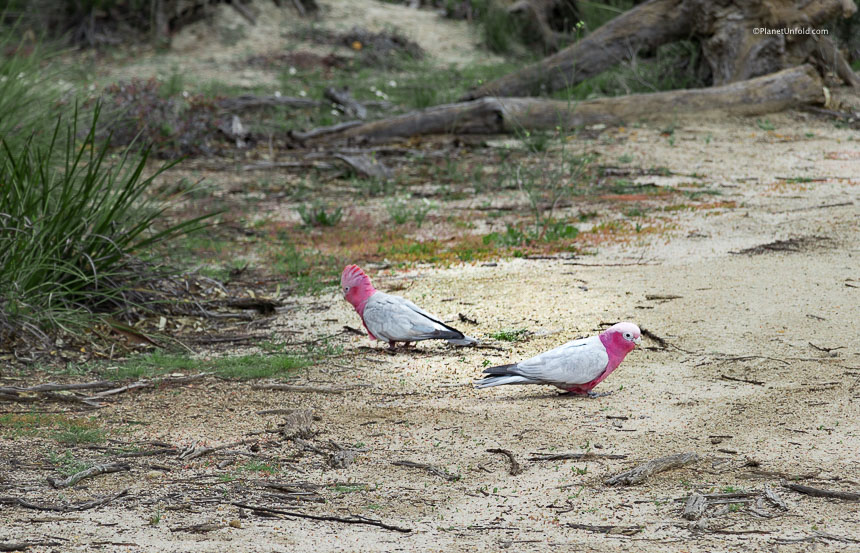 Pink parrots
A lot of colorful parrots, emus, kangaroos can be seen by roadside. Seeing nature out of the zoo feels much better, though you have to be careful, all the way so that you don't hurt them accidentally. Sign boards on the way do help.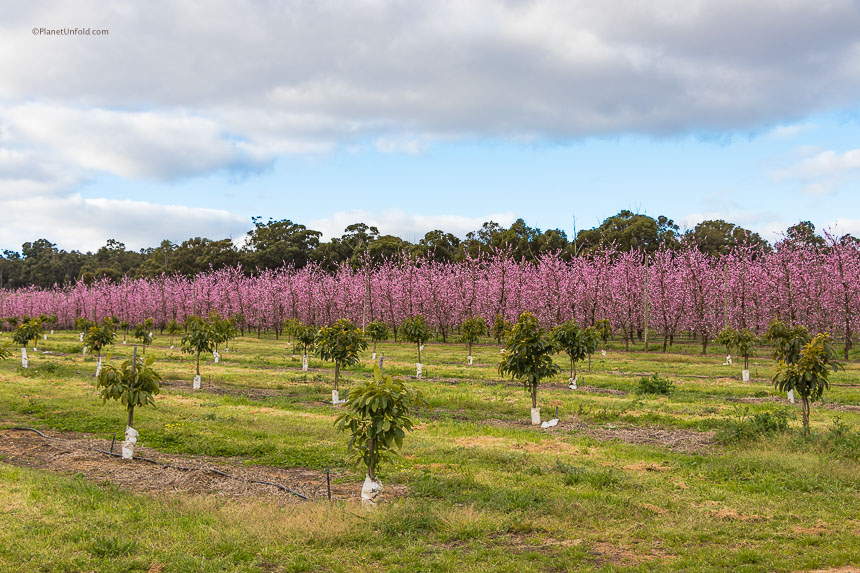 Shrubs of lovely pink flowers
It took us nearly 4 hours to reach Perth from Hyden taking short breaks in between. This part of WA was decorated with beautiful almond pink and white flower shrubs. The road goes through Helena National Park, glimpse of which is quite refreshing with tall green forests and small ponds on the way.
Planning Beforehand
We took ample time to outline our itinerary for 12 days,11 nights. Since there is a lot of diversity in nature from north to south, we selected interesting places considering distance, drive time, safety, food and lodging options, weather changes, costs etc. It was our first road trip in a new country so it was substantial to be careful about not getting exhausted every day, stay safe, refuel in advance, maintain supplies, complete our drive timely each day and most importantly, HAVE FUN!!
We always kept some spare time for any likelihoods as in waking up late or for additional lunch or breakfast time, in case we would like to stay more at some place or any change of plans.
Lodging for 11 nights
Reserving rooms, a month in advance really helped us. As Perth was our starting, midstream stop as well as end point for the trip, we preferred booking same hotel for three different nights. Doing this proved convenient due to hotel's location being on our way also, it saved time and money. For other places, we selected to stay in hotels located nearer to our first destination of next morning or maybe central amongst all places to visit that day. Some accommodations include breakfast while some may not, we ensured to book nearby plenty of eateries.
Cost aspects
The high season starts from September onwards in WA, due to which per night room rates are higher compared to August. We enjoyed lower room rates ranging between AUD 100 to AUD 150 per night (mostly with breakfast) visiting in the last week of August. Advance booking rates are much cheaper than booking at the last moment when rooms are both expensive and subject to availability.
It is fundamental to check cancellation policies of hotels as it may help to avoid any surprises whereas it becomes considerable factor in case of any change of plans during the road-trip. We chose hotels that allow cancellation within 24-48 hours.
I hope this itinerary helps you planning your trip to WA. Feel free to ask us, if you have any queries regarding the itinerary, we will be happy to answer.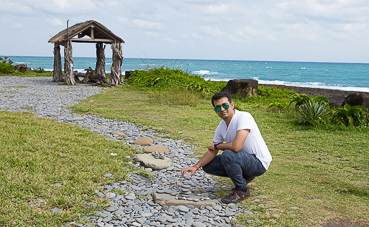 Kenting To Taitung: Day Tripping on the Black Coast
Kenting To Taitung: Day Tripping on the Black Coast
https://www.planetunfold.com/wp-content/uploads/2019/02/IMG_6116-Day-6-thumb-1.jpg
369
227
Sheetal Khatri
https://secure.gravatar.com/avatar/a8c4e10205dce919119e3338d8d5269d?s=96&d=blank&r=g